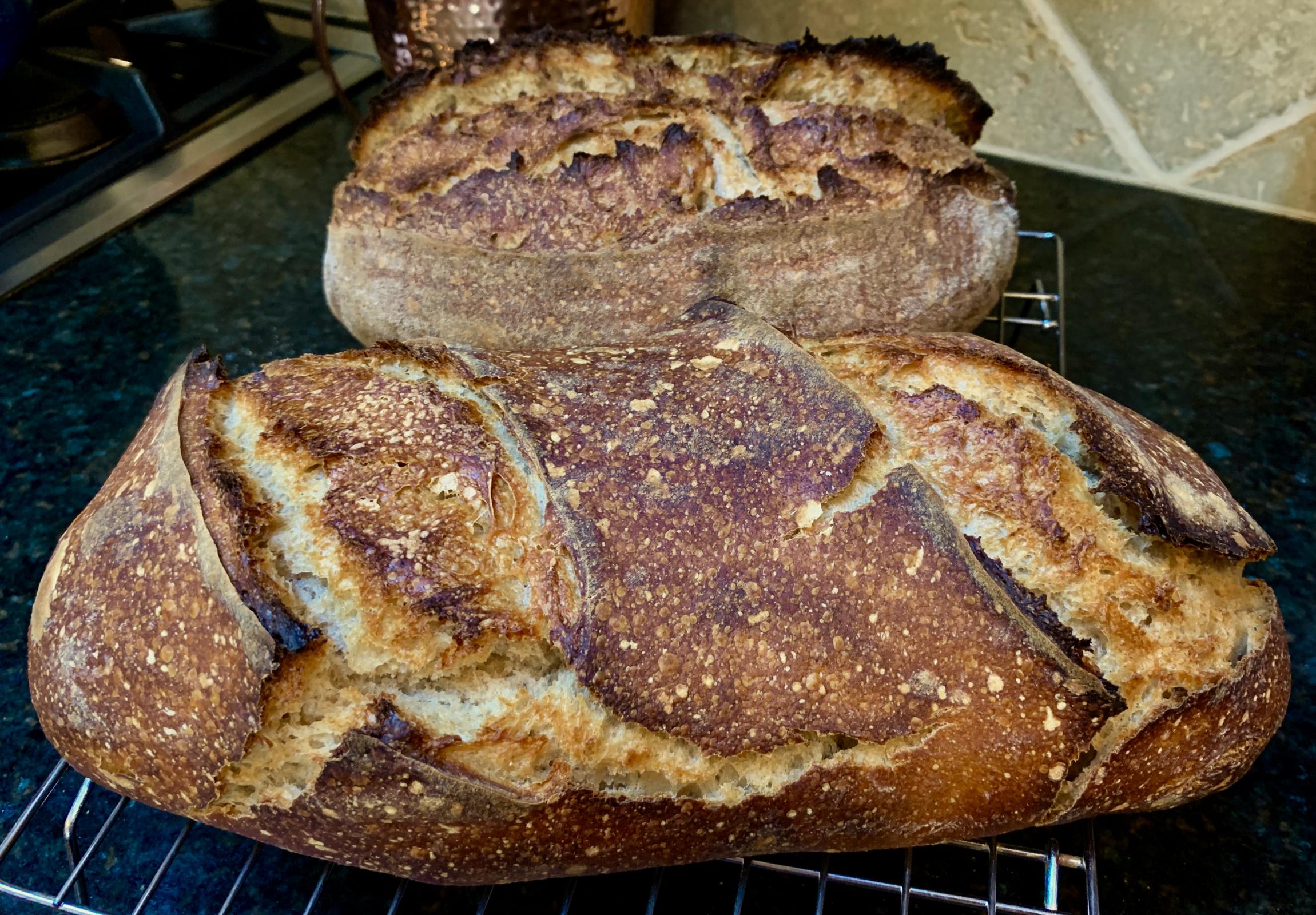 My weekly bake.....  My starter performed a little sluggishly last time around, so to start this one off, I pulled 15g from my stored starter (100%), and refreshed it at 1:5:5 (flour was 67% WW, 33% rye).  It took almost 10 hours to double, and 12 hours to peak.  I discarded (saved) all but 15g, and fed it again at 1:5:5.  After 3 hours, it was rising nicely, so I pulled 23g and built that up with 113g flour (same WW/Rye proportions) and 113g water for my levain.  Left that overnight, and when I went to mix this morning, the levain was still nicely domed.
The rest of the process was my usual pre-mix all but the salt, rest 30, pinch salt, slap/fold about 25 times, rest 30, stretch/fold then proof at 75F.  I let it go longer than usual as it was still feeling dense at about 2 hours, my total bulk fermentation was 4.5 hours at 75F.  I gently did a four corner stretch/fold, then tipped the dough out, divided and pre-shaped.  Finally I shaped and placed into bannetons lined with dusted tea towels.  Proofed at 75F for an hour, then into the fridge for 3 hours.  Baked with steam at 475F for 15 minutes, uncovered for 20 minutes.
I found the way these loaves expanded from my scoring to be interesting.  The first one had a single slash along the long axis, but looks very "rocky" in appearance after baking.  I have seen this before, and I think it's due to the tea towel wicking away more moisture than when I just used a naked banneton dusted with rice flour.  Here's a shot of that one:
The second loaf got two diagonal slashes, which, in retrospect, I should have aligned to be a bit closer to vertical, but the goal is to eat it, not look at it! :)  These slashes seem to have just blown apart, and I again think that the moisture removal from the tea towel is the culprit (I don't really care, I just think they look kind of neat....like the jagged appearance.)  Loaf #2:
Formula:
950g AP (GM)
200g WW
240g levain
727g water (67%)
25g salt
I'll post up a crumb shot once these are done cooling.  Bake on!
Rich