I am getting ready to travel for an extended stay in a different location and taking my cultures with me. I have 3 SD starters and kefir that I routinely travel with. I thought it might be beneficial to show how I do this. A picture, after all, is worth many words. i must give credit to TFL because that is where I learned how to do this but thos posts were a few years ago.
It could not be simpler. I feed my cultures over the course of a few days in ideal temps (80-85F on my porch) until they practically jump out of the jar! I swear they could crawl to the flour bin if I didn't feed them soon enough! At that point I merely smear a thin layer on parchment paper and allow to dry thoroughly. If there are some damp spots, you risk mold development when they are contained in the plastic bag. I discovered that parchment paper works better at releasing the dried flakes than wax paper. I have to really work at getting it to release from the wax paper.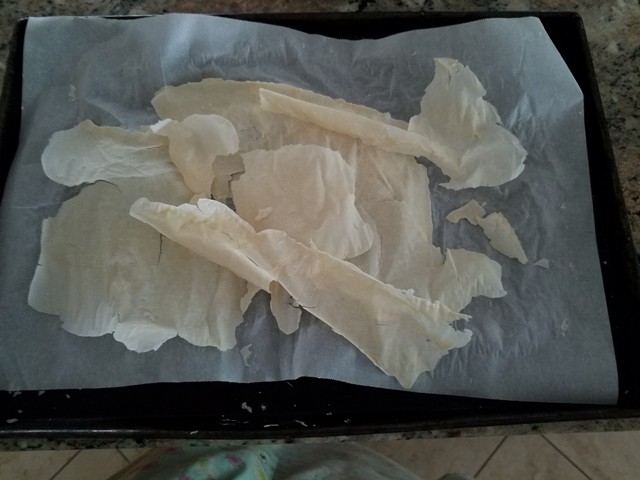 Lovely big sheets that I crumble and place in a plastic bag.

Hmmm...not sure why 1 pic was big and the other small. Saved in the same manner. Regardless...it is as simple as that. I tuck this in whatever bag I am traveling with and reconstitute at the destination. I have frozen the flakes and successfully revived them also.
Being the paranoid person I am, I also travel with the SD wet starter-a few tablespoons- in a small plastic bag that gets tucked in with my "less then 3 oz. liquid" (a US travel rule) carry on.  I have never had a problem.
Keifr is another story. I have traveled with the grains tucked into a screw-top container with a bit of milk or cream but it must always be put into a plastic bag as it has ALWAYS leaked with the changes in air pressure. Again, this can be tucked in with the carry on liquids or packed in checked bags. When I put it into checked bags, I usually put it into a small plastic lunch thermos and again into a plastic bag. The cargo section can get quite warm and quite cold and that is why I use a thermos container. I use a plastic container because those bags get really tossed around-a glass lined container would surely break.
So travel with friends with ease!