Pain Fendu Surprise Result!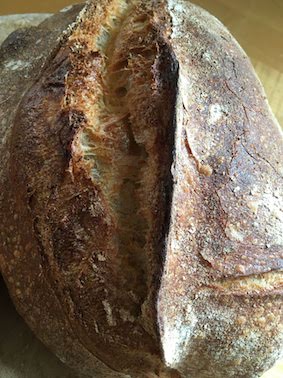 I saw this beautiful image of a Pain Fendu from a very inspired baker http://picdeer.com/media/2004093069051294434_3455206222 and this was the over ambitious and a bit impromptu attempt to recreate something similar.
I basically mixed a  80% Champlain and rolled it out in the middle, degassing the dough quite a bit and then with the split at the bottom put it into a banneton. 
Sadly both versions stuck together again (although the 'split' was floured with rye flour) and did not quite open the way I was hoping for...one looking more like a ciabatta and the other just ripped partly open...
BUT what I could not believe was how little the crumb was affected by the severe degassing of the dough? In fact, it seems that the degassing contributed to even a nicer distribution of the bubbles, I wonder?
If anyone has any good ideas for shaping a Pain Fendu, then please let me know. I did a search here any other tips are happily received...
Kat