Another Attempt to Produce a San Francisco-Style Sourdough Bread: Finally, success!
San Francisco Style Sourdough Bread
March, 2019
David Snyder
This recipe was kindly shared by Ann Rogers who got it from Mike Giraudo. Mike's recipe is his own adaptation of that of Ramon Padilla,who worked for 30 years as a baker for Parisian and Boudin bakeries in San Francisco.
These are the instructions she provided verbatim, followed by my adaptation, reformulated to make 1000g of dough.
------------------------------------------
Mike Giraudo's Recipe (per Ann Rogers)
250g starter (60% hydration)
600g water
1000g flour
20g salt
Makes two 875g loafs

Mix all ingredients 2 minutes on low speed until mixed, then mix 9 more minutes on next level speed. Then a quick stretch and fold, rest dough 30 mins, then stretch and fold one more time. 

Then cover and let dough rest for about 8 hours at room temp. 

After 8 hours, divide and shape into loafs and then into bannetons or lightly oiled containers, cover- then into the refrigerator for at least 12 - 32 hours. (The longer the time, the more sour the bread)

After refrigeration, place immediately into a pre-heated Dutch oven @475 for 20 mins and then uncover and cook for another 10 mins @450 (or until you like the color of your bread.) Feel free to use all purpose flour, makes for a great crumb. 
-------------------------------------------
David Snyder's Adaptation
| | | |
| --- | --- | --- |
| Total Dough |   |   |
| Ingredient | Wt (g) | Bakers' % |
| Total flour | 617 | 100 |
| AP | 463 | 75 |
| WW | 154 | 25 |
| Water | 371 | 60 |
| Salt | 12 | 2 |
| Total | 1000 | 162 |
Note: The original recipe and the San Francisco Sourdough of yore are 100% low extraction (white) flour. I have modified this by including 25% whole wheat flour, because that is my preference. Besides effects on flavor complexity and nutrition, the anticipated effects would be: 1) A less open crumb, 2) faster fermentation, 3) enhanced acid production.
Note: 15.7% of the flour is pre-fermented. This is less than most sourdough formulas which average 20-25% pre-fermented flour. The effect would be: 1) A longer bulk fermentation, 2) more acid content at the time of dividing and shaping.
| | | |
| --- | --- | --- |
| Starter |   |   |
| Ingredient | Wt (g) | Bakers' % |
| Total flour | 84 | 100 |
| AP flour | 63 | 75 |
| WW flour | 21 | 25 |
| Water | 50 | 60 |
| Active firm starter | 21 | 25 |
| Total | 155 | 185 |
Note: The 21g of active firm starter consists of 7g water + 10g AP flour + 3g WW flour.
The night before mixing the Final Dough, dissolve the active firm starter in the water.

Add the flours and mix thoroughly.

Cover and ferment at room temperature overnight.
| | |
| --- | --- |
| Final Dough |   |
| Ingredient | Wt (g) |
| AP flour | 390 |
| WW flour | 130 |
| Water | 313 |
| Salt | 12 |
| Starter | 155 |
| Total | 1000 |
Procedures
Place all the ingredients in the bowl of a stand mixer. Mix at Speed 1 for 2 minutes to distribute ingredients then for about 9 minutes at Speed 2 to develop the dough.

Transfer the dough to a lightly floured board.

Do one stretch and fold. Cover the dough and let it rest for 30 minutes.

Do one more stretch and fold and transfer the dough to a clean, lightly oiled bowl.

Cover the bowl and ferment at room temperature for "about8 hours."

Divide the dough, if smaller loaves are desired, pre-shape into rounds and cover. Let rest for 10-30 minutes.

Shape as boules or bâtards and place in floured bannetons.

Refrigerate for 12-32 hours (The longer the cold retardation, the more sour the final loaf).

Check on degree of proofing. If not sufficiently proofed, remove from refrigerator and proof at room temperature or warmer until adequately proofed. Then procedure to scoring and baking.

Transfer to a peel. Score as desired.

Bake: If baking in Dutch oven, bake at 475ºF covered for 20 minutes, then uncovered at 450ºF for another 10 minutes or until done to satisfaction.

Bake: If baking on the hearth, pre-heat oven at 500ºF for 1 hour with baking stone and steaming apparatus in place. Turn down oven to 460. Load loaf and steam oven. After 15 minutes, remove steam and continue baking for 20-35 minutes, until loaf is baked. (Time depends on size and shape of loaf.)

The bread is done when the crust is nicely colored and the loaf sounds hollow when thumped on the bottom. The internal temperature should be at least 205ºF.

Transfer the bread to a cooling rack and cool thoroughly before slicing.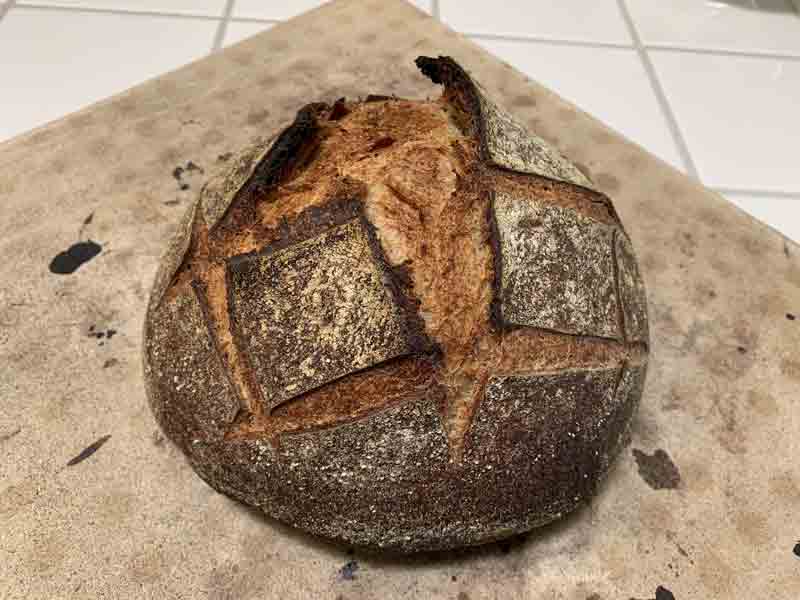 Note: I retarded this loaf for about 15 hours. At the end of that time, it was nowhere near adequately proofed. I placed it in my proofing box set to 80ºF and proofed it for another 2.5 hours, the last hour while my oven pre-heated. You can see from the overly exuberant oven spring and bloom that the loaf was still somewhat under-proofed. I baked it on a pizza stone, as described in Step 12., above, for a total of 50 minutes.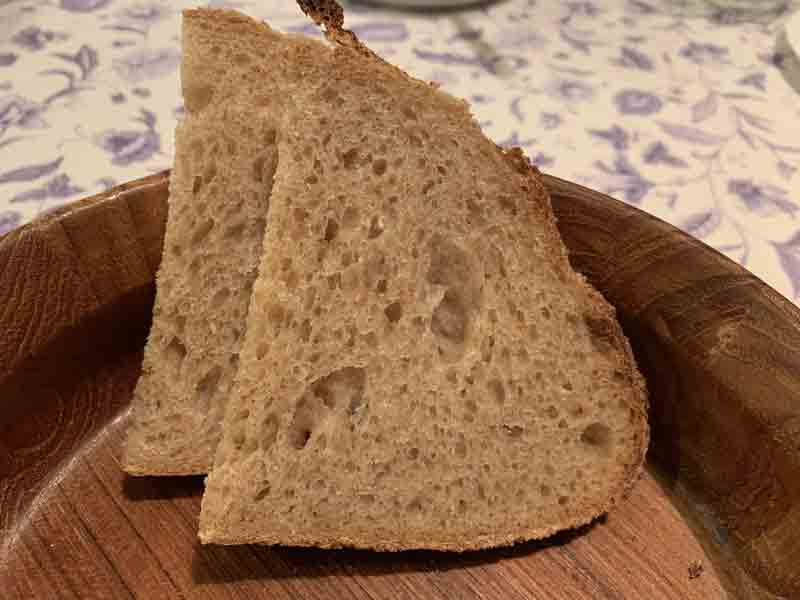 I had a couple slice ... well, three ... but one was very thin! The crust was delightfully crunchy. The crumb was pretty open for a 60% hydration, 25% whole grain bread. It was very well aerated, demonstrating good fermentation. The crumb was moderately chewy. The flavor was a bit wheaty and sweet with a moderately prominent acetic acid tang, yet well-balanced. It has the old-fashioned San Francisco Sourdough feel - the genuine article. It's just what I would imagine Parisian "Wharf Bread" to have been like, if they had baked a "whole wheat" version.
I shared my results with Ann Rogers and Mike Giraudo, and Ann reiterated that, if I wanted it more sour, I should just extend the cold retardation to 32 hours (or more!) I am going to do it.
This is a keeper. It is the bread I have been trying to make for many years. I would encourage those who miss the San Francisco Sourdough Bread of yesteryear or just wonder what all the fuss is about, to make this. It's simple and easy and delicious.
 Happy Baking!
David