February 14, 2019 - 5:14pm
Whole Wheat Sourdough Bread from "Josey Baker Bread"
Josey Baker Whole Wheat Sourdough Bread
David Snyder
February, 2019
Browsing cookbooks at a branch library, I found Josey Baker's "Josey Baker Bread." I have driven by and peeked into his bakery in San Francisco, but have never tasted his products. I confess I found what he charged for a slice of toast off-putting. But, folks seem to like his bread. Looking through the book, I found some recipes for 100% Whole Wheat sourdough bread. It certainly looked good in the photos, and I am still looking for my personal favorite 100% whole wheat sourdough. So, I checked out the book.
I won't comment on the book's style except to say it is an attempt to seduce some one into baking bread at home who is still a bit frightened and mystified by the whole process. It is certainly a worthy objective.
Anyway, here's my first bake of this bread.
Note: Baker does not call for a true autolyse. He combines all the ingredients in the "Final Dough" at once and, after a mix to just distribute them evenly in the dough, he lets it sit for a half hour before beginning a series of stretch and folds at half-hourly intervals. The procedure described below is what I actually did. I mixed the final dough, including the levain but not the salt, and let it rest for a period before adding the salt. This is the way I was taught at the San Francisco Baking Institute to autolyse dough when a liquid levain is used.
Total Dough

1 loaf

2 loaves

4 loaves

 

Ingredient

Wt (g)

Bakers' %

Whole Wheat flour

508

1016

2032

100

Water

423

846

1692

83

Salt

11

21

42

2.1

Total

942

1883

3766

185.1
Levain

1 loaf

2 loaves

4 loaves

 

Ingredient

Wt (g)

Bakers' %

Whole Wheat flour

50

100

200

100

Water (cool)

60

120

240

120

Sourdough starter

6

12

24

12

Total

116

232

464

232
Mix the levain ingredients well in a 4-6 cup bowl. Cover well.

Ferment at room temperature (72-76ºF) for 8-12 hours.
Note: The sourdough starter I used to seed the levain is 100% hydration. It is actually 70% AP, 20% WW and 10% whole rye. For purposes of the "Total Dough" formula, I treated it as if it were entirely whole wheat.
Note: Because of a social obligation, I was not able to mix the final dough right when the levain was ripe. I refrigerated the ripe levain overnight and continued the process the next morning.
Final Dough

1 loaf

2 loaves

4 loaves

Ingredient

Wt (g)

Whole Wheat Flour

455

910

1820

Water (warm)

360

720

1440

Salt

11

21

42

Ripe levain

116

232

464

Total

942

1883

3766
Procedures
Mix the flour and water and levain to a shaggy mass. Cover and let rest for 30-60 minutes. (Note: I actually autolysed for a bit over 2 hours.)

Sprinkle the salt over the dough and mix it in with a spatula, spoon or your hand.

Distribute the salt evenly using a pinching procedure (as described in FWSY or Tartine No. 2), alternating with stretch and folds in the bowl.

Cover the bowl and ferment until increased in volume by 50% and well aerated with bubbles (about 3 hours at 80ºF). Perform stretch and folds in the bowl every 30 minutes for the first 2 hours.

If making more than one loaf, divide the dough evenly into the desired number of pieces.

Pre-shape piece(s) into balls. Cover and let rest for 10-30 minutes.

Shape into boules or bâtards. Place in floured baskets and cover or place in food-safe plastic bags.

Proof the loaves 3-4 hours (per Josey Baker). I proofed 1 hour at room temperature, then refrigerated to bake the next day.

Pre-heat oven to 475ºF 45-60 minutes before baking.

Bake either on a baking stone with steam for the first 15 minutes or in a Dutch oven, covered for the first 20 minutes. The total bake time should be 45-50 minutes, to an internal temperature of 205ºF.

Remove to a cooling rack. Cool completely before slicing.
Note: Baker says one can cold retard this bread, either in bulk (after Step 4.) or as formed loaves. (after Step 8.) He does not say whether or not he would ever do both retardations.
The flour I used was Turkey Red wheat, freshly milled in a Mockmill 100 set at its finest setting. I did not sift out or remill any of the bran. The dough was soft and tacky but very manageable. It seemed to be developing some strength curing the stretch and folds, but was quite loose during shaping.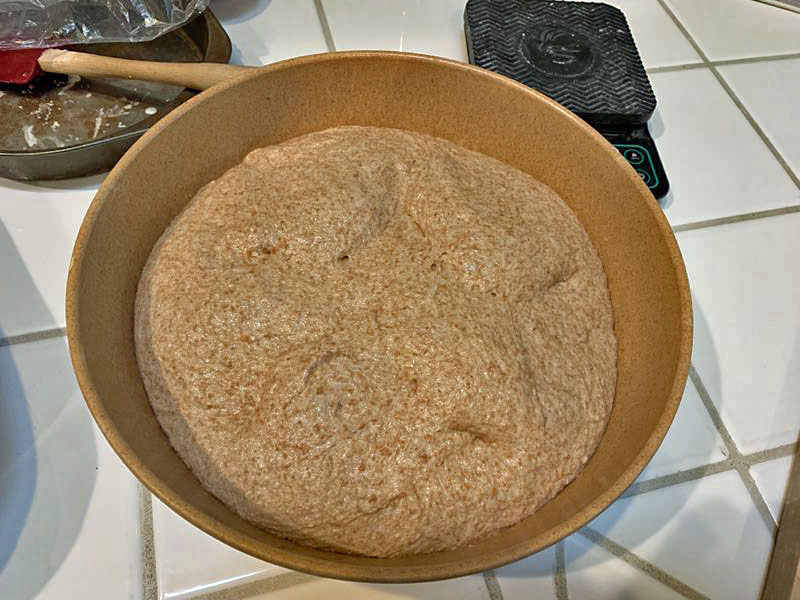 Lovely dough made with 100% home-milled Red Turkey wheat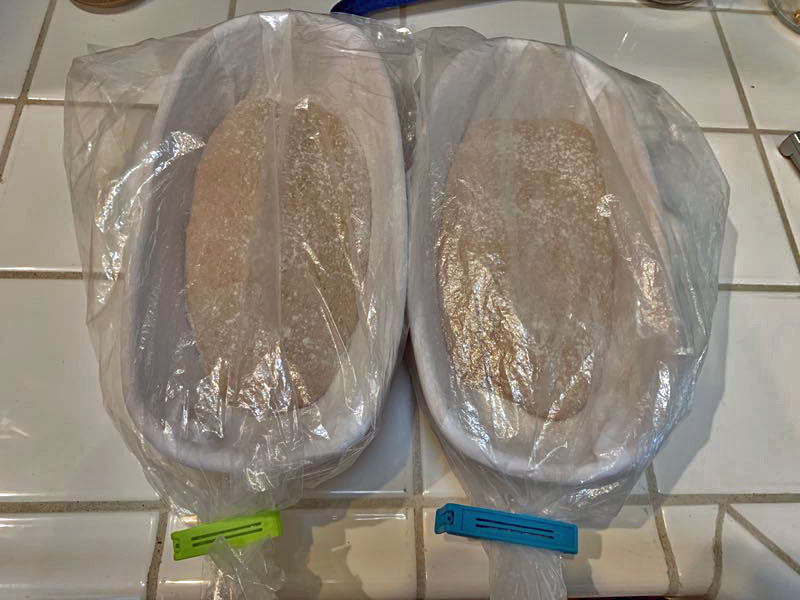 Formed loaves, ready for a 12 hour nap at 40ºF
Baked loaves, cooling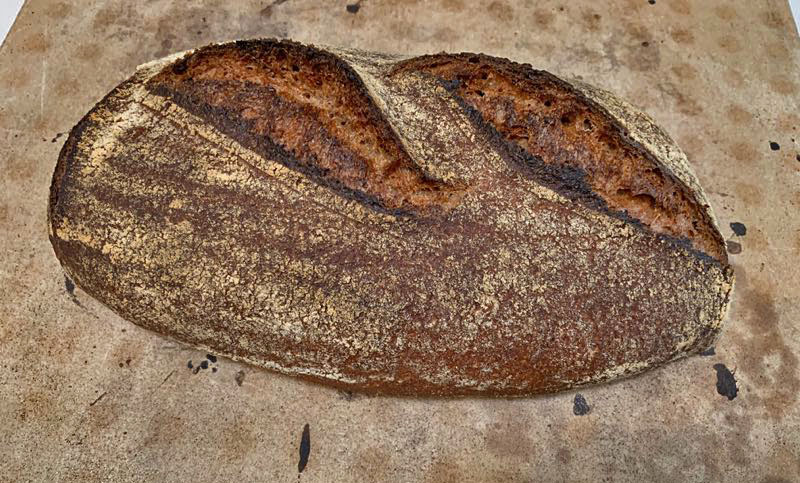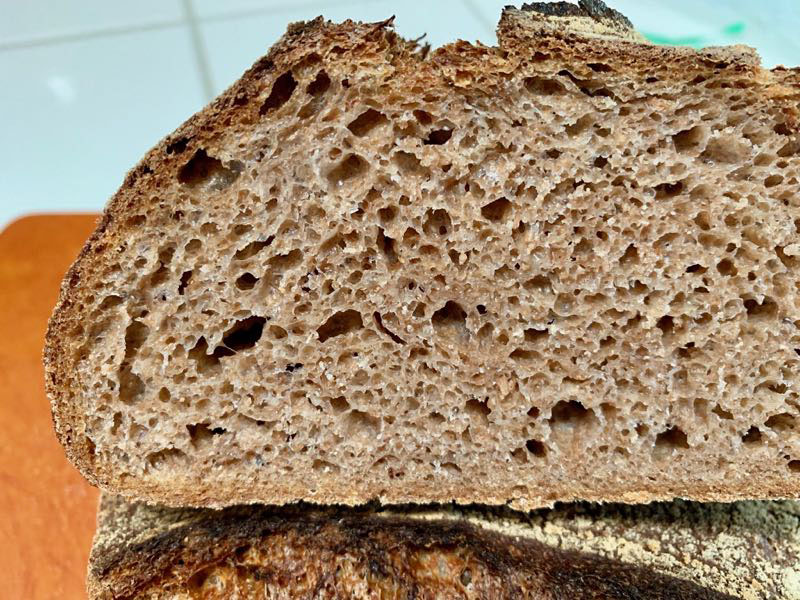 The crumb
I sliced the bread after it had cooled for about 3 hours. The crust was chewy, except for the ears which were crunchy. The crumb was very moist and tender with a wheaty and mildly sour flavor. My experience has been that this type of bread improves after a day or so.
Happy baking!
David