February 12, 2019 - 2:32am
Scoring - why didn't my bread open at the seam?
Hello everyone, I'm a home baker who's been baking sourdough for about a year by now, and I feel like i have most things down so far. I'm mostly trying to improve on the aesthetics of my bread (scoring and crumb openness). A couple of days ago, I baked a bread that came out lovely, but it barely opened where it was scored. The crust was very flexible, almost soft, where it usually comes out more crispy. I used a new white flour which may be the "culprit." Onto my question: Why didn't the loaf expand where I scored it? Here is my approximate recipe:
300 gr 12% protein flour, 60 gr whole spelt flour, 30 gr rye, 20 gr whole wheat, 305 gr water, 80 gr white flour starter at 100% hydration. Total 450 gr flour, 345 gr water, about 77% hydration.
Mix water and flour, autolyse 45 min.
Mix in 9 gr salt and starter, using Rubaud method, for about 3 mins.
Stretch and fold 4 times at about 30 min intervals.
Let proof until increased about 50% in volume. Turn out onto bench and preshape without flour. Rest 15 min, then shape using stitching method. Rest 2 min, then transfer seam side up into bowl dusted with rice flour. Cold proof in fridge at 4C 15 hrs.
When proofed transfer into dutch oven, preheated to 245 c, score off center, bake lid on for 20 mins. Continue baking 20 mins and finish with convection.
And here is my bread: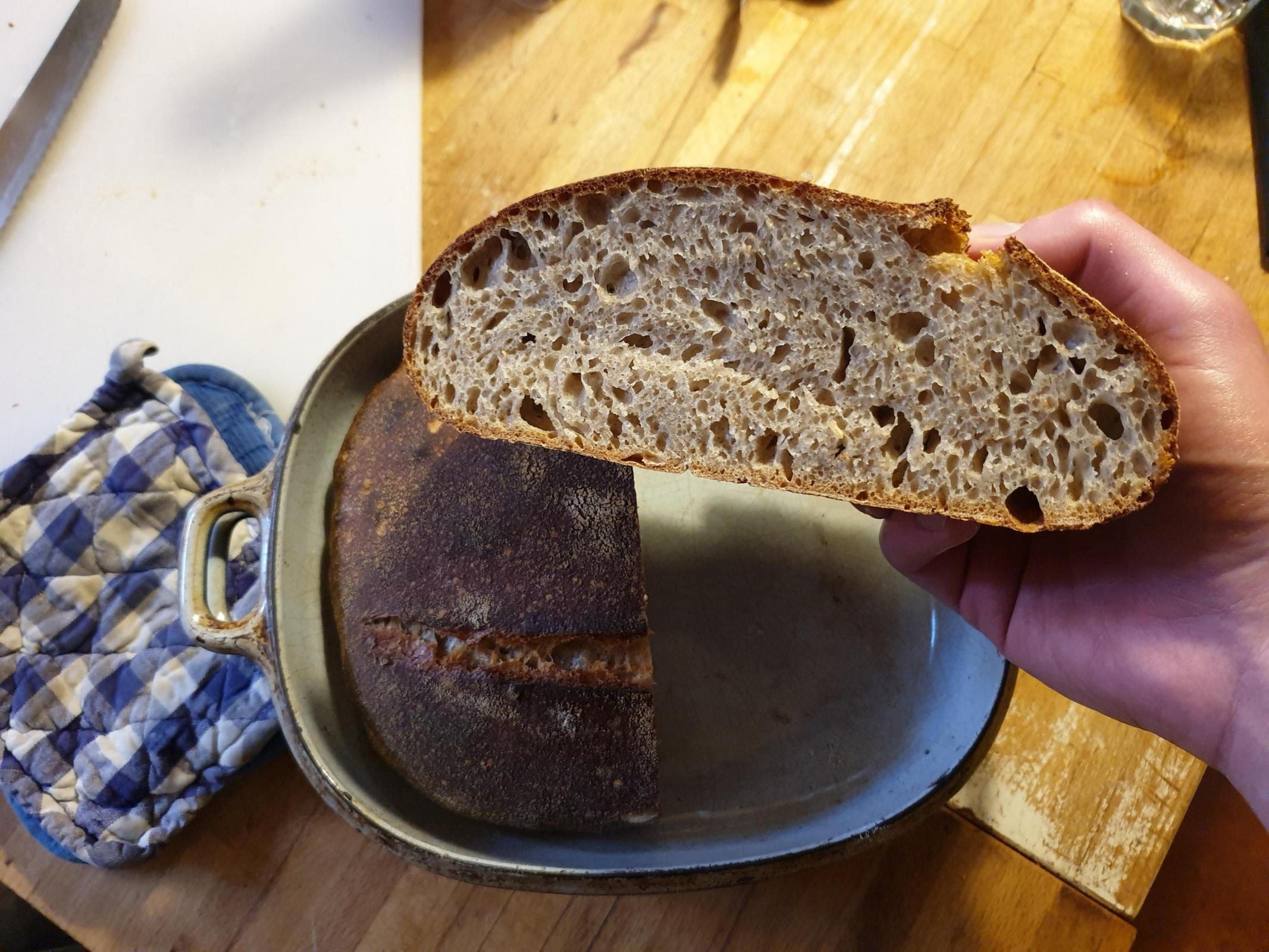 And this is how it usually turns out (not cold proofed):
Thanks!