February 9, 2019 - 6:44am
Artisan loaves with irregular crumb -- Help
I've been baking for a few years now and I've managed to get good results with many recipes but a nice artisan-style no-knead loaf still eludes me. I usually bake out of Flour Water Salt Yeast by Ken Forkish. I have managed to get good results in every aspect of the bread but I cannot for the life of me get the nice, beautiful irregular crumb that is often found in an artisan loaf.
Things I've tried adjusting:
Longer Bulk Fermentation (more gas in bread = more bubbled in crumb?)

This one had basically no effect on the finished product

Long Proof (more relaxed gluten = better oven spring?)

This one just made the bread flatter as I expected but it was worth a try

Short Proof (maybe the gluten was too relaxed and letting all the gas escape during the oven spring)
Cold Proof (I heard it makes better bread and it did make the bread hold a nice shape and give a good scoring ear but the crumb still sucked)
Here is a picture of the crumb my bread has: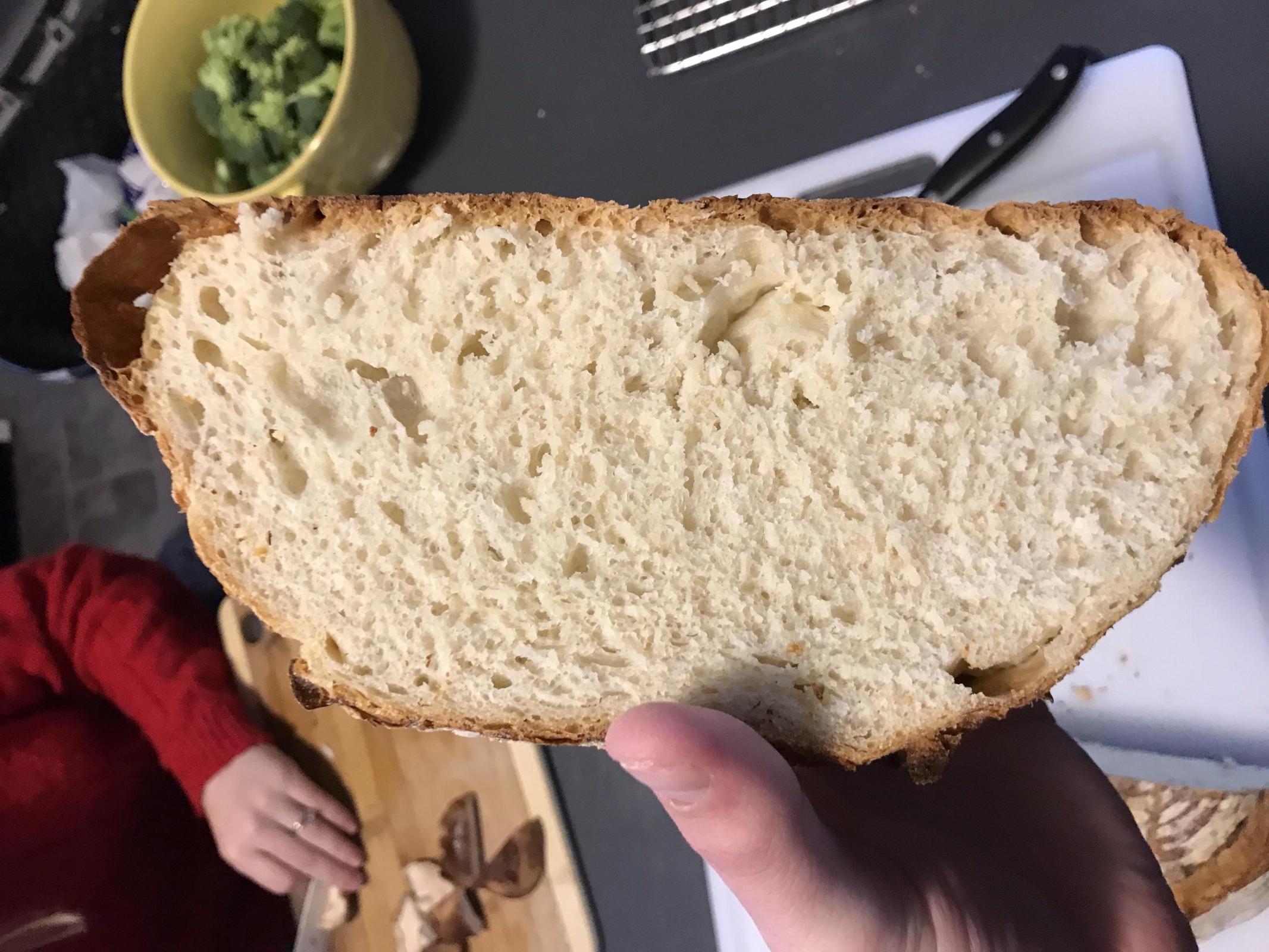 EDIT:
I've been asked to provide more details so I'll go through the method for this loaf. I've tried several different methods and they all work well other than providing that nice open crumb.
This loaf was a straight white bread using commercial yeast:
1000g King Arthur AP - 100%
800g warm water (~84F) - 80%
22g Kosher Salt - 2.2%
4g Active Dry Yeast - 0.4%
Autolyse the flour and water ~30 minutes
Mix in the yeast and salt thoroughly, about 5 minutes. Form dough into an approximate ball shape and let it rest in a large tub (I have a 12qt Cambro tub for this)
Fold 2-3 times during the first 1.5 hours of bulk ferment (I think I did three on the loaf pictured)
Bulk ferment until 2.5-3 times it's original size. This particular loaf took a little under 5 hours to achieve that. (I should note that I've played with the timing here and going longer/shorter hasn't seemed to make a difference. I'm planning on significantly reducing this timing to maybe a 50%-75% rise next time as per the suggestion by a comment here.
Once the dough is risen, plop it out onto a workbench and divide into two loafs. Shape each loaf and place into a banneton.
Proof for ~1 hour. I've found my bread becomes properly proofed after about 45 minutes although I've played around with the timing to see what results it gives and I think that I have this step right timing-wise. I'm going to try proofing it much less (maybe 30 minutes, I'll play it by ear) if the bulk ferment changes above don't help.
Put into a preheated dutch oven (heated for at least 45 minutes usually), cover, and put into a 500 degree oven. Turn it down to 475 right away.
Take lid off after ~30 minutes, take bread out when it looks done. (Usually 20 minutes. I think I took this one out at 15 minutes because I didn't want as crusty crust).
Let it cool and then eat it or give it away because you just made 2 huge loaves of bread.
I should also mention that the ambient temp in my house is a little under 70F and the final temp of this dough is usually around 75F when I start the bulk ferment.
Any advice or ideas are appreciated. Thank you!