February 2, 2019 - 4:38pm
Tomato & Nigella seed bread
recipe by Emmanuel Hadjiandreou's book.  Inspired by Abe & Carole I had a go at this yesterday whilst making my 5 grain levain for the community bake.
Starter was refreshed the day before and in the evening I built the levain - 100% hydration with some bran included and left it overnight on the bench. 
Bake day was crazy - visitors in and out and bread on the go.
Mixed together 237 g flour & 6 g salt.  then I added 4 g nigella seed and went to get the celery seeds.  Oops, it is mustard seed.  What to do?  ok I have oregano (only 1 g as plant is tiny) and there was rosemary in the garden.  So I added 1 g finely chopped oregano and 1 g finely chopped rosemary.  Mixed with flour until well distributed. This is just another small  575 g loaf.    
Mixed together 24 g tomato paste (home made so not as strong as commercially made stuff), 6 g olive oil, 119 g water and 178 g levain.  To this I added the flour mix....  and mixed well.  Hadjiandreou mixes then rests 10 minutes, then does a series of folds at 10 minute intervals.  I decided to just do my usual 200 slap and folds to make sure I had enough gluten development.  I gave the dough 2 sets of stretch and folds 45 minutes apart.  At this point I decided I should follow instruction which had said bulk ferment 1 hour, shape and proof 3 - 6 hours.  So I patted dough out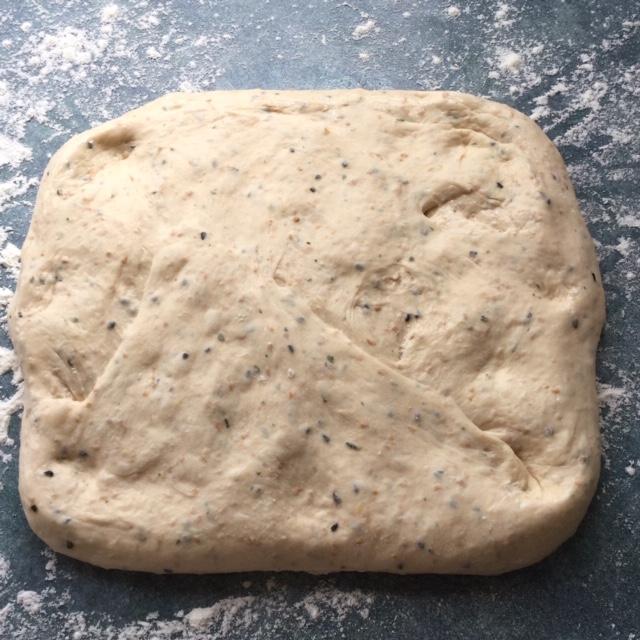 it was a little poofy, so I folded sides to centre and rolled it up, popped in the banneton to proof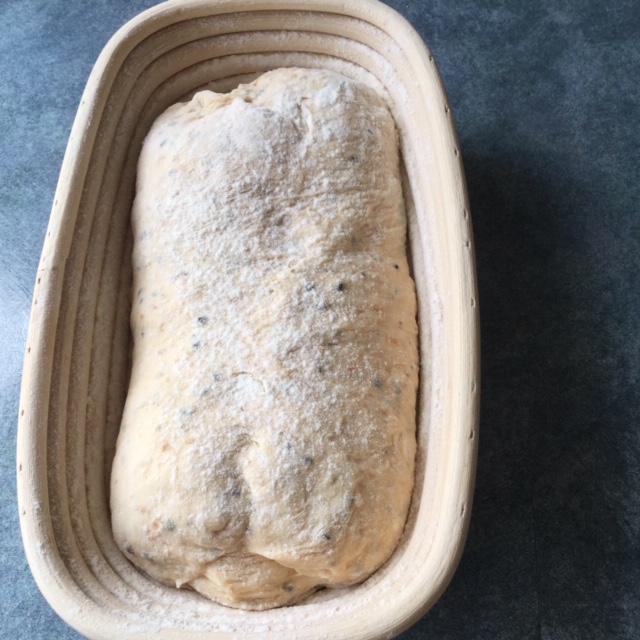 An hour and a half later it was like this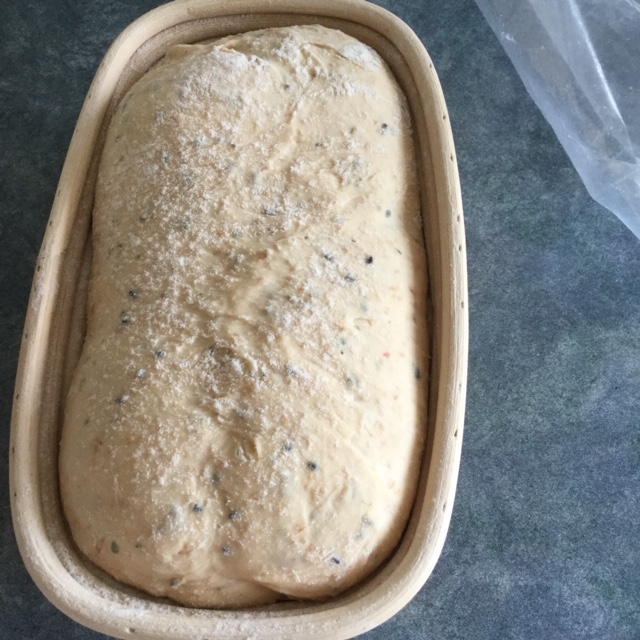 so I popped it in the fridge.  I wanted to bake it when I baked the 5 grain levain later in the day.  It was also fermenting much quicker than I expected.
An hour and a half later I turned the oven on, put the DOs in and left to preheat for an hour.  Here it is before I scored - a nice dough, hasn't spread much.  Not sure if it would have been better baked a little earlier though.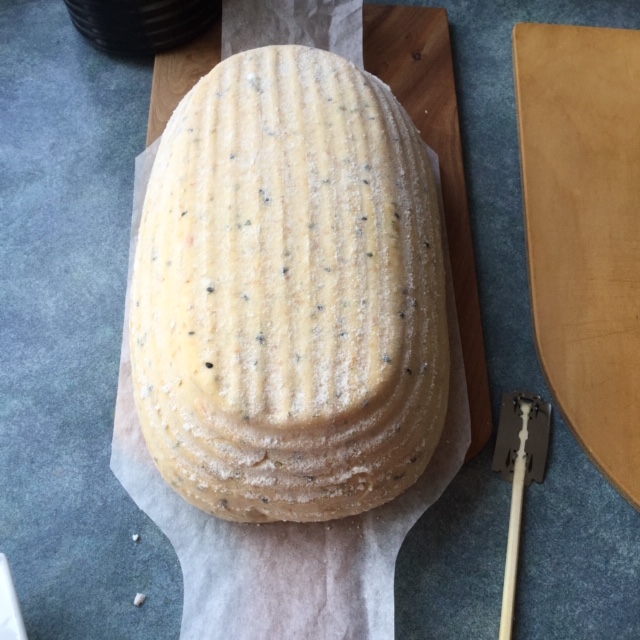 So this was baked at 260 deg C for 15 minutes, then 15 minutes lid off at 225 deg C.  Don't seem to be able to get an ear at the moment :(   Still it baked up fine although I think there is now a hot spot in my oven.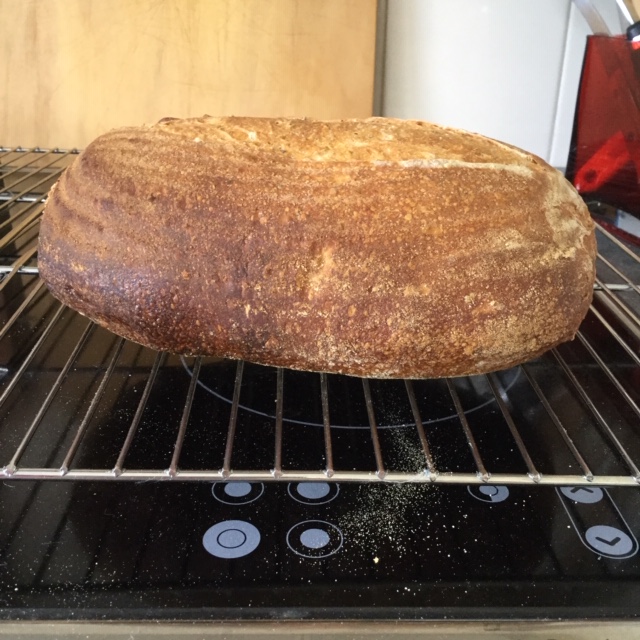 Crumb shot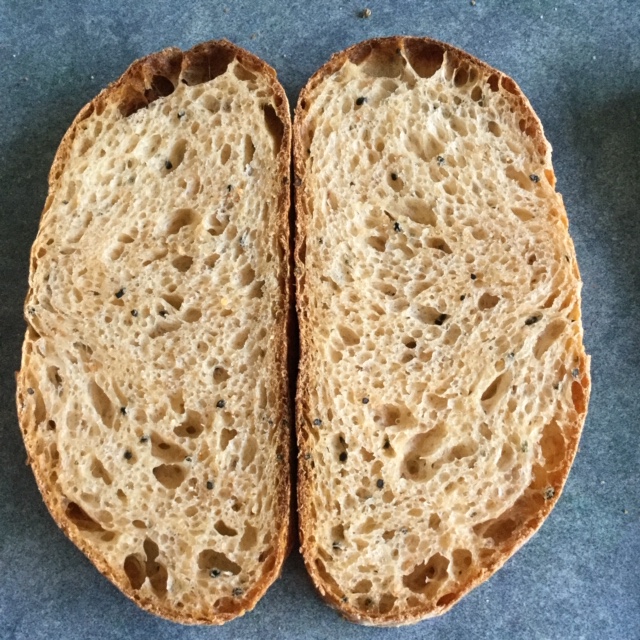 the colour is pretty true too.  An interesting flavour, had for lunch today with cold cuts and brie.  Not sure if it is the oregano or the rosemary coming through.
A good bake though, I will see how I feel about the flavour as I eat it and make adjustments then.  The celery seed would give a different flavour I think.  
Leslie