January 26, 2019 - 12:37pm
What will the bread be like if I spike my mixed grain 1:2:3 with yeast water?
I had some left over milled grain flour sitting in the fridge.   Need a brown bread!

So I started off weighing flour to see what sized loaf, the plan was for 600 g 1:2:3
9 gm kamut
45 g spelt
93 g whole wheat
30 g rye
ok,  need to make a bigger loaf than planned as I want whole grain below 50% and I had just enough levain ready to go.  So I added 217 g bread flour and 6 g gluten flour, autolysed with 245 g water and 21 g yeast water (warmed up from fridge) for 45 minutes.  Then added 133 g levain ( 100% hydration) and. did 100 SLAFs.  Added the 7.2 g salt + another 10 g yeast water. after another 105 SLAF I left the dough to bulk ferment. 4 sets of coil/ stretch & fold were done (dough was a a bit firm for the coils but I didn't want to increase hydration further. 3 hours after finishing the SLAFs I preshaped dough, rested 30 minutes then shaped and retarded over night in banneton in the fridge.  Nicely risen this morning and baked at 240°C in DO for 15 mins lid on and 15 mins lid off.

dough was lovely to work with although a little grainy from kamut. It held its shape well overnight although I did think it might overproof because of the yeast water.  Normally when I use YW I make a poolish but this time just added as part of the liquid.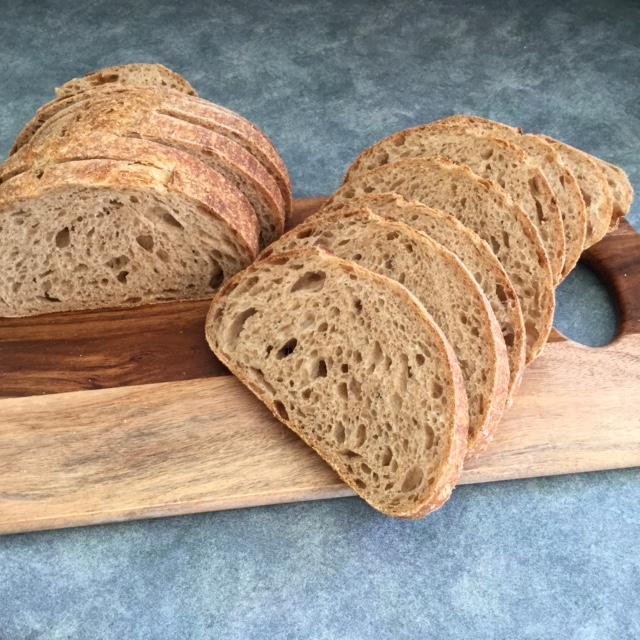 Flavour is lovely, couldn't resist some for lunch yesterday before it was sliced and frozen. So perhaps a little more open with the YW, not sure, but it is definitely not a dense or heavy loaf.  Positive outcome, I will add some YW more often I think.  It wasn't a big percentage either.  

Happy baking
Leslie