February 11, 2008 - 12:08pm
Ah .. the forgotten straight dough
Yesterday, I had two unpleasant surprises.

First, when I opened up what I thought was a second full canister of hard red spring wheat, I saw just a few scattered grains on white plastic. Argh! Out of wheat.

Second, by the time I realized that my extended family had devoured the loaf I'd planned to use for sandwiches in the morning, I had no time to do a soaker, a pre-ferment or build up enough sourdough for even a relatively quick (i.e. 7-8 hours start to finish) loaf.

So, I headed down to the store, ordered another 50 lb bag and picked up a couple of pounds of hard red winter wheat to tide me over. It's lower in protein than I'm used to, so I figured I'd just live with less lofty loaves.

As for the bread, I thought, what the heck, picked up The Laurel's Kitchen Bread Book and turned to her Oatmeal Bread recipe. These days, I've taken to doing an overnight retarding when I make oatmeal bread, but I had no time for that. So I just followed her recipe.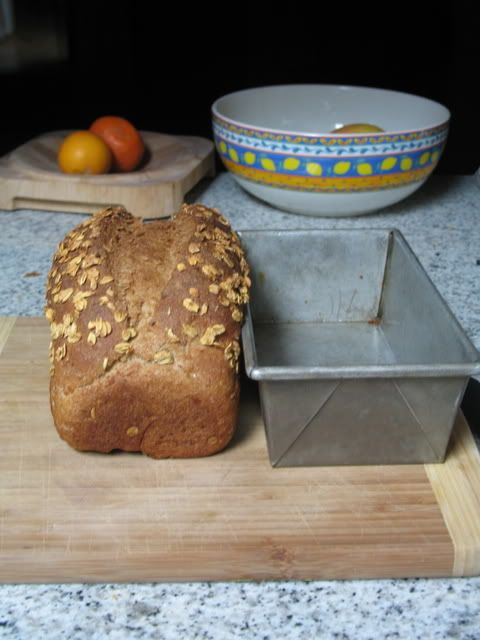 Wow. Not only did the bread rise like a champ, it tasted fantastic. In fact, I daresay it's the best tasting oatmeal bread I've ever made -- warm, sweet, nutty, mmmm. So, as much as I like the effect of pre-ferments and overnight retarding, I think I may have gone too far in rejecting straight doughs. Anyway, here's how I made it:

Ingredients:
Whole wheat flour: 375 grams or 2.5 cups
Dry milk: 2 Tbs
Salt: 9 grams or 1.5 tsp
Instant yeast: 1 tsp or 3 grams
Cooked oatmeal porridge, from steel cut oats, at room temp (no sweetener, no salt): 1 cup
Water: 1/4 cup
Vegetable oil: 2 Tbs
Honey: 1.5 Tbs
Mix the flour, dry milk, salt and yeast in one bowl. In another, mix the oatmeal, water, oil and honey. Dump the dry into the wet, and stir until everything is hydrated.
It'll take a while for the water from oatmeal to migrate to the flour, but if you knead it well for about 10 minutes, the dough will eventually come together. If you think it needs extra water, don't add any until about halfway through the kneading, otherwise you risk making the dough too wet.
Form the dough into a ball, and let it rise in a warm place (if you've got one) for 1.5 to 2.5 hours. When it's ready, a good poke won't readily spring back. Give it a good
stretch and fold
and shape once again into a ball. Let it rise a second time for about an hour. Finally, shape the dough into a loaf, roll it in rolled oats soaked in milk, put it a greased bread pan and let it rise until the loaf has crested about an inch above the pan in the center.
Bake at 350 degrees F for 45-55 minutes. Let it cool for one hour before serving.