December 10, 2018 - 3:58pm
Getting cozy with my recipe but shaping needs work...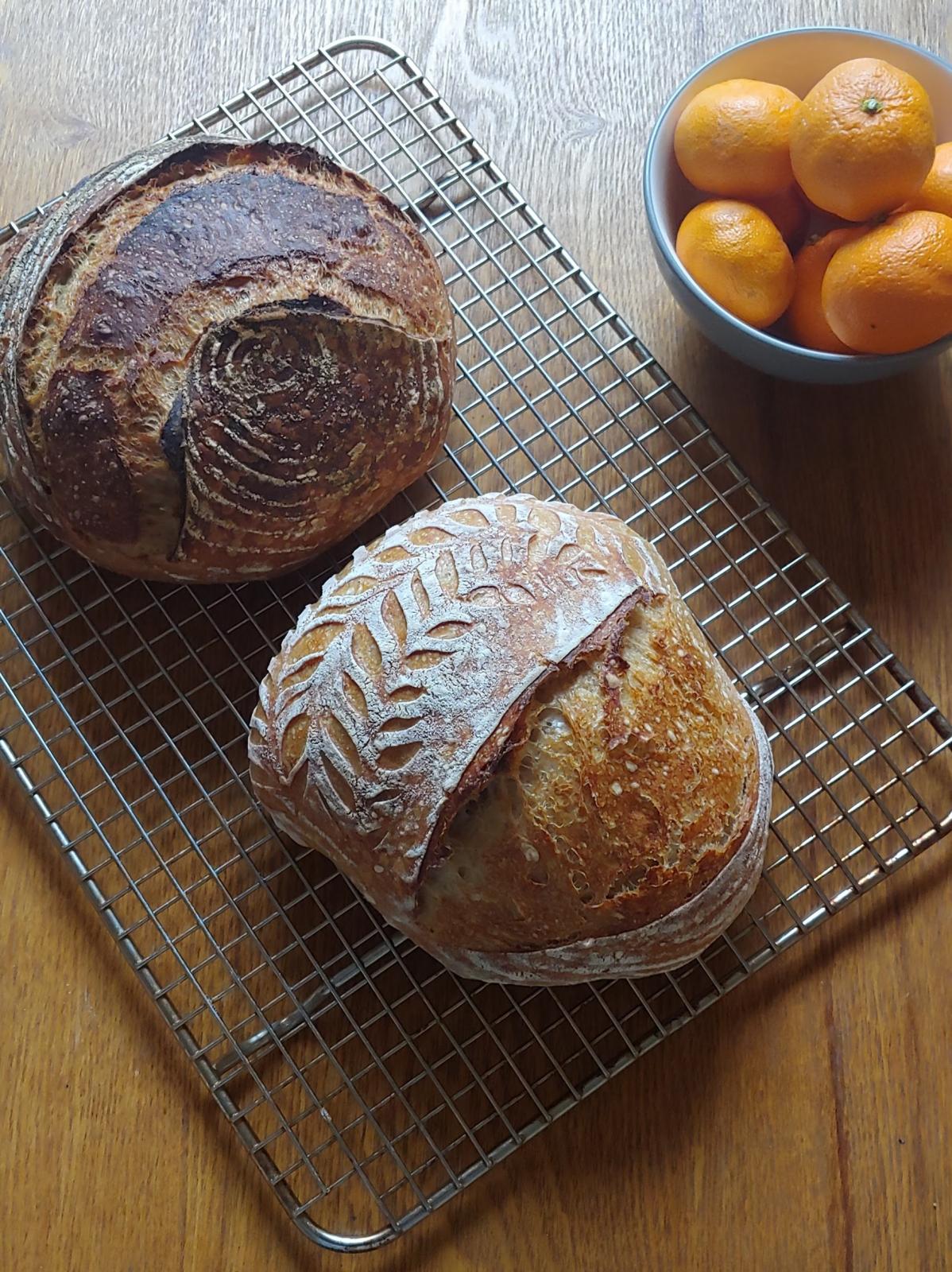 First, a huge thank you to this community and all the useful knowledge being shared here. I've been baking sourdough since March or April of this year, and have come a long way from the dense, flat, disaster loaves of the early days. 
Recently I've been baking a loaf similar to the ones pictured, with the same proofing times. The specs, roughly, are:
30-35% Fresh Milled Turkey Red Wheat
70-65% AP or Bread Flour, depending on what I have on hand
80-85% Hydration
20% Starter (50/50 WW/AP @ 80% Hydration)
2% salt
I go for a longish autolyse, around 90 minutes, then mix in the starter and about 30 minutes after that I mix the salt. I use the Rubaud method for mixing during the starter and the salt introduction, which I feel gets everything really well mixed at that stage. After that initial ~2hr beginning period, I do around a 6-hour bulk ferment with several gentle stretch & folds and one "lamination" step that I've borrowed from watching the lovely baker FullProofBaking on Instagram. It's a great technique to test the strength of your dough and incorporate some air early on in the process. A 20-30min bench rest before shaping, then into the fridge before a 12-20 hour cold prove depending on my schedule. I bake straight from the fridge in a preheated dutch oven, 24 mins @ 450F w/ lid then 22 mins @ 410F w/o lid. 
So far I'm happy with the color and flavor I'm getting here, but know i need to work on my shaping as my last several loaves have come out uneven and not symmetrical. I tend to get a side blown out or the boule will rise out the sides rather than towards the top. The results are a little comical but still tasty. 
Does anyone have some useful tips or videos for better shaping? Do you feel that the preshape is a really important step to a nice tight boule, and if so do you have tips for preshaping a high hydration dough?
Any help is appreciated. For more pictures of my breads or to follow along on my journey into SD baking, follow my baking IG @ https://www.instagram.com/pastmybreadtime/