November 2, 2018 - 11:34am
Hamelman's 5 Grain Levain (psst - as baguettes)
Been keeping a low profile around here, minding my own business - mostly.
I finally got around to baking this bread after promising Lechem (Abe) that I would.  My grain selection was bulgur, steel cut oats and flax & sunflower seeds.  Indeed, all the crowing around TFL for this bread is well deserved and it is quite delicious.
Mixing by hand proved to be a bit of a bear, but French Fold mix it I did.  Left out the IDY.  Two letter folds at 40 & 80 and into retard.  The seam was a bit hard to ID as I was placing it onto the couche, and the two baguettes had a small amount of exposed seam which split on the side of each.  Grr, but it happens once in a while.  Twice in one bake is another thing.
Another bread where there is scant evidence of having been done in baguette form, so you know that it was destined to be mine to do so.
Being a heavy dough I wasn't disappointed in the amount of grigne on the breads, but I was hoping for a little more.  Next time I'll add some IDY and up the hydration a little.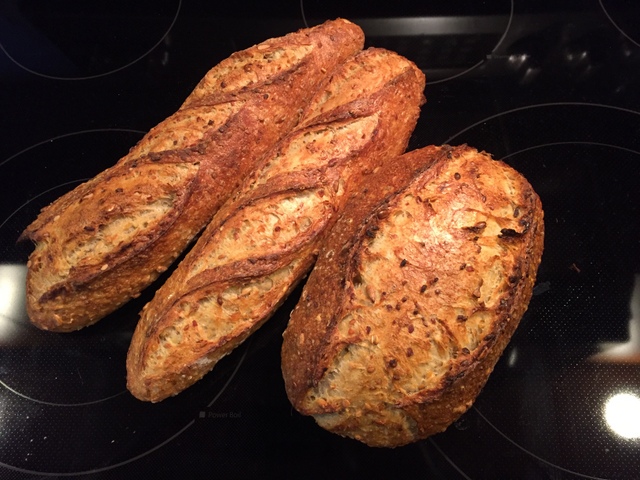 Abe visits a friend of his in Miami Beach, maybe annually, and last year we got together for the day, driving around and exposing him to a mini-tour of some of the Latin culture there.  Argentine cafe for breakfast, Cuban sandwiches and cubano coffees for lunch and Peruvian seafood for dinner.  With a few stops elsewhere in between.
This year, in fear of what to do, I came up with a plan which met with Abe's satisfaction.  Lunch at the Granier Bakery in Sunny Isles Beach where, for no other reason to go there, it was where Abel Sierra put in time with his friend last summer.  Then the "scenic" back way drive from there to my apartment in Ft. Lauderdale where we did two bakes together.  
I had prepared both a Vermont SD, which was still retarded in bulk, and an already couched and ready for the oven semolina with raisins, pine nuts and fennel seeds.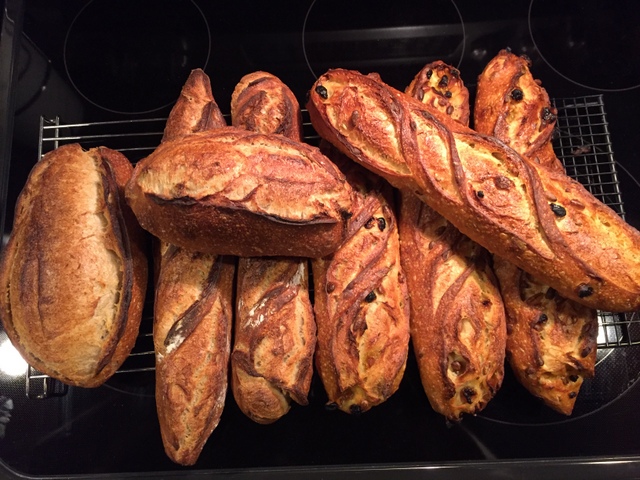 Afterwards a short walk for a dinner of pizza and beer, and then we traveled back down to Miami.  The destination being the fairly new Miami wholesale only bakery of the Sullivan Street Bakery in NY.  If the bakery doesn't sound familiar to you then perhaps the owner will.  Jim Lahey, he being the baker who popularized the no-knead bread.
It is a pretty large scale operation and I checked with the head baker there to ensure that our visit was welcomed.  We arrived close to 11 PM, in time to see both some shaping and some baking in their humongous ovens.  Plenty of time for conversational interaction, and they couldn't have been more accommodating, ensuring that we each left with a bread of our choice.  All in all, an exceptional and fun outing.
How am I going to top that next year?  Hmm.