November 21, 2017 - 9:32pm
Semolina w/fennel seeds, golden raisins and pine nuts,
 alfanso-style.
Friends paid a visit last week from the other side of the peninsula.  And I baked them some bread.  Jim is the extraordinarily talented chef of his own small restaurant and does indeed like my bread, so I was pleased to provide him and Donna with two favorites.  The remaining batards sent home with them.
 In conversation, Donna expressed her enjoyment for one particular item from Amy's Bread – Amy's being one of the better known bakeries in NYC, that little burg from whence we all started.  It was a 1992 creation of Amy's – a semolina studded with raisins, fennel seeds and pine nuts.  Donna suggested that I try my hand at it.   She forwarded the above link to the formula to me.  It employs a ~79% biga. And with a little searching I found Susan's, of Wild Yeast, version of a similar, quite similar, bread using a levain.  A semolina with fennel, currants and pine nuts. So it was time to investigate, and make one to send along with my wife to her Tuesday night taiko practice for all those hungry drummers who now well know my bread.
The levain is a two stage 100% white flour build. Mixed yesterday and baked this morning.  This bread also asks for olive oil and IDY, two items I tend not to use in my own baking of levain breads, but so be it.  And as usual, I had to, just had to, tinker with the formula to make it my own version of the Susan/Amy creations.
 Using Susan's formula as my template, I abided by her 1100g total dough weight as well as most of the other ingredient percentages.  But went off the rails on a number of instances.  Some of her formula ingredients are not completely stated. And here are the differences:
 The Levain build doesn't specify what kind of flour to use, so I made the assumption that it was an AP, but instead I used Bread Flour.  Also used for the Final Dough mix.  I decided on Bread Flour over AP as I like to bolster my durum with the stronger white flour. 
The formula calls for "semolina" and while taking that at face value, I decided to use semola rimaccinata instead. 
While abiding by the white flour and semola percentages, I upped the water content from 64% to 65% while lowering the Olive Oil from 4% to 2% - plenty if you ask me.  According to Mr. Hamelman, oils are considered to be part of the hydration, and therefore my take on this clocks in at 67% total hydration.
Being a cautious chap, as well as deciding on a long overnight retard, I opted to just about halve the IDY down to 0.35%.
 Now, as I mix just about everything with French Folds rather than by machine, I add the ingredients differently than the original, autolysing just the flour and water.  Then pinch and fold each of the following separately – IDY, levain and finally the salt.
The dough rests for 5 minutes halfway through the French folds, and it was at that post-rest point that I returned the dough to the mixing bowl and incorporated the oil, turning a somewhat stiff dough into something luxuriously silky by the time the 2nd half of the French Folds completed.
Being that this was a hand mix, I added the fruit, spice and nuts during the first of two letter folds.  The original calls for no folds during the bulk rise.
And then retarded the bulk dough in my usual way, removing it after x hours to divide, shape and then return to retard on a couche for the overnight nap.
Baked cold from retard and abided by Susan's baking instructions.
Just for fun, I made two fat baguettes/long batards, each weighing in at ~550g.  And as you can see, I provided ample space between scores.  But that didn't matter to the yeast.  Their growth in the oven during steaming was explosive, and the batards blew right through most of my scoring.
 And now with this behind me, I think that I'll make one to bring to our gracious Thanksgiving hosts, along with a Vermont SD as companion.
This being the 10th anniversary of Susan posting the formula on her Wild Yeast website - happy birthday bread.  And thank you Donna and Susan!
Coming off the couche, and scored awaiting the oven.  You can see the ample spacing between scores.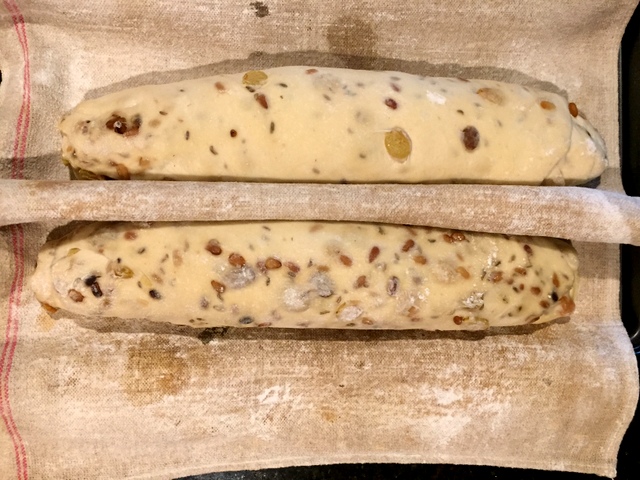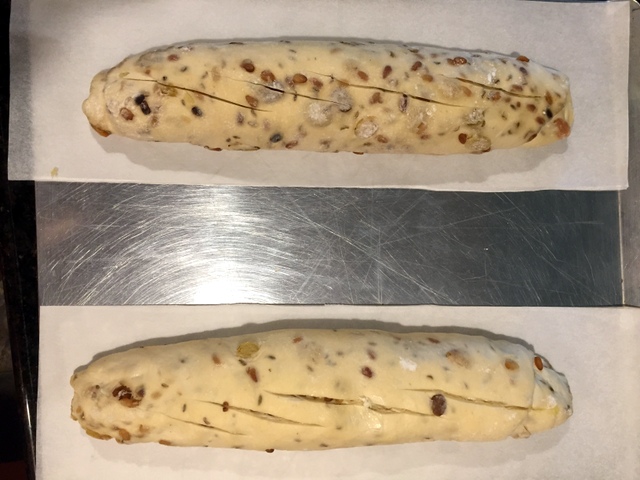 Steam released and doughs rotated.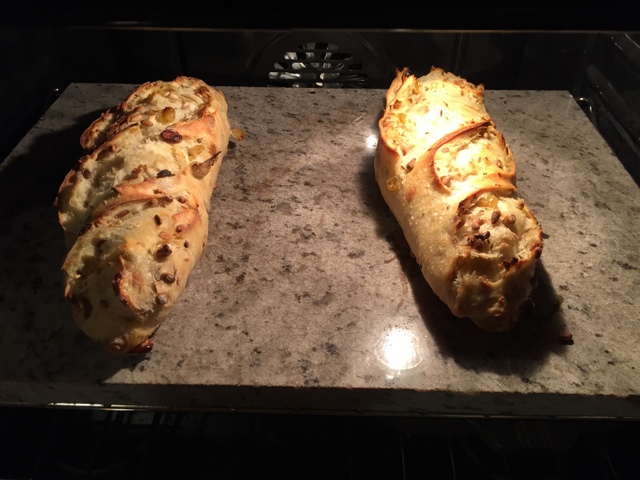 Fresh out of the oven. The oven spring was surprisingly BIG.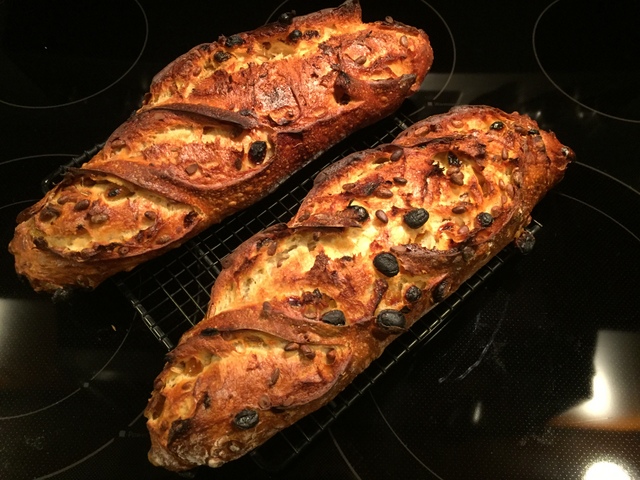 Sliced up and ready to ship off to taiko practice with the wife.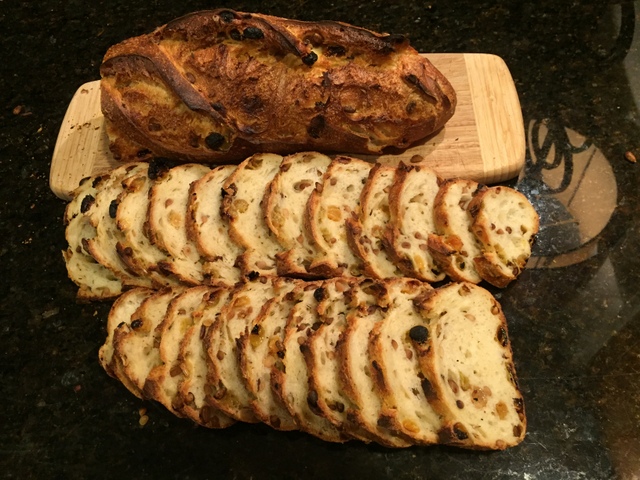 long batards, 2 x 550g
Semolina Bread with Fennel, Golden Raisins & Pine Nuts
 
 
 
 
Susan, Wild-Yeast
 
 
 
 
 
 
 
 
 
 
 
 
 
Total Flour
 
 
 
 
 
Total Dough Weight (g)
 
1100
 
Prefermented
18.00%
 
 
 
 
Total Formula
 
 
 
Levain
 
 
Final Dough
 
 
Ingredients
%
Grams
 
%
Grams
 
Ingredients
Grams
 
Total Flour
100.00%
537.6
 
100.00%
96.8
 
Final Flour
440.9
 
Bread Flour
59.00%
317.2
 
100%
96.8
 
Bread Flour
220.4
 
Durum
41.00%
220.4
 
0%
 
 
Durum
220.4
 
Water
65.00%
349.5
 
100%
96.8
 
Water
252.7
 
Salt
2.05%
11.0
 
 
 
 
Salt
11.0
 
IDY
0.35%
1.9
 
 
 
 
IDY
1.9
 
Olive Oil
2.00%
10.8
 
 
 
 
Olive Oil
10.8
 
Whole Fennel Seeds
1.70%
9.1
 
 
 
 
Fennel Seeds
9.1
 
Golden Raisins, Hydrated
20.50%
110.2
 
 
 
 
Golden Raisins
110.2
 
Pine Nuts, Toasted
13.00%
69.9
 
 
 
 
Pine Nuts
69.9
 
Starter
3.60%
19.4
 
20%
19.4
 
 
 
 
 
 
 
 
 
 
 
 
 
 
 
 
 
 
 
 
 
Levain
193.5
 
Corn Meal Crust (opt.)
 
 
 
 
 
 
 
 
 
Totals
204.60%
1100.0
 
220%
212.9
 
 
1100.0
 
 
 
 
 
 
 
 
 
 
 
 
 
 
 
2 stage liquid levain build
 
Yield: 1100 g (4 short baguettes)
 
 
 
Stage 1
 
 
 
 
Mix: 15 minutes
 
 
 
Bread Flour
48.4
 
 
 
First fermentation: 1.5 hours
 
 
 
Water
48.4
 
 
 
Divide/rest/shape: 30 minutes
 
 
 
Starter
19.4
 
 
 
Proof: 1.25 hours
 
 
 
Stage 2
 
 
 
 
Bake: 35 minutes
 
 
 
Bread Flour
48.4
 
 
 
 
 
 
 
 
Water
48.4
 
 
 
 
 
 
 
 
Total
212.9