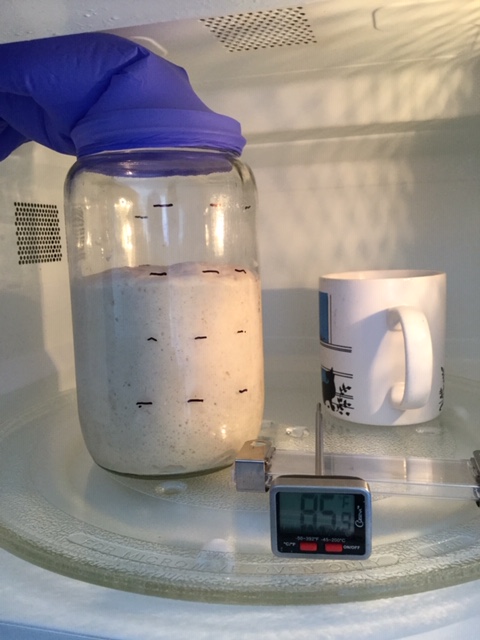 Dan has been talking about starters and activity so thought i would have a look at how mine performed.
My starter is a relatively firm one, and I usually refresh it based on the original post by Zolablue. This was the first starter that worked for me 4 years ago after several failed attempts.  I mix 10 g starter + 20 g water + 30 g flour.  Later in the day I repeated this mix and left it overnight.
 In the morning I mixed up a new batch of 240 g starter and placed in a 1 litre glass preserving jar.  I marked the sides every 200 ml as the starter was approx. 200 ml in volume.  I wanted to see just how active my starter is at around 80 deg F.  I topped the jar off with a glove to see what gas production there was.  I preheated a cup of water in my microwave, thought I had it pretty much at 80 deg F but it was actually more like 82 – 85 deg F all day.  The door was propped open and temperature remains quite stable.  
08:20 am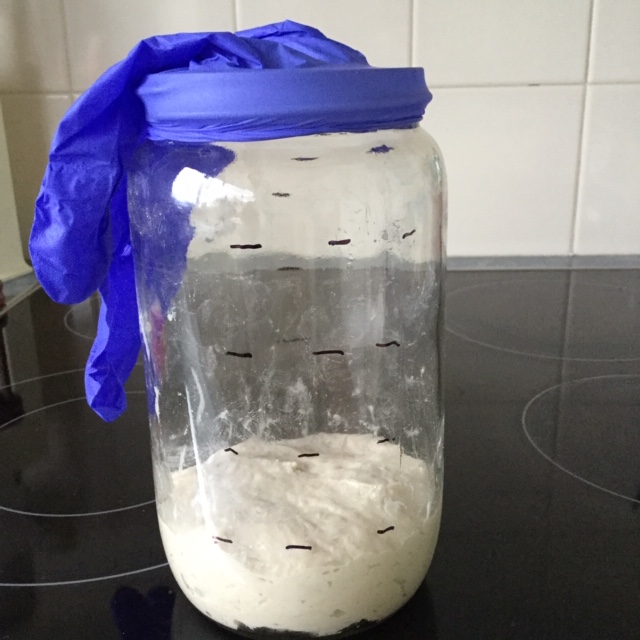 10:55 am - not a lot happened so far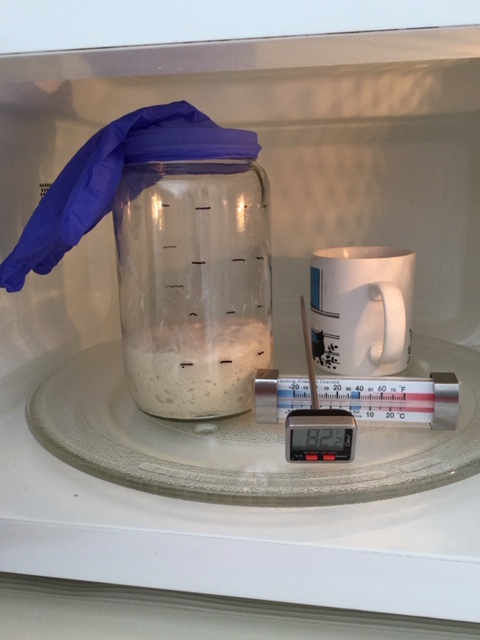 I had to go out at this point and hoped it would be ok but when I got back at
15:15 pm - this was the peak, glove full of gas.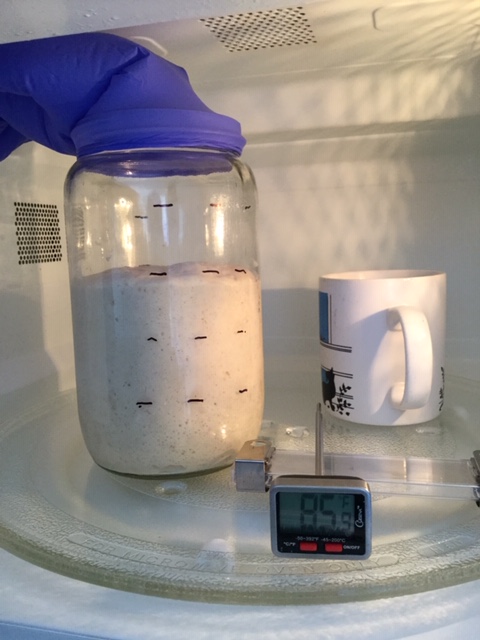 18:20 pm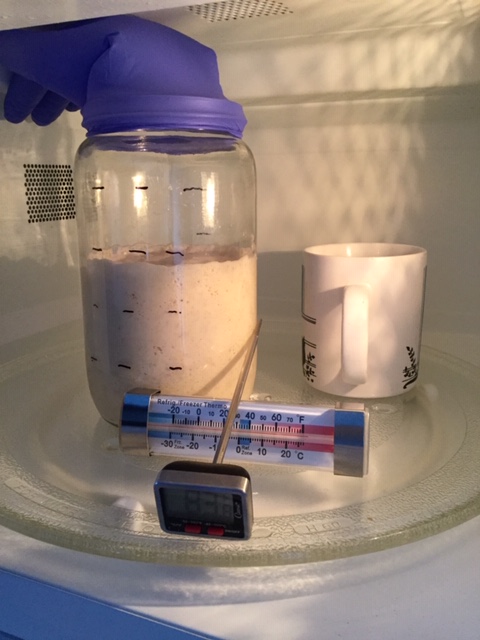 20:20 pm – 12 hours after mix and well past peak.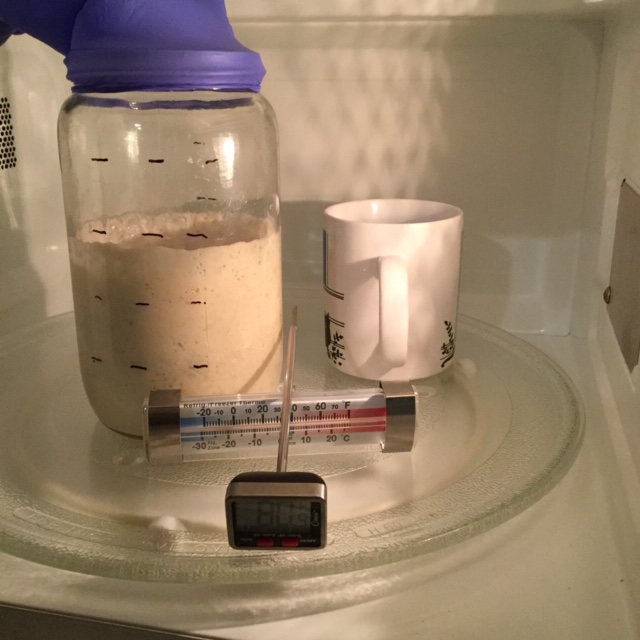 At this point I stirred the starter down,  level was just a bit above 200 ml mark, shut microwave and left overnight to see what would happen.
Just on midnight – on the move again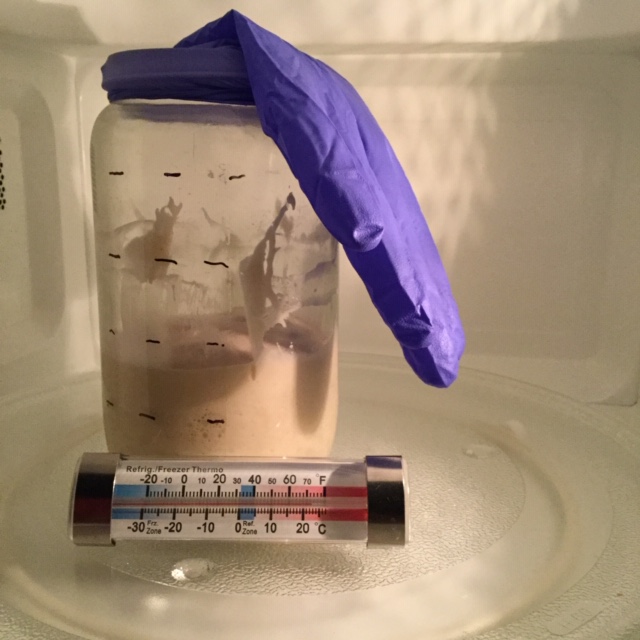 8:20 am next morning – it has doubled again but not a lot of gas in comparison to first peak.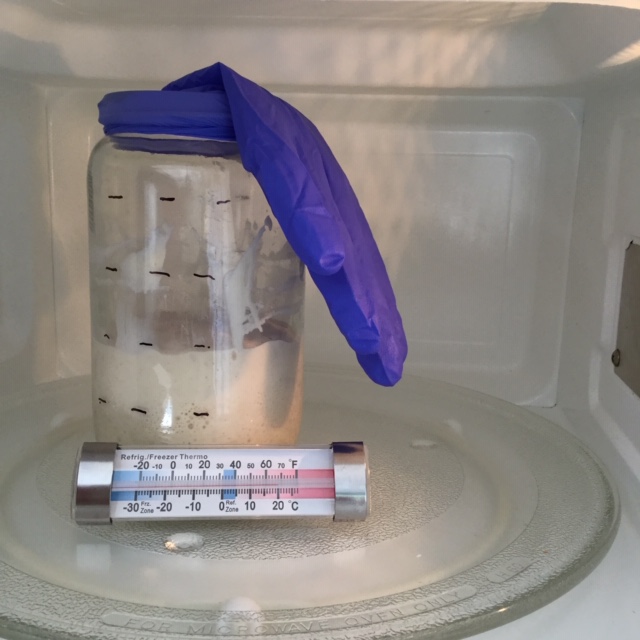 Okay, now what happens when I have my firm starter at 66% hydration and compare it to a starter at 100% hydration?
Mixed up another batch of 66% starter using this as seed
Mixed up a batch of 100% hydration also using this as seed. 
Marked another jar in 200 ml steps and placed 230 g starter in each labelled jar, topped off with disposable glove.
Jars were left at room temperature and photographed as I could.
09:20 am start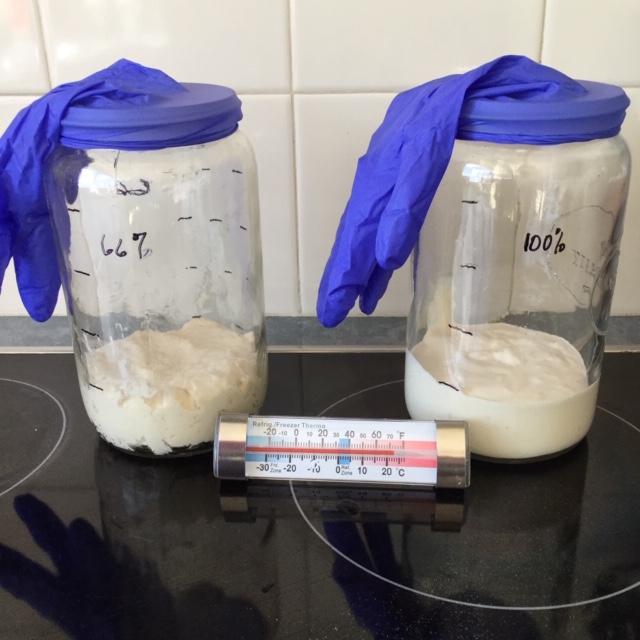 11:20 am not a lot of activity in 66% but 100% was on the move but here at
13:40 pm 66% is cranking up with gas production ramping up and 100% has more than doubled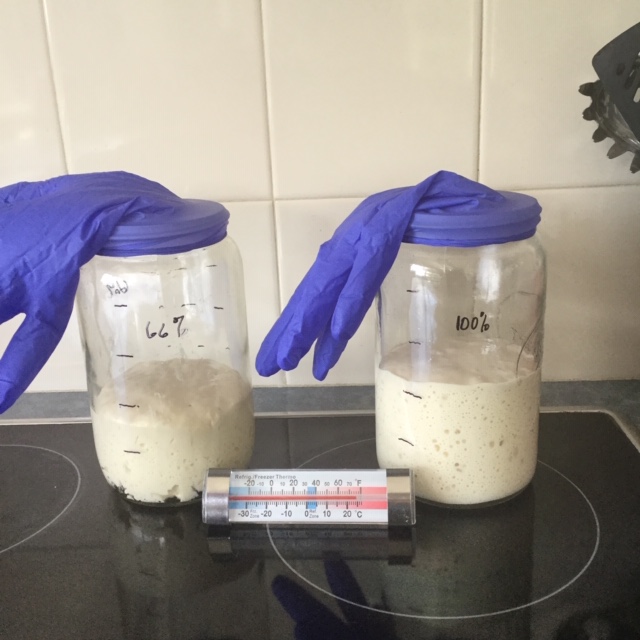 16:15 pm 66% has really out produced 100% in gas production and volume is also greater.  100% has just past the peak and is receding, less gas production.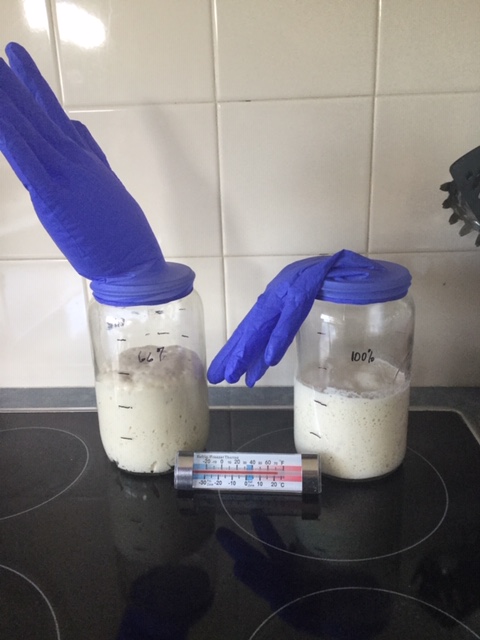 18:30 pm 66% reaches peak, 100% still very frothy but receding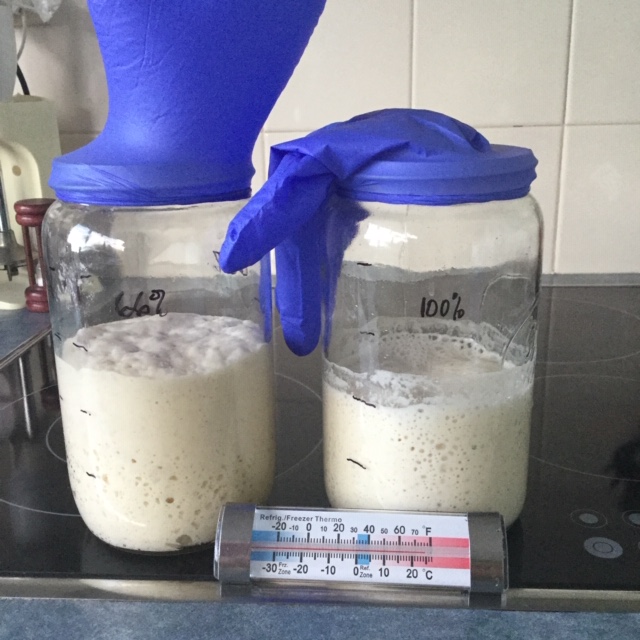 21:20 pm - 12 hours after start both have past peak and receding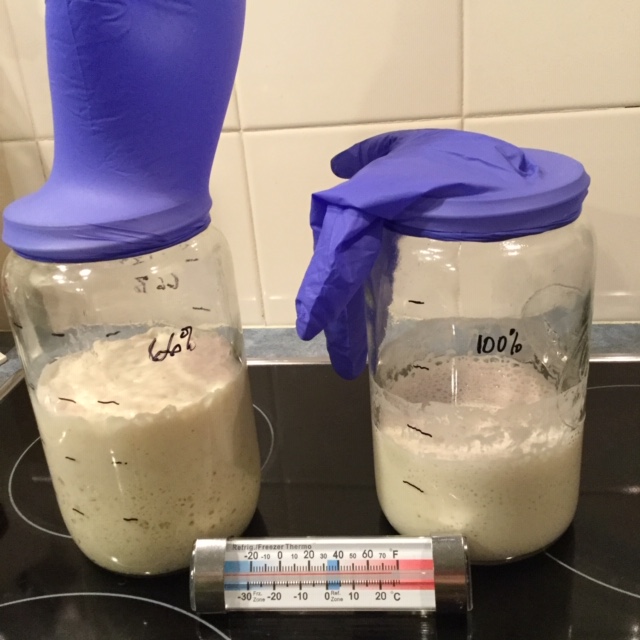 07:10 am  here they are this morning, at the end of the 24 hours. 100% has returned to starting volume although 66% had strength to stay a bit longer.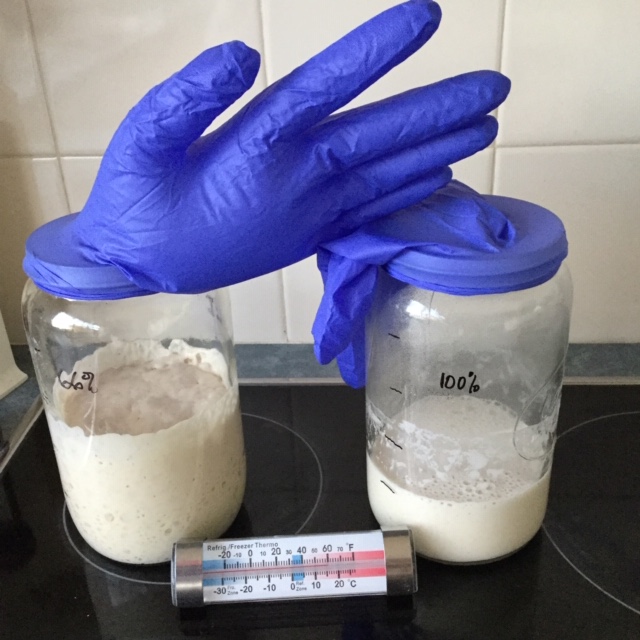 Fascinating the way the 2 different hydration starter performed. comparing them side by side has been enlightening.  
The first part at 80 - 85 deg F the starter tripled - so I am happy with that but I don't know if more activity is achievable.
How would this impact on crumb?  would an even more vigorous starter (if it say quadrupled) give a more open crumb? 
It is often mentioned that firm starters are stronger, so it was interesting to actually see that happening.  the 100% hydration starter did not appear to have produced as much gas either - is this because there is less flour (food) in the same weight of starter?  
A few things to ponder.
Leslie