September 18, 2018 - 3:18am
Degree of proof before retarding @ 4 deg C - an experiment
Objective: To see how the length of bench proof after shaping (before retardation) impacts on crumb. 

 So here is my formula  & method for 2 kg dough (enough for 5 x 400g batards):

Levain:  Refreshed yesterday, final build overnight.
34 g starter + 20 g wheat bran + 160 g water  + 140 g flour 

Today 11 am:  Autolyse 45 minutes
662 g flour + 282 g wholewheat freshly ground + 26 g gluten + 654 g water

11.45 am add levain.  squished dough out and smeared levain over, dimpled it in and folded dough - a bit like laminating.  repeated the folding then did 100 SLAFs. dough came together nicely but I felt it needed a little more water, so after resting it for 5 minutes I patted it out, sprinkled the 20 g salt over it as well as another 20 g water. folded it all up again and did another 110 SLAFs. Dough felt really good and was no longer sticking to everything.  

After 30 minutes I did 5 coil folds, rested 30 minutes and repeated the coil folds.  At this point I got interrupted and the next coil fold was 45 minutes later.   the 4th & final set of coil folds were done 45 minutes later again
.  
About an hour and a quarter later, dough was somewhere in the region of 30-50% risen, surface was domed and here were surface bubbles.  Divided the dough into 5 and preshaped each into an oblong and rolled it up.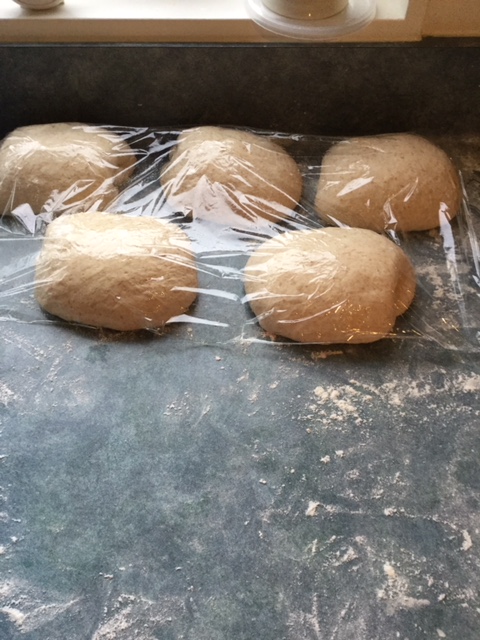 Rested 30 minutes before final shaping.  Decided to try Trevor's "un named shaping" method which is nice and simple.  I tried to treat each loaf the same. 
These photos are all just before loaves retarded. The first loaf I shaped was left on bench post shaping for 120 minutes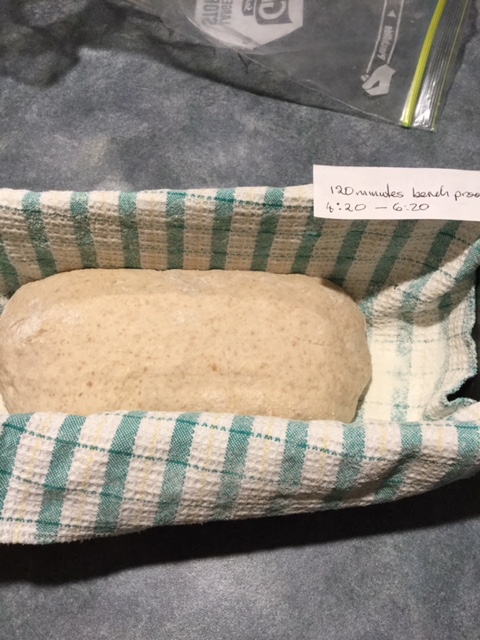 The second loaf was left for 90 minutes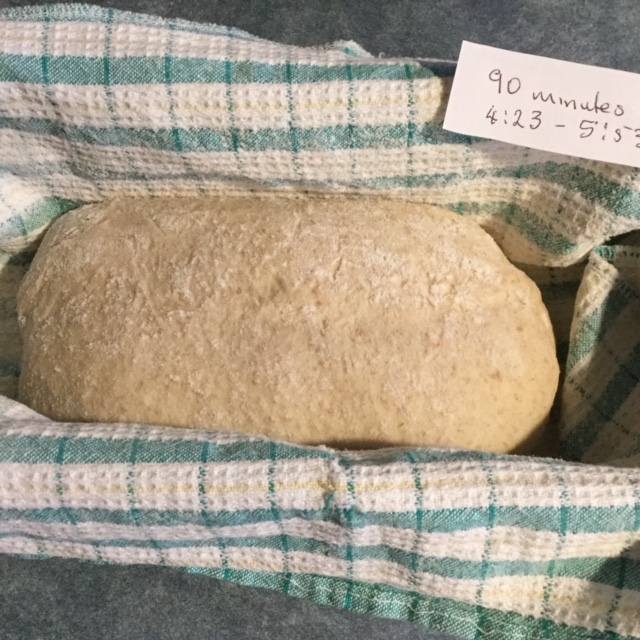 The third loaf for 60 minutes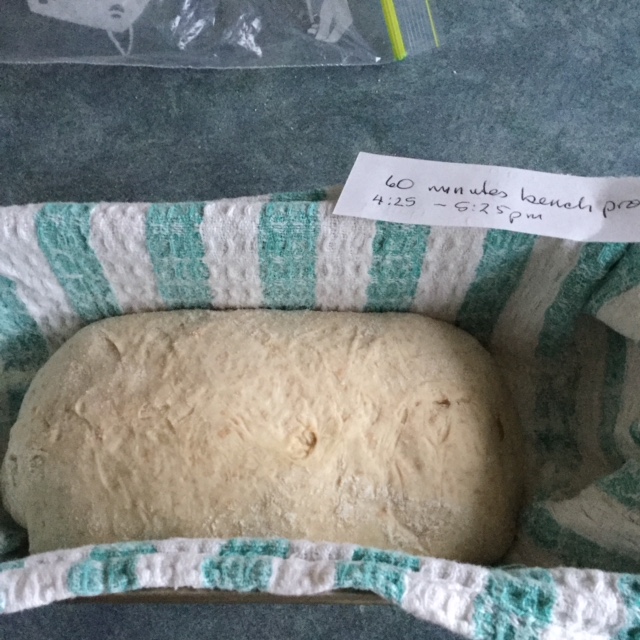 The 4th loaf for 30 minutes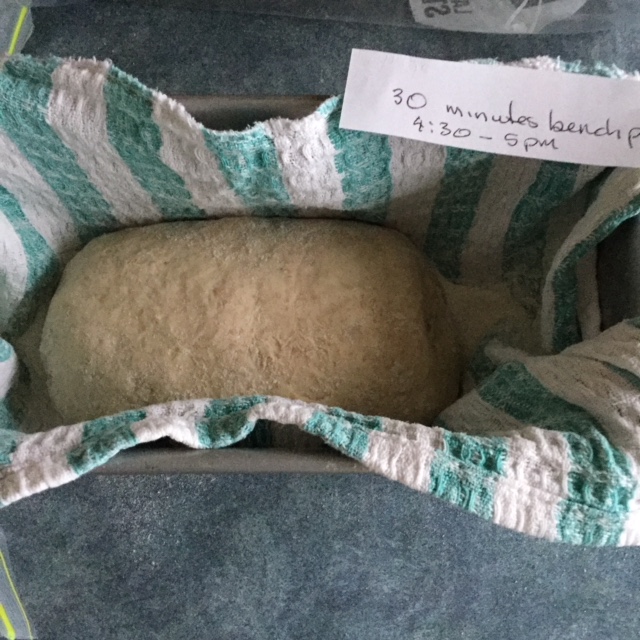 The 5th and final loaf was shaped and popped straight into the fridge.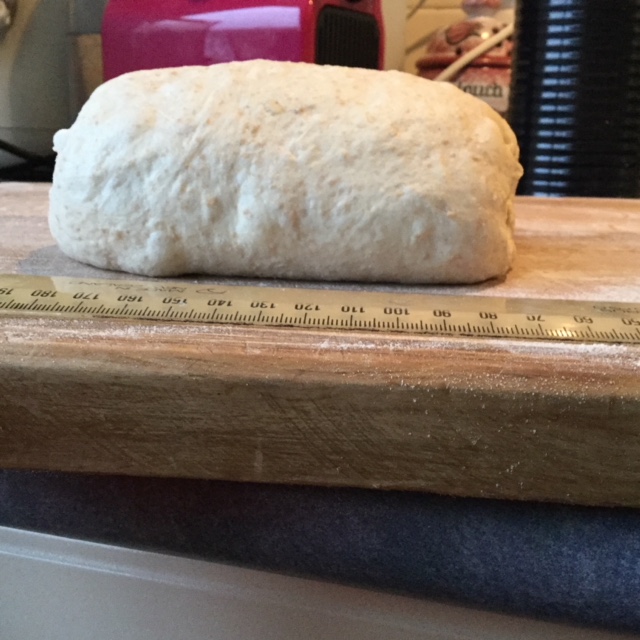 All tucked up and ready for sleeping!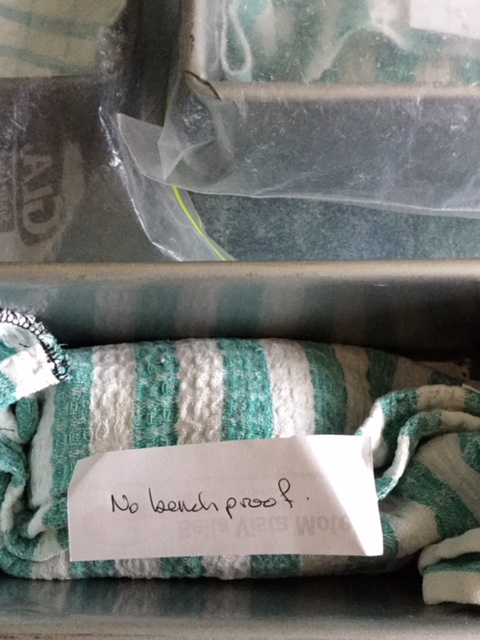 Tomorrow morning I will bake them one after the other.  I had hoped for 10 - 11 hour retard but things went really well so they will actually get 14 hours in the fridge before baking.  Fingers crossed that the fridge stays cold enough to hold them.  Just looking at them when I made the photos, I think 2 hours was too long and that 1 hour or even 1.5 hours would be better. 
Just had a quick look at one of loaves, so far so good and fridge temperature is nearly back to 4 degrees C. 

More photos and the actual bake tomorrow
Leslie