Slap N Fold vs. Stretch N Fold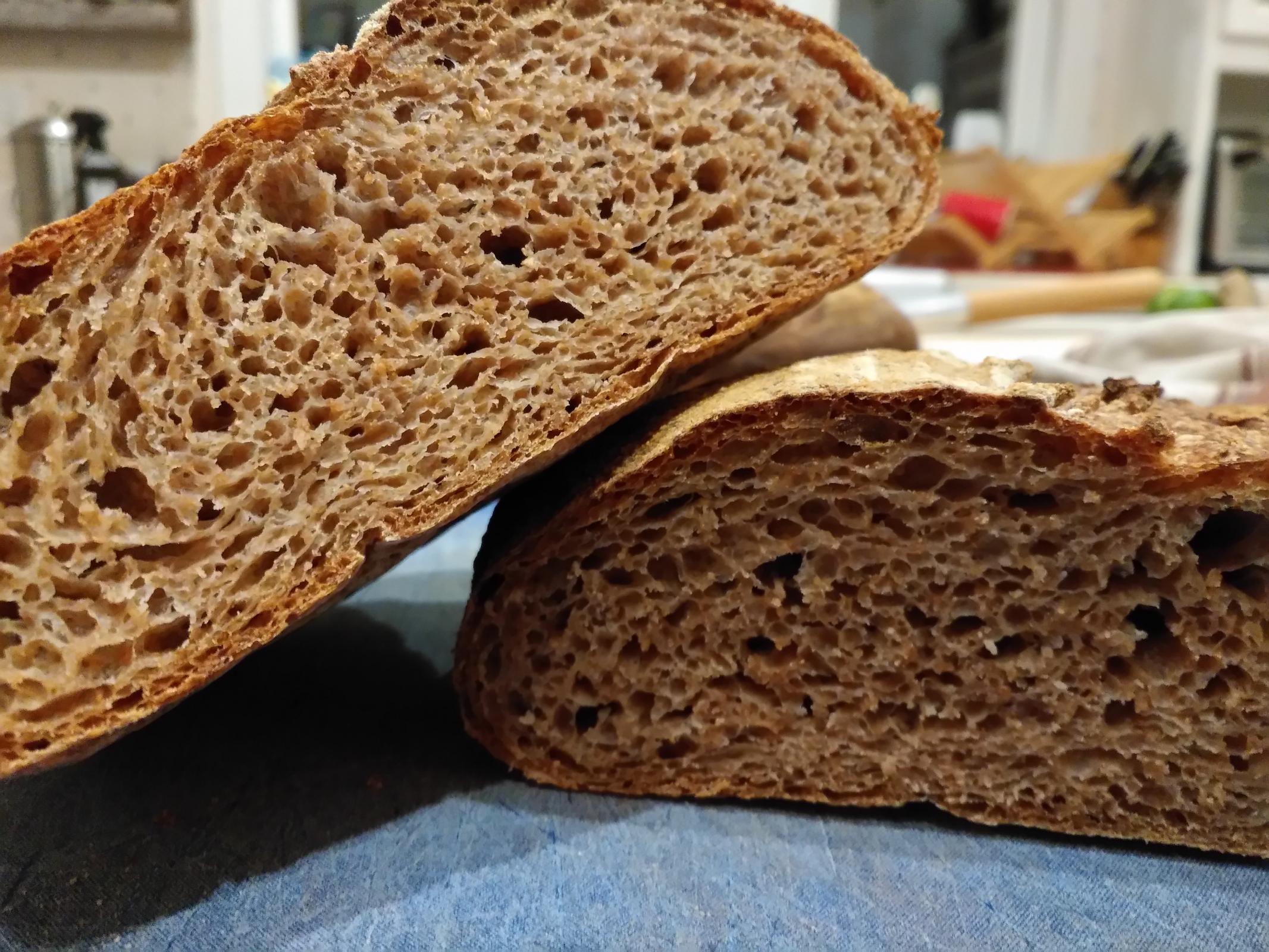 Simple test. Same difficult recipe, 4 loaves, 2 developed using slap-n-fold, and 2 developed with a combination of different gluten development strategies, mostly stretch and fold, but there was a lot of sleeping ferrets, some Texas twisters (made that one up), and the Rubaud.
Considering I am relatively new to high hydration doughs, I cannot say with certainty that I did any of the gluten development methods above correctly. I can confirm that I have made very well developed doughs by hand at 70% hydration and 100% bread flour (so you can conclude I am not totally inept).
This was my first time to use the slap-n-fold method. I avoided slap-n-fold like the plague, because it is messy, and my favorite baker, Trever Wilson, doesn't seem to need it. But... I haven't seen a video of him making a loaf of 100% hard red wheat at 100% hydration with NO added gluten. Maybe Trevor would have chosen slap-n-fold had he been forced to make the recipe below.
Recipe (made two separate batches):
600 g hard red whole wheat
600 g water
13 g salt
50 g 100% hydration rye leaven (primarily for flavor, not for leavening)
1 tsp commercial yeast (Instant)
Autolyse (30 minutes):
600 g whole wheat
600 g water 110 dF
Mix:
Autolyse
13 g salt
50 g leaven
1 tsp yeast
Batch 1:
Stretch and fold/Sleeping Ferret/Rubaud depending on how dough was behaving. 7 sessions of that for 10 minutes each session, and 10 minute rests in between.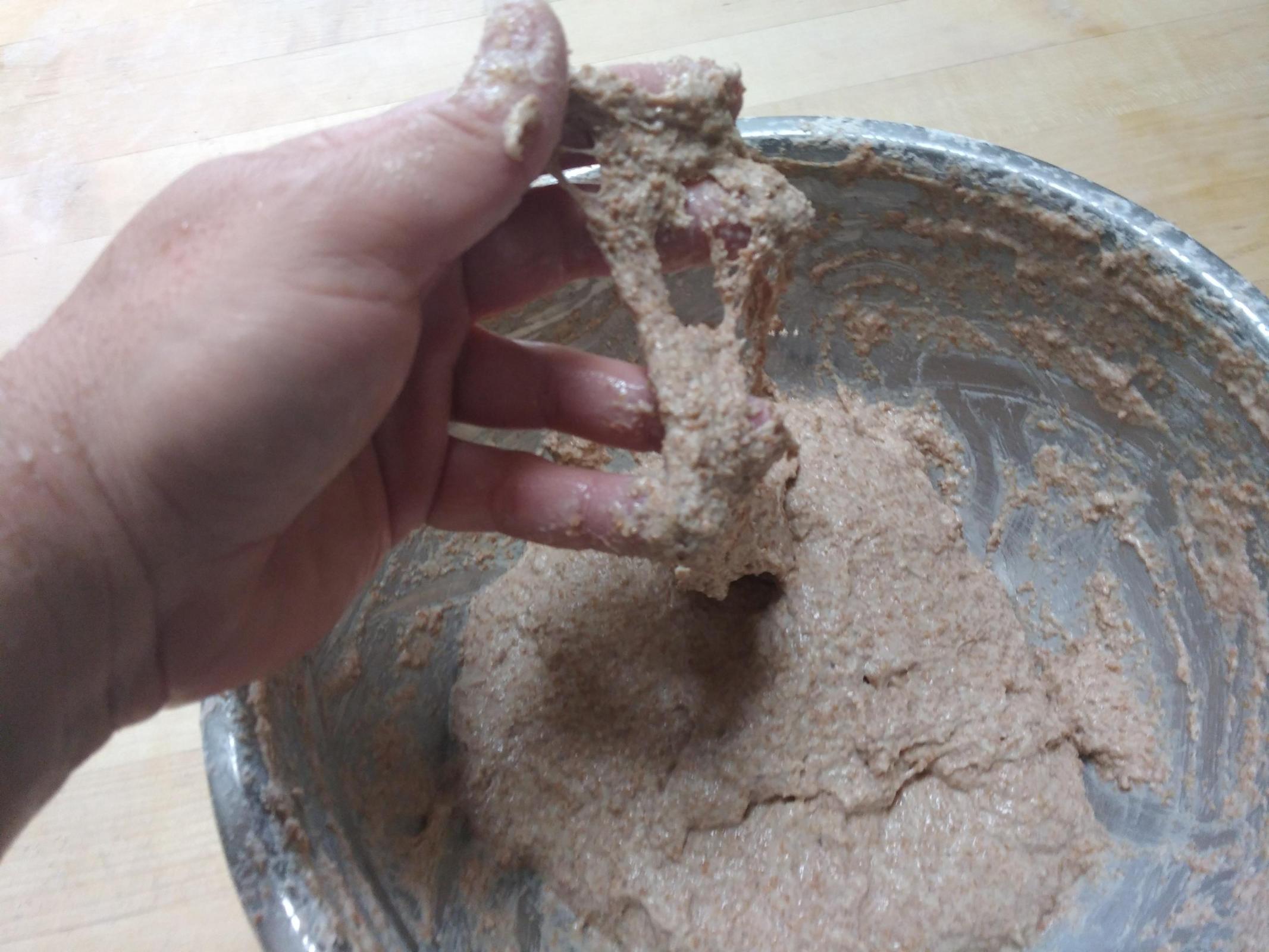 Above: The dough after 7 rounds of stretch-n-fold/sleeping-ferret/rubaud. Some gluten development, but, in general, a mess.
Batch 2:
150 slap-n-folds, executed 6 times, with 10 minute breaks in between. The 150 slap-n-folds usually took me 8 minutes per session. Followed by 2 stretch and fold sessions with 30 minute breaks. Then, preshape, 10 minute wait, then shaping, then proofing, then baking.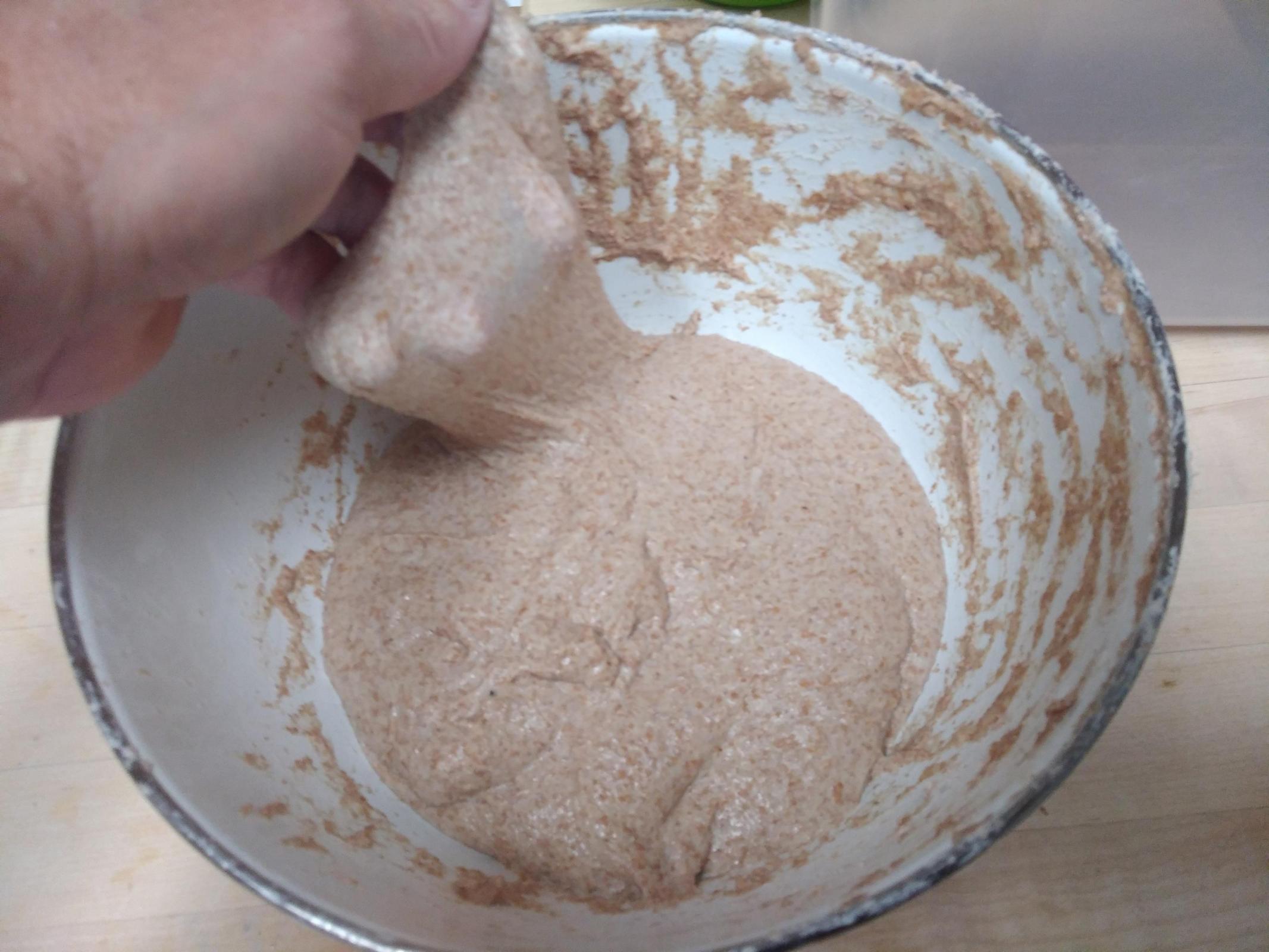 Above: After the 6th Slap-N-Fold Session and a 10 minute break. Windowpane!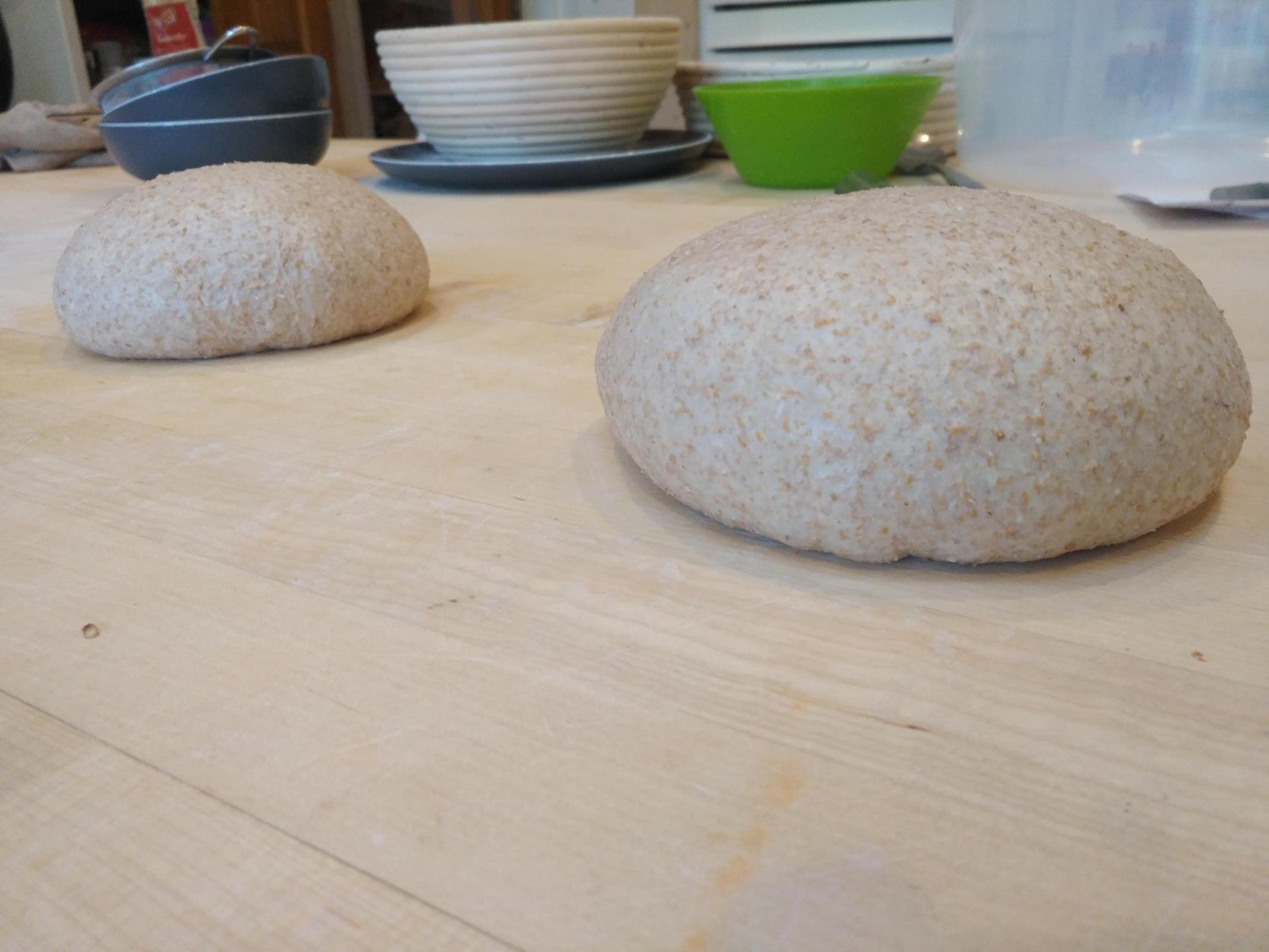 Above: Look at how well those preshaped loaves are holding up. They didn't start slacking at all during the 10 minute bench rest.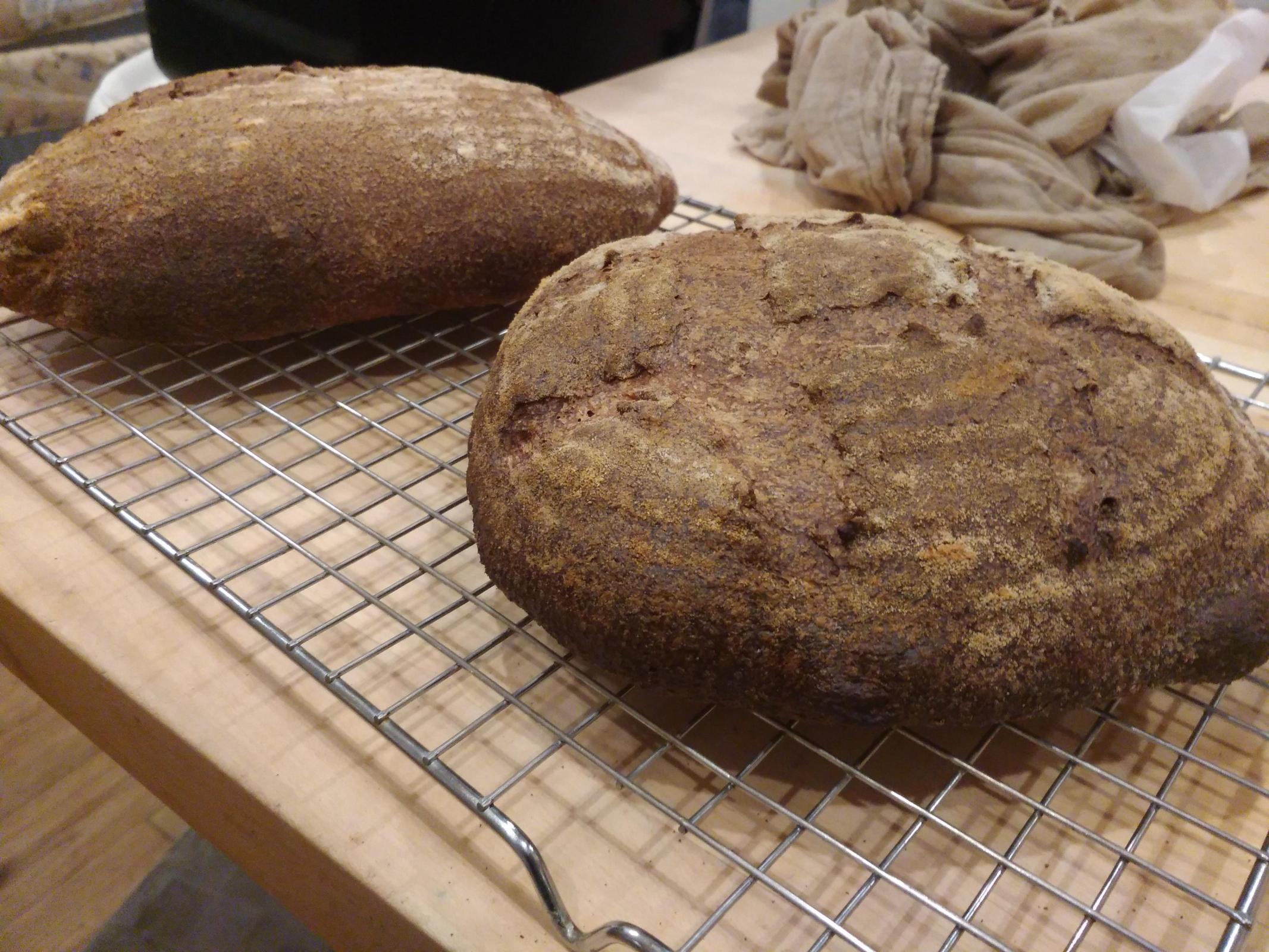 Above: I loaded the loves onto a pizza stone and used a squirt bottle to spray water into the oven. I think this was very ineffective in allow the maximum oven bloom. They bloomed none-the-less, but, I think they could have bloomed quite a bit more.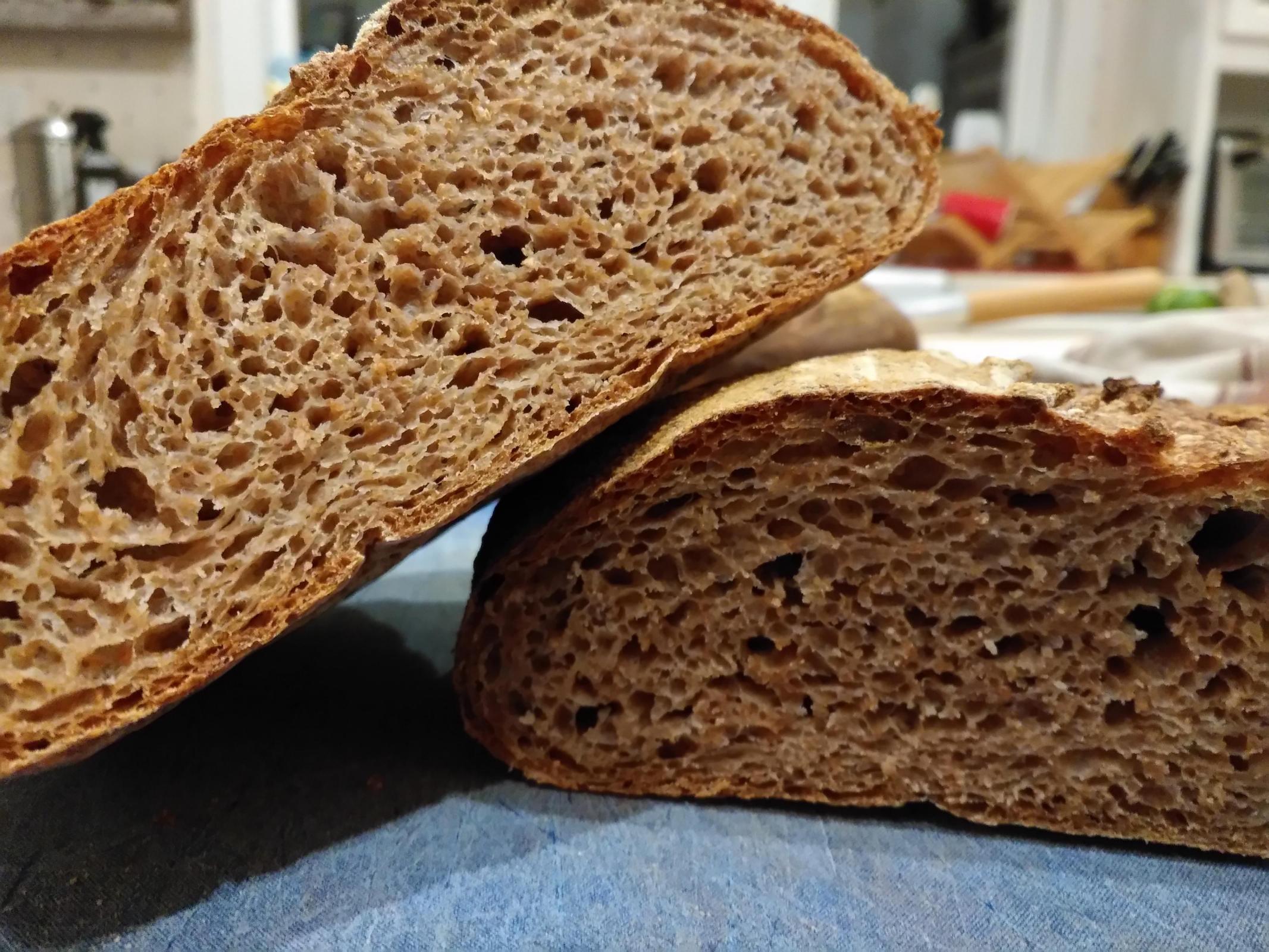 Above: The crumb of the boule.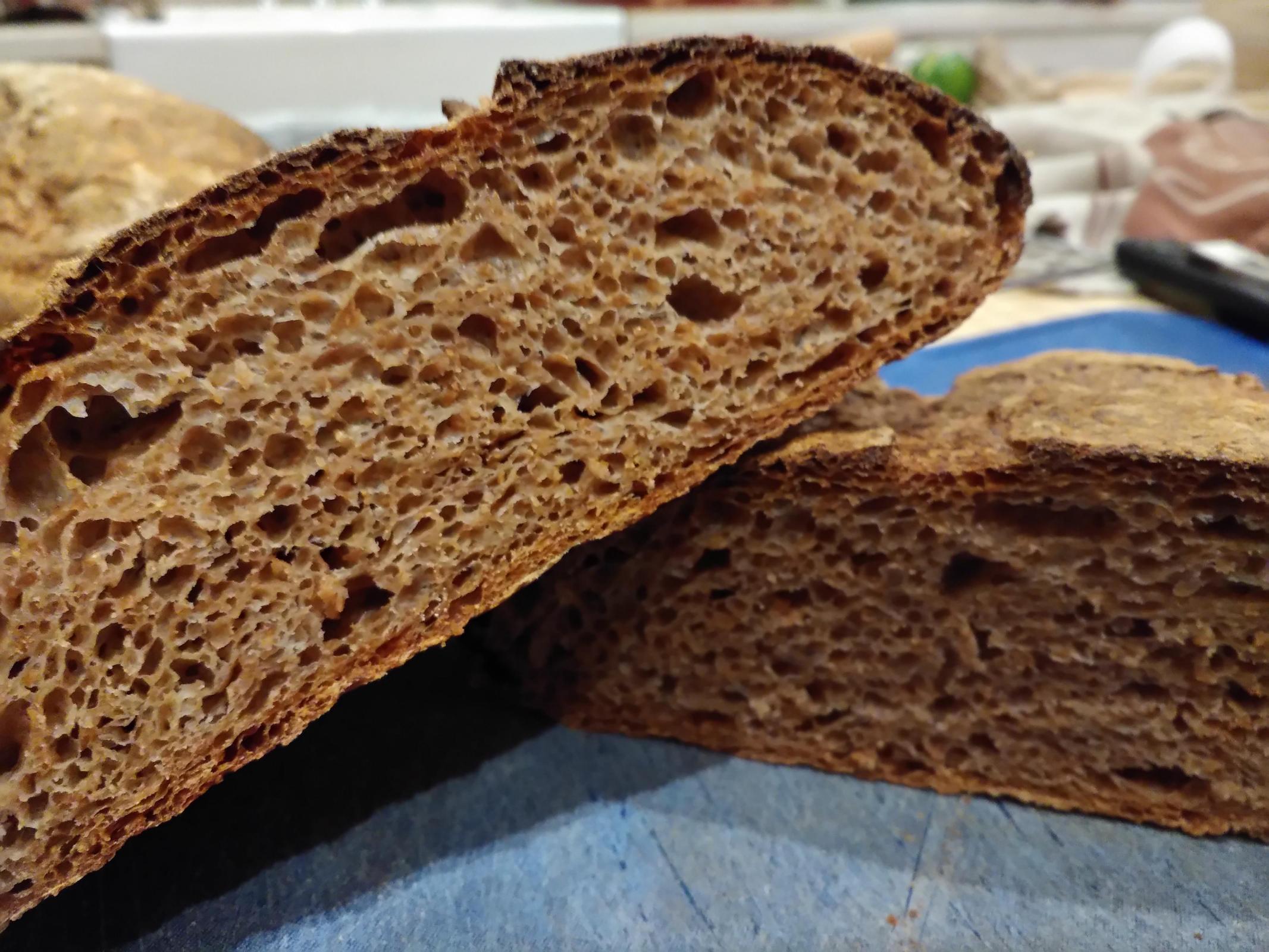 Above: The crumb of the non-pointy batard (is it still a batard if it is not pointy?).
Final Thoughts:
I wonder how much my unsealed wood counter absorbed water when doing the slap-n-fold. I could have been significant. To try and compare apples to apples, halfway through working the dough in batch 1, I started working it on the bench so that it too would loose some water. That did not improve the situation for batch 1 though.
Slap-n-fold works wonders. I think I could have gotten away with less than 6 sessions had I been more aggressive with my slapping, but still, it worked quite well. I am impressed.
100% hydration dough needs something as effective as slap-n-fold, or you need to use a mechanical mixer. I am going to switch to a mixer for future 100% hydration doughs and save myself the mess and hassle, but, I am glad I got to do the process manually first.