Ru's Seeded sourdough with a twist
I loved the look of Ru's seeded SD so decided to have a go.  I made the exact quantity that she did but because I couldn't find any black sesame seeds I used black chia seeds instead.  
I refreshed my rye starter that sulks in the fridge without being wanted for weeks on end.  Wednesday at 8:30 am I mixed together
20 g starter + 40 g water + 38 g rye (all I had in the pantry)  and left at RT.
15:30 pm added 13 g water + 13 g rye flour and left to mature.  
10 pm mixed the levain as per recipe: 20 g starter + 36 g water + 46 g rye flour.  RT was 22 deg C but it dropped overnight.
Next morning:
8:30 toasted seeds separately, ground the flax seed. I added 100 ml boiling water to seed mix ( 17g chia + 42 g sesame seed + 25 g flax seed), covered and left.
11 am.  Autolyse - 279 g flour + 6 g spelt (left over from another bake) + 73 g wholewheat flour + 4 g gluten flour + 234 g wter
13:30 pm.  Added the seed soaker and did a few stretch and folds to roughly mix into dough. then added  101 g of levain and did a few stretch and folds until incorporated.  Instead of sets of stretch and folds I decided to do 150 slap and folds before adding the salt and doing a few initial stretch and folds then about another 10 slap and folds.  Dough felt good 
2:45 pm about 6 coil folds (a la Trevor Wilson) then left for 45 minutes.  Repeated this 2 more times before leaving to bulk ferment.
17:30 pm preshaped and left for 15 minutes. Final shaping went well, dough was poofy but easy to manage.  I placed it in a banneton and then in my conservatory (temperatures were quite cool) to 2 hour proof before retarding overnight.  No seeds on outside as hubby prefers it that way.
Baked at 240 deg C for 15 mins lid on 15 minutes lid off at 230 deg C. 
We were going away for the weekend so wrapped and took with us about 11 am.  Crumb shot - taken on Saturday when I cut the loaf.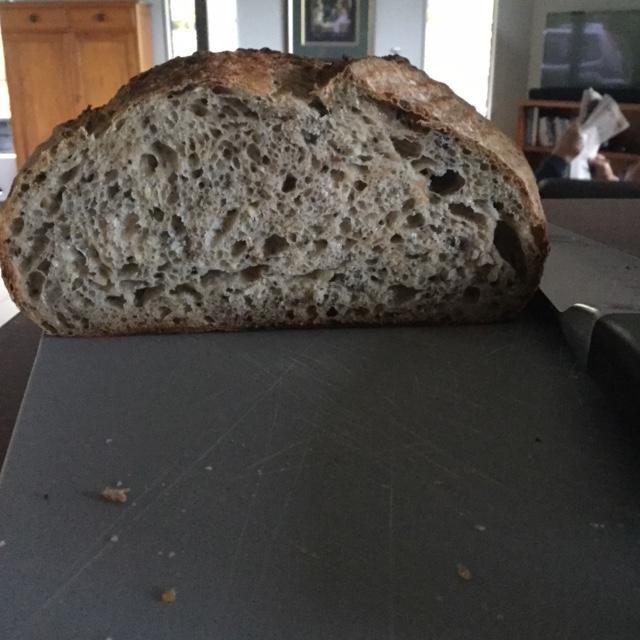 Crumb is moist and this is a very delicious loaf. 
2nd bake of the day was  my version of Fieldblend #2
My standard white starter was refreshed on Wednesday - 10 g + 20 g water + 30 g flour and left until mid afternoon
I took 15 g of this and added 15 g water + 15 g flour and left.
10 pm mixed 16 g starter + 21g mixed rye & wholewheat bran + 83 g flour + 85 g water and left overnight
11:30 am  Autolyse - mixed 287 g flour + 10 g wholewheat + 115 g rye + 5 g gluten + 271 g water (I held back an additional 45 g water)
1 pm Added 10.4 g salt and 205 g levain and did about 100 slap and folds adding back 30 g more water.  
13:45 pm coil folds. This was repeated 2 more times before dough left to bulk ferment.
4:50 pm dough has probably increased 70% so preshaped, rested and at 17:05 shaped and left on bench to start final proof.  At 5:55 pm it was placed in fridge as I had to go out. 
Next morning baked the same time as Ru's seeded loaf. It is a little bigger than the seeded loaf. 
Crumb shot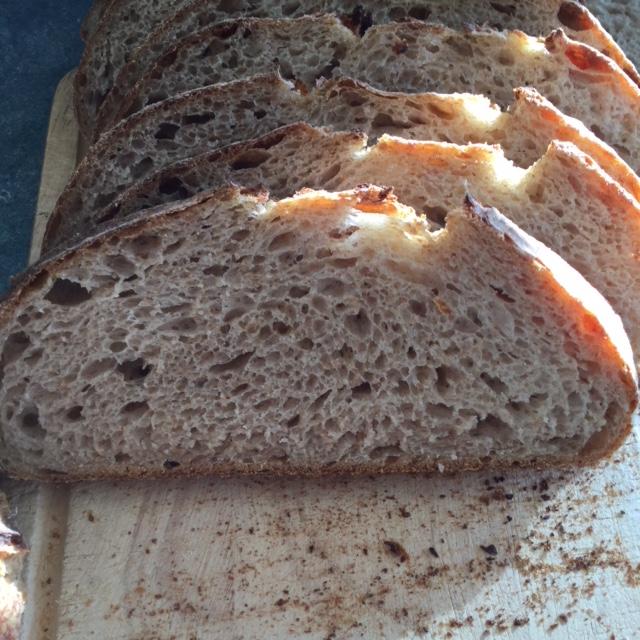 This bake day I have concentrated on trying to make sure I have good dough strength so have gone back to slap and folds.  Normally I don't do so many so was keen to see the difference.  Also to try out Trevor's coil folds and see what effect that had.
Both doughs were easy to work with.  Partly I think because I am not allowing BF to go so long and partly better gluten development.  Still some way to go I think but not too bad.  I would like more height in the loaves and I think other scoring patterns would help this.    Mind you, Trevor seems to be able to get incredible height even when he does a single score so that is why I think I still have a way to go.
Ru"s recipe is really great and next time I will try to find some black sesame and see what difference it makes.  I did add more liquid because of the chia (100 g instead of 55 g as chia can soak up to 5 x its weight if I remember correctly) so hydration will be a bit higher.  When I added the soaker it had absorbed pretty much all the liquid  but it did add a little to the dough.  We cut the loaf the day after (Saturday) and then finished it on Sunday and it was still moist and soft. 
My Field blend #2 version is a great everyday formula but I would like the crumb to open up a bit.  I didn't add the little bit of yeast that Ken Forkish does in his book, but will next time will try final proofing a bit longer on the bench before retarding (it is working for Dan!!) which means I will need to plan to start mixing the dough earlier in the day.   I would like to give it a bit more "omph!"  too next time but not sure what I will try for this - adding kibbled rye (textural effect) maybe a little carraway? maybe something out of left field.....
But pretty happy with how it went. 
Leslie