Continuing my breaducation
Latest loaf - 50% whole wheat, 77% hydration, only 8.3% fermented flour - had a 29 hour  bulk ferment, 24 hours of that was in the refrigerator. Flavor is best yet.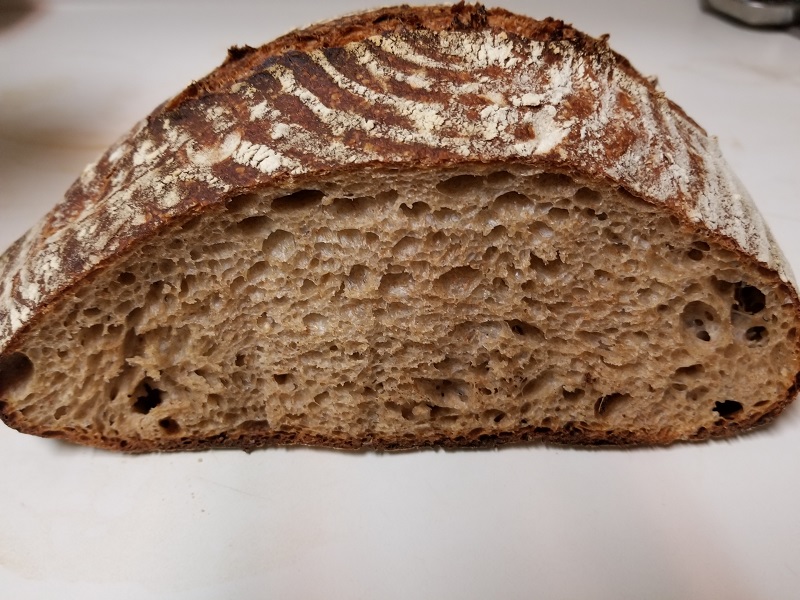 075 g 67% hydration AP starter (45 g fermented AP flour + 30 g spring water) 
270 g Whole Foods whole wheat flour
225 g KA AP flour
386 g Poland Spring spring water (416 g water total)
011 g Whole Foods non-iodized Sea Salt Fine Crystals
967 g total
Friday
2330  Final feeding of Darcy Jr. 67% hydration AP starter, approximately 5/4/6 (s/w/f).

Saturday
0935  75 g 67% hydration AP starter whisked into 386 g water.
0945  270 g WW flour and 225 g AP flour stirred (using right index finger) into combined water and starter, in stages: first half of the dry flour, then a quarter, than an eighth, finally the remaining eighth. Initial dough temperature after mixing: 78.9 F.
1000-1030 Autolyze.
1020  11 g non-iodized salt scattered across top of dough to hydrate.
1030  Stretch and fold in the bowl (double set to incorporate salt). Like porridge at first, the dough firms up nicely 3/4 of the way through the first set. Brief rest in between sets.
1045  Into the refrigerator.

Sunday
1045  Removed from refrigerator to room-temperature (about 77 F.) counter.
1345  Stretch and fold in the bowl. Rather loose and pliable at first, it firmed up after only one (single) stretch and fold.
1415  Pre-shaping. Envelope folds x1 set. I used too much flour!
1415-1430 Bench rest. Loosely covered with a towel.
1430  Final shaping. Envelope folds x1 set.
1435  Into the large banneton to proof and loosely covered with a towel.

1655  Begin preheating of oven, stone and inverted stainless steel mixing bowl to 505 F.
1818  Loaf slashed and placed on preheated stone under preheated stainless steel mixing bowl.
1836  Stainless steel mixing bowl removed. Oven temperature lowered to 465 F.
1844  Rotated 180 degrees.
1854  Loaf removed and placed into bamboo steamer basket to cool.
I've come a long way in the past eight months. Looking at pictures I posted back then, it's embarrassing. Almost every week since then, I've been thinking of something new to try. Now I have a typical loaf I feel quite good about.
But just today I was wondering if I've plateaued. What am I going to do differently next week? And then I came to The Fresh Loaf, and I felt inspired all over again. :-)