Croissants and Puff Pastry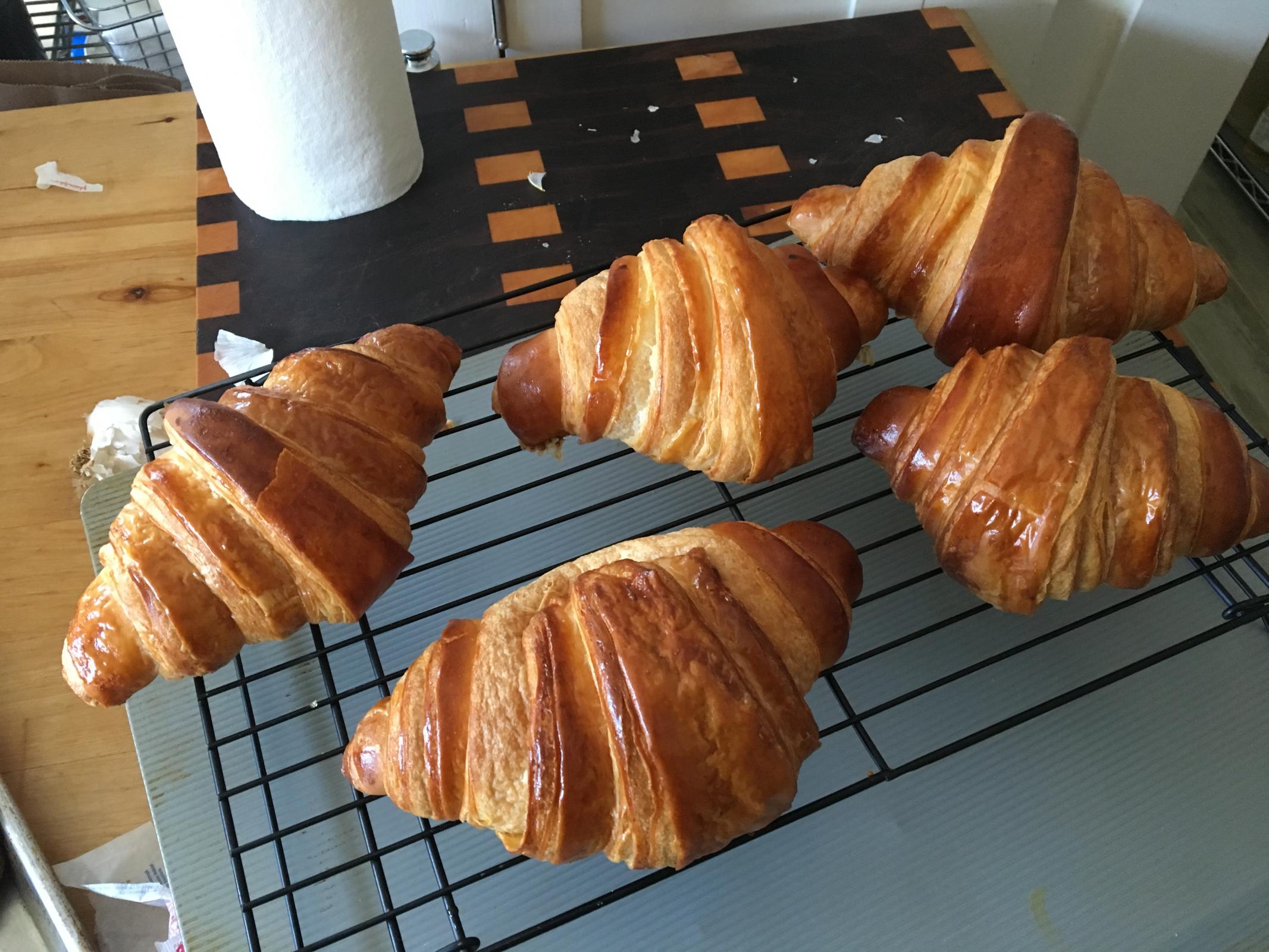 I don't post here much, but I know many of you share my passion for laminated doughs, so I wanted to pass along some pics of my recent efforts.
Here are my latest croissants - stop laughing because I know I must practice shaping them, but pretty happy with taste, interior, and exterior.
And, here are some apple turnovers I made with my latest puff pastry effort.  Also, pretty happy with the results.
I used the recipe's and techniques from Bruno's YouTube vid's( see below).  The only changes I have made is to the croissant recipe - changing sugar from 50g to 65g (I may like mine sweeter than most), salt from 12g to 10g, and butter block from 250g to 260g. 
Room and surface temperature is not so critical for experts, but a crutch I found helpful for this newbie was to freeze rolling pin, and fill a rimmed cookie sheet with ice and let it sit on work surface for 30mins before proceeding.  And, while many bakers prefer a wooden work surface, I have found that the mass of my solid quartz countertop helps keep the surface cold for a long time - very important to the quality of the finished product is to keep the butter from softening.
Another thing I found is to beat the hell out of cold butter to bring it to room temp it for incorporating into the main flour mix, rather than warming in the microwave - which changes the physical properties of butter.
Also, I used egg white and water for my egg wash.  I found using a whole egg produced too dark a color, and a "yolky" flavor which I felt was not desirable.
And, while I know there has been major disagreement regarding baking stones, I bake mine on a stone.  But first, I sprinkle a flat sheet pan with semolina, lay a sheet of parchment on top, then place the shaped croissants on the parchment, and let them rise for a couple of hours.  When they jiggle slightly I heat the oven to 500deg, and slide the parchment with the croissants right onto the stone, turn the temp down to 325, and turn on the convection fan.  I check them after 10mins, and rotate the parchment paper, and let them go another 6 to 8 mins.  DO NOT open the oven door before 10mins, or they will fall, loosing that oven stone spring you hope for.  The bottoms brown nicely, without overcooking.
Ingredients - KA Sir Lancelot flour - don't worry, the exterior is shatteringly crisp, and interior soft and delicate, not chewy at all.  I used Plugra unsalted butter.
Croissant - https://www.youtube.com/watch?v=2OAUM0MRgQw&t=34s
Turnovers - https://www.youtube.com/watch?v=GEF3Yp9DPno
I'm sure there are others here, far more accomplished than I, but these recipes and techniques are easy to follow, and the vids good visual tutorials.
I hope this helps those of you who may be reluctant to try laminated doughs.
And, I would certainly appreciate any guidance from anyone who cares to share.
Good luck.
Steve