The Much-Needed Sunshine: Quintuple Golden Sourdough
After a few not-so-successful bake, I decided to cheer myself up with a loaf of golden sourdough bread. To be exact, it's quintuple (aka five times) positive energy sourdough. So how does it add up to five? I'll count it for you.
Cornmeal          
Masa harina      
Turmeric  
Golden tea leaves
Toasted white sesame seeds  
See? I didn't lie to you!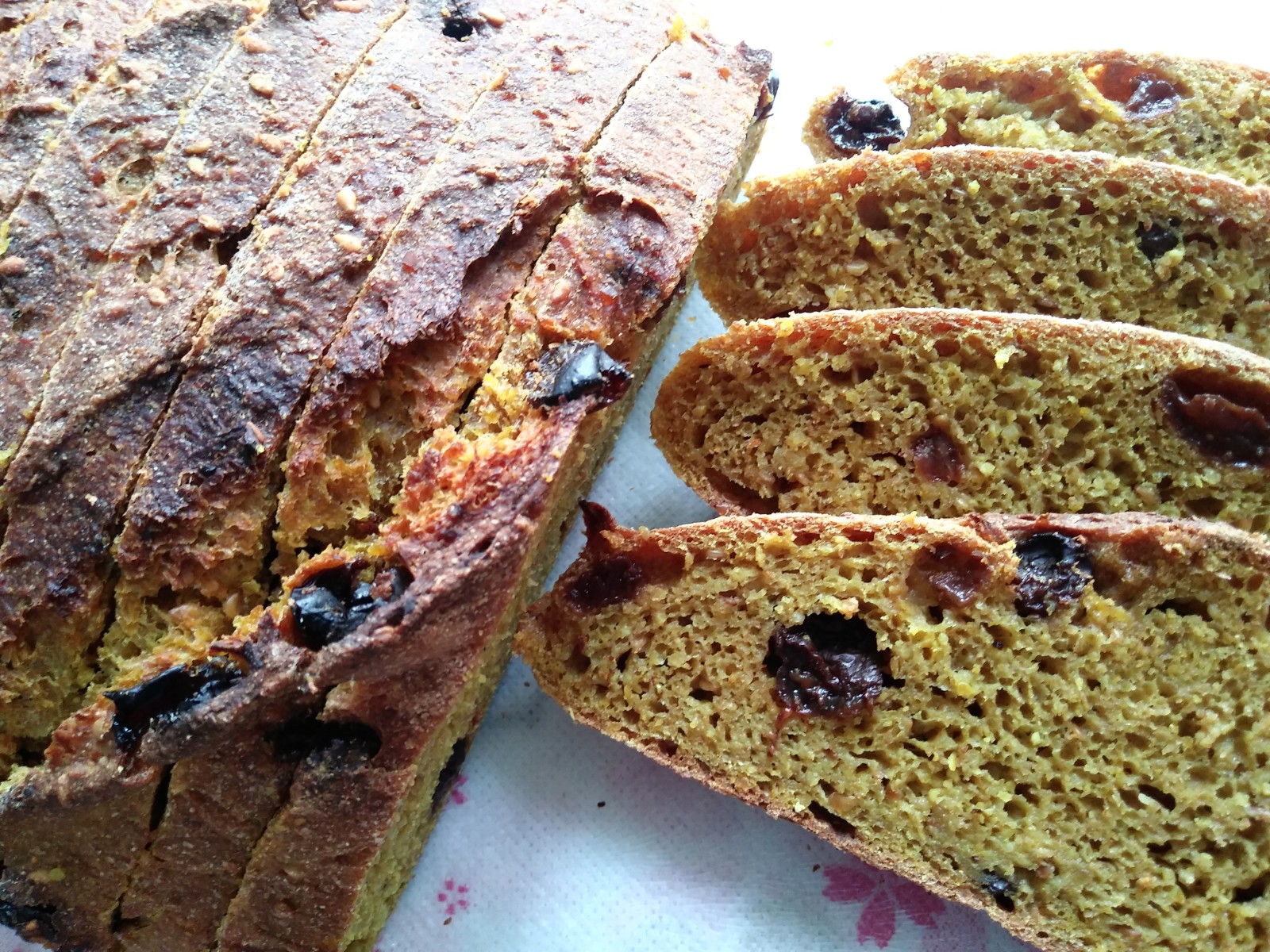 Quintuple Golden Sourdough
Dough flour:
150g      60%       Whole wheat flour
60g        20%       Whole Spelt flour
60g        20%       Masa Harina
For leaven:
10g       3.3%       Starter
10g       3.3%       Bran shifted out from dough flour
10g       3.3%       Water
For porridge:
45g         15%       Medium stone grind cornmeal
135g       45%       Water
0.25g    0.08%       Salt
For tea-infused liquid:
217g    72.3%       Water
54g      18.1%       Whey
3g             1%       Kenyan golden pekoe tea leaves
For dough:
290g     96.7%      Dough flour excluding bran for leaven 
271g     90.3%      Tea-infused liquid
30g          10%      Leaven
9g             3%       Powdered toasted white sesame seeds
9g             3%       Vital Wheat Gluten
5g          1.7%       Salt
3g             1%       Turmeric powder
Add-ins:
21g          7%        Toasted white sesame seeds
45g        15%        Raisins
___________
(Excluding the porridge)
305g       100%      Whole grain
286g      93.8%      Total hydration 
Shift out the coarse bran from the dough flour, reserve 10g for leaven. Mix the rest back into the dough flour or soak them in equal amount of whey taken from dough ingredients for a minimum of 4 hours.
Combine all leaven ingredients and let sit until doubled, about 6 hours. Soak the raisins in a little hot water to re-hydrate.
Make the porridge. Bring the water to a boil and dissolve a pinch (0.25g) of salt into it. Stir in the cornmeal and keep whisking until no lumps remains. Cover the pot and let stand stove off for 30 minutes. Let the porridge cool to room temperature and refrigerate until needed.
Infuse the tea leaves by pouring 30g of hot water over them. Let steep for 20 minutes before pressing the mixture through a sieve to extract as much of the tea essence as possible. Discard the tea leaves. Pour in enough water to measure 217g and combine with the whey. Refrigerate until cold (skip if your kitchen is cool).
Reserve 10g of the liquid and roughly combine all dough ingredients except for the leaven and salt. Autolyse for 30 minutes. Combine the reserved liquid with the leaven. Knead it into the dough along with the salt and polenta porridge. Let it ferment for 8 hours (Mind you: my kitchen is 27°C currently).
Fold in the sesame seeds and raisins and let the dough rest for 20 minutes. Shape the dough and put in into a proofing basket. Leave it on the counter for 20 minutes then retard for 8 hours. 
Take the dough out of the fridge and let it rest on the counter for 1 hour. At the same time, preheat the oven at 250°C/480°F and pre-steam at the last ten minutes.
Score the dough and bake at 250°C/480°F with steam for 15 minutes then without steam for 25 minutes more or until the internal temperature reaches a minimum of 205°F. Let cool for at least 3 hours before slicing.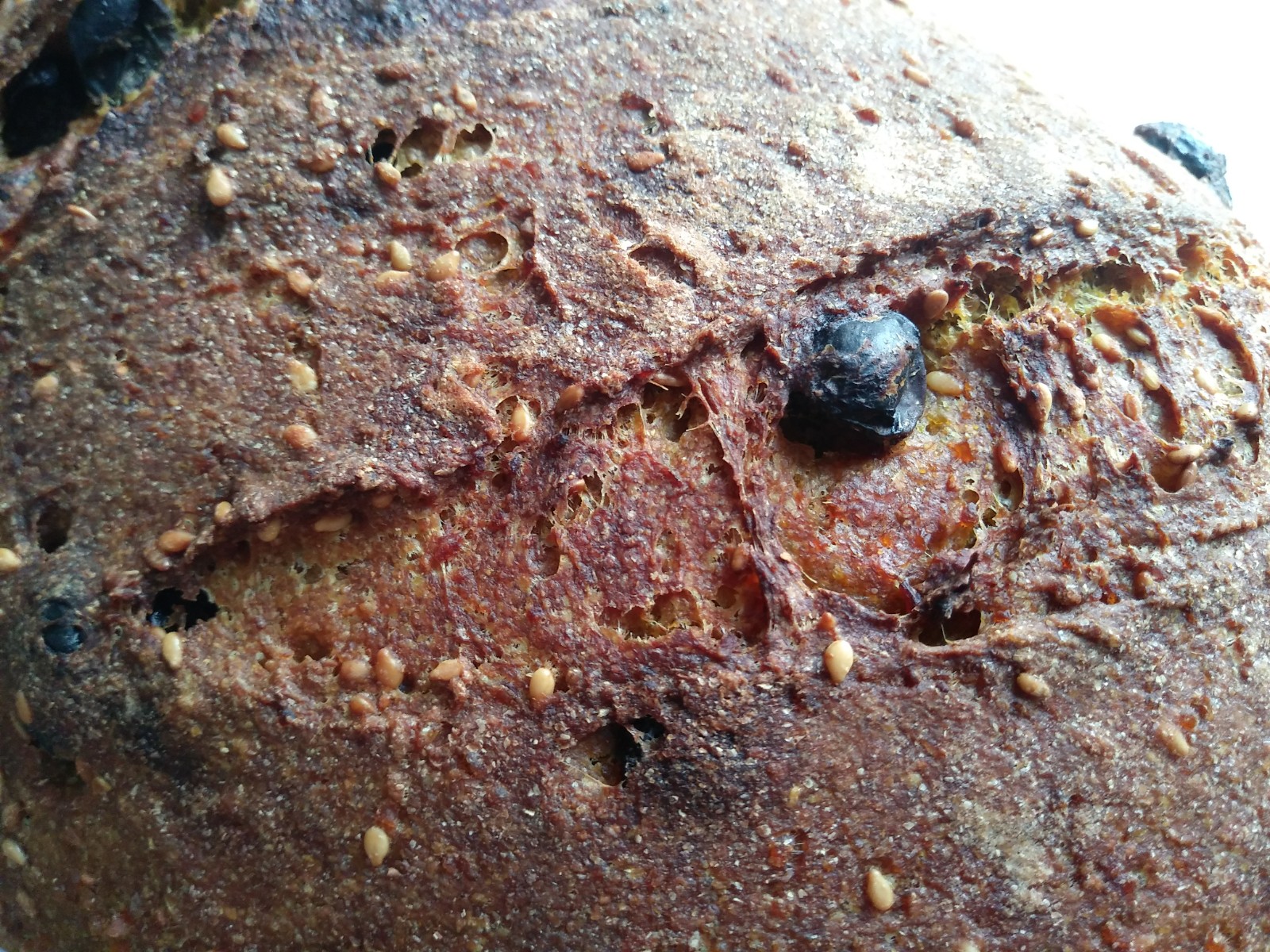 The crust is extra-crispy thanks to the cornmeal, which gives a nice contrast to the creamy crumb. The oven spring is not as much as I'd hoped for but I'm not too stressed over it since this is just the 2nd time I try retarding the dough. Hopefully, I'll get a better grasp on the timing after a few more bakes.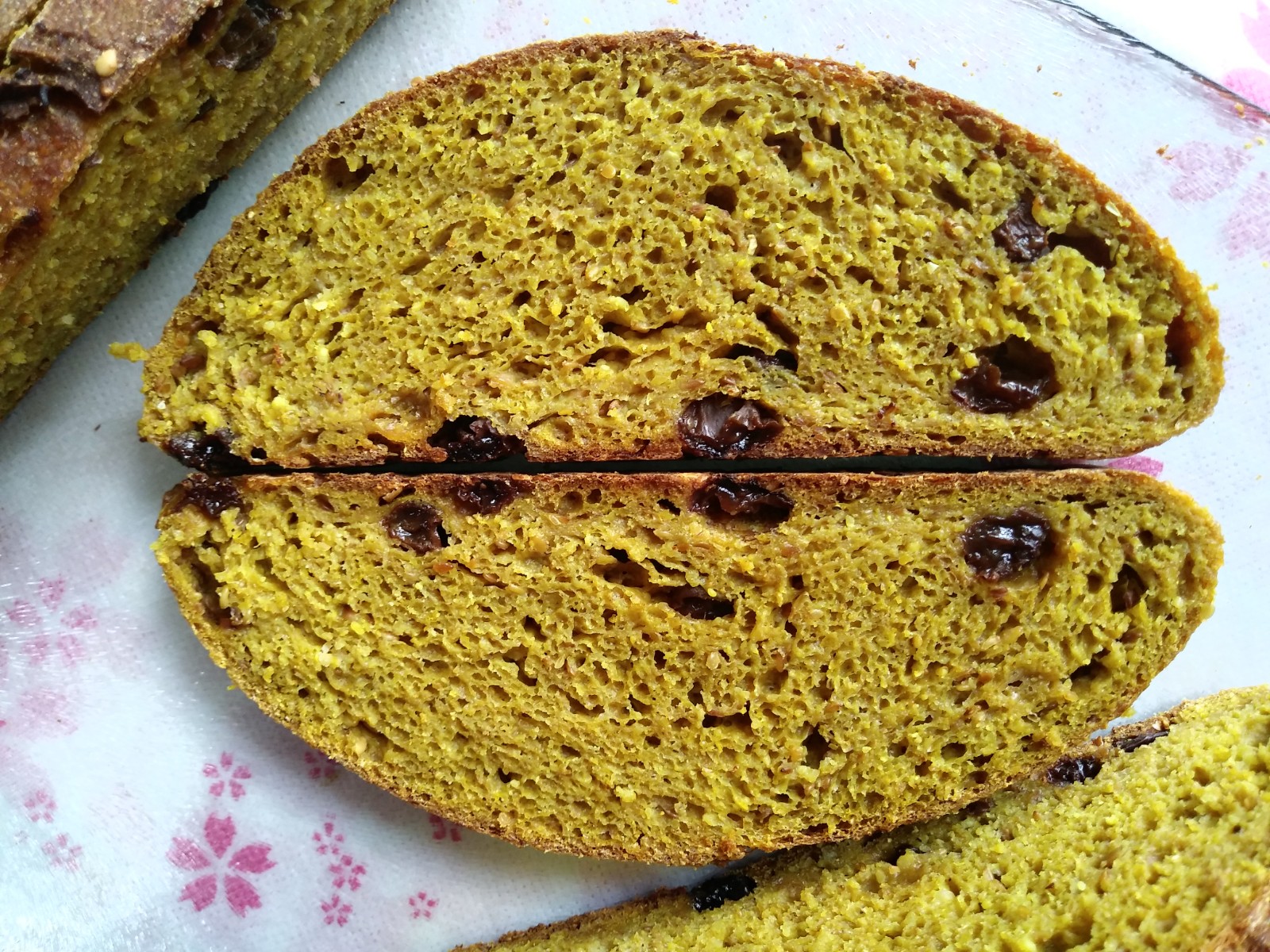 The crumb's colour is a stunning yellow even with just 1 tsp of turmeric. I doubt there's any natural colour that won't be masked by the pigment of turmeric. As expected, the crumb is rather closely-packed but very moist and creamy due to the incorporation of polenta porridge. The slight under-proofing might also have contributed to that to some extent. Next time, I'll let the dough proof for 30 minutes instead of 20 minutes before retarding to see if it'd improve the situation.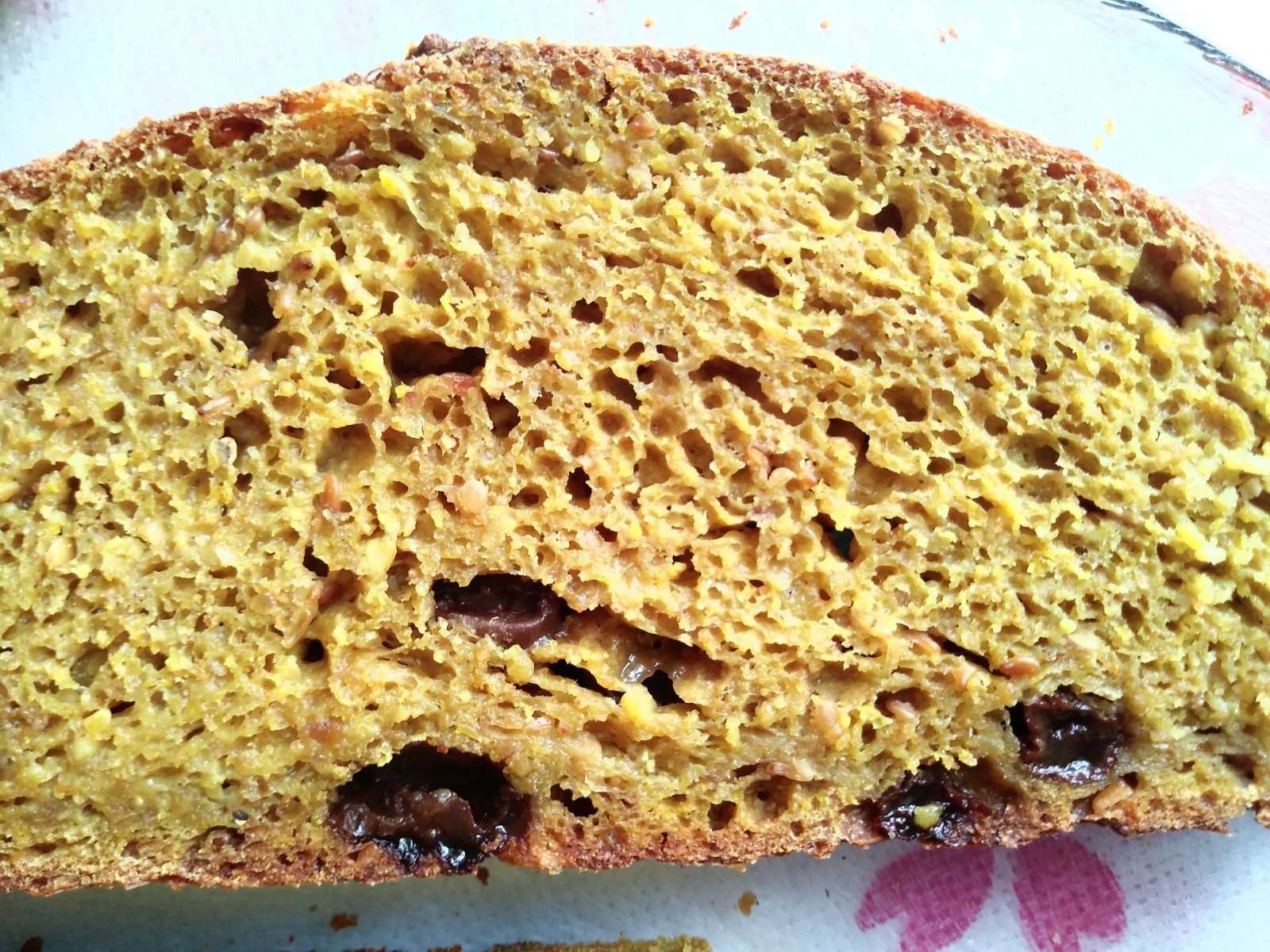 To be honest, the turmeric, tea and corn flavour are rather subtle. Though I already tried to tone down the taste of sesame by using a lower percentage of it, it is still the dominant aroma of this bread. Doubling the tea leaves and halving the sesame might achieve a more balanced profile. 
Let this golden bread lift your mood up!