They Call Me Mellow Yellow
Mellow Yellow - by Donovan

I'm just mad about Saffron
Saffron's mad about me
I'm just mad about Saffron
She's just mad about me
{Refrain}
They call me mellow yellow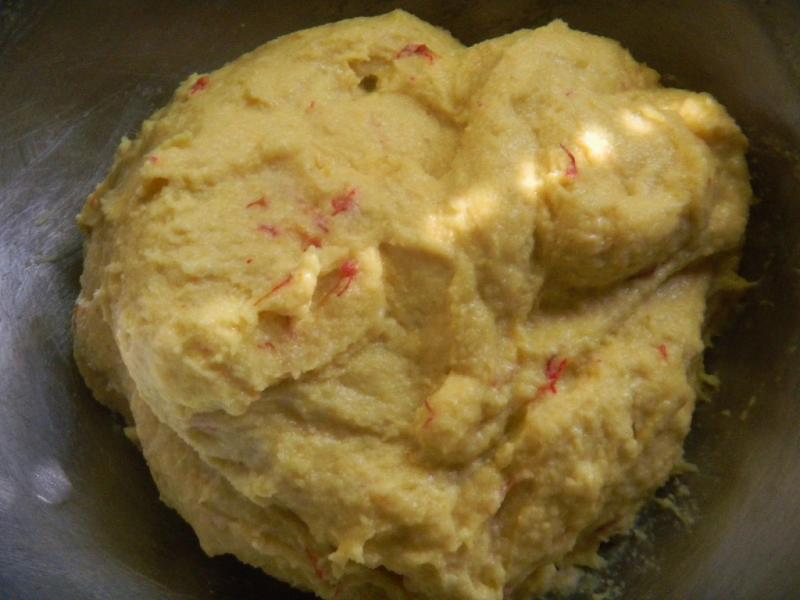 With the 3 GMA's baking their fine cornbread I was all set to make one of my favorite ones with jalapeños, creamed corn, homemade apple and maple smoked bacon and who knows what kind of cheese but Donovan's song kept spinning around in my apprentices tiny head.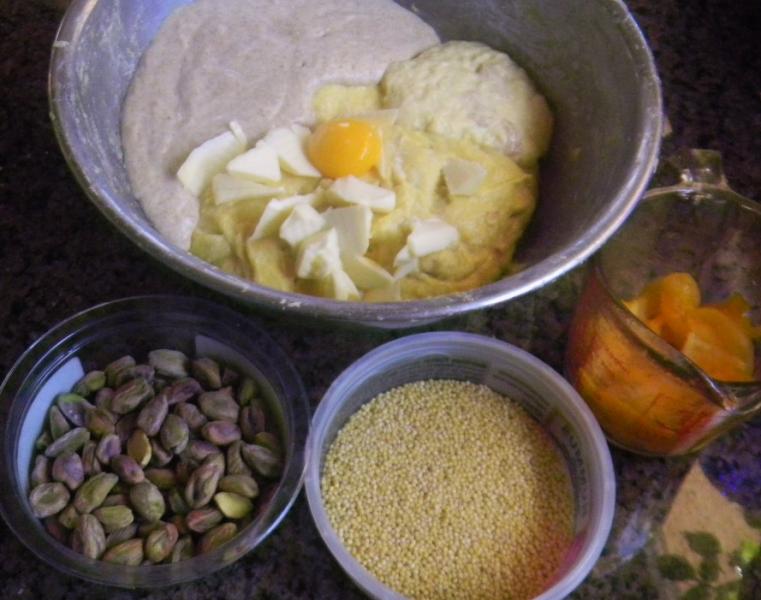 I think sometimes folks just don't trust their intuition as much as they should, especially left handed women whose intuition is almost never wrong.  Science has been baffled for some time why this might be so but, they, being scientists, are fairly sure it doesn't have much of anything to do with bread baking even though Donovan's song does, at least as far as Lucy goes, which isn't very far due to short legs and her sleeping most of the time.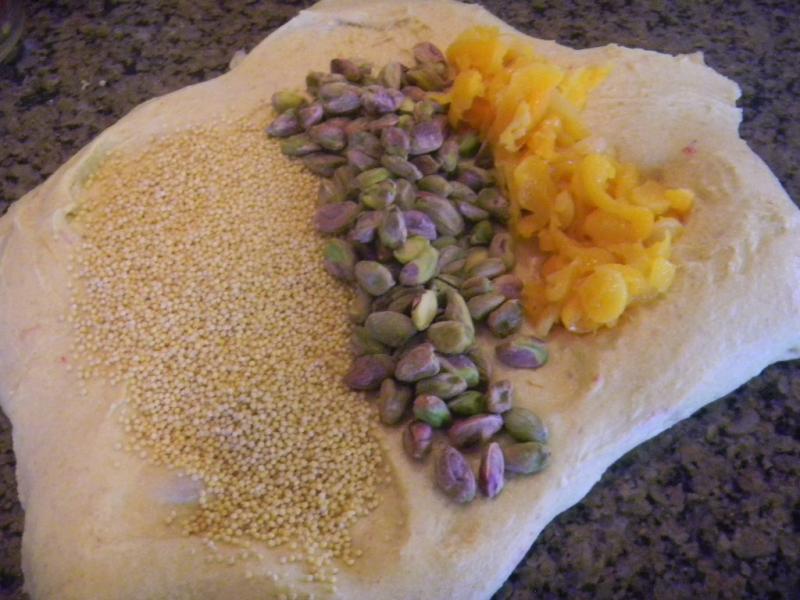 We have another corn bread recipe, not the sweet kind, that I really like to make to have cornbread for Thanksgiving stuffing, but it isn't nearly as good as stand alone bread.  So Lucy thought, not that long or hard, that we should keep some corn flour in today's recipe but, to really go with her intuition, by putting in every mellow yellow ingredient she could find in the pantry.  She gets like this sometimes, being a determined German and I'm pretty sure she is left pawed too.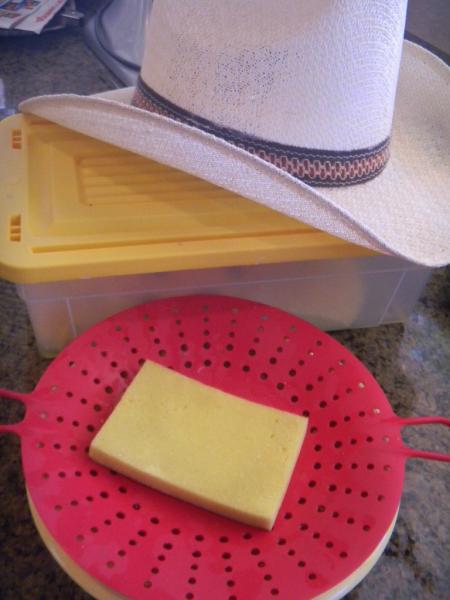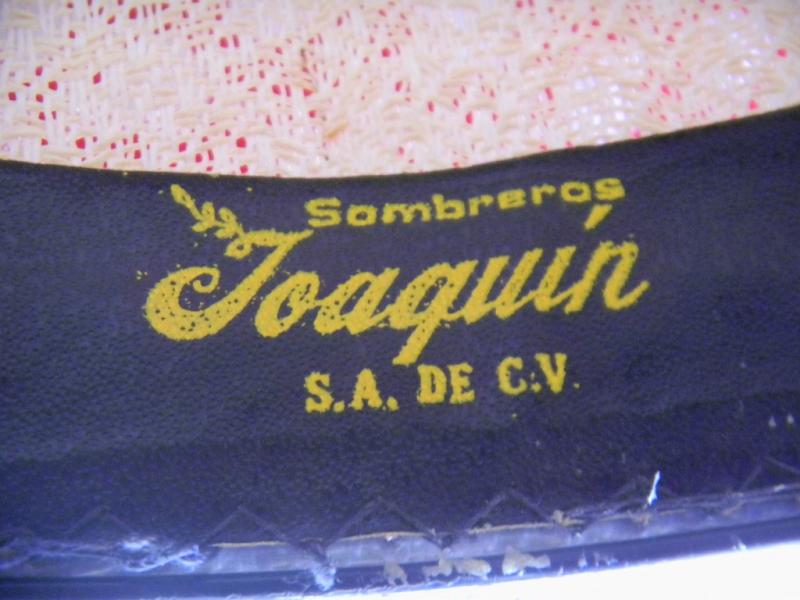 She found 3 kinds of semolina flour, the little left over bit of that fine Desert Durum, some Golden Temple Durum Atta where I had sifted out most all of the atta to use in the last batch of Toadies and some semolina we had picked up out of Winco's bins.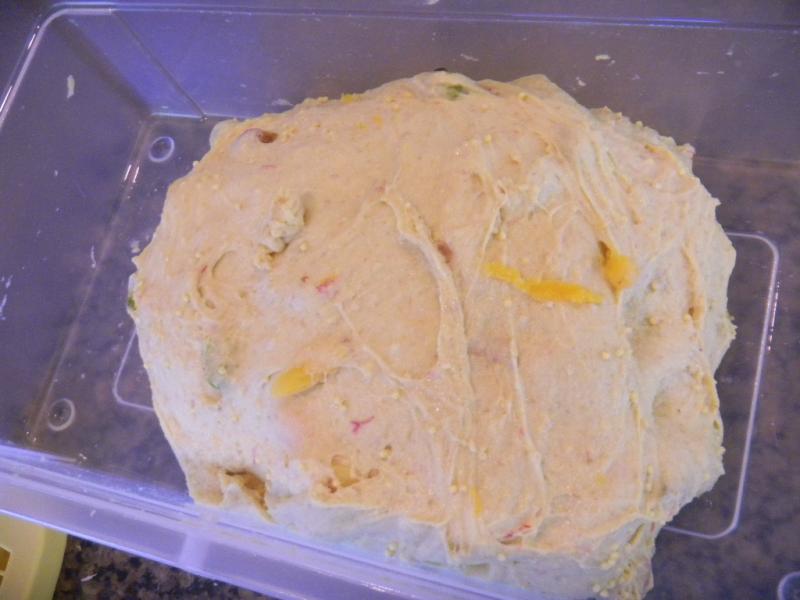 Although a dog's color acuity is far less than their baking masters, they aren't totally color blind either.  Still, I suspect my apprentice's long and gifted nose helped her distinguish one color of flour from another and she managed to pick out the yellow ones quite easily.  I wonder what she could do with truffles?  Then she hit on the garbanzo flour in the freezer and those beautifully yellow quinoa seeds that she had me grind into flour– not too much of either though.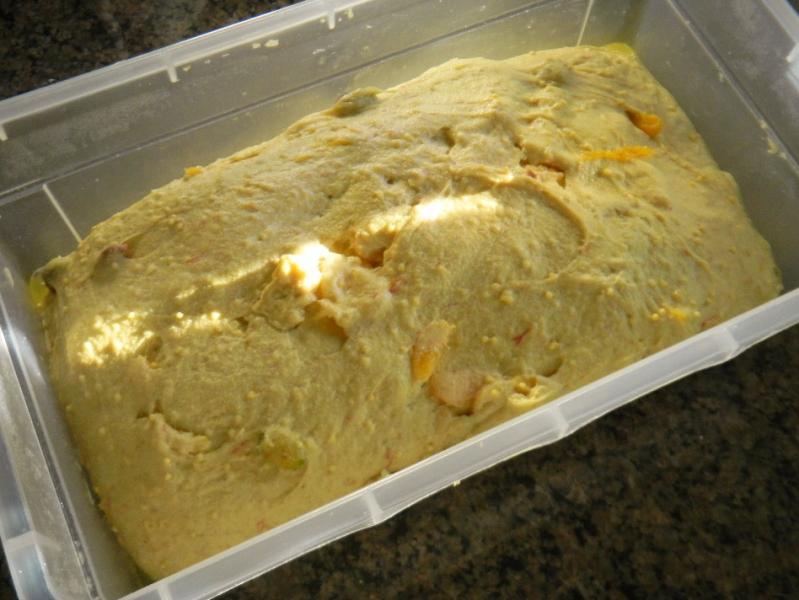 On the wet side, orange juice came to mind right away but she jumped right into the last home made bottle of limoncello and it was all I could do to keep her away from it but did manage to limit her to 1/2 shot for the bread.  She didn't want the bread to be too acidic from the citrus so she whipped up a saffron soaker to really give the bread a yellow color and also fit the lyrics of the Donovan tune still driving her crazy.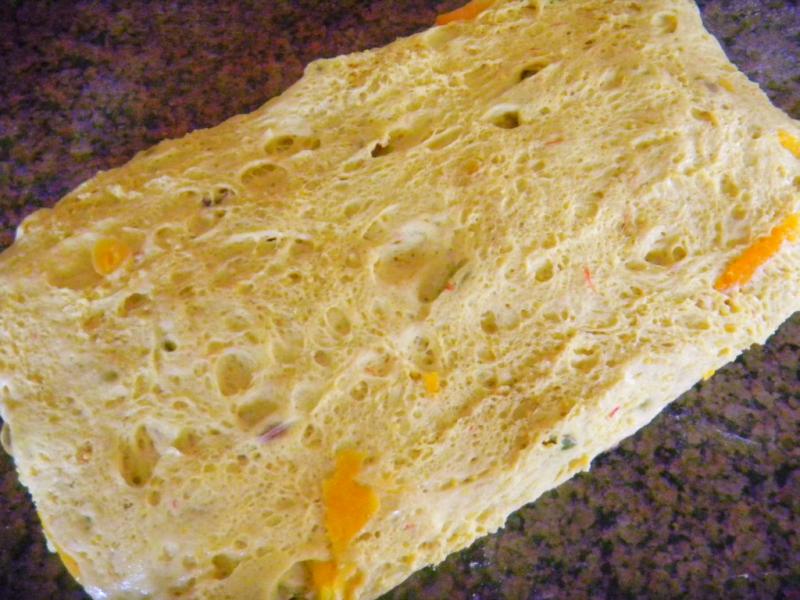 Even though they are not all liquid, she found some yellow ingredients in the fridge; she dumped in an egg yolk, some butter (even though American butter isn't nearly as yellow or tasty as Kerrygold brand from Ireland) and some very pale yellow ricotta cheese which really hit her Italian theme with the durum semolina.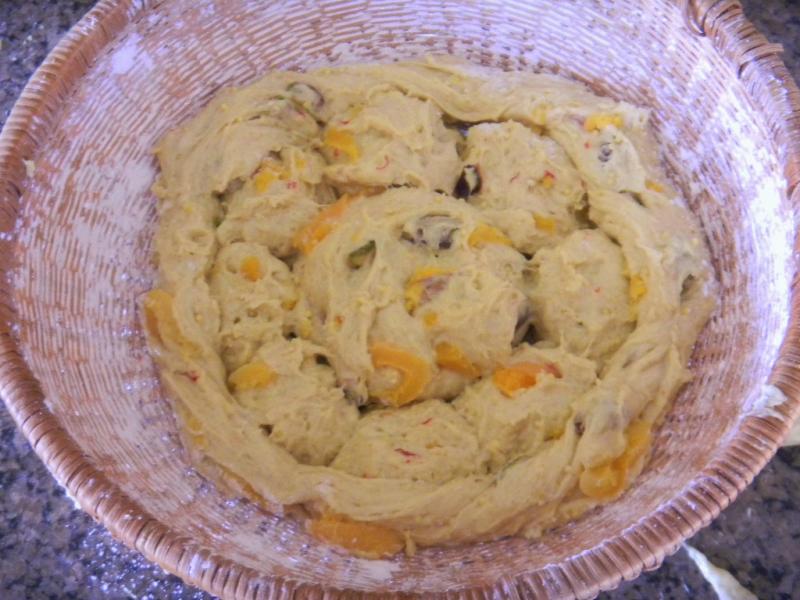 A knotted roll in the center surrounded by 8 balls and a rope, then covered by a huge bialy.
But, she wasn't done, hardly ever is really and is pretty full of it most always.   For add ins she grabbed some dried Turkish apricots that she re-hydrated and then used the left over yellow, sweet, soaking water for part of the dough liquid.  She had been hoarding a huge pile of tiny yellow millet seeds just for this occasion too.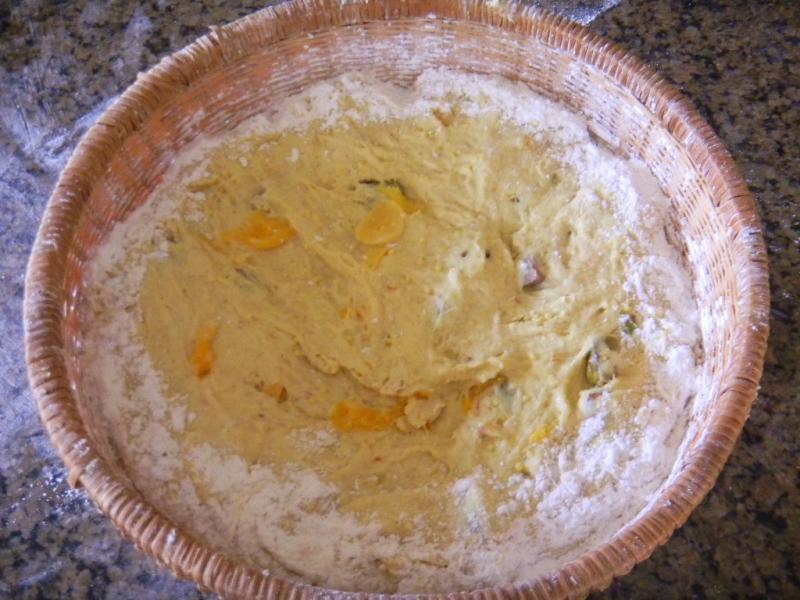 Then, thinking the bread wasn't yellow or mellow enough, the Turkish Apricots sparked the thought of a yellow spice used in Turkey – turmeric.   She remembered that Shaio-Ping and used it in conjunction with orange juice in her fine Turmeric and Orange Juice Bread so…..In went a 1/8 tsp of this subtle yet earthy spice to flavor and color the dough even more.   Whew!!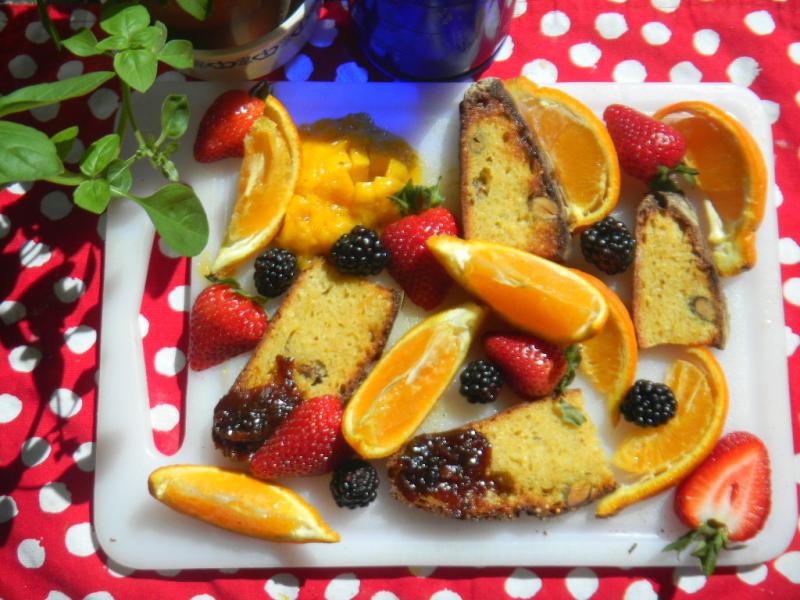 This bread made a fine breakfast with some mango, staw and black berries, a minneola and some fine minneola caramalized marmalade.
Being a nut herself, she eventually realized that there weren't any in this bread.  Doing the unexpected last in a long line of fruit and nut breads (that we said we would not do again after the last one), without the nuts just isn't done.   She looked everywhere for a yellow nut but came up paw empty.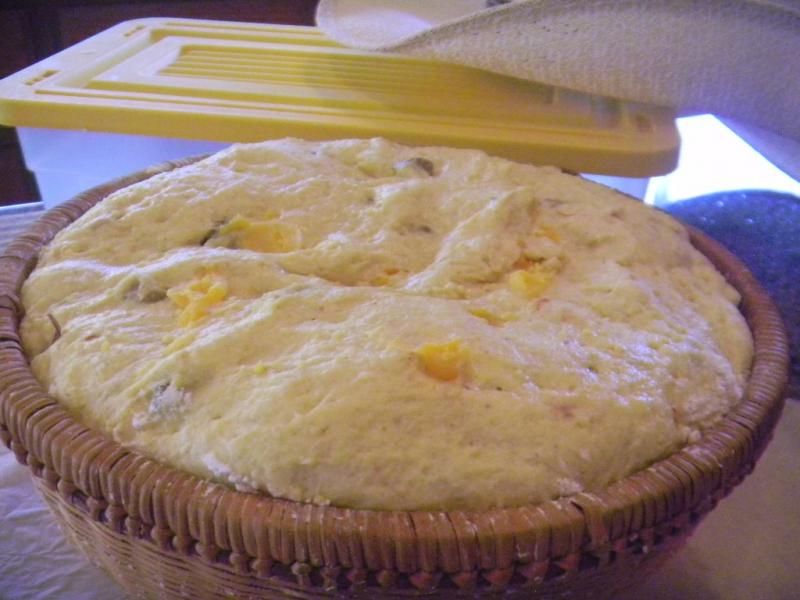 I just couldn't stand the look on her cute little face so I put my designer thinking Joaquin Sombrero on and told her she needed to have something to contrast and compliment all that Mellow Yellow and some green Pistachios were just the ticket, Turkish and just in time for Cinco de Mayo too – a three'fer if there ever was one.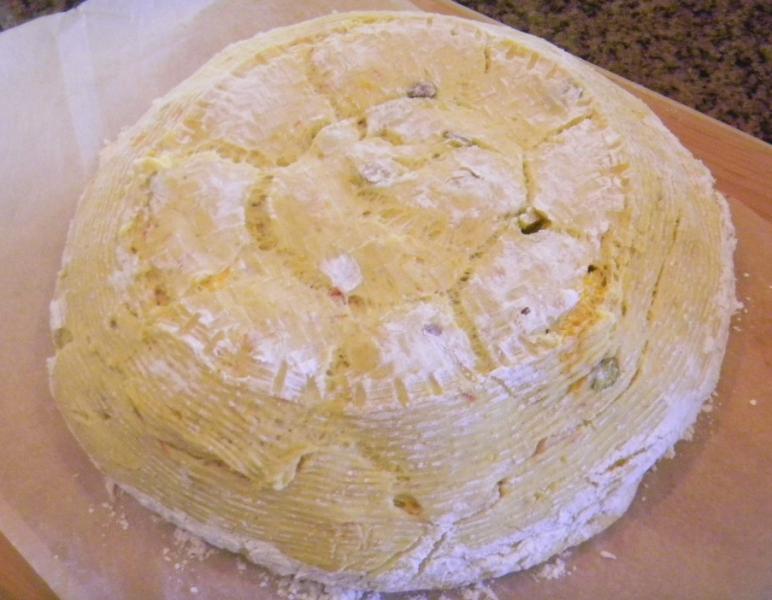 David Snyder may have his famous San Joaquin bread but it doesn't hold a candle to keeping the hot AZ sun..... de la cabeza.  Lucy wanted a very soft moist crumb feeling this was a much mellower option than a hard dry one, so she took 25 g of semolina and Tang Zhonged it with 100 g of water – instead of the usual 125 g.
Her last wishful addition was to throw in some small pieces of an old yellow kitchen sponge because she knew this dough would end up feeling (and this bake is really all about feeling) way more wet than its published 68% hydration.  I told her, me duele la cabeza, so she stopped pushing the sponge even though she can't speak a lick of Spanish.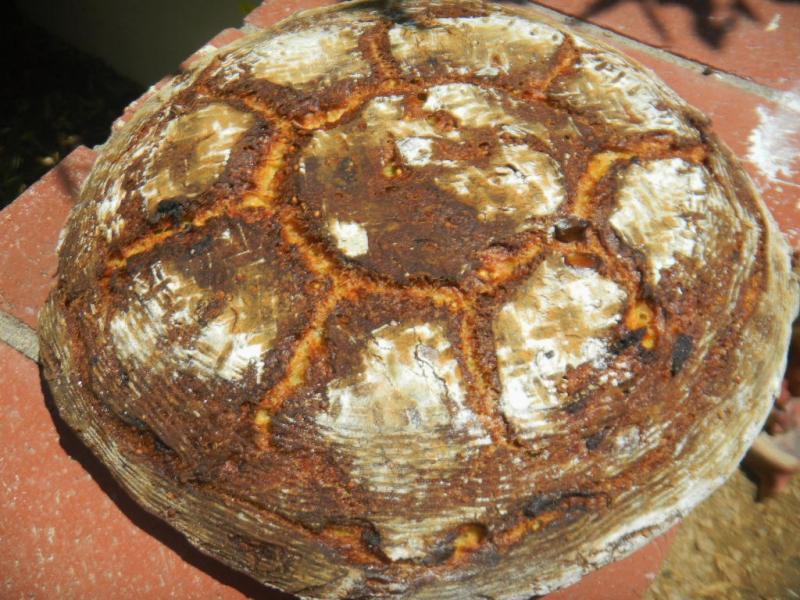 For the rise, we had a rye whole wheat SD leaven left over from last weeks bake that had peaked in the fridge and fell and inch.  We cut it in half and fed it 50 g of semolina and 50 g or water.  It was still plenty potent as it doubled again in 3 hours.  We also wanted a Italian side so we made a biga out of a pinch of ADY and 25 g each of semolina and water.  It too had risen nicely in 3 hours due to the AZ heat in the kitchen at 90 F.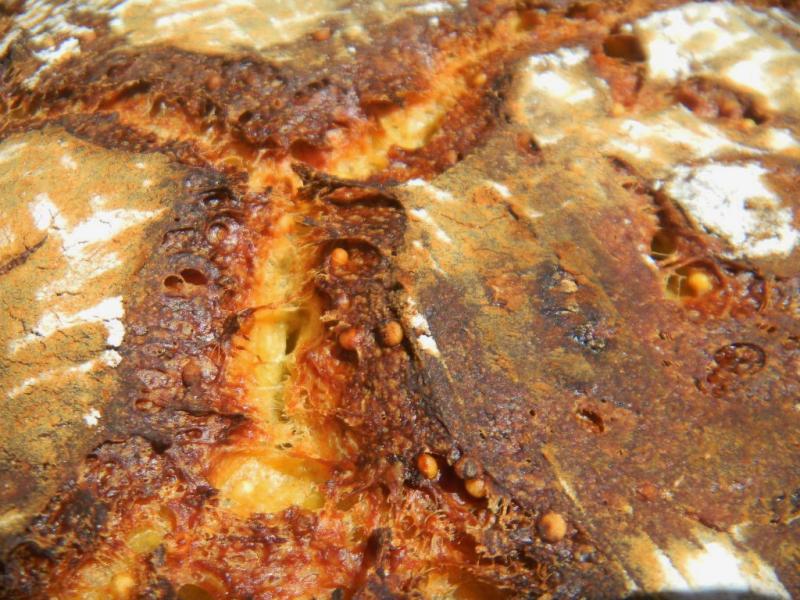 We followed our usual method of late but only did a 2 hour autolyse for these yellow flours and 10 minutes of slap and folds.  Singing the Mellow Yellow song actually made the time fly and coordinating the slaps with the melody was…..soothing and quite mellow.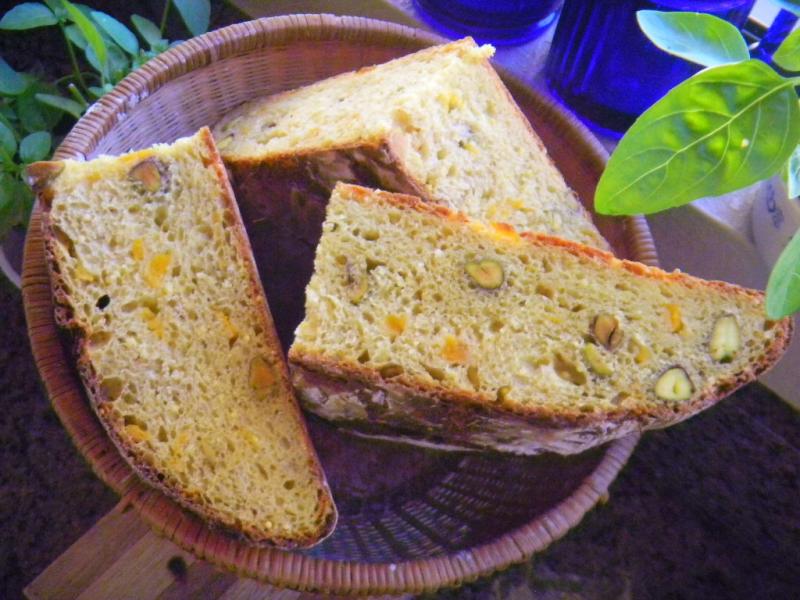 We did 3 sets of S&F's 20 minutes apart and incorporated the apricots, pistachios and millet seeds on the very first one.  We covered the dough between the S&F's with my yellow straw Joaquin Sombrero.  By the end of the 3rd set these incorporations were well distributed and seemed happy enough.
After and hour of bulk ferment in our color coordinated, yellow topped, well oiled, plastic box we chucked it into the fridge for a 16 hour retard.  After warming up for an hour in the morning we decided to make a Chacon out of this dough since the original chacon shape came from our Italian Altamura shaping experiments and is probably named for a Spaniard of Turkish decent for all we know.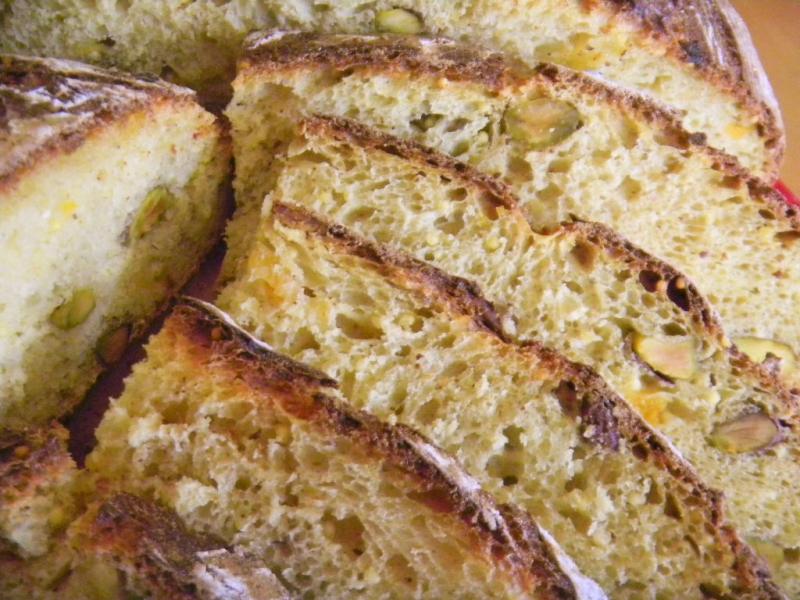 After 2 hours of final proof on the counter in a trash bag, it looked like Old Betsy needed to be fired up to 500 F with stones top and bottom.  A large size Sylvia's Steaming Pan with 2 towels and a 12" CI skillet full of lava rocks - ala David Snyder - both filled half full of water supplied the steam for the first 15 minutes of the bake.  It went in over proofed by an inch or so but it was still mellow yellow to the core and not likely to fall if we put some hot spurs to her before she noticed.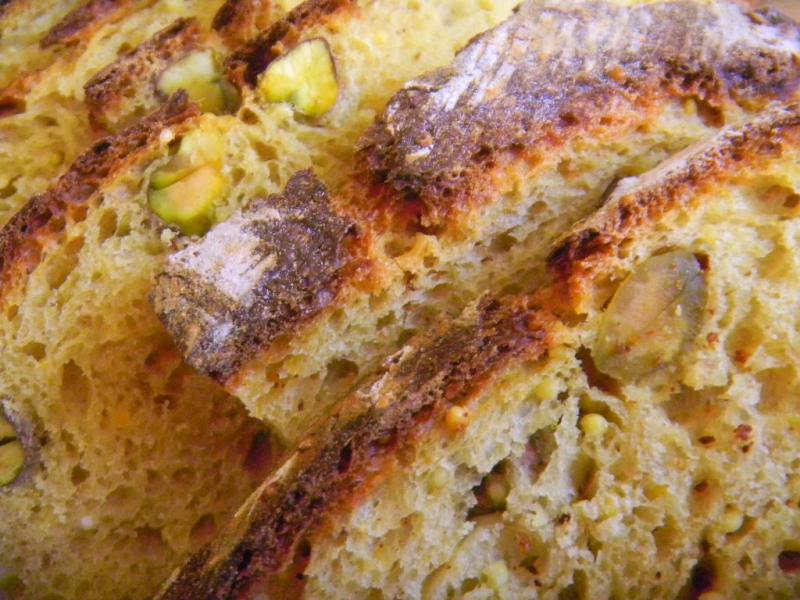 Three minutes after the steam bath started, we turned the temperature down to 475 F for the next 12 minutes of steam.  At the 15 minute mark we removed the steam, turned the temperature down to 425 F, convection this time.  After being spun on the stone 120 degrees every 6 minutes, 3 times, it was done,.
 t smelled fantastic and looked splendid for such a mellow heritage…… Chaconing does that to bread nearly every time.  We turned the oven off at 203 F and left it on the stone with oven off to finish and hit 205 F at the 33 minute mark.  We then left the oven door ajar with the bread still on the stone to crisp the skin even more before removing it to a cooling rack after 8 minutes.
A nice salad already made for dinner.
It cracked and browned boldly as a chacon should but spread more than it sprang the usual thing for a wet, over proffed bread.  The basket we used was indented up on the bottom rather than a round bottomed round one, so the bread really has to spring just to get back to flat on top.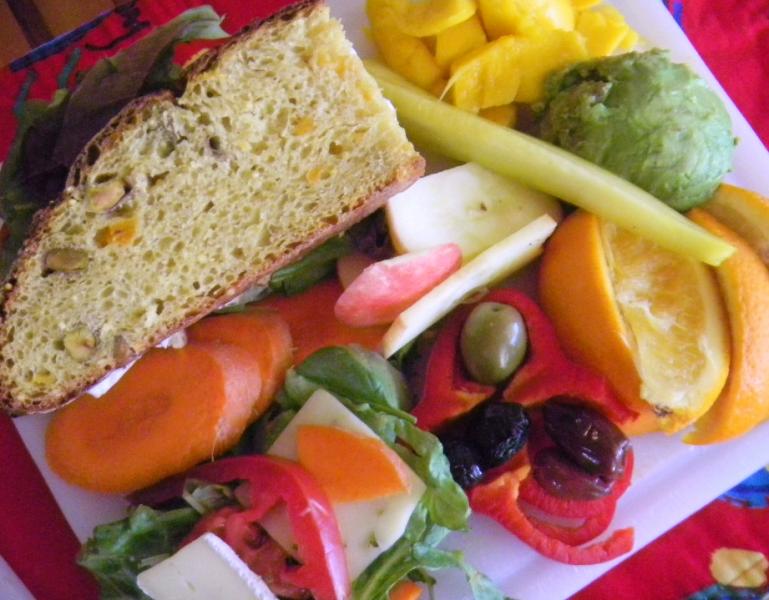 The crumb came out moist, open and soft.  It has the sweetness that semolina brings to bread too.  I have to admit that semolina isn't my favorite flour by far but this bread isn't bad at all.   It made a great tasting sandwich for a late lunch and should sub nicely as a hamburger bun for dinner.  The crust stayed crunchy for a change as it cooled and it tasted as good as it looked.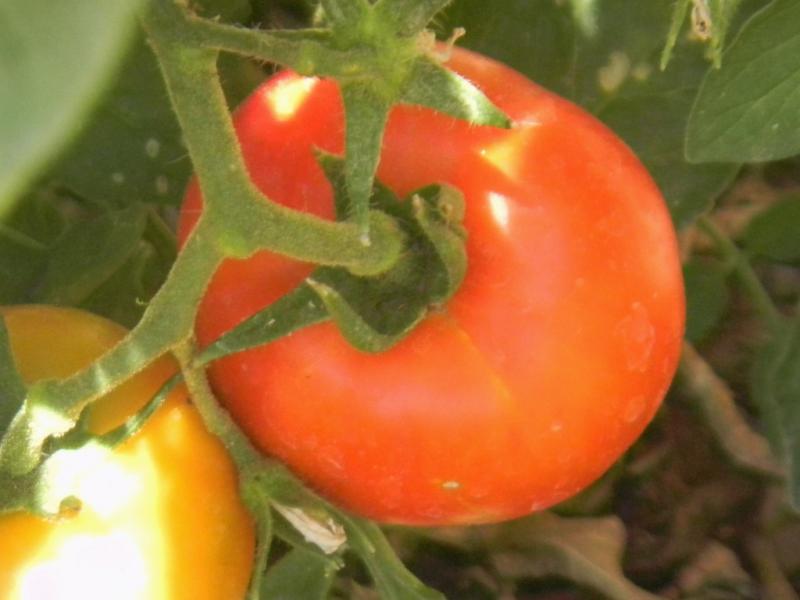 Picked the first tomato today. Summer is here!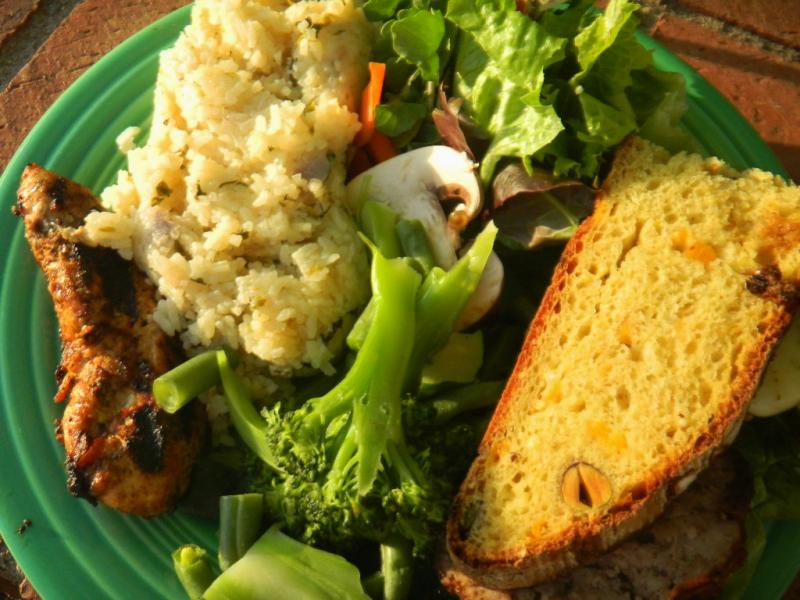 Formula
WW SD, YW and Rye Sour Levain

Build 1

Total

%

WW & RyeSD Starter

10

10

1.60%

Semolina

75

75

12.00%

Spelt

15

15

2.40%

Dark Rye

15

15

2.40%

Whole Wheat

15

15

2.40%

Water

120

120

19.20%

Total

250

250

40.04%

 
 
 
 
 
 
 
 

Levain Totals

 

%

 

Flour

125

20.00%

 

Water

125

20.00%

 

Hydration

100.00%

 
 
 
 
 
 

Levain % of Total

18.82%

 
 
 
 
 
 

Dough Flour

 

%

 

Semolina

275

44.00%

 

Chi Chi

25

4.00%

 

Whole Quinoa

25

4.00%

 

Corn Flour

25

4.00%

 

AP

150

24.00%

 

Dough Flour

500

80.00%

 
 
 
 
 

Salt

10

1.60%

 

OJ. 100, Saffron W. 100, Apricot W. 66

266

42.56%

 

Dough Hydration

53.2%

 
 
 
 
 
 

Total Flour

625

 
 

OJ. 100, Saffron W. 100, Apricot W. 66

391

 
 

T. Dough Hydration

62.56%

 
 

Whole Grain %

14.24%

 
 
 
 
 
 

Hydration w/ Adds

68.79%

 
 

Total Weight

1,330

 
 
 
 
 
 

Add - Ins

 

%

 

White Rye Malt

4

0.64%

 

Non Fat Dry Milk Powder

10

1.60%

 

Ricotta Cheese

50

8.00%

 

Egg Yolk

11

1.76%

 

Honey

10

1.60%

 

VW Gluten

10

1.60%

 

Millet

50

8.00%

 

Apricots

75

12.00%

 

Pistachios

75

12.00%

 

Total

320

51.20%

 
 
 
 
 

Weight of apricots is pre re-hydrated weight

 
 
 
 
 
 

The Tang Zhong was 25 g of dough semolina and

 
 

100 g of water.The water was not counted in hydration.

 

The TZ weighed 112 g when it went in the auolyse.