Swiss Farmhouse bread using Raspberry YW
Abe posted this bread, it looked great, and because hubby is Swiss I just had to have a go.  I used my existing Raspberry yeast water instead of building a new raisin yest water as in the recipe.
Monday afternoon, I removed the yeast water from its hibernation in the fridge, strained off the old fruit and replenished it with a a few raspberries still lingering on the plants, a bit of orange peel, a few raisins and some more water.  I sat the jar in a bowl of warm water and watched it.  Aha.. its fizzing, now I can proceed.  I scaled the recipe Abe gave me, it has 2 stage build of a YW preferrment
Build 1
Bread flour 64 g + 41 g raspberry YW. Mixed at 10 pm and left on bench overnight.
Build 2
Add to Build 1, 81 g bread flour + 38 g freshly milled wholewheat flour + 75 g water.  I mixed all together at 8:30 am and warmed up microwave to about 82 deg F and placed bowl there.  Recipe said 12 - 14 hours, but it was more than doubled and beautifully domed by 1:30 pm.  (Maybe I should have left it at room temp but I thought if I am lucky I can bake today)  
Final Dough mixed at 1:30 pm
All of build 2 = 194 g bread flour + 6 g gluten flour + 6.9 g salt + 153 g water.  I mixed this all together by hand, a few slap and folds, a few stretch and folds until well incorporated.  Then I flattened dough out and spread over 57 g raisins and 84 g chopped pecan nuts (I do not like walnuts which is what recipe called for) then folded dough and slowly incorporated them into the dough.  Left it to sit for just over half an hour then did another 2 stretch and folds and left to ferment. 
4:15 pm I thought, ok time to preshape.  So formed a reasonably tight batard and left it to rest for 45 minutes, before patting out gently into a rectangle and reforming the batard.  Preheated the oven to 450 deg F and DO
6:30 pm all was looking good so unmould dough, slashed and placed in DO and into preheated oven at 450 deg F for 15 minutes lid on, 15 minutes lid off.
Left to cool for several hours before slicing and freezing.  But of course we had to sample it and OMG - it is absolutely scrumptious - will DEFINITELY make this again, and again!!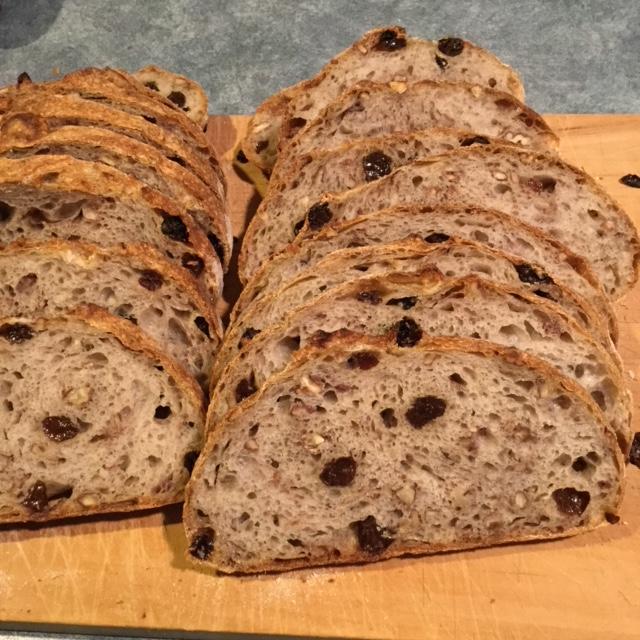 thanks Abe - it is very yum indeed.
Leslie