Dab's Eight Sprouted Grain Three Seed Sourdough 
My brother asked to add him to my bread list on a bi-weekly basis. Diabetes runs in the family and his doctor has told him to give up white bread in order to stay ahead of the game. So who best to emulate and steal recipes from but our very own Dabrownman! Well, while doing that, I discovered that Lucy is truly an evil creature! A four short legged creature, but evil nonetheless! The things that she puts Dab through in order to produce a loaf is nothing short of torture. No wonder his recipes start on Monday and finish on Friday. I spent a good part of each day this week, dealing with a myriad of different steps and discovering a few things along the way:
Dehydrating sprouts takes a lot longer when you have a thick layer of grains. And using the rack that has the plastic liner for fruit leathers isn't a great idea. I need to get one more piece of window screen to line that particular tray.
Unhulled buckwheat is not the best thing for making sprouted flour. When you milled this, it leaves chunks of hulls that are very unsightly and huge! Remilling these chunks didn't help at all! I finally sifted them out and gave them to the birds. They probably won't eat them either!
Using 12% as the amount of bran that will be extracted from the sprouted flour is too low. I was short 25 g so I need to up the amount of grain I sprout and mill.
I hate toasting flax seeds! They start thinking they are Mexican Jumping Beans once the heat hits them and they fly all over the place. Even putting a screen on the frying pan didn't help much! It makes it hard to ensure that the sunflower and pumpkin seeds that I put in the pan with the flax seeds actually get toasted. 
Next time, I need to grind at least half of the flax seeds to get a better dough and for better nutrition.
I need to use VWG more. Bread flour in the small 5 lbs bags is expensive and I go through them like there is no tomorrow them I am making 4 batches at once. 
I originally dropped the hydration to 78% from Dab's 85% but the dough felt too stiff so I brought up the hydration to 80% at the first set of folds. Dab had mentioned that this was quite a wet dough so I decided to be more conservative and add if needed. I should have added even more as the dough felt quite heavy in the end.
So here is the recipe:
Makes 3 loaves
Dough:
261 g of sprouted flour from Red Fife, rye, Spelt, Buckwheat (use hulled, not unhulled like I did, it will save you a lot of grief and agravation), Oats, Kamut, Selkirk wheat (hard red spring wheat variety), and Einkorn berries. (I used 62 g of each grain for sprouting. Next time, I think I would increase this to ~65 g. Process for making this flour explained below.)
355 g unbleached flour
330 g bread flour
700 g of water + 25 g
22 g salt
35 g yogurt
352 g 100% hydration levain (builds explained below)
Add-ins:
88 g pumpkin seeds
88 g sunflower seeds
88 g flax seeds
Making the sprouted flour:
Weigh out the berries for sprouting and rinse them well under water. Leave to soak about 6-8 hours, drain well, and leave to sprout, rinsing occasionally, until the rootlets are just visible on the end of most of the berries. Don't let the roots get too long. They should be about 1/16 to 1/8 of an inch. Total time from first washing the grains, soaking and then letting sprouts was 33 hours.
Place grains in a dehydrator and dry until they are completely hard when you bite into a seed. If you crack a tooth, they are just right. ;-) The other way to find out if they are dry enough, is to weigh the berries and see if they equal the initial weight. In the past, dehydrating sprouted berries took only 3 hours but because I was making 4 batches and I had a thick layer of grains on each rack, this took about 7 hours.
Put the grains through the grain mill and freak out because there are huge chunks of buckwheat seed coat in the flour. Decide if you want them in the dough or not. I chose "NOT"! To me, they looked like crushed insect exoskeletons. Ewww!
Sift out the bran with a screen, then sift the bran again through a coarse screen to remove the buckwheat hulls but keep the rest of the bran for the first levain build and for dusting the bannetons. (I did this by first hand sifting the flour through a regular kitchen metal sieve to get the coarsest of the bran. I tried running this coarse bran through the mill on extra fine but the flakes still stayed huge. I even tried buzzing them up in a bullet. No luck! So I gave up on the idea of including these in the dough. The flour from the hand sifting was run through the Komo mill fine sifting attachment to get more bran extraction. Then I put the coarsest screen on the attachment and ran the hand sifted bran through. This got rid of those huge hull flakes but still gave me plenty of bran for the levain and dusting the baskets). 
Save 176 g of the sprouted flour for the levain build and reserve the remaining 261 g for the main dough.
Add-ins:
Weigh out the needed seeds and toast them in a dry frying pan. Be prepared to have your flax seeds impersonate Mexican Jumping Beans. Your kitchen will need a clean up after this activity!
Reserve the seeds.
Levain Builds:
A couple of days before making your dough, take 6 g of your starter and feed it 19 g of water and 19 g of bran. Stir every 8 hours or so. You won't see much activity if any, but have no fear, the little creatures in there are doing their thing and multiplying like crazy. 
Just before going to bed the night before, add 176 g of water and the 176 g of sprouted flour that was reserved for the levain. Stir down in the morning and refrigerate if you aren't ready for it. Let rise again.
Main dough:
In the morning, mix all of the flours with the add-ins and the water. Let sit for a couple of hours in a warm place (82F). Add the salt, the yogurt and the levain. Mix well to integrate the salt and the levain. I did 50 folds in the bucket. 
Do 4 sets of folds each a half hour apart. Add the 25 g of water with the first set of folds. Let rise until 80-90% (~4.5 hours). Even though the dough had a lot of bubbles, it still felt quite solid. I don't know if this was due to the add-ins or to the sprouted flour.
Carefully remove the dough from its container (try to not deflate it), and divide into 3 equal portions of about 780 grams. Loosely shape into a boule and let rest for 45 minutes. Reshape the balls into boules and tighten the skin by spinning each ball like a top on a bare spot of the counter. 
Sprinkle some of the bran into the bannetons and then place the dough seam side down. Cover and place in a cold fridge (37F) for the night.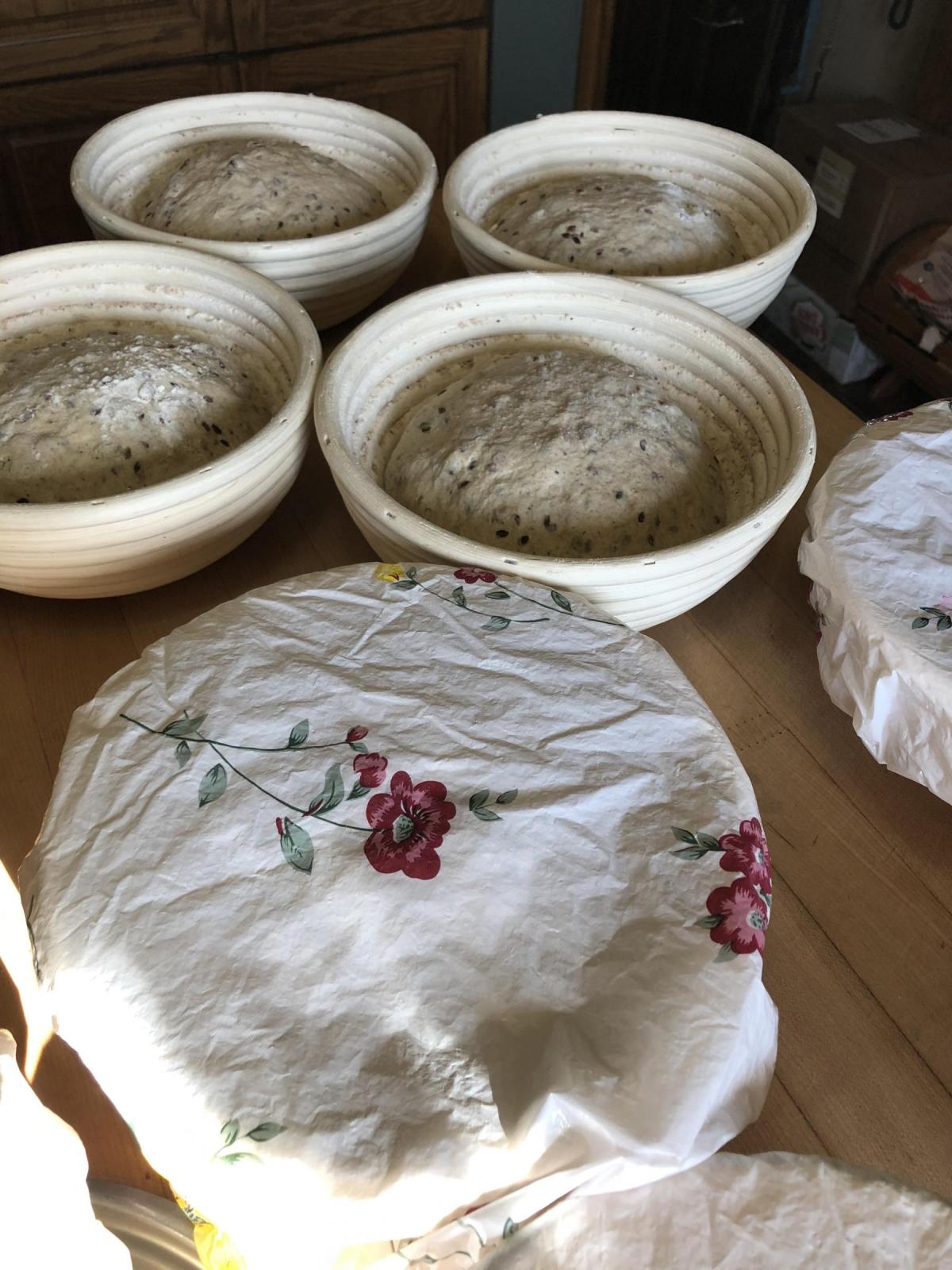 Baking:
Preheat the oven and the pots to 475F for an hour. Place parchment rounds in the bottom of each pot and carefully place the boules seam side up. Cover and bake for 25 minutes at 450F. Uncover and bake for a further 20 minutes at 425F. Final internal temp should be at least 205F.
The boules felt quite firm when I took them out of the bannetons and I had doubts about good oven spring. This was justified as the first batch of six had minimal oven spring.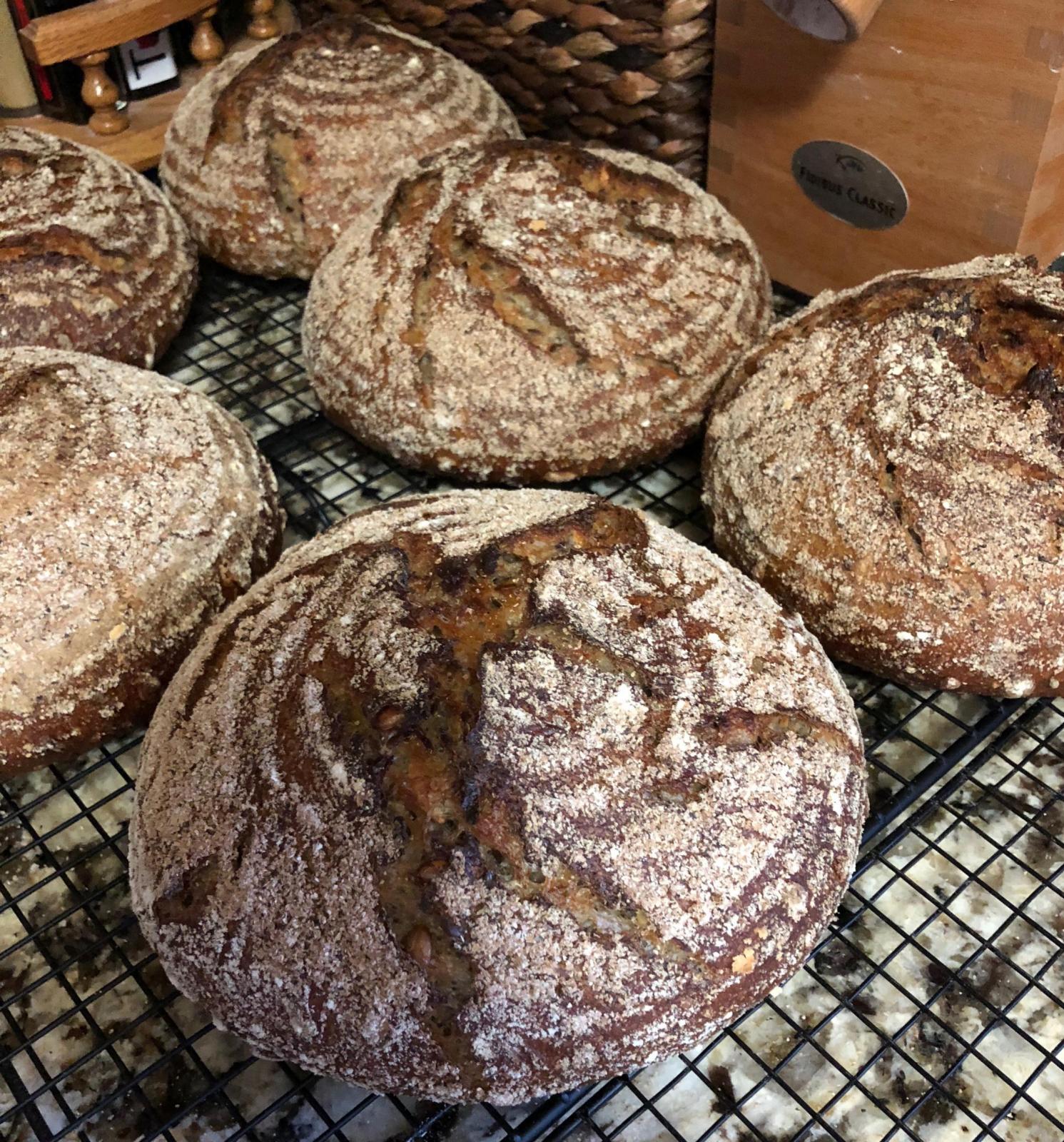 So I took out the other half dozen out of the fridge and let them warm up about 45 minutes on the counter before baking. The second batch had very slightly better oven rise and I got a deeper colour on the crust for some reason.  
So not a bad bake for Earth Day as I don't think you can get more earthy than this unless you go for a 100% whole grain loaf!