February 10, 2018 - 11:07pm
Country Champlain comparison
I wanted to compare the effect of using bran in the levain vs whole flour.  So on Wednesday morning I weighed out a little more spelt and rye berries than I needed (allowing for slight loss during milling) for each levain build then milled them.  I did this a little differently than usual.
I set the Mockmill on 4-5 and milled the first batch.  I sifted this through my kitchen sieve, kept this separate then remilled the remainder on the fine setting 1-2 and sieved this again, adding this bran to the previous bit.   The flour felt a little smoother. 
I repeated this for the second batch but only gave this the first sieving - there was actually very little left in the sieve.
10 am refreshed starter 5 gm starter + 5 gm water + 5 gm flour - standard refresh ex refrigerator
2 pm added 30 g water + 30 flour - again as usual.  Room temperature was 22 deg C
10 pm made the first build of the levain which was then left on the bench overnight.
Bread #1 - 10 gm refreshed starter + 10 gm water + 7 gm bran (all I had) + 3 gm double sifted flour
Bread # 2 - 10 gm refreshed starter + 10 gm water + 10 gm bread flour
Thursday
2nd levain builds at 7 am room temperature 19  deg C - a bit cool, where has my sunshine gone?!!
Bread #1 15 gm from evening build + 15 gm water + 15 gm double sieved flour
Bread # 2 15 gm from evening build + 15 g water + 15 gm bread flour
This was left on bench to hopefully mature.  My formula for both loaves as follows
Freshly milled spelt 38 gm 
Freshly milled rye 19 gm
This was milled together so  bread #1 double sieved, bread #2 minimal sieving
Bread flour 98 gm + 4 gm gluten flour
Water 114 gm
Salt 3.12 gm
levain 24 gm
12:20 pm mixed the ingredients for bread #1 to shaggy dough then left to autolyse 
12:30 pm mixed the ingredients for bread #2 to shaggy dough then left to autolyse
13:45 pm Add salt and bran levain for #1, dimple in, 30 stretch and folds followed by 5 minutes Rubaud method.
14:05 pm Bread #1 5 minutes mixing Rubaud method but using left hand - its hard work!
14:45 pm Bread #1 stretch & folds * 20 
15:15 pm Stretch & folds * 10
15:45 pm stretch and folds * 8
Repeated all steps exactly for bread #2 (standard levain), just 10 minutes later, so here is #2 after Rubaud mixing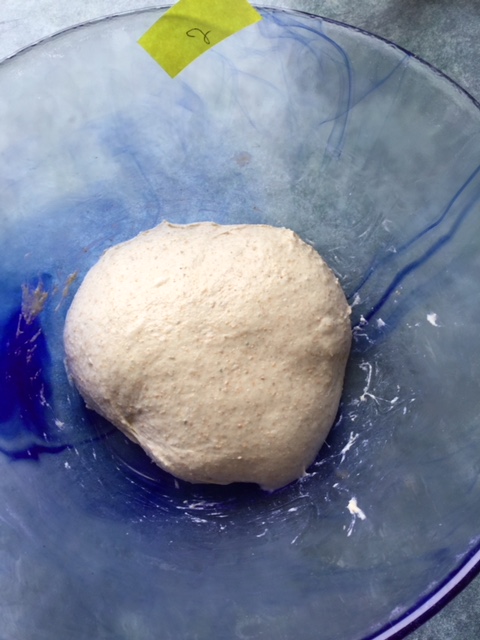 16:45 both breads given stretch & folds * 7 and repeated at 17:30 pm and 18:30 pm.
20:00 pm Bread # 1 preshaped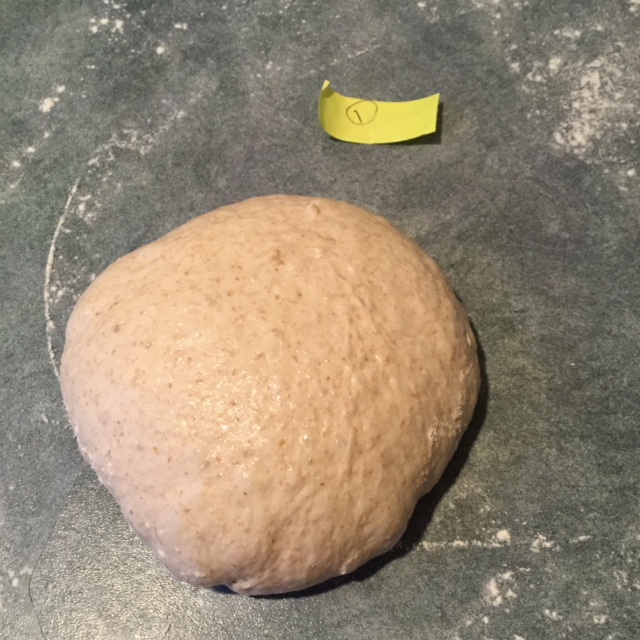 20:30 pm Bread #1 final shaping then placed on floured cloth in small bowl in refrigerator overnight.
The dough was not wildly poofy but seemed to get more so as it progressed and you can see small air bubbles here.  I don't think I did a very good job of shaping.  The dough was pretty soft but still sticky and I tried hard not to degass.  I oiled the bench and hands for preshaping but chickened out and floured the bench for final shaping. 
Bread #2 preshaped -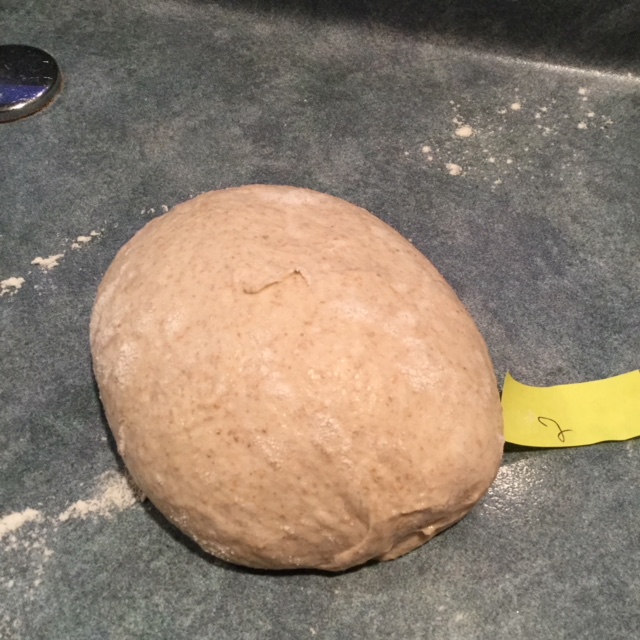 I felt this was a bit softer so only left it 20 minutes before final shaping and refrigerating overnight. It went a little better than #1 did-- I didn't oil the bench this time though, just flour.
Friday 7 am Removed both loaves from fridge, unmoulded onto parchment, slashed loaves (1 slash #1, 2 slashes #2) baked both at same time in different DOs 15 minutes lid on at 250 deg C and 15 mins lid off at 230 deg C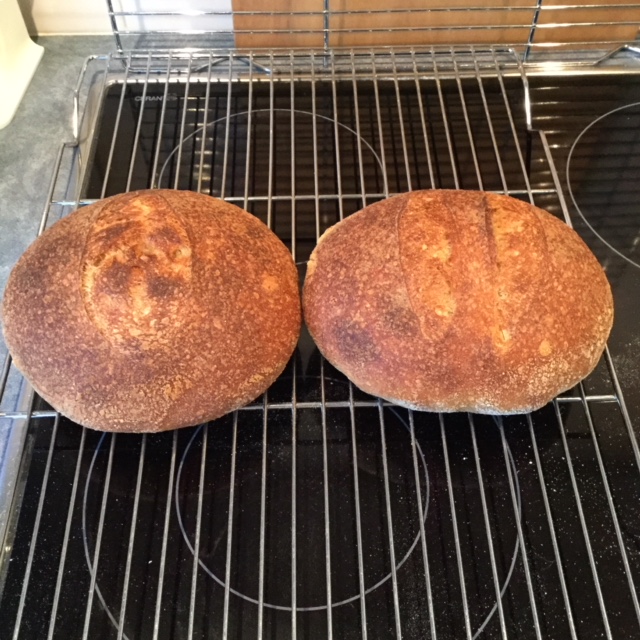 Lunchtime we couldn't resist.
Crumb #1 bran levain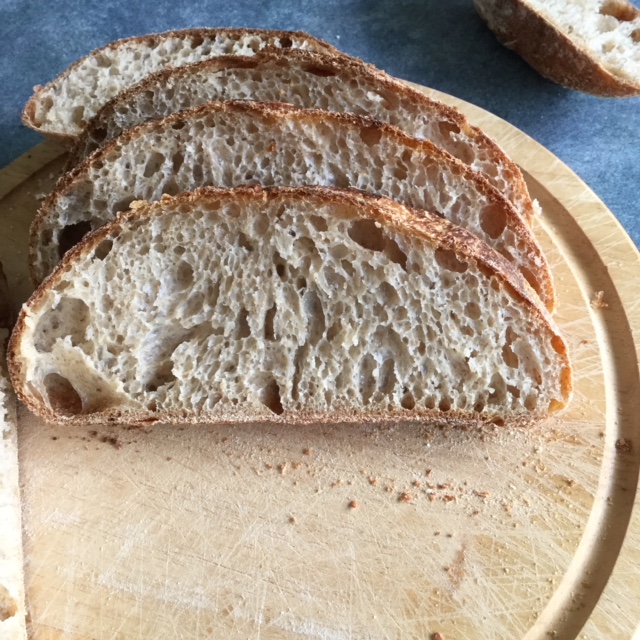 We've had visitors so didn't cut bread #2 until today. Crumb shot standard build levain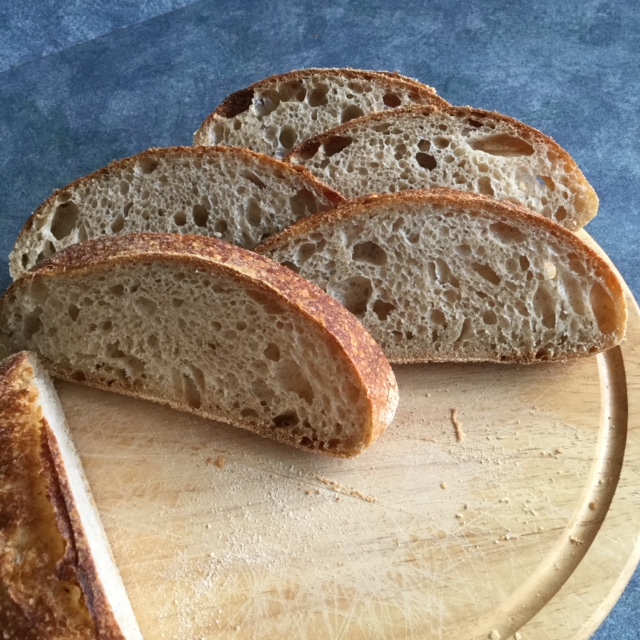 I think the bran levain has actually delivered a better crumb although I am not sure if there was a great deal of difference in height i.e volume after the bake.  I still need to get more tension/strength in final shaping.  The 1 slash vs 2 may have had an impact too. 
I had hoped for less spread and more height, so I will try again .. just one loaf but a bit bigger this time.  and I will try to make a batard fingers crossed.  There was definitely some improvement this time.
Leslie