January 16, 2018 - 4:08pm
Experimentation - the next step
Following on from my last experimental day inspired by Mariana, today's bake built on that but also heavily influenced by Trevor's book Crumb Mastery which I am presently re-reading. 
My objectives -  1. compare 2 flours (best from last time E and another supermarket brand P) 2. compare effect of different number of folds (suggested I think by Lazy Loafer) on each type of flour (4 x 10 or 4 x 25) 3. what effect does it have adding gluten flour to bring the protein level to 12.5  Flour E protein level 11.5%Flour P protein level 11%  This was a basic 1:2:3 sourdough using the "bread flour" available here. each loaf (there were 6) weighed in at 300g wet dough.  167 g flour, 125 g water, 3.3 g salt and 48 g levain.  Flour E had 3 g gluten included in 167 g flour, flour P had 4 g gluten. This was calculated as per Pearson's square as alfanso's  showed on a recent post  My 66% starter was refreshed 
Sunday evening
  (grams) 7:14:21 left on bench overnight.  
Monday 9 am
 I took 10 g this starter and added 40 g water & 40 g flour and left on bench all day.  
Monday 8:15 pm
 built 6 small levains  (in grams) 5:22:22 and left overnight on the bench.  Room temperature fluctuated during the rebuild time from 20 - 23 degrees C. TuesdayI started 
at 8:25 am
   mixed flour and water then left for an hour to autolyse. It worked out at 5 minutes per dough so every 5 minutes mixed the next one.flour E (1) (4 x 10 folds),then flour E (2) (4 x 25 folds),flour E + gluten (3) (4 x 10 folds),flour P (4) (4 x 10 folds),flour P (5) (4 x 25 folds) andfinally flour P + gluten (6 ) (4 x 10 folds).Bowls with labels everywhere! Just as well hubby was out for the day and I could concentrate!!!  
9:25 am
 started the process of adding salt and levain and for this I mixed it in using 30 stretch and folds.  Some were not quite mixed but I took a leaf out of Trevor's book and thought "it will mix in over S & F" which it did!.  
10 am
 I started the stretch and folds as per plan.  Bread (1)10 S&F - I was five minutes late so it 35 minutes instead of 30 minutes rest. followed immediately afterwards by (2) with 25 S & F
10:05 am
 10 S & F for (3) 
10:15
 Bread (4) 10 S & F - I made 5 minutes late to match (1) followed by (5) with 25 S & F on schedule
10:20
  10 S & F on (6) 2nd set of stretch and folds after 30 minutes showed some changes. (1) 10 folds, (2) could only do 13. (3) had extra gluten so left it 40 minutes then did 10 folds, (4) 10 folds, (5) could only do 16 Folds and (6) at 40 minutes, 10 folds. This dough was smooth and extensible. 
10:45
 I did another 12 s & F on (2) so it had its 25
11 am
   did another 9 folds on (5) so it also had 25 folds in total 3rd set of S & F - times are a bit all over the place all had 1 hour rest after previous set of folds
11:30
 Bread (1) could only do 5 folds 
11:45
 Bread (2) could only do 13 S & F, Breads (3) & (4)  were both nice and extensible, 10 folds as planned.
12:00
 bread  (5) only 20 folds done, Bread (6) extensible, 10 folds as planned 4th set of S & F - Final round
12:15
 Bread (1) 10 S & Folds then leave until perhaps 50% increase in volume. appearance was also a factor
12:45
 Bread (2) could only do 16 folds so this only got 79 folds, not 100 as planned. leave as above.  Breads (3) & (4) were given 10 folds each at this time
13:00
 Bread (5) only 15 folds so total here was 85 folds instead of 100, Bread (6) final 10 folds Kept an eye on dough to try and judge when I thought dough was right.  A challenge as I normally use a straight sided container and these doughs were all in bowls. 
13:45
 preshaped bread (1) and left for 30 minutes
14:15
 final shaping and left on bench
15:00
 placed bread 1 in fridge to retard  The rest of the doughs were preshaped, one after each other, 
starting at 14:20
 and each left to rest for 30 minutes 
14:50
 start final shaping on all remaining doughs, leave on bench until look a bit proofed 
15:30
 All doughs placed in refrigerator. (can you actually say "doughs" or should it be "dough"?) 
16:30
 preheat oven to 250 deg C along with DO 
17:30
 Unmould bread (1) and (2), slash and place in DO, bake 15 minutes lid on, 15 minutes lid off. Reheat DOs and repeat with bread (4) & (5) (below)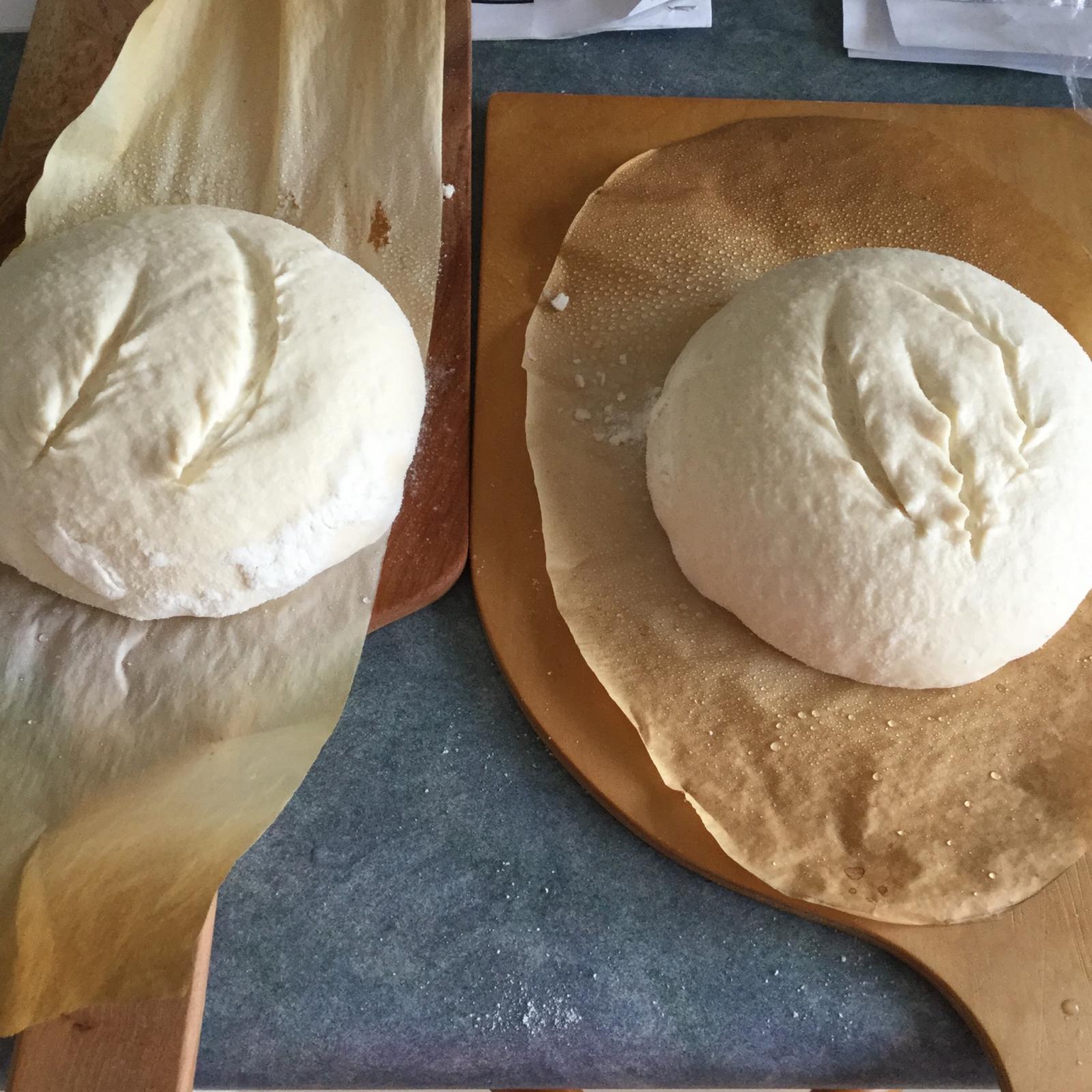 last batch, reheat DOs again and repeat with bread (3) & (6). Well, there are definitely differences showing up.  Looking at all breads post bake,  Comparing flours - breads (1) & (2) are a little smaller than breads (4) & (5)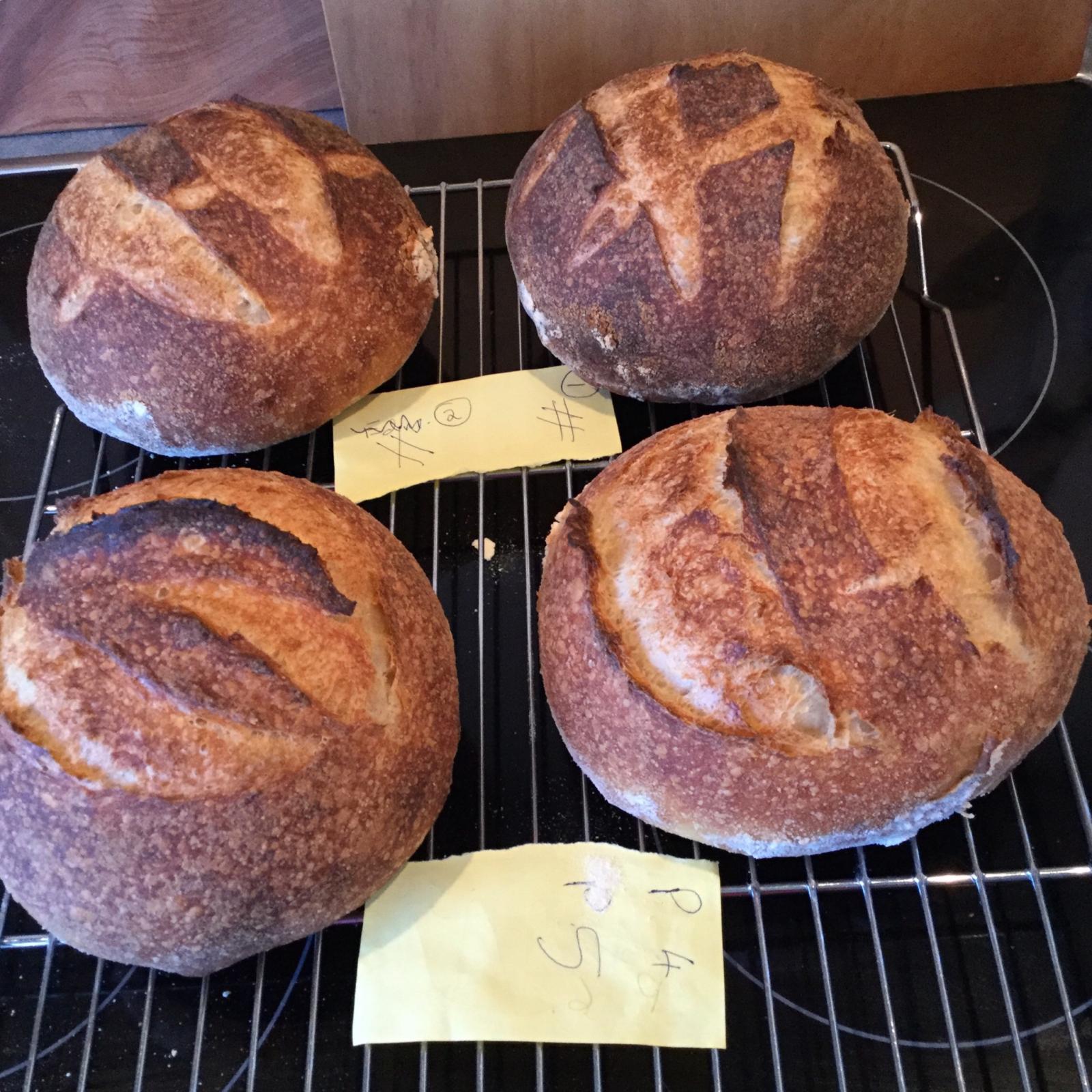 Comparing number of folds - breads (1) and (4) are smaller than (2) & (5)Comparing with or without gluten - DEFINITELY better volume with gluten. Dough was less sticky as well. see lead photo. Side note:  Boules are such a breeze - these gave me no trouble at all with the shaping where sometimes my preferred batard is quite challenging.  Mind you, dough was in general terms really nice to work with, it may be different with more whole grain, but that challenge is for another time. Crumb shot?  well I will get crumb shot of today's lunchtime bread - bread (5).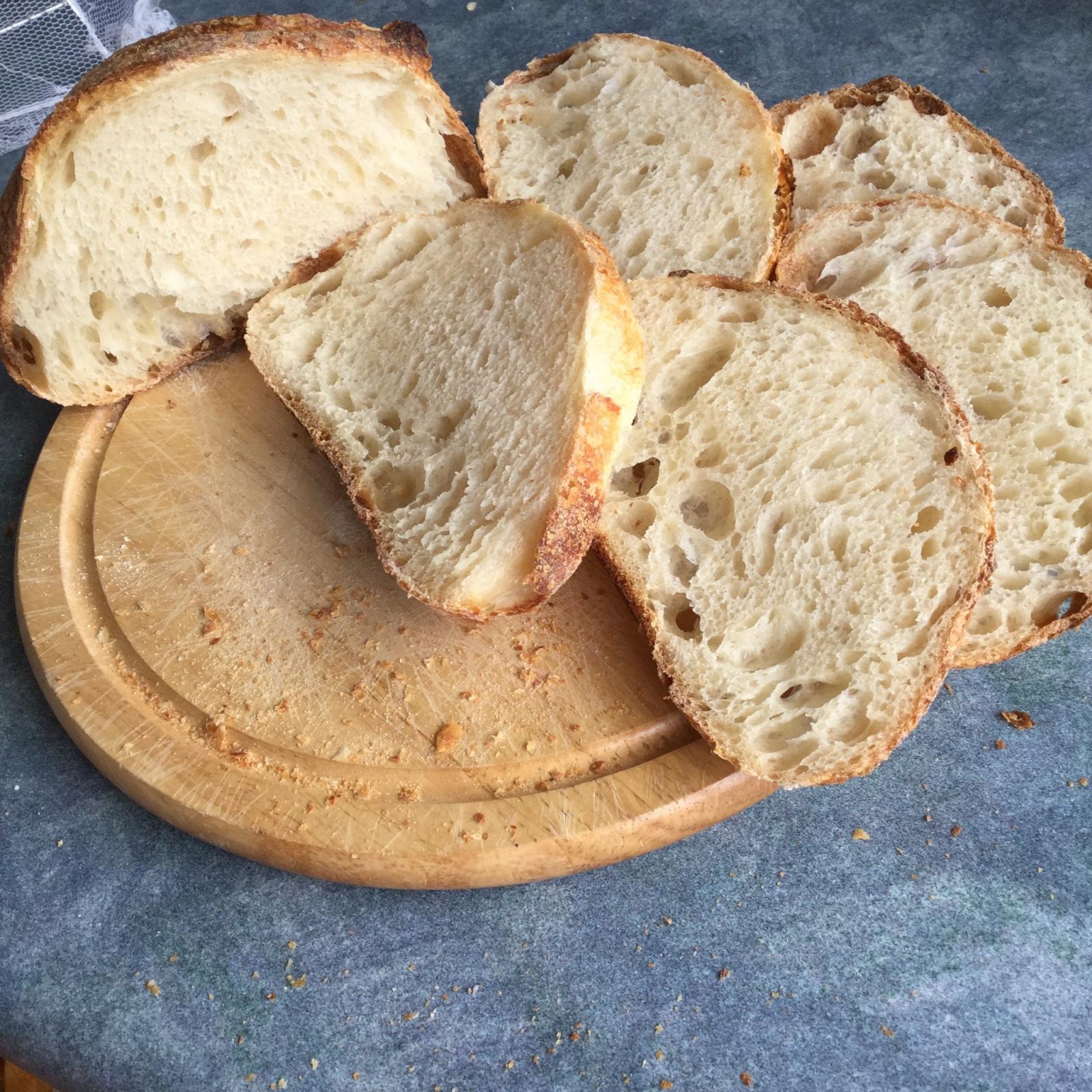 Decision, dependent of course on crumbshots, looks to be that I need to added gluten flour to get better bread.  Which flour to go forward with? that too will depend on the crumb shot.  Really good experiment, I learnt a lot from it.  Changing from bulk fermenting until doubled to a much lesser amount e.g 50% is something I am still getting to grips with.  I worried that this dough had not bulk fermented enough but by the time it finally shaped and then baked I was feeling more confident.  Taking the lids of the DO is always, always a "hold your breath" moment for me. I wrote this this morning, and had bread (5) at lunchtime.  Interestingly, for me anyway, is that this flour P has protein level of only 11%, and yet with 75% hydration, if I had that correct,  and 80 - 90 s&f it has produced a very nice plain white loafwith a thin crisp crust.  will interesting to see how the one with gluten added compares. The last bit of the day's bake, which slotted in nicely in the afternoon, so no pressure, was my favourite multigrain loaf.  This too has turned out well.  It was retarded overnight and baked this morning.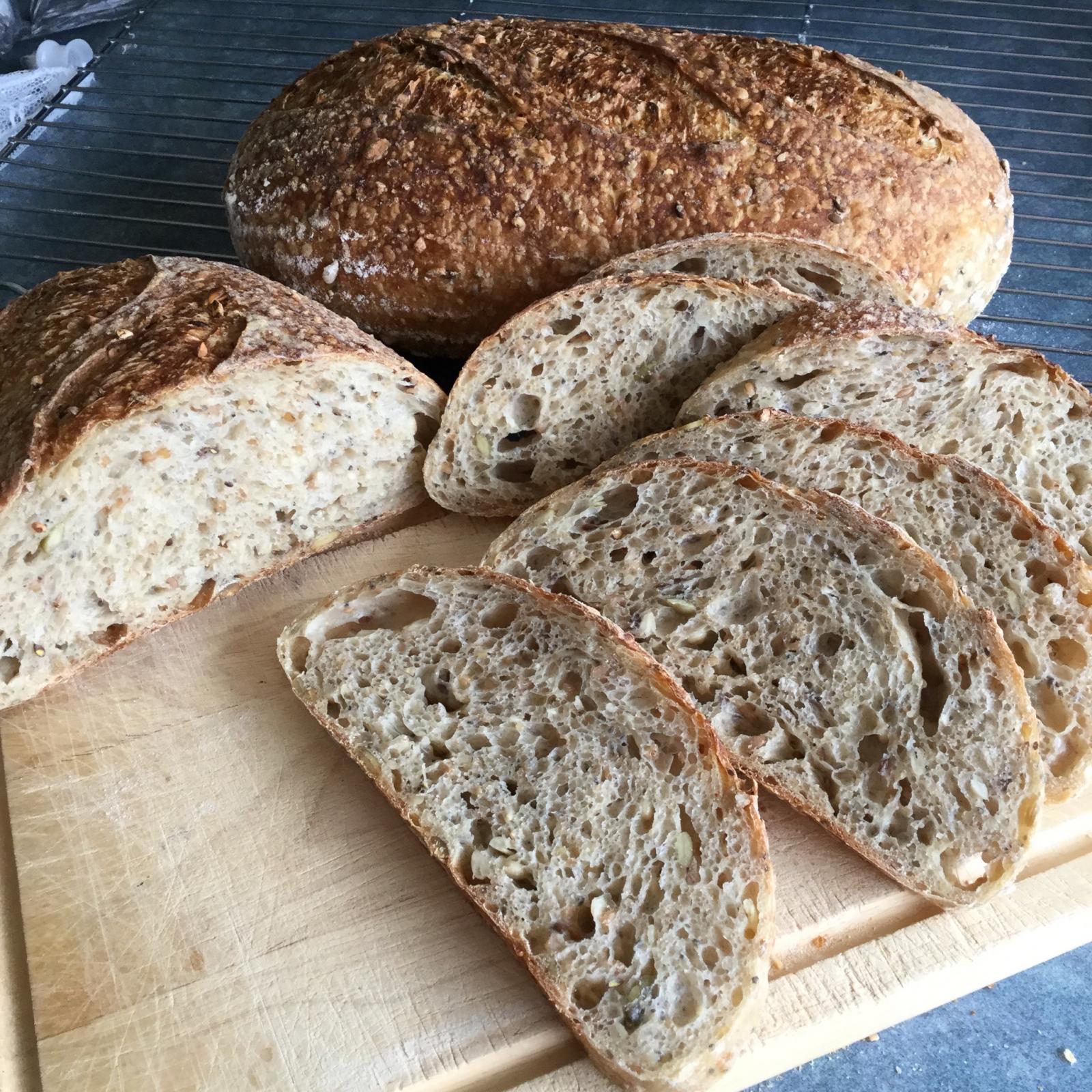 Happy with how it went. Leslie Sorry about formatting, it hasn't copied over 😕