January 15, 2018 - 4:16pm
A "Simple" Liquid Starter: The Sullivan Street Bakery Cookbook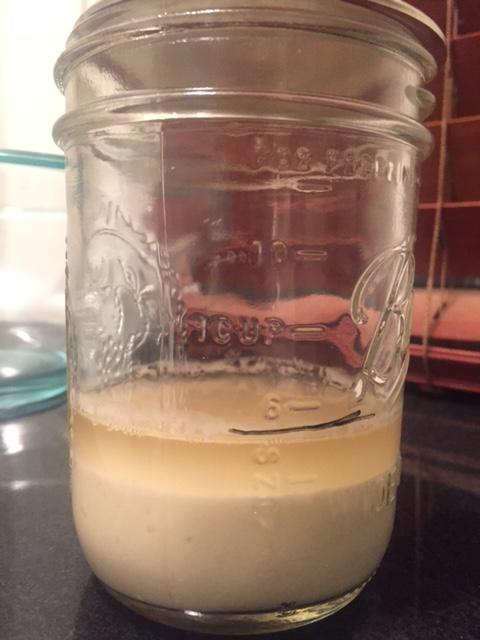 I've been a big fan of Jim Lahey for years now: both of his earlier cookbooks have allowed me to produce great bread and pizza.  So when he came out with a new cookbook, The Sullivan Street Bakery Cookbook, which relies on wild yeast I decided I would give sourdough starters a try (again).  
His "simple liquid starter" is the basis for his doughy starter (which he calls a "biga.") It's essentially 1 part flour (APF) to 2 parts room temperature water plus time.  After it rises and falls (in 1 to 5 days), you take a small amount of it  and add APF/water in the same ratio as before. After the new mixture rises and falls, you are ready to mix up a batch of Lahey's "biga" which is used for most of the recipes in the book.
Here's the problem: I have no problem getting the liquid starter started.  Within a day it goes from a soupy paste to separating into flour and water, then fermenting as flour rises, collapses and separates again.  The problem comes when I go to refresh the liquid starter. One day, two days, three, a week later and no action.  
I'm trying again.  The image above is on day two of the "refreshed" liquid starter: seems to be stuck in the separation phase.  
I've read all about using rye flour, pineapple juice and dozens of other methods, but was hoping for some guidance on how to get Lahey's liquid starter to succeed.  I know it's a relatively new book, but wondering if anyone has worked with a similar liquid starter and has any suggestions.    
This is a great site. I've spent countless hours reading and learning, but at times it seems a bit overwhelming.  
What else can I tell you? I'm keeping the starter in a cool room (close to 70 degrees because I read somewhere that the wild yeast didn't like the competition from some bacteria that can dominate at warmer temperatures).  I use unbleached King Arthur APF. 
Also, the starter smells good: it definitely smells like I am headed in the right direction, but this is the third attempt and not particularly hopeful.  
Any suggestions appreciated.