January 10, 2018 - 12:12am
First bake of 2018 revisited
I have attempted to repeat my first bake for 2018 and do it better.  
Starter refresh Friday morning
mixed 10 g starter 20 g water 30 g flour and left on bench. Room temp was 23°c
8 pm took 7 g from this added 28 g water & 28 g flour mixed and left on bench overnight.
Saturday 9:30 am mixed up levain for
bake #1 1:2:3 with 20% freshly milled rye 10% freshly milled spelt
27 g starter 118 g water and 118 g flour. leave to mature 
 bake #2 1:2:3 with 20% new season yeast water (raspberry)
levain: 9 g starter 41 g water 41 g flour mixed and left to mature
Poolish: 65 g yeast water 65 g flour  mixed and left to mature. this was a pretty pink!
Final doughs
Bake #1 1:2:3 with yeast water
2 pm autolyse - 208 g flour and 116 g flour. This was a low hydration dough
2:50 pm add yeast water poolish and levain. Dimple in and incorporate into dough with lots of folds.leave 20 minutes.
3:20 pm 50 turns - very challenging as not very extensible
4 pm 50 turns and still a challenge
4:30 pm 50 turns incorporating 6.3 g salt
5:30 preshape leave to rest.
5:50 pm final shape into batard, retard overnight in banneton
Bake #2  Final dough 1:2:3 with spelt and rye
5:45 pm mix flours (518 g bread flour, 91 g spelt, 182 g rye), add 527 g water and autolyse. Went out for dinner so this was a little longer than planned
7:30 pm add levain and 18 g salt. I incorporated this with lots of stretch and folds. rested 30 minutes and did 30 s&f, repeated another 2 times.  rested 15 minutes, divided dough into 2 and preshaped (now 9:30 pm) rested another 30 minutes.
10 pm final shaping into 2 batards, into bannetons and into fridge for overnight retard.
Sunday morning
Oven set to preheat to 250°c by 7 am.  
Bake #2 is first up as I was trying to stick to dabrownmans suggested schedule. The 1:2:3 spelt and rye loaves were unmoulded, slashed and baked in DO s 15minutes lid on 15 minutes lid off with temperature dropped to 230 after 10 minutes. Happier this time as better oven spring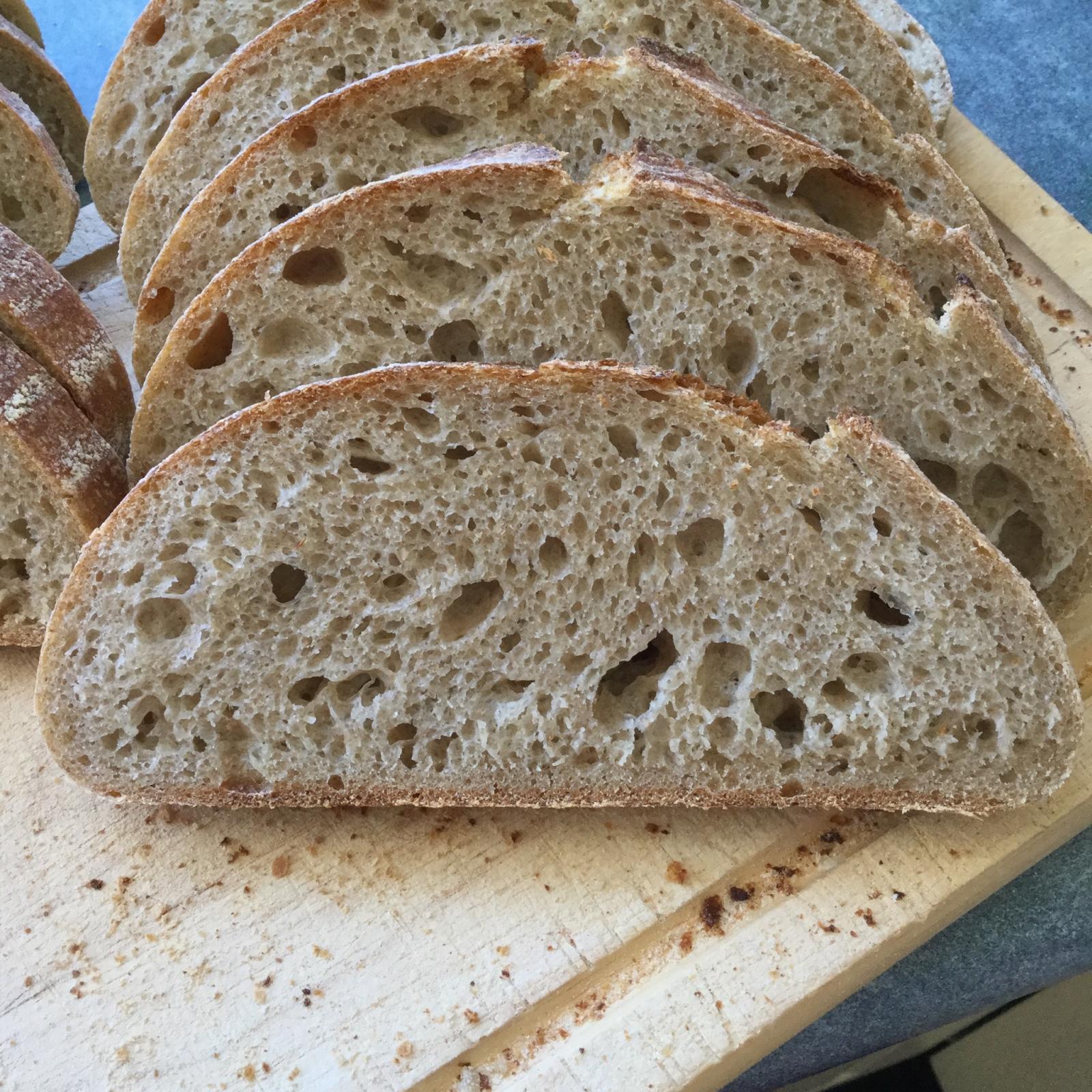 Bake #1 - oven and one DO reheated, yeast water loaf unmoulded, slashed and baked 15 minutes lid on 15 minutes lid off. lovely surprise when i took lid off half way through bake. Love the blisters, never had such big obvious blisters before.  Crust is thin and crisp!   Interesting colour to this loaf, it is a white loaf but dough was pink. after baking it is a light brown with a very slight tinge of pink, nice flavour.  The yeast water is only about 10 days old so was really just checking what impact it had on a simple white loaf.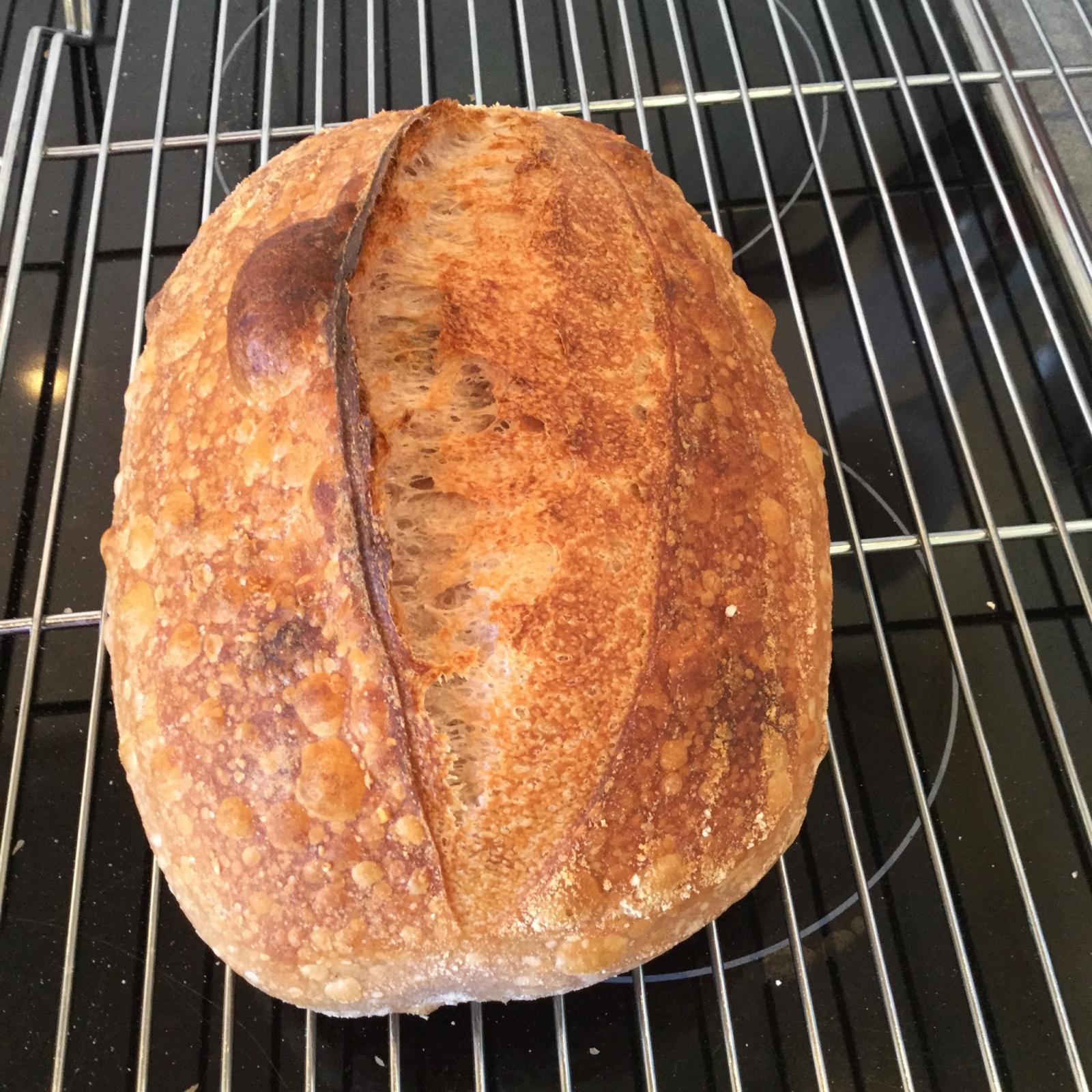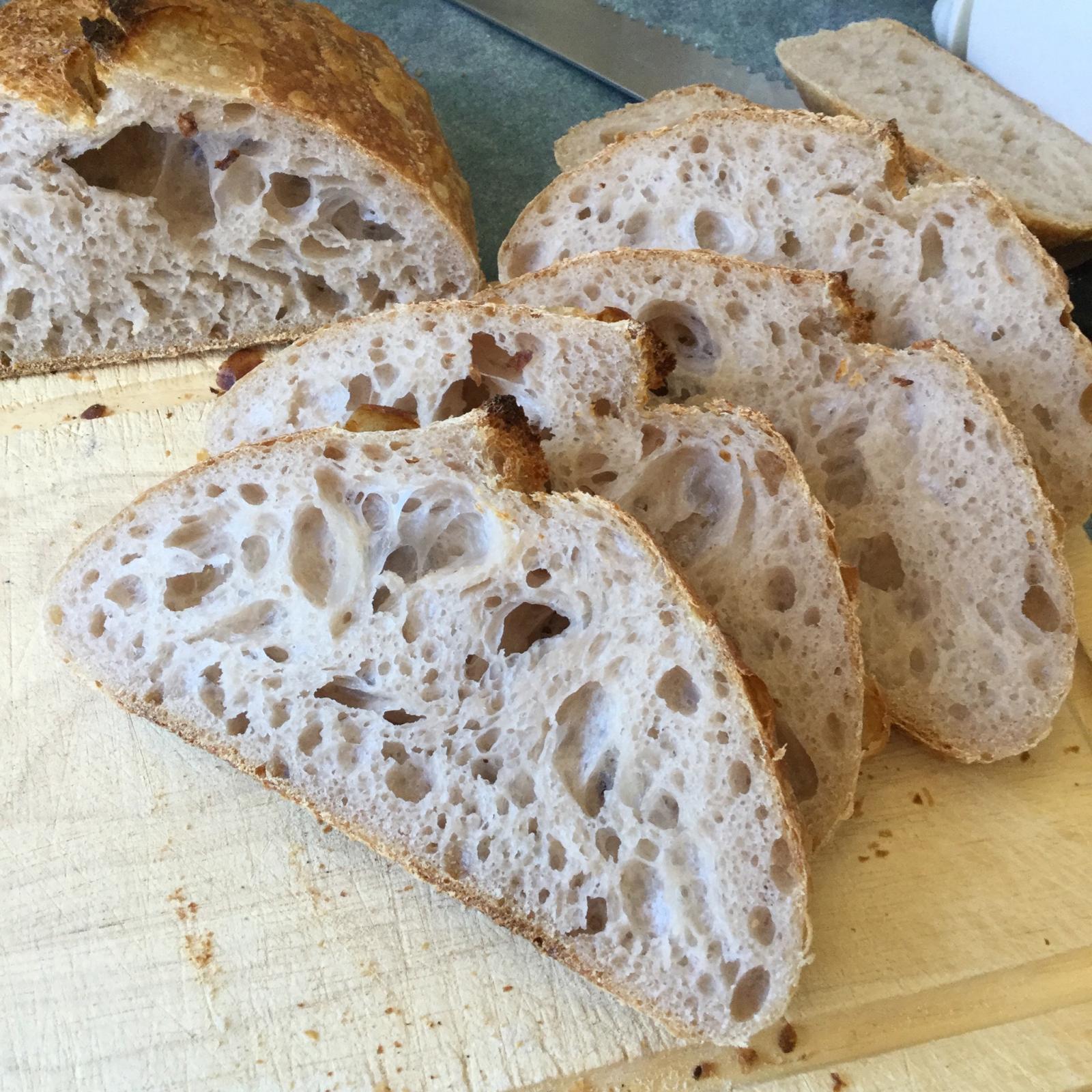 I found the stretch and folds for the YW loaf quite difficult and worried about getting a dense crumb.  Still not confident with less than 50% increase during bulk ferment but it seems ok.  I did less stretch and folds with spelt and rye because of this.  I am a a bit undecided on my approach - gentle gentle as per Trevor or lots of stretch and folds which ate difficult because dough is pretty firm.  would it be better to increase hydration a little?
Still lots to think about.  try different flours, add gluten flour to make flour stronger? 10 stretch and folds vs 100? 
2018 offers many challenges
Leslie