My first bake of 2018: "White-Wheat Blend" from Tartine No. 3
"White-Wheat Blend" from Chad Robertson's "Tartine No. 3" Book
David Snyder
January, 2018
 At the time I was taking workshops at the San Francisco Baking Institute, almost 10 years ago now, the founder and director of the institute, Michel Suas, gave an interview for some periodical. He was asked what he thought the next trend in bread baking would be. As I recall, his confident answer was "ancient grains." Back then, the SFBI was using whole wheat in a few breads and high-extraction flours in miches, at least. I don't recall any West Coast bakers selling breads with spelt, Kamut, emmer or einkorn at that time. I first heard of spelt from janedo onThe Fresh Loaf. Of course, I subsequently learned that spelt ("épeutre" in French, "dinkel" in German), at least, was in fairly common use in France and Germany. Time has proven Michel Suas correct. Chad Robertson's second bread baking book describes his quest to learn more about using whole grains and ancient grains to make bread that exploits their unique flavors and nutritional advantages. 
The breads in "Tartine No. 3" are made using the same basic techniques as described in "Tartine No. 2." Most are made with high-extraction and whole grain flours and with blends of three or more flours. There are a couple changes in technique, or at least emphasis from Tartine No. 2 to Tartine No. 3. First, Robertson has  become a fan of prolonged autolyse. He specifies a minimum of 30 minutes but clearly prefers a longer time - overnight for many breads. This is even more interesting when you realize he includes the levain in his "autolyse" mix. Second, he has increased the preferred bulk fermentation temperature from 78-82 dF to 80-85 dF. 
I have blogged about my first bake from this book - the 60% Kamut bread. This blog entry is about my second bake: The first recipe in the book, which Robertson calls "White-Wheat Blend (Ode to Bourdon)." Bourdon being Richard Bourdon, the Berkshire mountains baker with whole Robertson apprenticed after graduating from culinary school and before moving to California.
This bread is made with a blend of 50% high-extraction wheat flour, 25% whole-grain wheat flour and 25% White whole wheat flour. The flours I used were Central Milling Organic Malted T70 flour, home-milled Red Turkey Wheat flour and King Arthur Flour White Whole Wheat flour. It also includes 7% wheat germ. The dough is 86% hydration (calculated by including the flour and the water in the levain). For this bake, I bulk fermented the dough at 85 dF in my Brød & Taylor proofing box. It developed quickly and well. Bulk fermentation was about 3 1/2 hours. It was cold retarded for about 10 hours and baked in a Lodge Combo Cooker.
Because of the high percentage of whole grain flour, the dough is just a bit sticky - rather well-behaved, if the gluten is well-developed. With gentle handling, the resulting crumb is quite open for a bread with so much whole wheat. The flavor is delightful - wheaty, nutty, mildly sour and not at all grassy.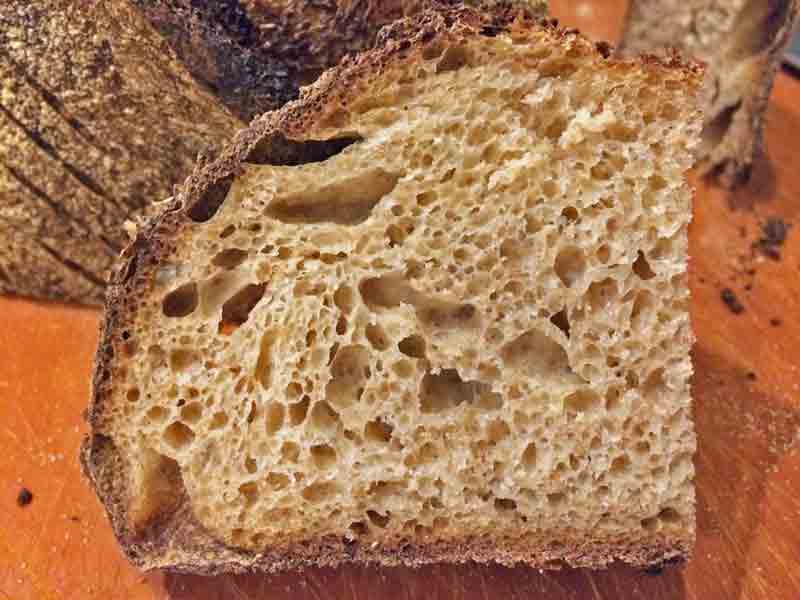 Happy New Year and Happy baking!
David