December 30, 2017 - 1:05pm
Puerto Rican "Pan Sobao" and "Pan de Agua"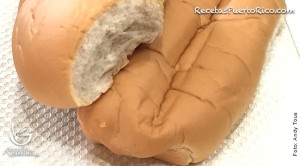 I was raised in Puerto Rico and there is something about that "pan sobao" that they sell in their bakeries that drives me insane. My dad loves "pan de agua" and it is the best for making Ham & cheese sandwiches. 


Pan sobao or Pan de manteca (rubbed bread or lard bread) is semi sweet, supper soft and fluffy and they sell you two loaves in one paper bag. It makes great breadcrumbs for breading... if it lasts long enough.

Pan de agua (Water bread) is kinda like a French baguette but wider and about 1 1/2ft long. I'm not a fan of this bread until it's in panini form. 

 "Los Cidrines" bakery makes these breads for the whole island, but I find their Sobao kind drier and less fluffy and sweet and I do not buy it.

Either way, I moved to Canada 11yrs ago and these breads are something that I miss and wish I could reproduce for my family. If anyone is from the island and can get the recipe and upload it here, I would be incredibly grateful.