December 14, 2017 - 10:44am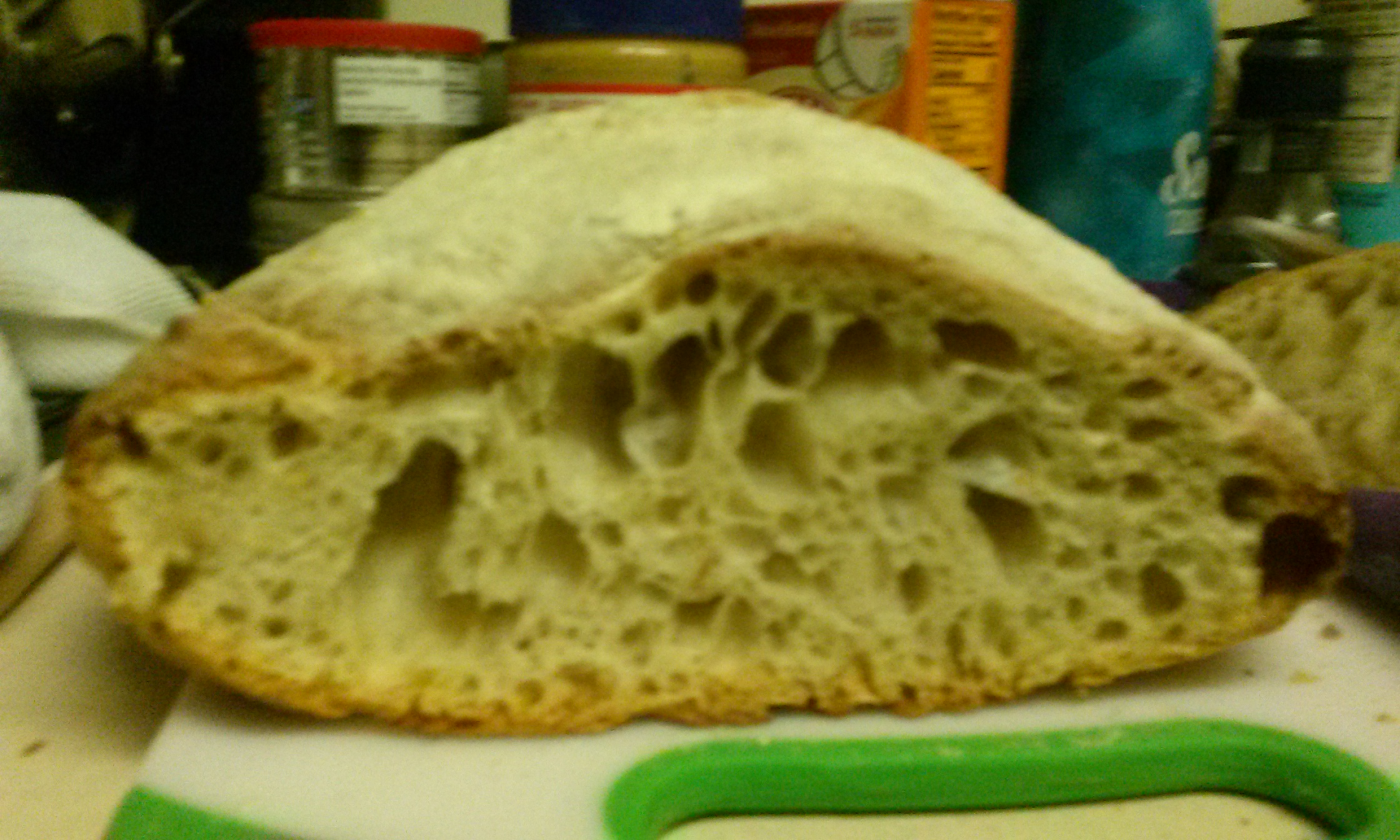 Yay, my sourdough wasn't so dense this time!  Part of it was, my starter has been more active (born before Thanksgiving).  Yikes, blurry photo, but it's clear enough I guess.
1:1:1 mixed in one bowl, with salt (2% of 3 parts flour weight) sprinkled on top
0:1:1 mixed in another bowl
rest/autolyze 20/30 min
added 1 part flour on top of the 1:1:1 mixture, poured the 0:1:1 on top, mixed it all to shaggy mass.  Set aside covered for about 3-4 hours, did 4 sets of 4 stretch-and-folds unevenly divided like an hour then 20 min then maybe an hour then maybe 15 min.
Shaped boule and put it in banneton w/microfiber cloth in it.  Didn't have rice flour so ground up some brown rice in coffee grinder, added flour just in case.  Maybe I let this set a little while (1-2 hours?) before putting in fridge for the evening.
Next day 12 hours later, put cup of water in microwave and cooked it 2 minutes, used microwave as proofing chamber.  Took out bread once or twice to re-cook some water in microwave to get temperature up.  Proofed 3-4 hours.  Slid into my hands and tried to remove excess flour, threw it on cast iron lid of dutch oven as stone/pan uncovered, I wanted to see what softer crust would be like.  500 for about a half hour, then 15 minutes more on 425 with foil over top.
I remember being a few grams more on water figuring well it's better to be more moist.  I was out of KA all purpose so used grocery brand bread flour.
========
So, previous loaves with KA all purpose (and a little less active starter) and maybe not waiting long enough, were a bit denser, but still good.  What's my best bet for getting the crumb a little tighter?  Less stretch-and-folds?  More?  Less proofing?  Different flour?
--Thanks!