October 9, 2017 - 12:05am
I must have (lava) rocks in my head!
ok, so this weekend I decided that I had to try Ian's pecan cherry cranberry porridge bread. I would build some  levain but I would have a bit more than needed so decided to add in a 1:2:3 loaf using up some flours in the freezer. Ok I also decided to have a go at hamburger buns, and then at the last minute decided to add baguettes to the mix! as I say - rocks in my head...
This post is about the baguettes and hamburgers (will do a sepatate one for the SD loaves).
Yesterday hubby was out for the day, it was raining (nonstop) so I could just play as much as I wanted.  
About midday mixed up the basic dough (txt farmers recipe) for 6 x 275 g baguettes
958 g flour
719 g water
19 g salt
Instant yeast 4 g
mixed to shaggy dough then rest 3 hours with stretch and fold every 45 minutes. Divide, preshape rest 30 minutes, then shaped &?proofed about 35 minutes. first 3 were scored, then into hot oven with lava rocks for steam for 10 minutes then 15 no steam.  Repeat with 2nd 3 baguettes (lead photo) all finished by 5:30 pm.
This is first batch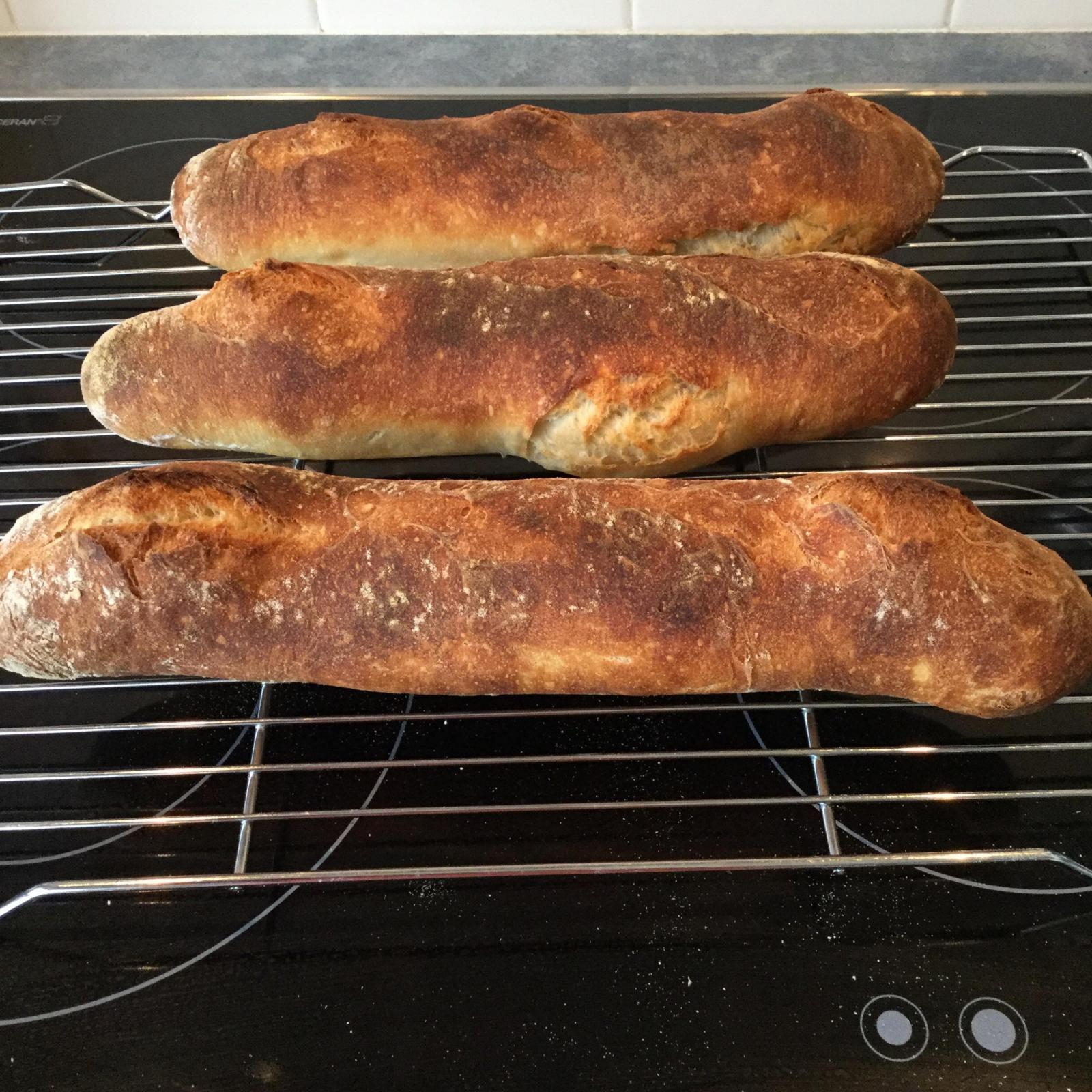 shaping was borderline, better in the 2nd batch but blowouts are a feature!  scoring not good!!!
crumb - still needs work I think.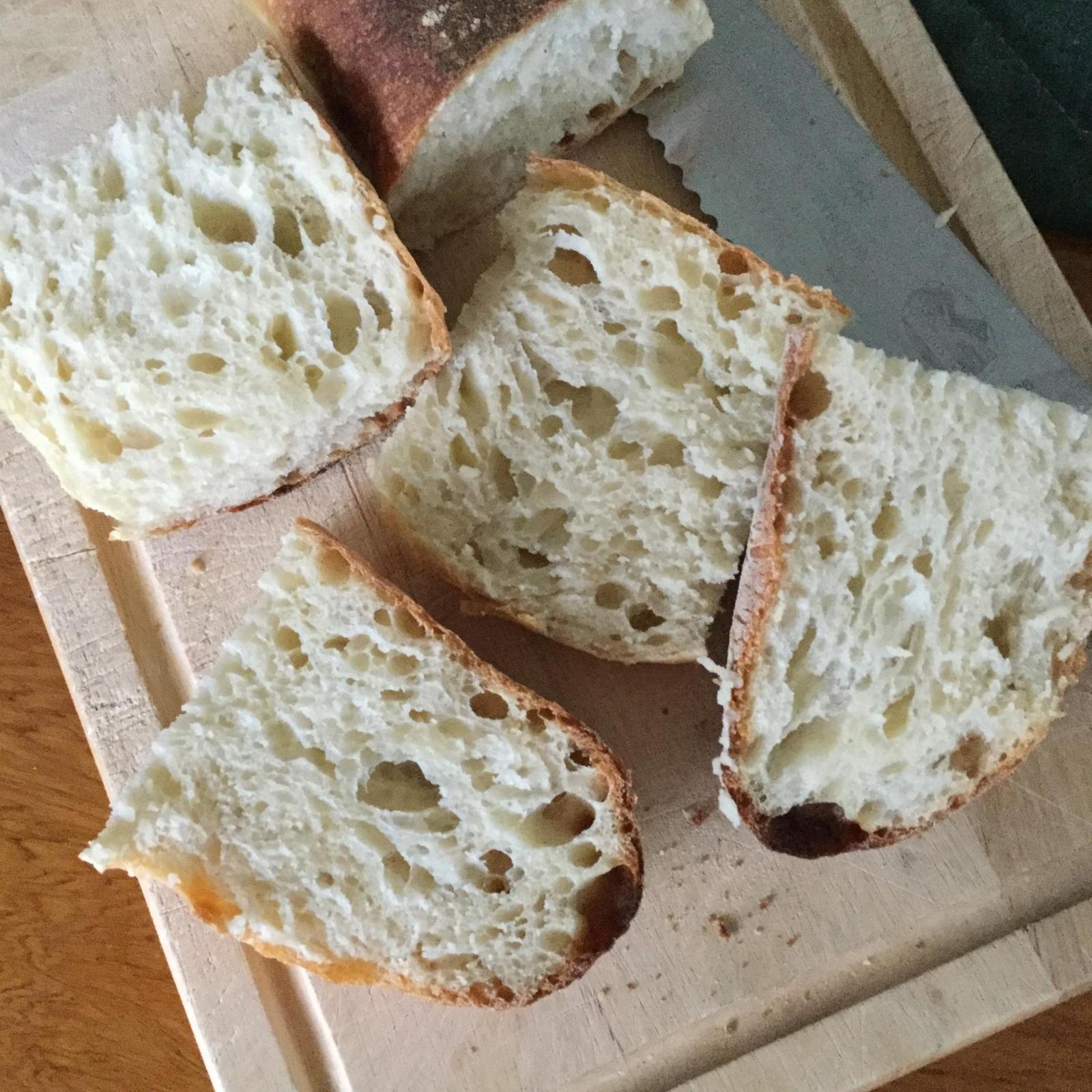 So alongside this prep were the Hamburger buns as per bwraith April 2007. Started at 1 pm autolysed 20 minutes
550g flour
100 g spelt
290 g water
200 g milk
worked in instant yeast (recipe was 1 package active dry yeast so i may have got this amount wrong) 5 g, salt 13 g and 30 g olive oil. Bulk ferment  with folds at 1, 2 and 2.5 hours. this was then ready while was in the middle of shaping baguettes - talk about stress!  finished baguette shaping then started shaping the buns. 2nd batch baguettes and buns were proofed in the conservatory where it was quite a bit cooler in an effort to slow proof a little. 
As soon as baguettes were backed, I brushed buns with milk, sprinkled sesame seed and baked for 15 minutes with steam for about 6 minutes. 
I was happy when the bake was done but looking at photo today, buns are a bit anaemic.... :(   All went into freezer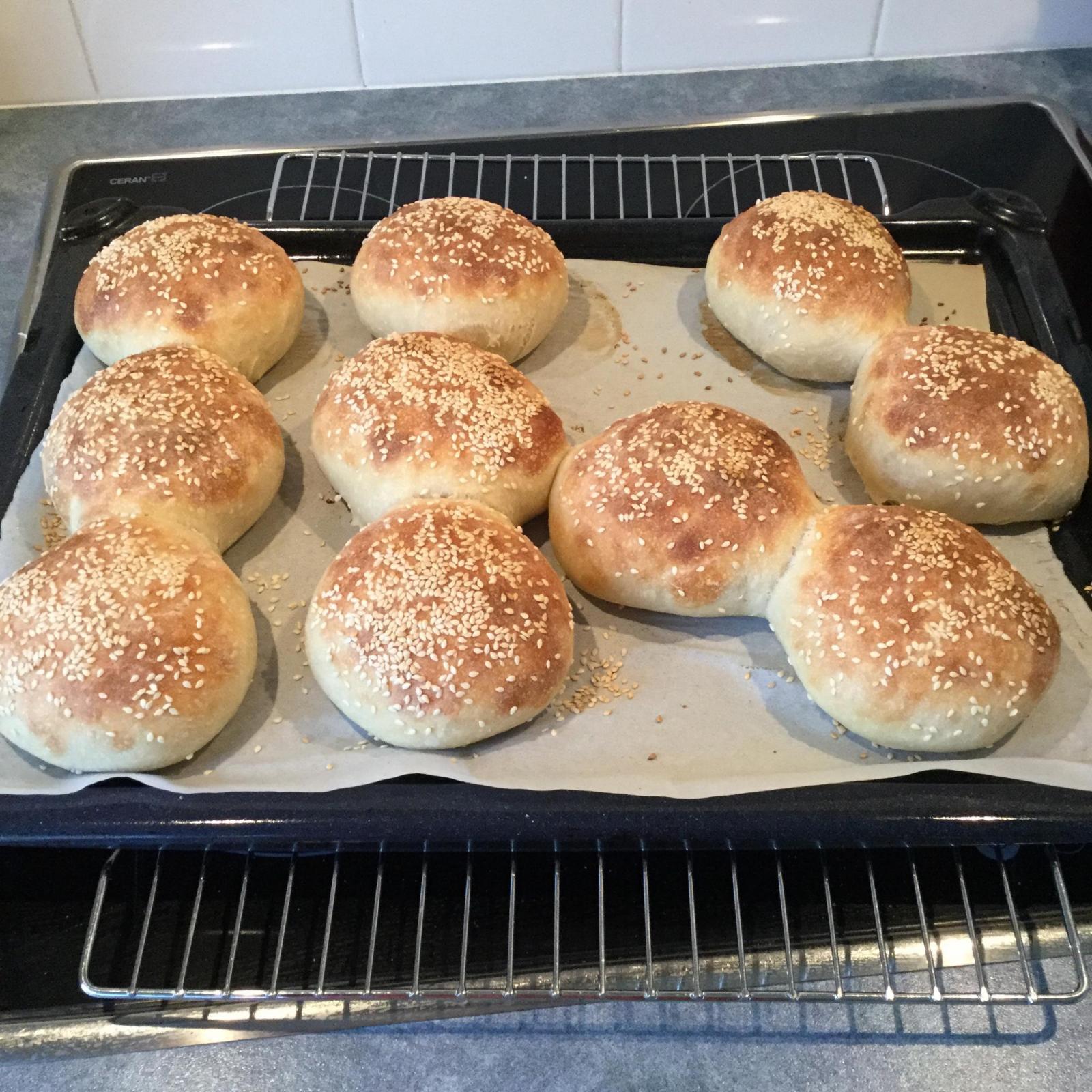 The SD loaves were slotted in as well so it was a frantic day and by the time dinner was done I was absolutely done in!!
This bread making is just soooo adictive
Leslie
ps. edited to correct spelling....