Time to finally post a bake...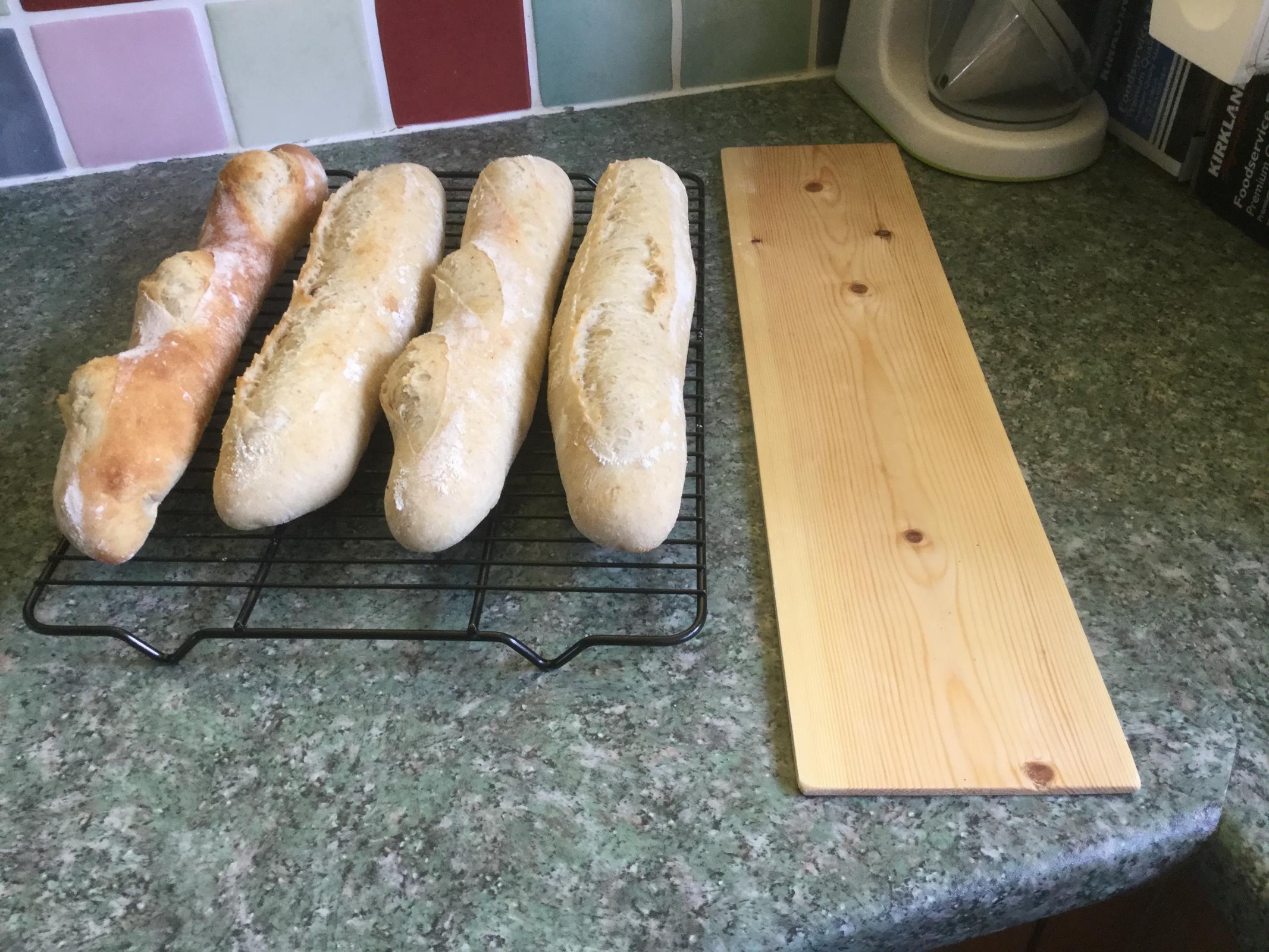 I've been looking for some time now, and posted the odd comment, but no bakes till now. I bake sourdough more often than not, but have been wanting to have another go at baguettes since doing Richard Bertinet's fab 5 day bread course back in March. But, didn't have any baguette peels/flipping board, and wasn't prepared to pay 20 quid each for the, be they very beautiful, ones I've seen advertised on line. B&Q, Wickes etc only seemed to have boards of at least 1.4cm thick for the width I wanted, and after asking at a local independent builders merchants I found myself at a nearby timber yard explaining to the office staff what I wanted. Next morning they had cut and planed down 7 boards to 12x50x0.5cm for the princely sum of £7.83. Result!  15 mins to sand down the ends and another 10 mins to oil with some butchers block oil, and I was ready to go.
I used Bertinet's autolyse recipe from Crust, and made 3 part-baked and 1 fully baked baguettes, plus 2 medium sized loafs.  Fairly happy with my first attempt. No crumb shot as lunch was the baked baguette! Part baked ones will be turned into garlic bread and frozen.
Lessons learnt
1 I need to remember the depth of my oven/baking stone whilst shaping baguettes - the fully baked one had to go in alone and crosswise!
2 A couple more minutes on the bake would have been better
3 Need to improve my lame technique - I presume the slashes on the fully baked one should have been longer/overlapping or more of them to avoid it becoming so irregularly shaped??