16% Whole 8 Grain Sourdough
Lucy came up with a lite whole grain sourdough bread this week.  Each of the 8 grains were only 10 grams and nine were sprouted so this is really getting close to a the same type of SFSD style bread that David Snyder is so famous for around TFL.
The main difference is the 8 different grains – Kamut, oat, spelt, rye, barley, emmer, red and white wheat and the 10 g of NMNF rye starter used to make the 8% preferment bran and high extraction levain.  Lucy really cut the levain size this at the temperature outside reached 110 F and the kitchen was hovering around 91 F.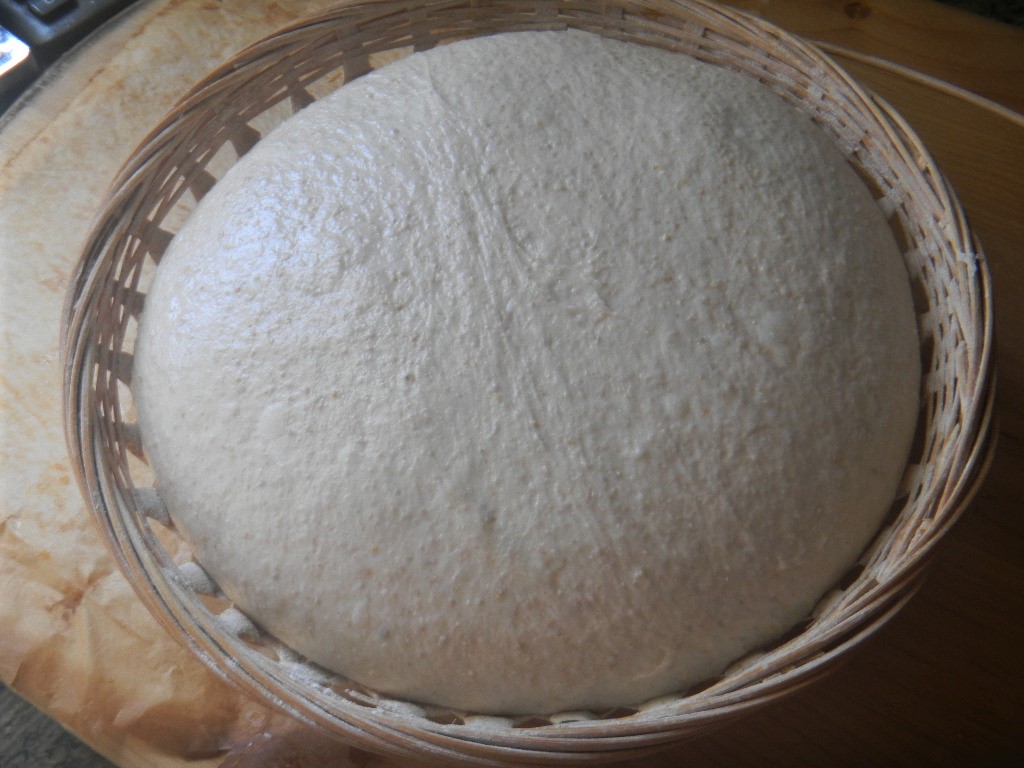 The levain was not retarded but we expect the bread to be fairly sour due to the heat, small bran 100% hydration levain, the 3 week old retarded NMNF rye starter and retarding the shaped dough for 16 hours.  LAB real love the heat and the wet and this dough came in at 75% hydration.
The dough flour was the leftover 40 g of the HE flour, plus half Lafama AP and half Albertson's bread flour. We did a 1 hour autolyse with the Pink Himalayan sea salt sprinkled on top.  We were at72% hydration but the dough felt a little dry when we started the first set of slap and folds so we chucked in another 3% water to get it slappable.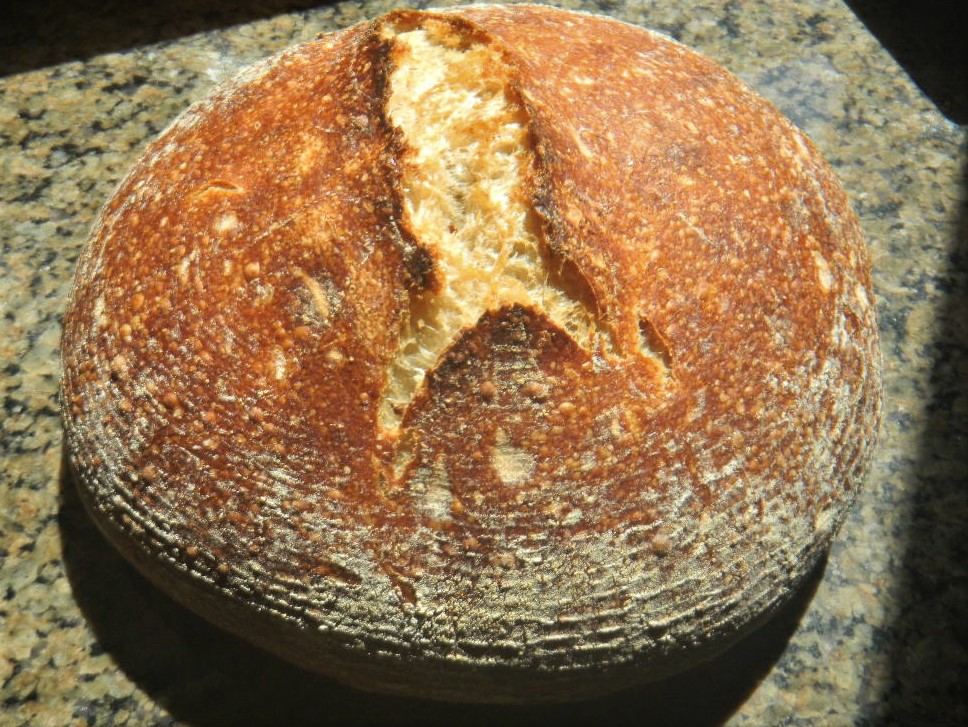 The first set was 50 slaps and the 2nd set was 20 and the final two were 6 and 4 – all on 30 minute intervals.  The dough had expanded nicely even with the small levain because of the heat so we pre-shaped it and shaped it into a boule before plopping it into a rice floured basked, seam side down, bagged it and put it in the fridge for the retard.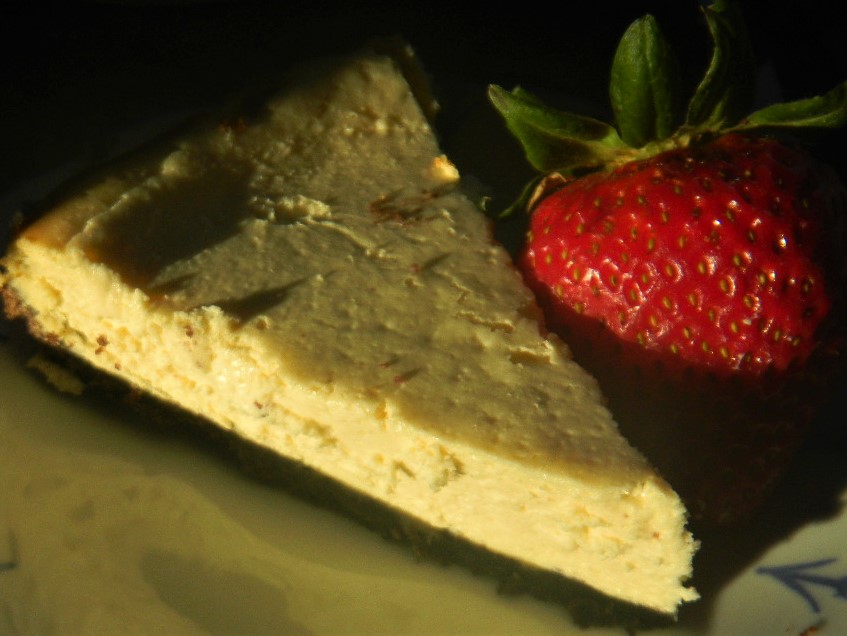 When the we took the dough out of the fridge, we also fired up the oven to 500 F with the combo cooker inside.  Slashing was not required but, when we placed the dough in the cooker and the cooker in the oven we forgot to turn down the temp to 450 F so it stayed at 500 F for 20 minutes of steam.   This hurt the spring a bit,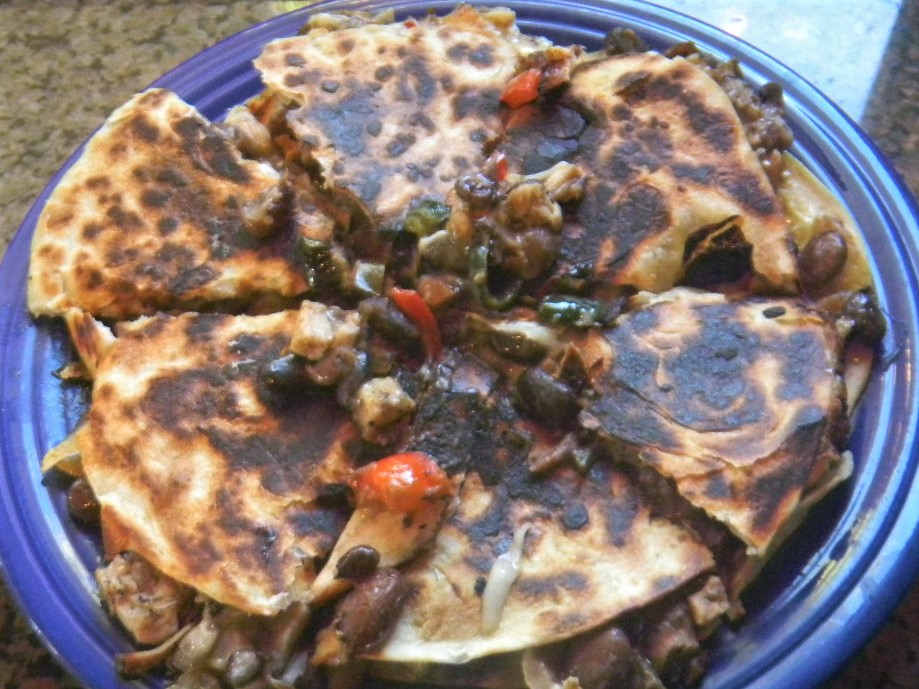 We love chicken, bean, cheese and grilled veggie quesadillas 
When the lid came off it has cracked a bit and we turned the oven down to 425 F convection for 6 minutes of dry baking before removing it from the bottom if the cooker and baking it another 6 minutes.  At 32 minutes of total baking the bread was 210 F on the inside and nicely brown with small blisters.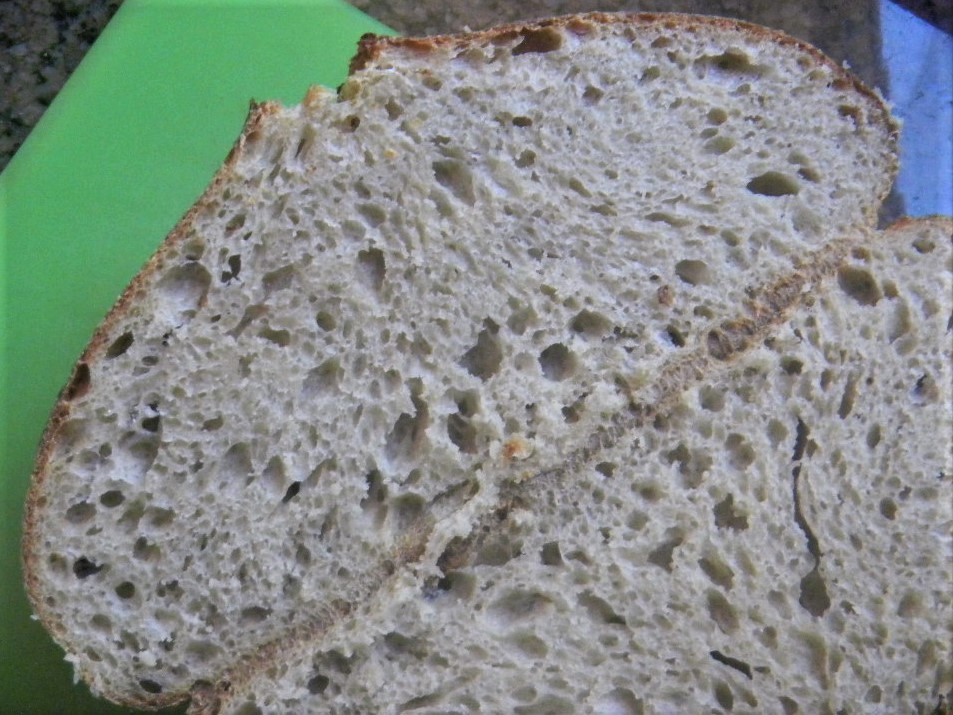 It is a pretty handsome loaf….. very crispy on the outside and more boldly baked due to the oven error for sure but we will have to wait on the inside when we cut into it for lunch.  It is nice to make a 2 day sourdough instead of our usual 3-5 day sprouted bread.  Even if the tste may nt be as complex and satisfying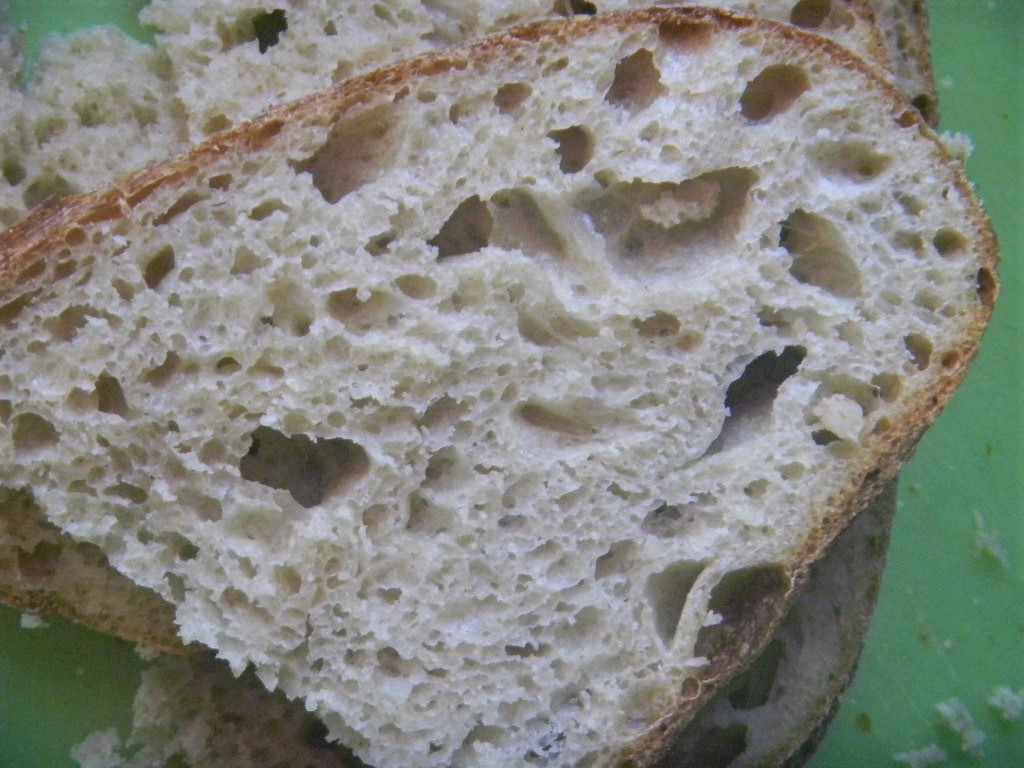 This bread is open, soft and moist on the inside and it tastes as good as it looks.  Maybe not as tasty as a 30% sprouted loaf but this one is closer to the old school SFSD and sourer than a typical SFSD you will find today.  We had a simple P&J sandwich with some honeydew and strawberries for lunch and it was about the best P&J possible especially with home made 4 berry, banana and ginger jam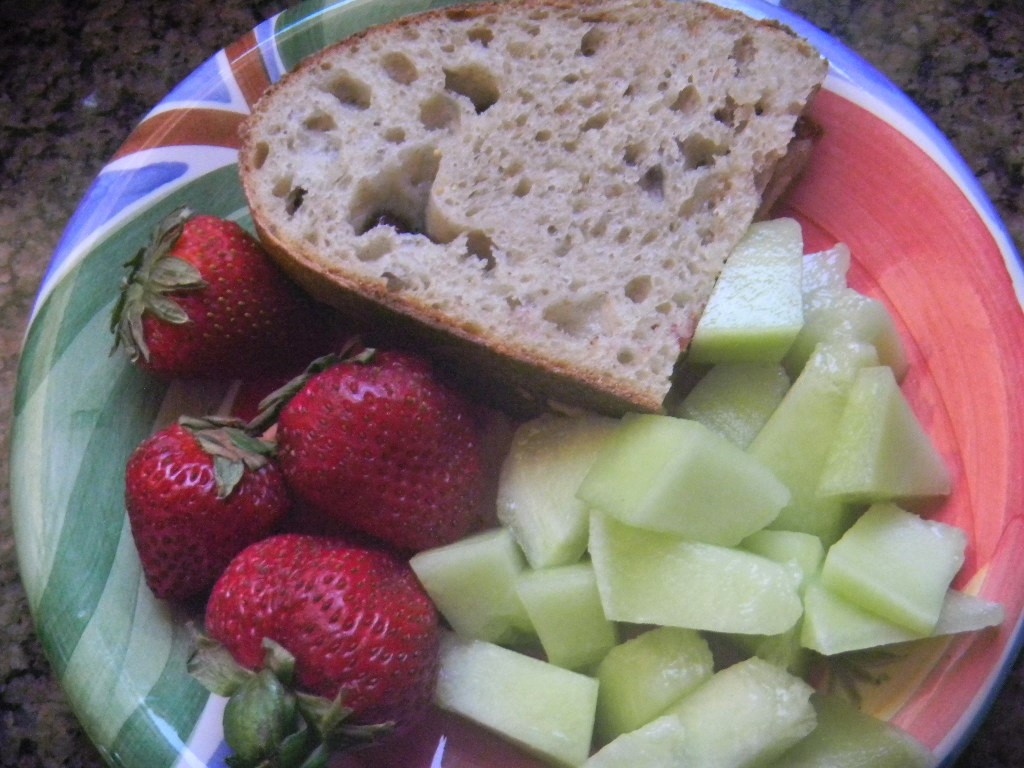 Formula
8% pre-fermented 8 grain, bran, 2 stage levain,  at 100% hydration - first stage was 4 hours  and the 2nd stage was 2 hours when it doubled – 91 F in the kitchen made the levain twice as fast as usual
Dough
8% HE 8 grain flour
42% LaFama AP
42% Allbertson's bread flour
2% PH Sea Salt
Enough water to get the hydration up to 75%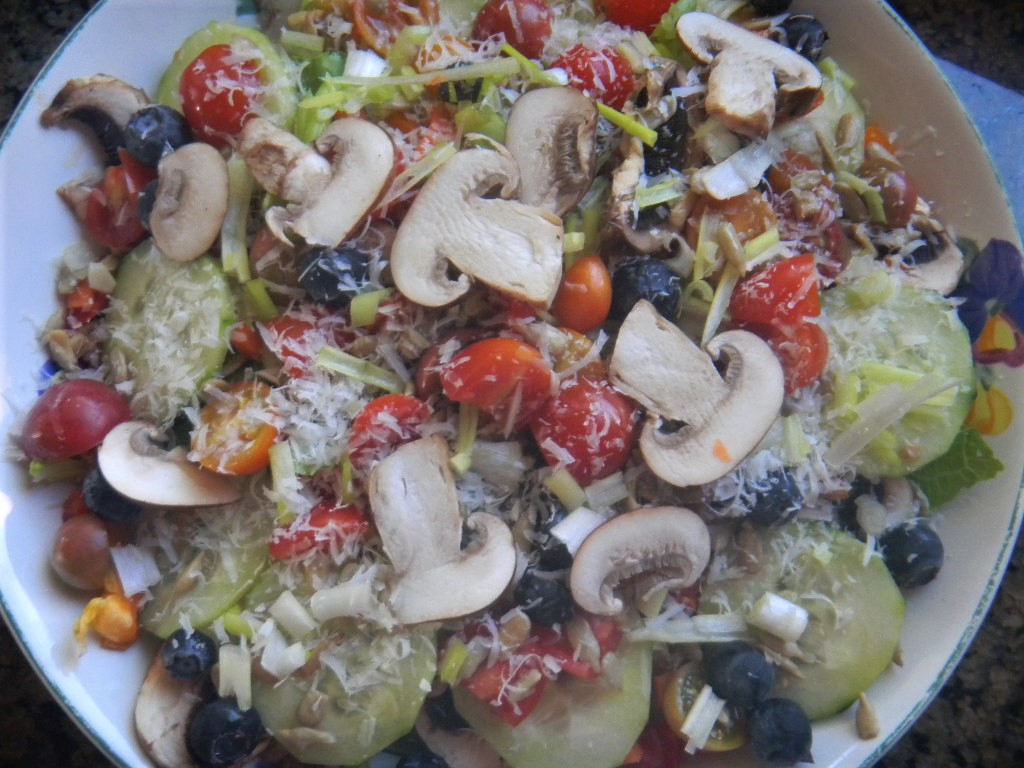 There is Lucy's salad and a crack shot:-)