50 Percent Sprouted 7 Grain Sourdough
It was very strange this week to see a new show called Year Million.  This week's episode was called.  Hey Dude, Where's my Body?  It was all about Lucy and my fascination with trans humans and our eventual transition of our brains and identity of who we are to the cloud to become immortal -  getting rid of our weak bodies that get diseased and kill us off today – not to mention cost a fortune to maintain…. only to die.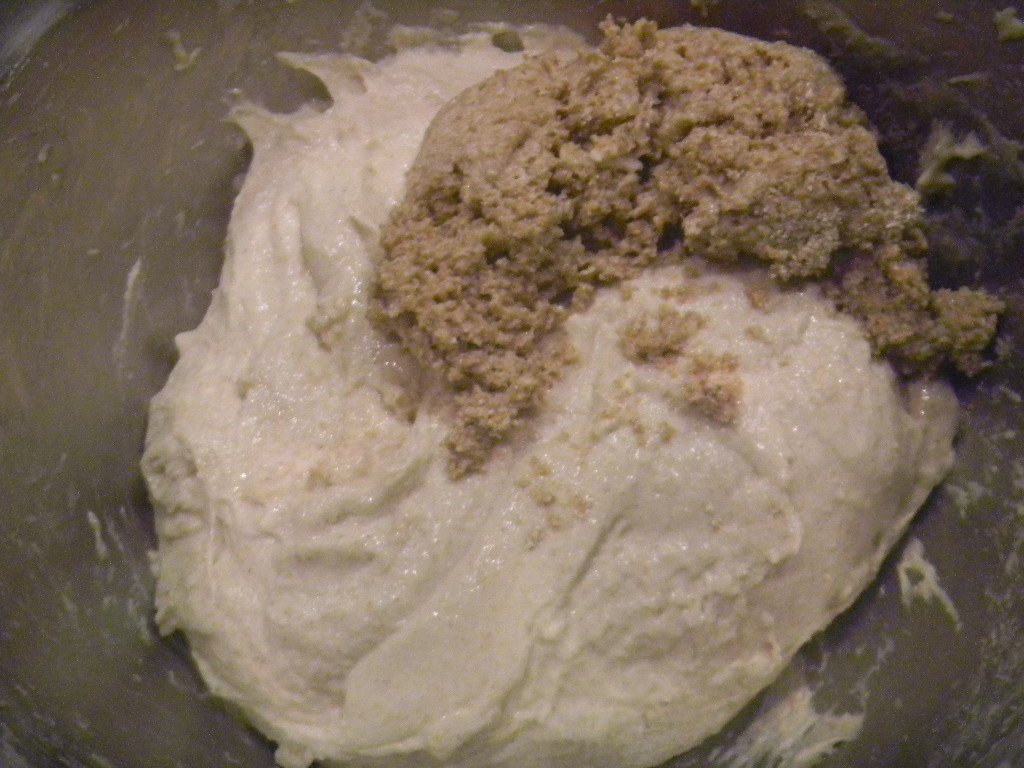 Transitioning ourselves to the cloud solves many of the world's ills today.  No more planet despoiling to keep ourselves watered and fed.  No more worries about getting a good education or getting a good job to sustain ourselves and families. No worries about getting sick and dying.  No more poor sick or starving.  You can be whatever you want to be, any day you want to be it creating your own world and existence.  It has an appeal that they claim will be overwhelming.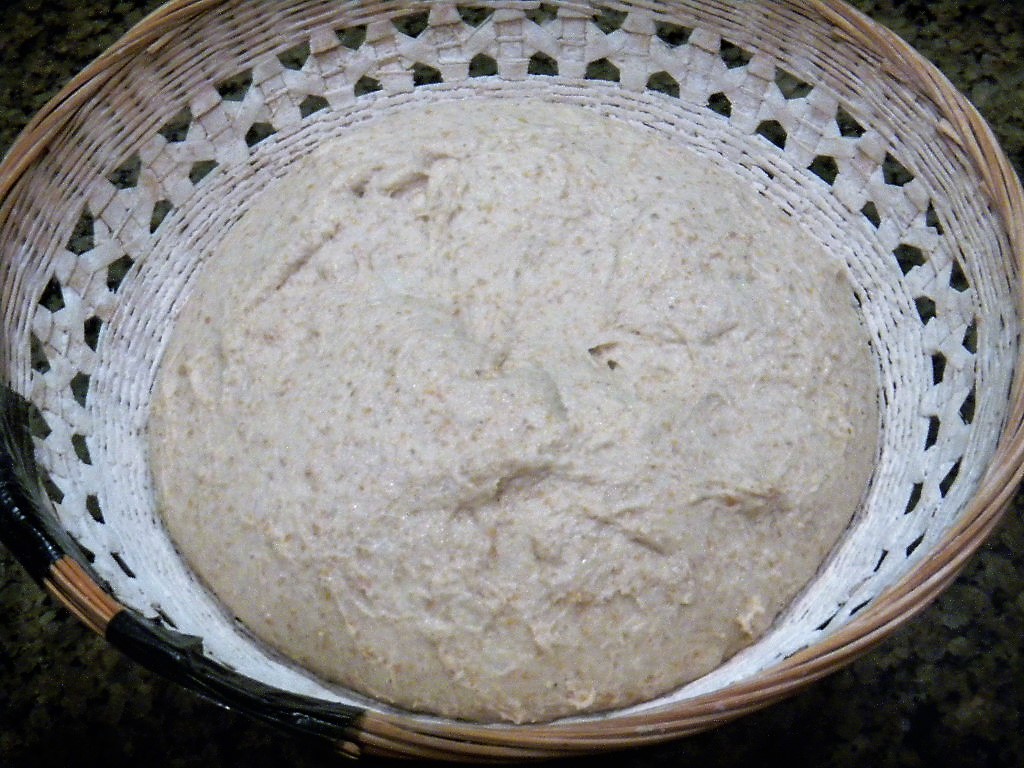 We are in the beginning of virtual reality and artificial intelligence today.  We will soon be able to transition into Metaverse 1.0 where we can temporarily live in in whatever world we want in the cloud but be able to unplug and return to reality.   Metaverse 2.0 is where you leave your body behind never to return to the reality you left and be forever immersed in whatever world you want.  The question is when and since it isn't any time soon enough to help Lucy and I out of our old age -  why worry about it?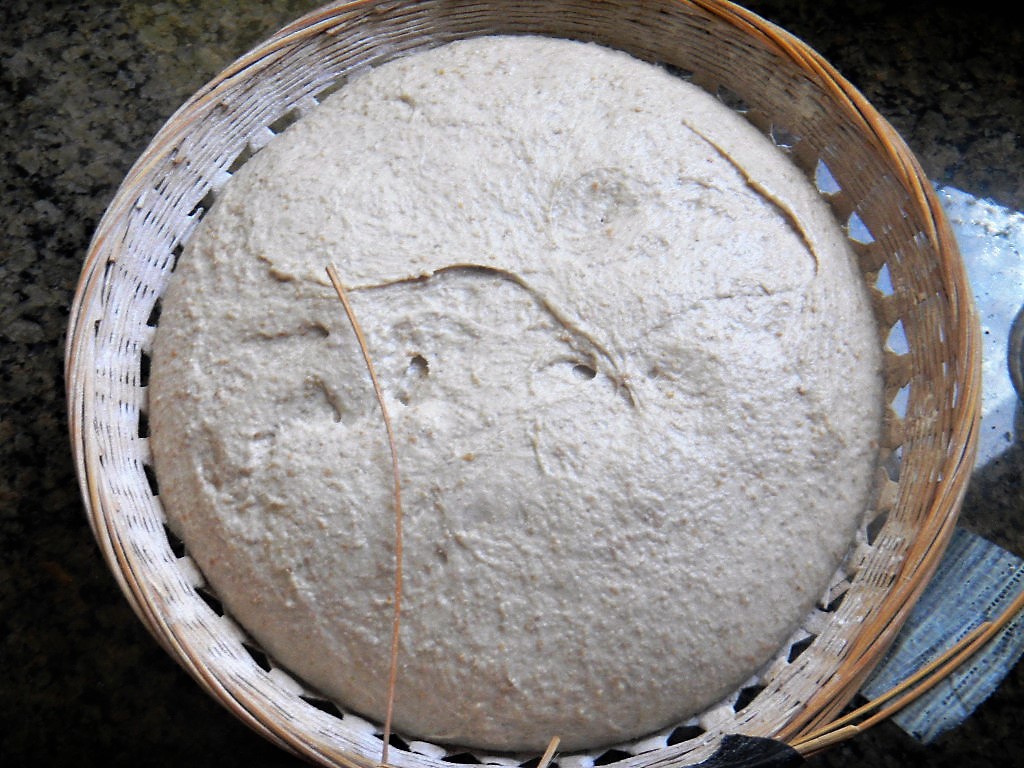 Last week's 40 % sprouted rye with walnuts and figs has been a real treat to eat this week for breakfast lunch and dinner.  I even tore up pieces of it and put it, as untoasted croutons, on some green chili chicken stew to sop up the soup.  This week Lucy went back to the whiter side of her pantry and came up with a half white sprouted SD bread.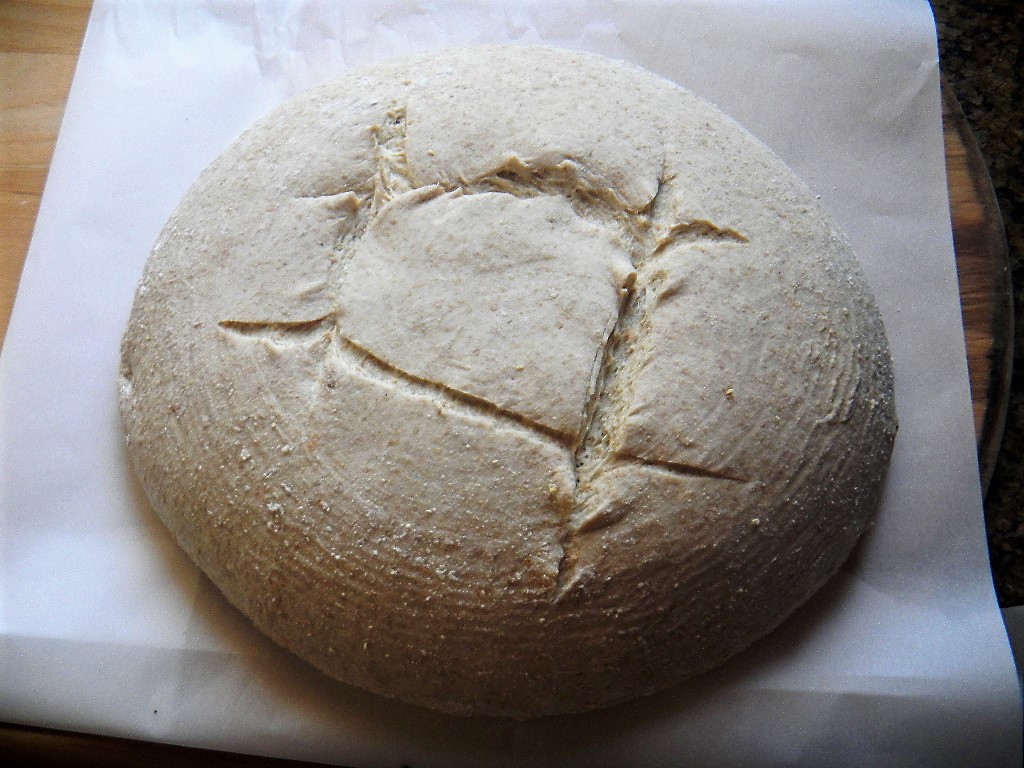 The sprouted grains were Kamut. rye, spelt, oat, red and white wheat and barley.  After sprouting, we sifted out the bran to make a 100% bran, 100% hydration, 7 grain sprouted levain using 10 g of our just refreshed NMNF rye starter.  After it doubled after the 3rd stage feeding we retarded the levain for 24 hours to bring out the two sour notes.  The levain was 10% pre-fermented sprouted bran.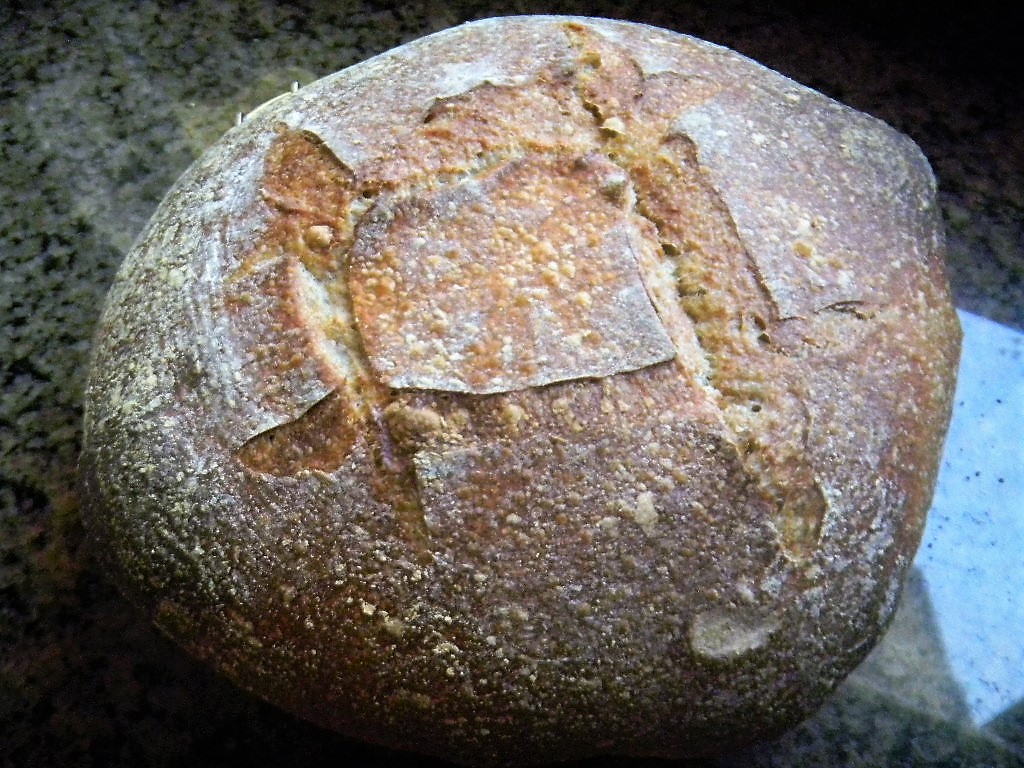 We stirred it down and left it on the window sill to warm up.  After the levain started to rise again, we autolyzed the rest of the dough flour and enough water to bring the hydration up to 85% for 1 hour with the PH sea salt sprinkled on top.  The bran levain had risen more than 50% when it hit the mix for the first set of 50 slap and folds to get it and the salt well mixed in.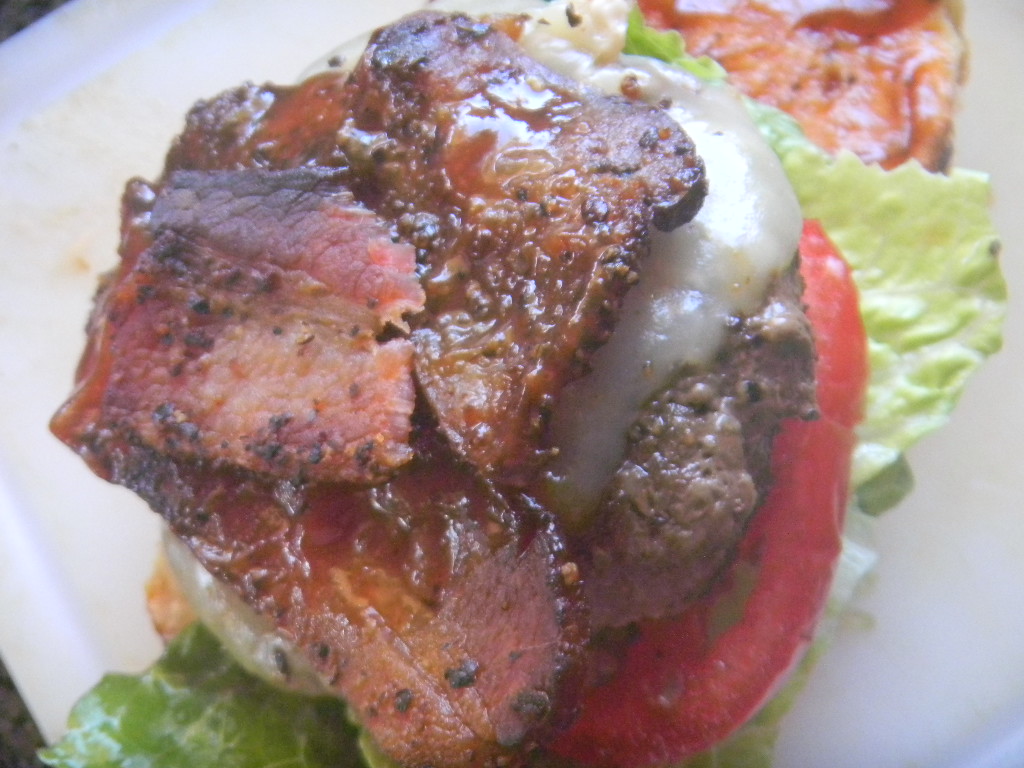 Nothing like a good bacon cheeseburger or baked chicken breasts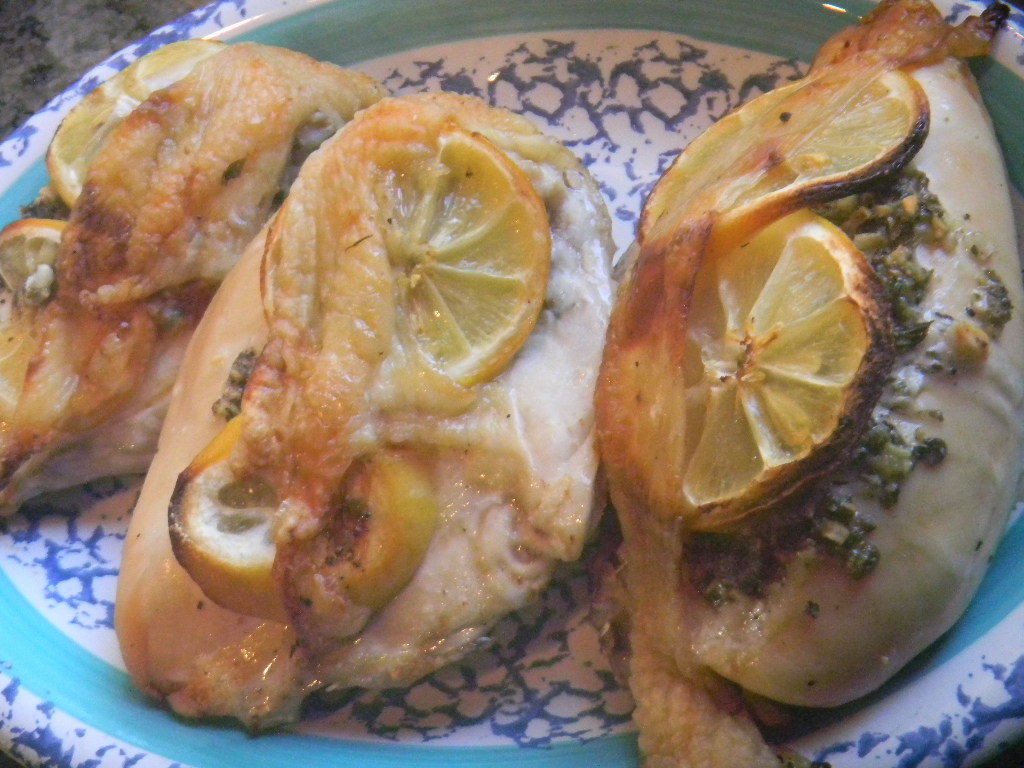 We did 2 more sets of 20 slap and folds and 2 sets of stretch and folds from the compass points – all on 30 minute intervals.  We then pre-shaped and shaped the dough and placed it into a rice floured round basket, seam side up, and then bagged it for a 12 hour retard in the fridge for the final proof.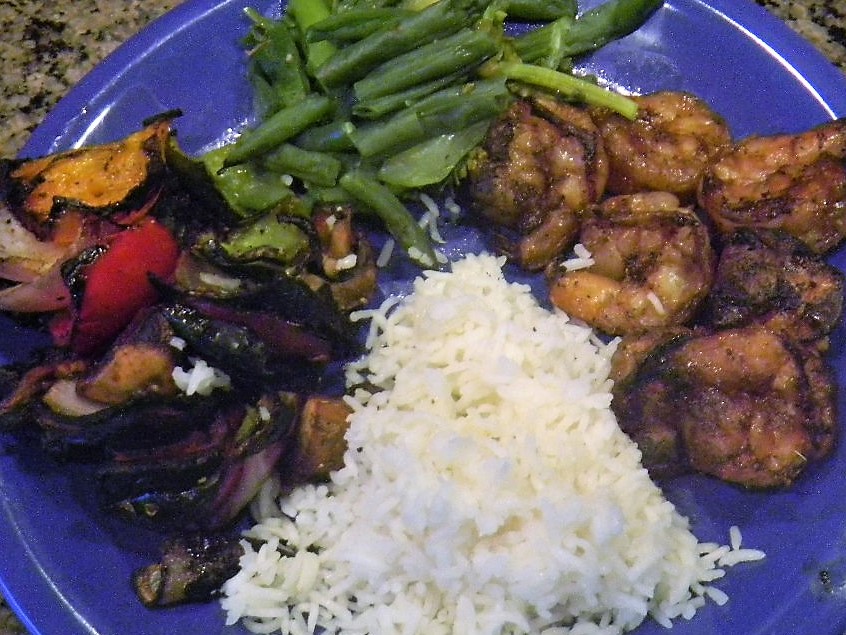 Yes that is a ship Kabob, even if spelled horribly,  and skewered Veggies with Basmati rice and more green veggies 
We took the dough out of the fridge to warm up a bit and fired up the oven to 500 F preheat with the combo cooker inside.  The dough looked to be fully proofed, instead of the 85% we like, so we didn't expect huge spring and bloom.  We un-molded the dough, onto parchment, on a peel and then slashed the dough tic-tack-toe style before siding it into the combo cooker for 20 minutes of covered steam at 450 F.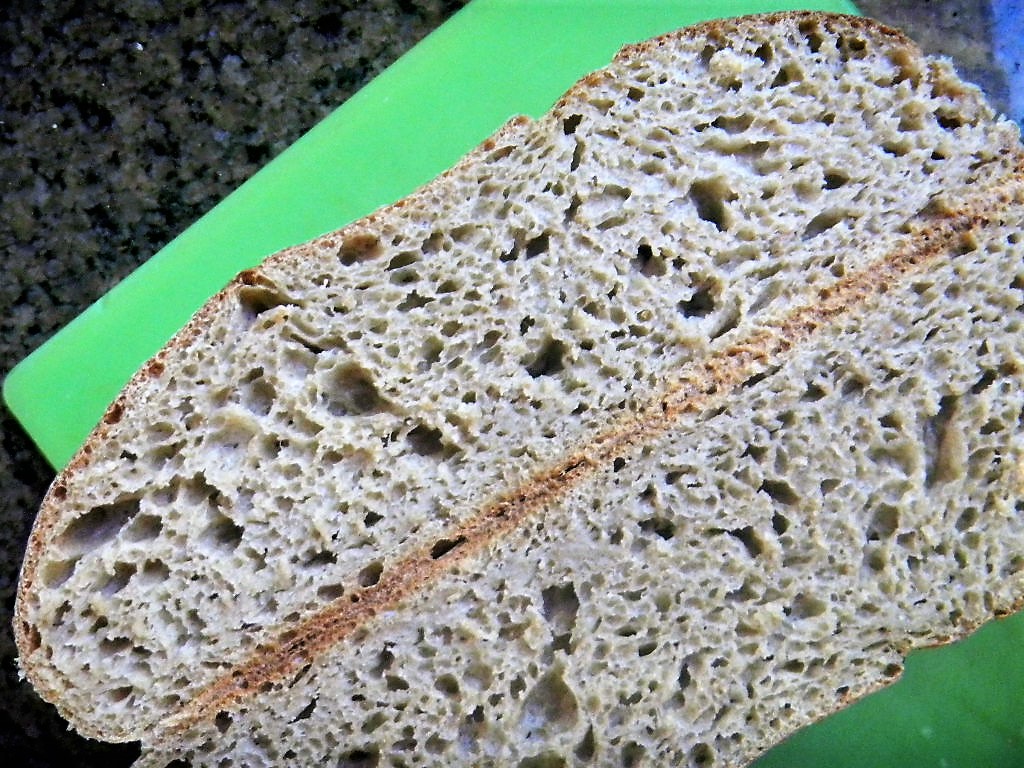 After the lid came off, we continued to bake at 425 F convection for 15 minutes until the boule was nicely brown and 209 F on the inside.  It sprang and bloomed like we expected with some blistering making for a handsome loaf.  We will have to see what it looks like on the inside later today but expect it to nice even without the spring.  Don't forget that today is national doughnut day – one of Lucy's favorite days of the year.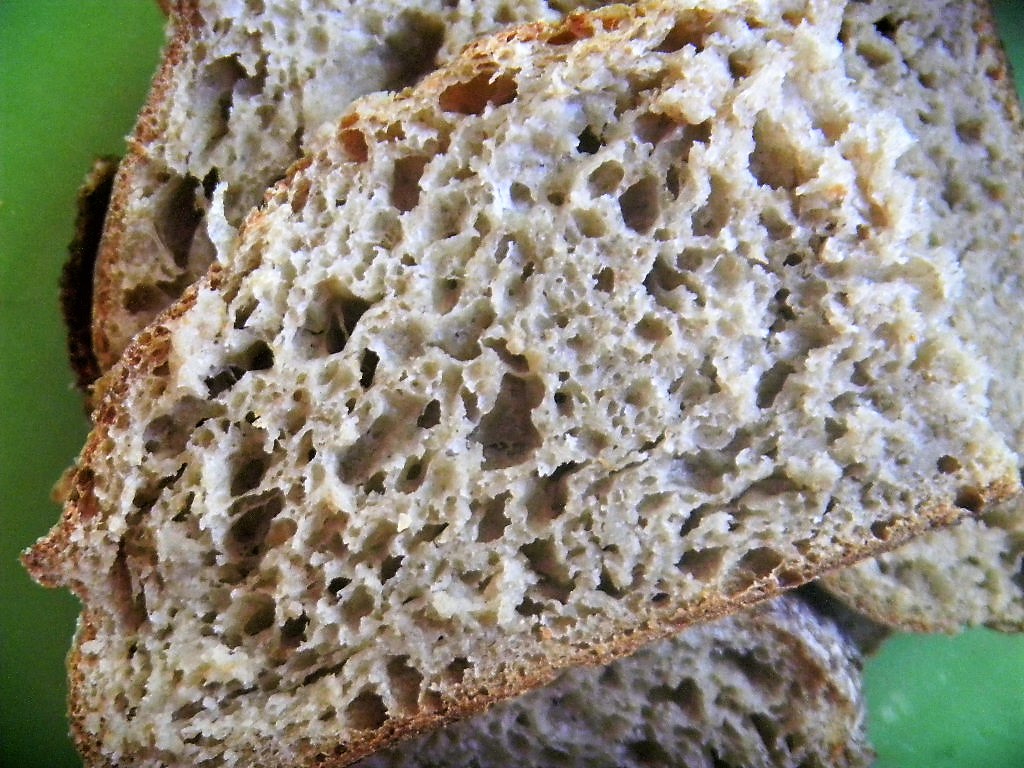 The crumb was open, soft and moist - more open than we thought it would be for sure.  It is hearty; healthy and just plain delicious.  Can't wait to have it as toast and in a sandwich tomorrow.  Thi sis Lucy's new favorite sprouted grain bread and I have to agree woth her and can see why it is so good.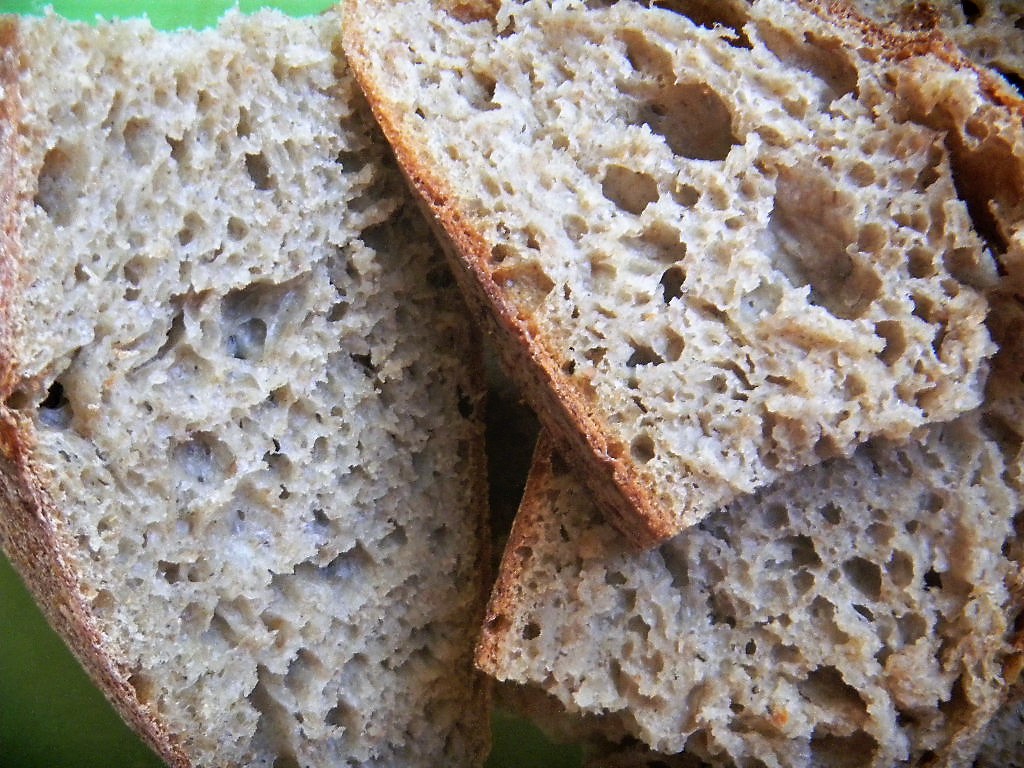 Formula
10% Pre-fermented sprouted 7 grain bran, 2 stage levain at 100% hydration that is retarded for 24 hours
Dough
40% Sprouted high extraction 7 grain flour
50% Albertson's bread flour
85% Overall hydration using water
2$ Pink Himilayan sea salt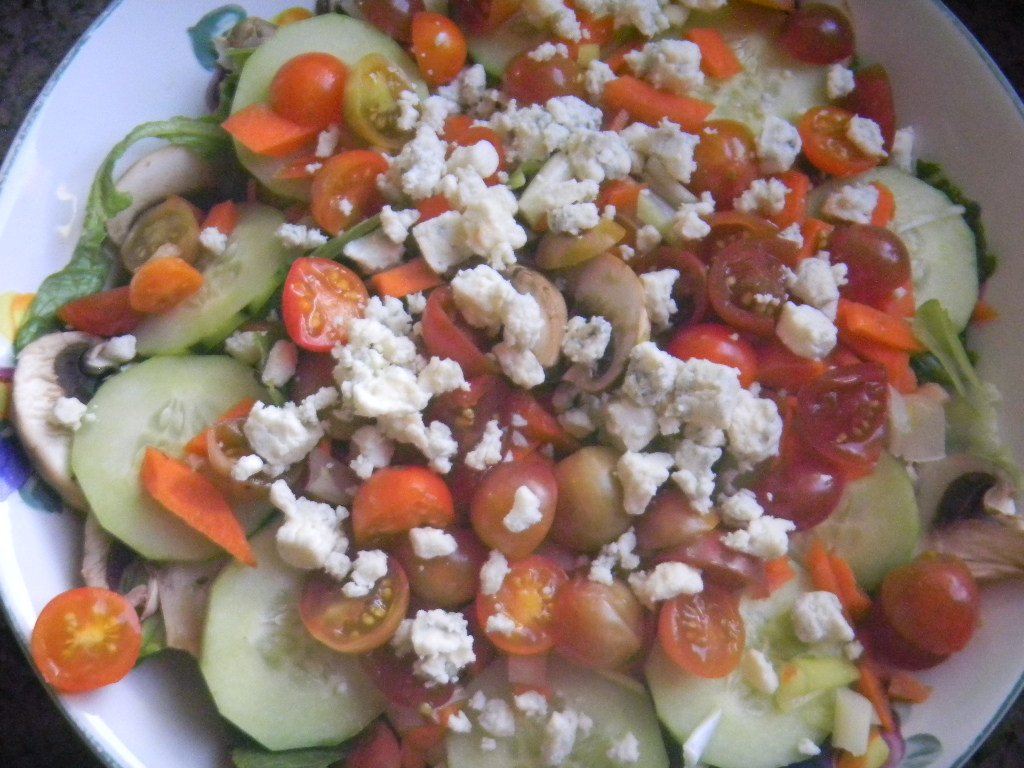 How about some salads for Lucy