20 Percent Sprouted 4 Grain SFSD
After my future son in law brought me a beautiful loaf of Acme SD from SF this week. Lucy decided to make one of her own that she thought would look better on the inside and taste lot better too – the two areas the Acee bread was a bit lacking.
Wow you can really tell the 4 different grains here!
I also missed Lucy's 13th birthday the week before when I was visiting my Dad after his knee surgery.  She was not happy about me being gone but life gets in the way of celebrations sometimes and I am happy to note that my Dad's recovery remains on track.
The bran levain is s much darker than the dough flour.
Lucy was hoping I would bring her a pet raccoon from the Ozark mountains of Southern Missouri but we couldn't quite get the one living under his shed trapped and every time it came out I wasn't quick enough getting to the .22 rifle to bring Lucy home a pelt either.  So poor Lucy didn't get a present this year except for this bread and she doesn't get any of it to eat either!
This is a simple formula, as far as formulas go with Lucy, like most SFSD breads tend to be.  The levain was a 2 stage, 12 hour. 100% hydration, 12% pre-fermented sprouted grain one where all the bran from the sprouted grain was used for the first stage and the high extraction sprouted grain was used for the 2nd stage.   Once the levain doubled after the 2nd stage, it was retarded for 24 hours to bring out more sour notes.The 4 sprouted grains were rye, red wheat, spelt and Kamut and the overall sprouted grains came in at 20% making it a healthier and heartier SFSD white bread variety.  The overall hydration was 80% with the 80% white flour being LaFama AP and Albertson's bread flour both of which were on sale this week for $1.49 and $1.79 for 5# bags at the grocery store. The 2% salt was pink Himalayan sea salt.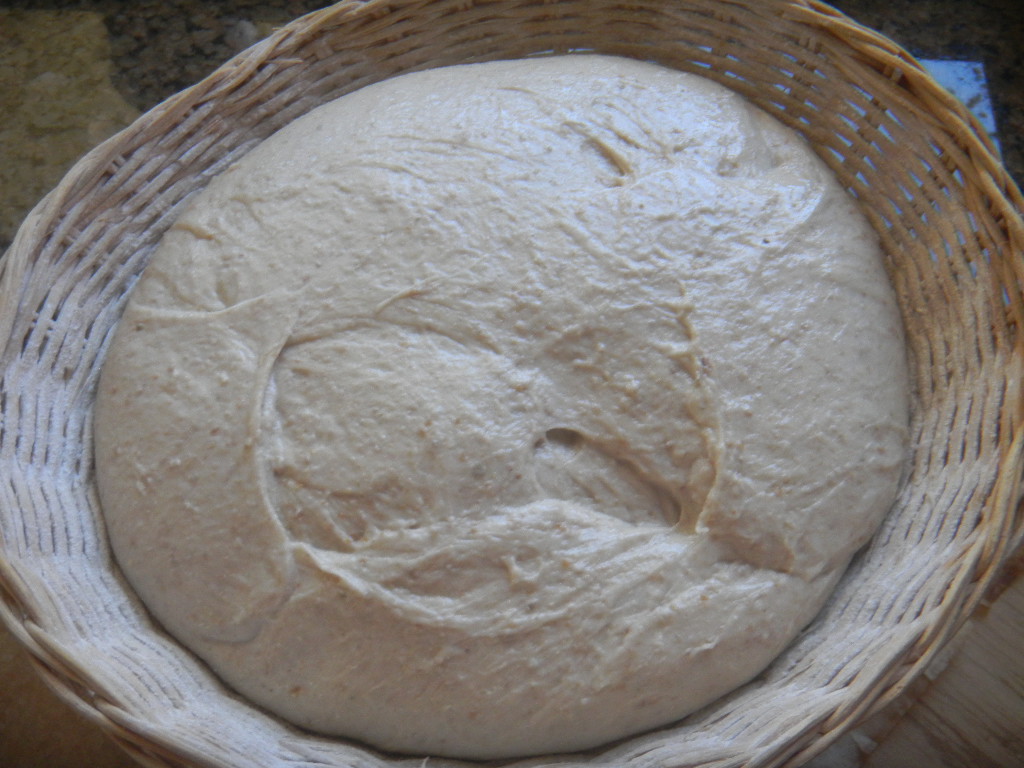 We did a 1 hour autolyse with the salt sprinkled on top and we did a double hydration with 2% water going in with the levain before the first set of 40 slap and folds.  We then did 2 sets of 10 slap and folds and 3 sets of 4 gentle slap and folds all on 230 minute intervals.  The dough has risen about 40% when we pre-shaped it and then shaped it into a squat oval.
We plopped it seam side up into a rice floured basket and bagged it in a new trash can liner for 14 hours of retard overnight.  When we took it out of the fridge we fired up the oven to 500 F with the Combo cooker inside.  Once hot we un-molded the dough onto parchment on a peel, slashed it 6 times, cross hatch style, like the Acme bread and put it into the oven as we turned it down to 425 F – the supposed temperature used at Larraburu.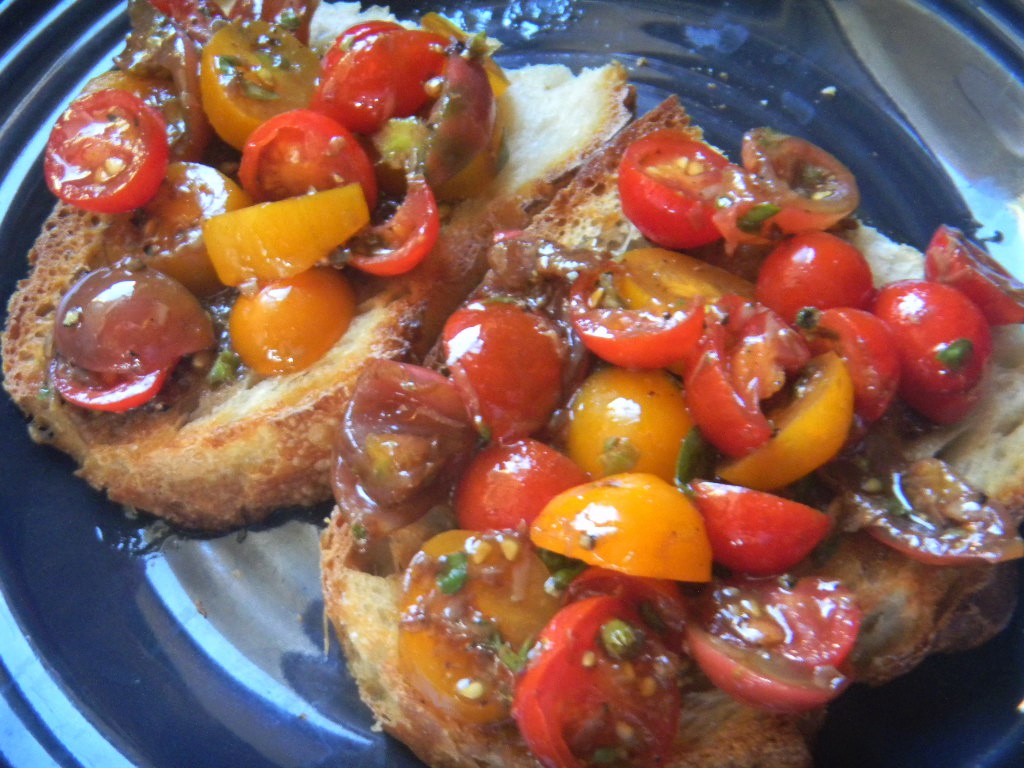 Killer bruschetta using heirloom cherry tomatoes from the back yard and that Acme Sourdough bread.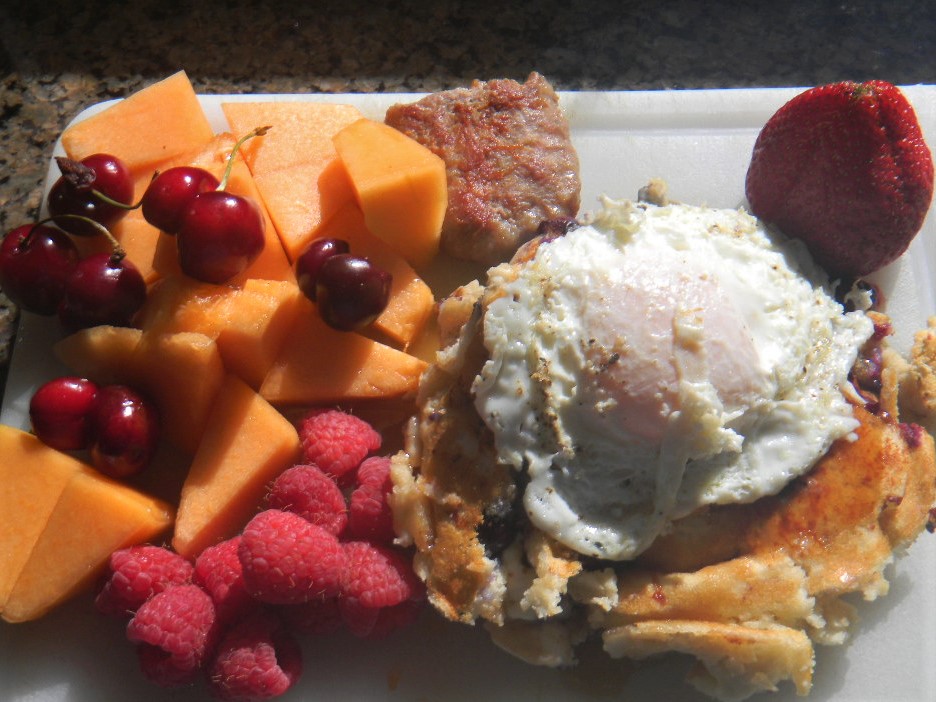 It helps to have a nice sourdough blueberry pancake breakfast on bake day
Since the dough was cold I upped the stem period to 24 minutes from our usual 18 to make sure that the dough had enough time under steam to spring.  We were hoping, since it was a whitish bread, high hydration and cold, that it would blister nicely under steam as the crust gelatinized it would trap the water vapor from below to cause blisters right under the skin.  That is Lucy's thinking at any rate and she is sticking to it!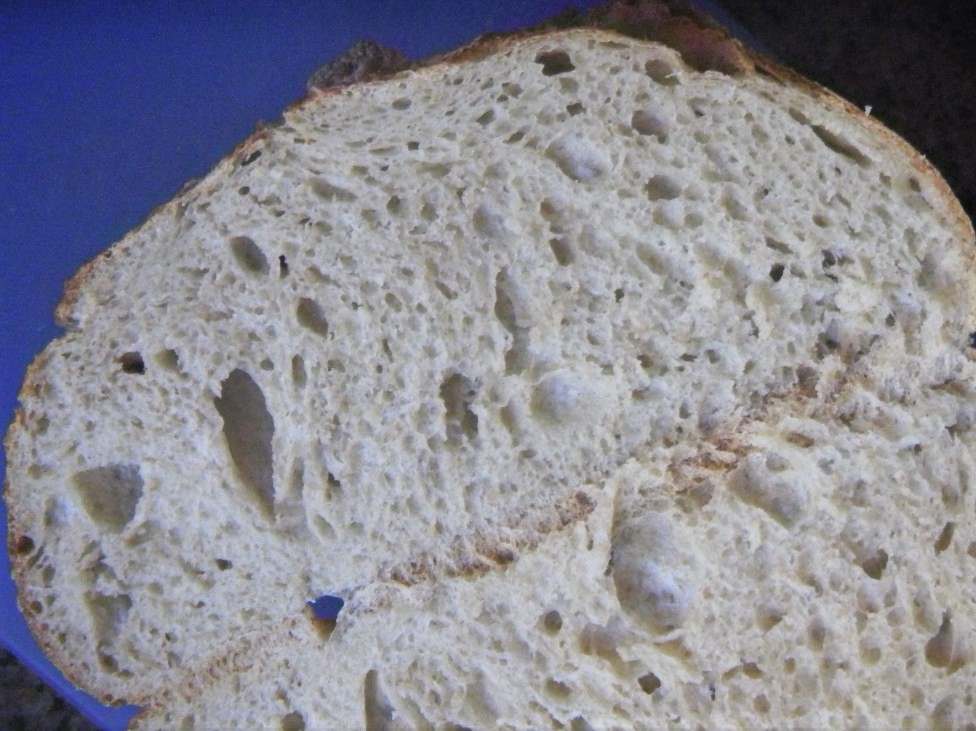 It did spring and bloom explosively under stream, showing it was a bit under proofed and there were quite a few blisters too.  Once the lid came off we turned the oven to 425 F convection to brown it up which it did nicely.  We took it out of the oven when it read 209 F on the inside.  We will have to wait to see what it looks like inside but the outside was not quite as nice as Acme's perfect 10 score that we gave it earlier this week but this one was close at a 9.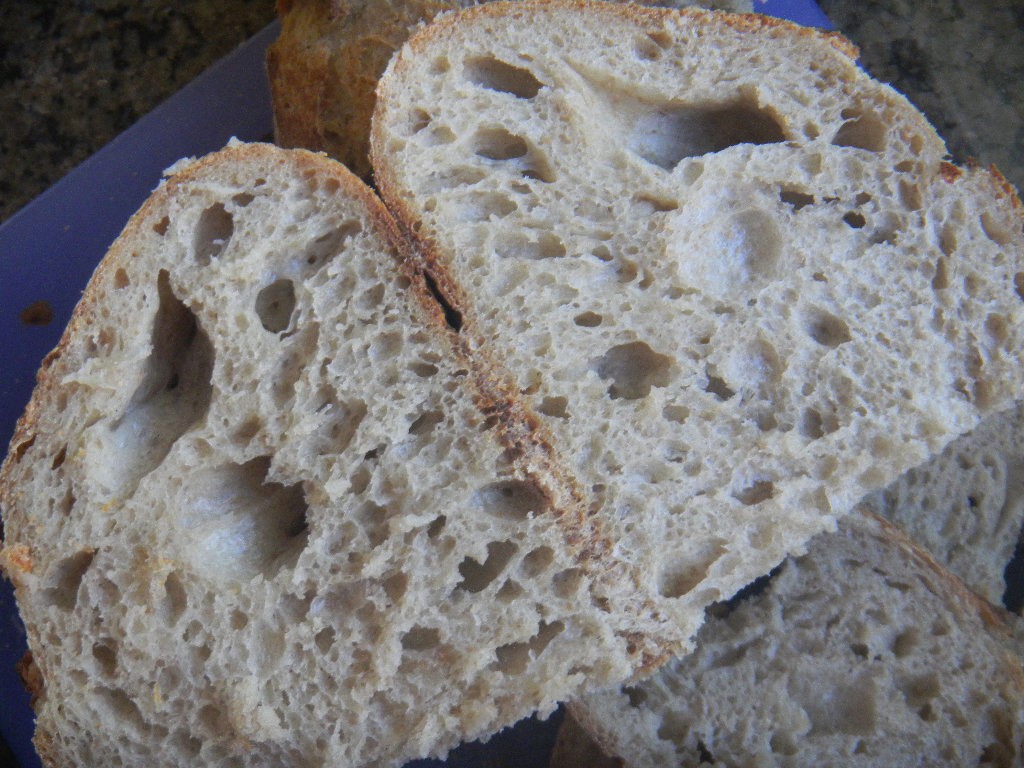 The inside of this bread is what SFSD is all about.  Even though it had 20% whole sprouted grain the crumb was very open.  It was also glossy, soft and moist.  The best part is that this bread tastes terrific - fantastically delicious.  My future son in law says that this bread is hands down way better than the Acme loaf he brought me - even when it was as fresh as this one. We ate a quarter of the loaf straight away as part part of cheese, tomato, bread, fruit and melon plate as an appetizer with a nice glass of red wine.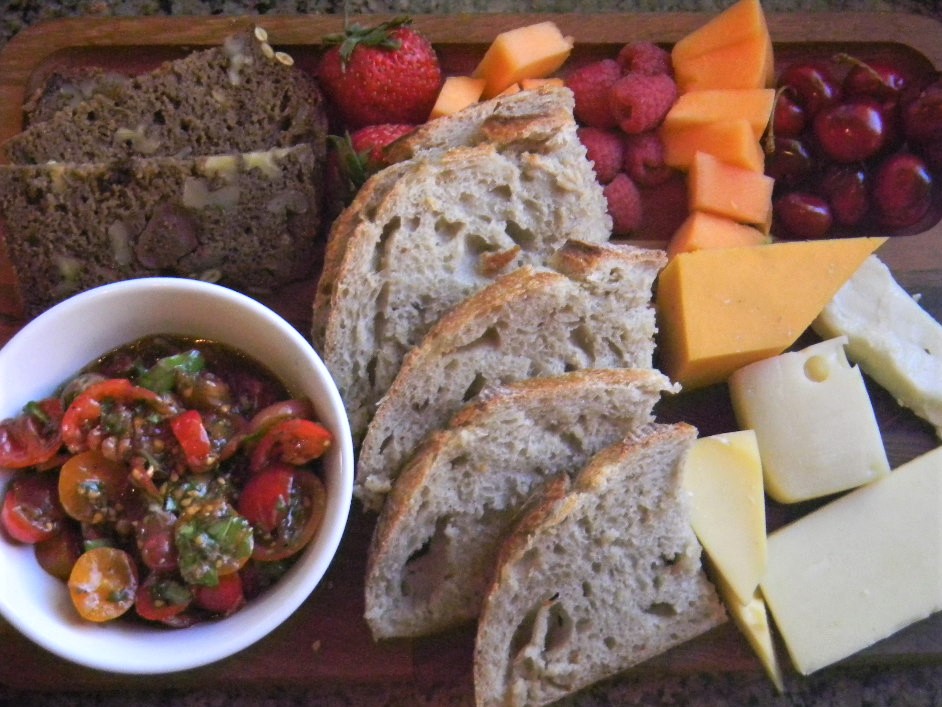 Formula
12% pre-fermented 4 sprouted grain flour, 2 stage, 100% hydration, bran levain retarded for 24 hours.
Dough
8% high extraction sprouted 4 grain – Rye, spelt, Kamut and red wheat
40% LaFama APp
40% Albertson's bread flour
80% water - overall hydration
2% PH Sea Salt
Lucy reminds us to never for get the salad!