December 15, 2007 - 8:38pm
100% Whole Grain Sourdough Hearth Bread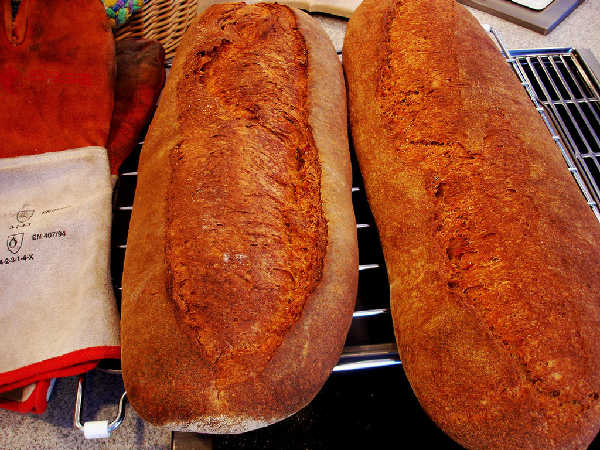 After following the recent adventures of JMonkey with 100% Whole Grain Sourdough and working on answering some of the questions concerning whole grain sourdough breads posted by Ron, Shai, and Taygirl, and wanting to make some bread my wife, who is more of a "true believer" in whole grain breads, would be happier to eat, I've decided to do some experimenting again with whole grain hearth breads. Just to be up front about this, I'm not a "true believer". I'm happy to have some "Work Horse Sourdough" or even a white "Pane Casarecio di Genzano" or a "Sourdough Pagnotta" or a "Thom Leonard CF" or the like in smaller quantities, and just eat other foods to get the nutrients and fiber from the bran and germ that might be missing due to indulging in less than 100% whole grain breads. Nonetheless, when my granola eating friends give me that disapproving look, I just feel guilty if I can't come up with a good 100% Whole Grain Sourdough Hearth Bread to settle their doubts.
With the caveats mentioned above, I still thought this bread had good flavor and texture. My wife was especially happy with it and asked me to keep a small quantity of it on hand at all times in the freezer, along with other favorites. The only other time she has made such a request was for the Sourdough Focaccia, which is an addiction, not a healthy choice.
I made this bread in two different ways. The first is a one-step approach with a very long somewhat cool rise from a very small amount of starter added directly to the final dough ingredients. The second is a two-step approach with an overnight levain allowed to somewhat more than double in volume and a soaker of the remaining whole grain flours that are combined in a final dough with salt and a little malt syrup the next day for a faster warmer final rise. Note that to satisfy the "100% whole grain true believers", I have gone to the trouble of making a whole wheat starter, which I did by taking a tiny amount of my white flour starter and feeding it repeatedly over the course of the past week with exclusively whole wheat flour. Given that I feed the starter 1:4:5 (starter:water:flour by weight) every 12 hours, there is still about 1 billionth of a part of white flour in it. Sorry, I just didn't have time to get it any closer to pure whole grain. However, I then dilute it by a factor of about 100 in the dough, so the final dough is 1/100 billionth white flour or so, just in the interests of full disclosure.
I have spreadsheets for both the two-step version (html, xls), and the one-step version (html, xls). Photos of the process, including a nice pair of roast chicken and some roast yams, later mashed, covered with marshmallows, and allowed to brown in the oven. Kids love those marshmallow covered yams, let me tell you.
Version 1 Mixing and Initial Rise
Version 1 Dough:
15g 80% hydration whole wheat starter (you can probably substitute any whole grain starter, or a white flour starter if you don't mind going a little below 100% whole grain).
41g whole rye flour
141g whole spelt flour
383g Wheat Montana Prairie Gold (high protein white whole wheat flour)
375g Wheat Montana Bronze Chief (high protein red whole wheat flour) or just combine the whole wheat flours and use whatever whole wheat flour(s) you like.
10g organic barley malt syrup
18g salt
758g water
Mixed at 9:55PM with DLX mixer on medium/low for 8 minutes, then folded a couple of times and dropped in covered rising bucket for the night. It started at 74F after mixing and dropped to 70F over a few hours. It was at about 69F the next morning.
Version 2 Levain and Soaker
Levain:
15g 80% hydration WW starter (same notes as above)
41g whole rye flour
141g whole spelt flour
146g water
Mixed at 10:15 PM and let rise overnight, covered, at 70F down to about 69F.
Soaker:
375g Wheat MT Prairie Gold (same notes as above)
375g Wheat MT Bronze Chief (same notes as above)
604g water
Mixed at 10:25PM and allowed to rest overnight at 70F down to about 69F.
Version 2 Mixing
Version 2 Dough:
Levain
Soaker
10g organic barley malt syrup
18g salt
The mixing of Version 2 was done at 7:30 AM. I spread soaker out on wet counter like a big pizza using wet hands. Paint levain onto soaker using a spatula. Paint organic barley malt syrup over levain. Roll up and fold a couple of times. Spread out like a pizza again. Spread salt evenly over the dough. Roll up and fold a couple of times. It was mixed in DLX mixer at medium/low for 8 mintues, folded a couple of times and placed in a covered dough bucket to rise. The dough bucket was put in my "proofing cabinet", a spot above my coffee machine that sits at about 76F in the winter. I knew that if I want to bake "Version 1" and "Version 2" together, I would need to speed up the rise on "Version 2" a little to get them to coincide. So, Version 1 was left in a cool spot at 70F for the morning, while version 2 was placed in the proofing cabinet to get a boost.
Version 1 and Version 2 Folding
At this point both versions are in their respective rising buckets, one in a warm spot, the other in a cool spot. I folded both of them about once per hour during the remainder of the bulk fermentation for a total of 3 folding sessions each. All the folds were typical of the description in Hamelman's "Bread". I pour the dough out on a lightly dusted counter with the smooth side down, fold each side in toward the middle, from the north, east, west, and south, brushing off any flour after each fold, and then turn it back smooth side up and drop it back in the rising bucket. The remainder of the bulk fermentation, measured from the point Version 2 was mixed (7:30AM), was 3.5 hours.
Shaping
At 11:00AM, both loaves were shaped into batards. Each one is about 17 inches long, and both were placed in a half sheet in couche cloths smooth side up, put in a Ziploc "Big Bag", and allowed to proof for another 2.75 hours, until 1:45 PM. The ambient temperature of the kitchen was still about 70F. Version 2 therefore proofed at an average temperature of about 74 or 73F as it started at 75F and dropped to room temperature during the final proof, while version 1 proofed at 70F the whole time.
Slash and Bake
The loaves were turned onto a peel, slashed, and put in my brick oven. The hearth temperature was about 425F and I sprayed a few ounces of water on the loaves and into the oven chamber with an orchid mist sprayer, and sealed the oven with a wet towel covered door. In a kitchen oven, bake at 425F for a few minutes with steam, then drop the temperature to 375F and allow to fully brown. The final hearth temperature was about 375F after 45 minutes of bake. The loaves had browned, the crust seemed done, and the internal temperature was about 209F.
Cool
The loaves were allowed to cool completely.
Results
The crumb is somewhat soft, but not fluffy, the holes are irregular and mostly small, but the crumb is open for a whole grain bread. It doesn't feel dense or heavy when you chew it. The crust is crunchy and fairly chewy with a good toasty flavor. The sourdough flavor of these loaves was mild and the crumb clearly had the characteristic nutty sweetness of spelt in it, even with just 15% spelt. It was hard to tell the difference in flavor between version 1 and version 2, but version 2, with the levain, seemed slightly more sour. Also, version 2 had a wetter, more proofed feel at both shaping and slashing time, even though both had increased in volume almost exactly the same amount. When I shaped version 2, it was harder to shape, as it was more gloppy, and it ended up being longer and flatter after shaping. However, the crumb texture, the crust, and the flavor were virtually identical after baking. Version 1 held its shape better and sprung in the oven, while version 2 seemed to spring up very little but did spread out a lot during baking. Although version 2 was flatter, the crumb was slightly more open. The Whole Wheat Sourdough Sandwich Bread I blogged a while back had a slightly lighter and softer crumb, even though the method was almost identical to version 2 with the levain. I suspect this is because in the sandwich bread version, the loaves were raised and baked in pans at slightly warmer temperatures and allowed to proof a little longer. Also the hydration was slightly higher in the sandwich bread.
Some Thoughts
I have had better luck with one-step versions and with two-step versions where I only allow the levain to just double and no more and with two-step versions with about 10% fermented flour, as opposed to this "Version 2", which had 20% fermented flour in the levain. I think that delivering the extra acid in a riper levain that constitutes 20% or more fermented flour causes a breakdown in the gluten structure of the final dough. This may be why Peter Reinhart's recipes in his whole grain book recommend using instant yeast with the larger levains in his recipes, which works well as many of us have verified. However, if you want to do a sourdough only recipe, my experiences so far point toward doing long slow rises from tiny inoculations, as in the one-step method, or if you are doing a two-step method with a levain, then only allow the levain to rise by double and not more before refrigerating or combining with the final dough. You won't get a big flavor boost from the levain the way you would with a riper levain, but it does allow for a convenient break in the timing, as the levain and soaker can be refrigerated for a day or two, and the the bread making process can be resumed at a convenient time.