100% WG Durum, 40% Rye (60% WG), open fields and open mind...
In amongst the rush and action of helping friends during calving season, there is also a fair bit of time spent wandering the fields for various chores, and time available for thinking while wandering...
I've been quite taken (obsessed) with this whole new-to-me discovery of making bread, and have been following blogs and postings by so many here of their fabulous and tempting looking bakes.  These temptations have been quite easily leading me away from my sort-of-planned path of learning to make a basic "daily" loaf that is a high proportion of whole grains and has a strong flavour profile, as well as play with some 100% whole grain rye or wheat or even a very occasional enriched bread as a snack or treat.  The most important considerations were to be flavour and utility (a heavy sandwich bread for a sandwich week, for instance), with room for experimentation and increase in skills.  We can only eat so much bread, and there is only so much room in the freezer, so too many deviations from my "path" are just not a good choice.
With that in mind, I still was quite taken with the whole Pane di Altamura concept --- especially after seeing some of the past results from dmsnyder, breadforfun, alfanso, and others, which I went looking for after seeing the current incarnations by Lechem and now pmitc34947.  Lechem  kindly shared the details of what specific flour to look for, and even though it is a "white" flour (well - yellow - but just the endosperm with no bran or germ) - and that isn't something that I generally like or look for - I started checking into it.  Well - then I started reading that the flavour really wasn't much (Lechem mentioned "cold pasta" on one of his earlier versions).  That didn't sound very appetizing (I'm not a big pasta fan), and the notes that it is supposed to be incredible with olive oil  didn't help much since that isn't up there in my favourite flavours either. 
A sane and reasonable person would have discarded the idea of trying to make a bread that is difficult to execute, uses an expensive and not easily found flour (here, anyways), and apparently has a flavour profile and usage that is not on their preference list.  I am obviously neither sane nor reasonable, so came up with an idiotic compromise idea that I'd pick up some local whole durum berries (those are easy to get) and do a whole-grain loaf to see if I actually liked it enough to go in search of the not-so-readily-available and far more expensive correct flour.  I spent a few days getting a durum starter going, and with Lechem's formula in hand, I took one of my baking days last week to try it with freshly ground whole durum.  Yes - I know that everything about whole grain is going to work differently than the semola, but it seemed like a reasonable starting point.  Well - by this point I was really questioning why I was even doing this.  I was almost resenting the time put in, and was NOT a happy baker.  Everything about the dough just felt wrong from the start, and I just couldn't get my head around what needed to be done to make it work and feel better --- so I just followed the formula and hoped for the best: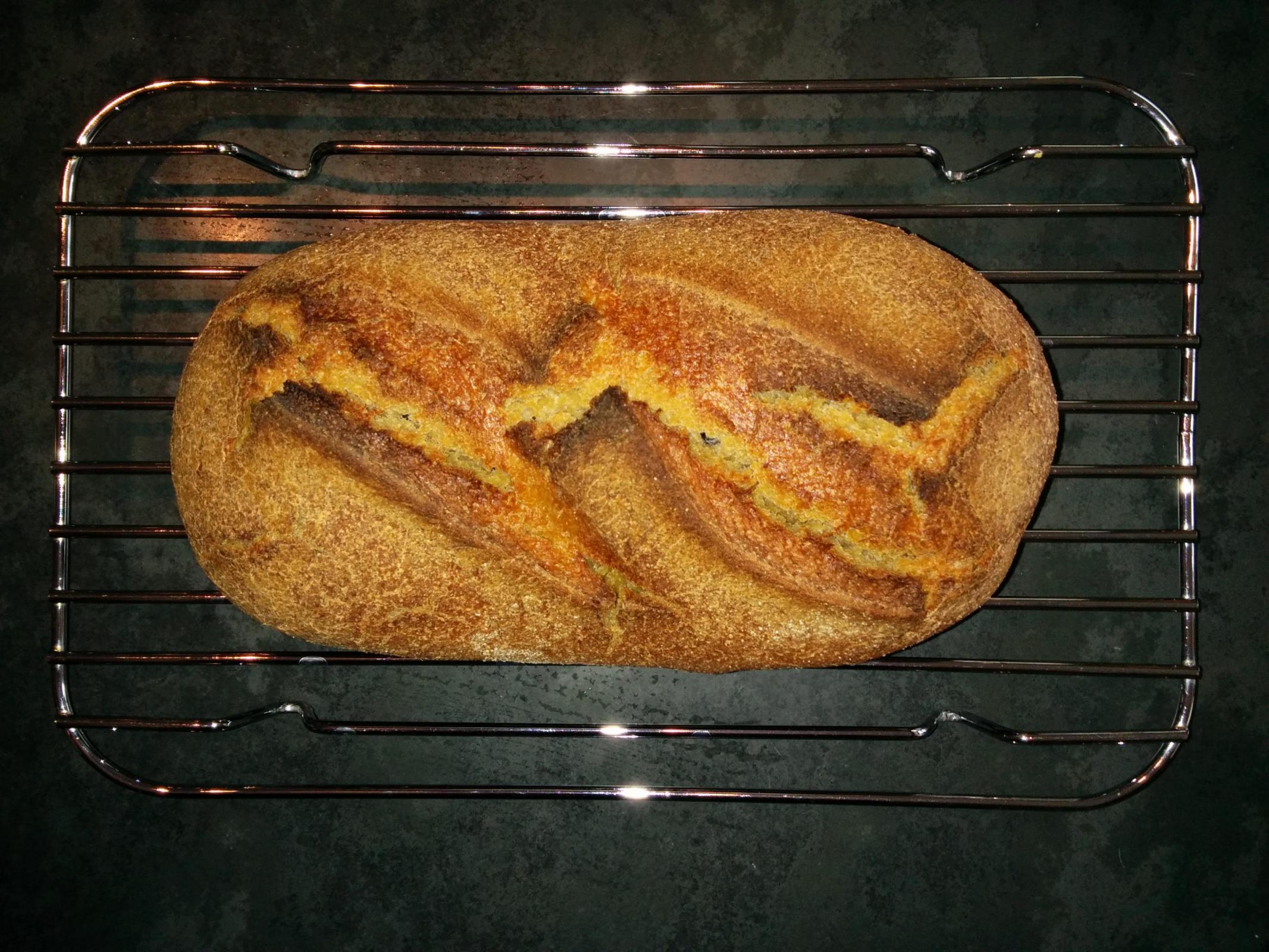 The crust looked okay, but it felt heavy and took forever to hit temperature, so it was obviously under-fermented, as proven by the dense and heavy crumb with the more open holes around the perimeter: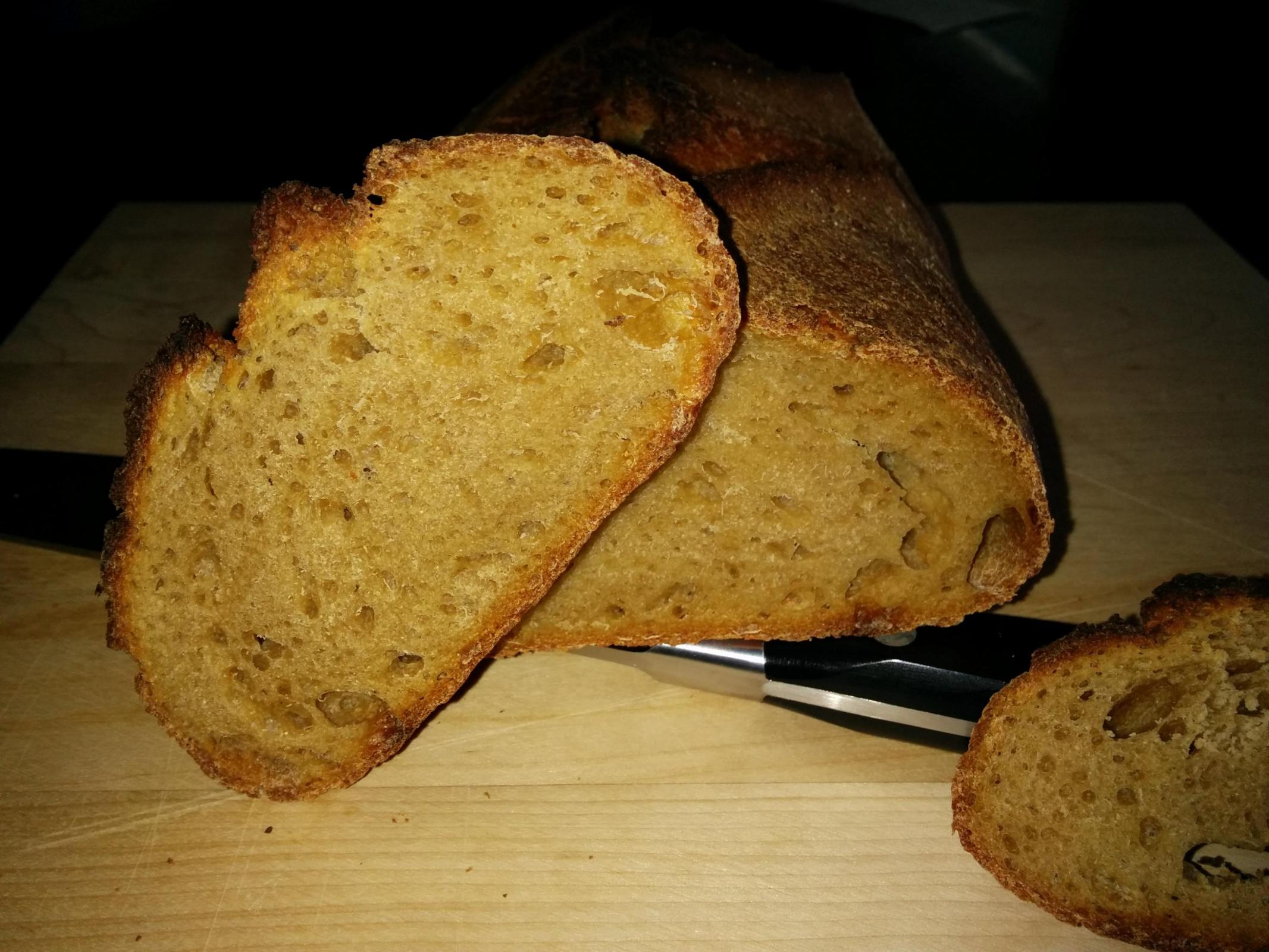 It had a surprisingly good mouth-feel, but the flavour was really, really, really - meh.  Not bad, but certainly not something that I'd go out of my way to look for.
The day wasn't a total waste, fortunately, since I still had some pizza dough left over from the previous week (that I'd been tempted to try from a post by inumeridiieri), and it turned out that an extra 4 days fermenting in the fridge with a longer par bake was just what it needed to become one of the first pizzas that I have ever really liked: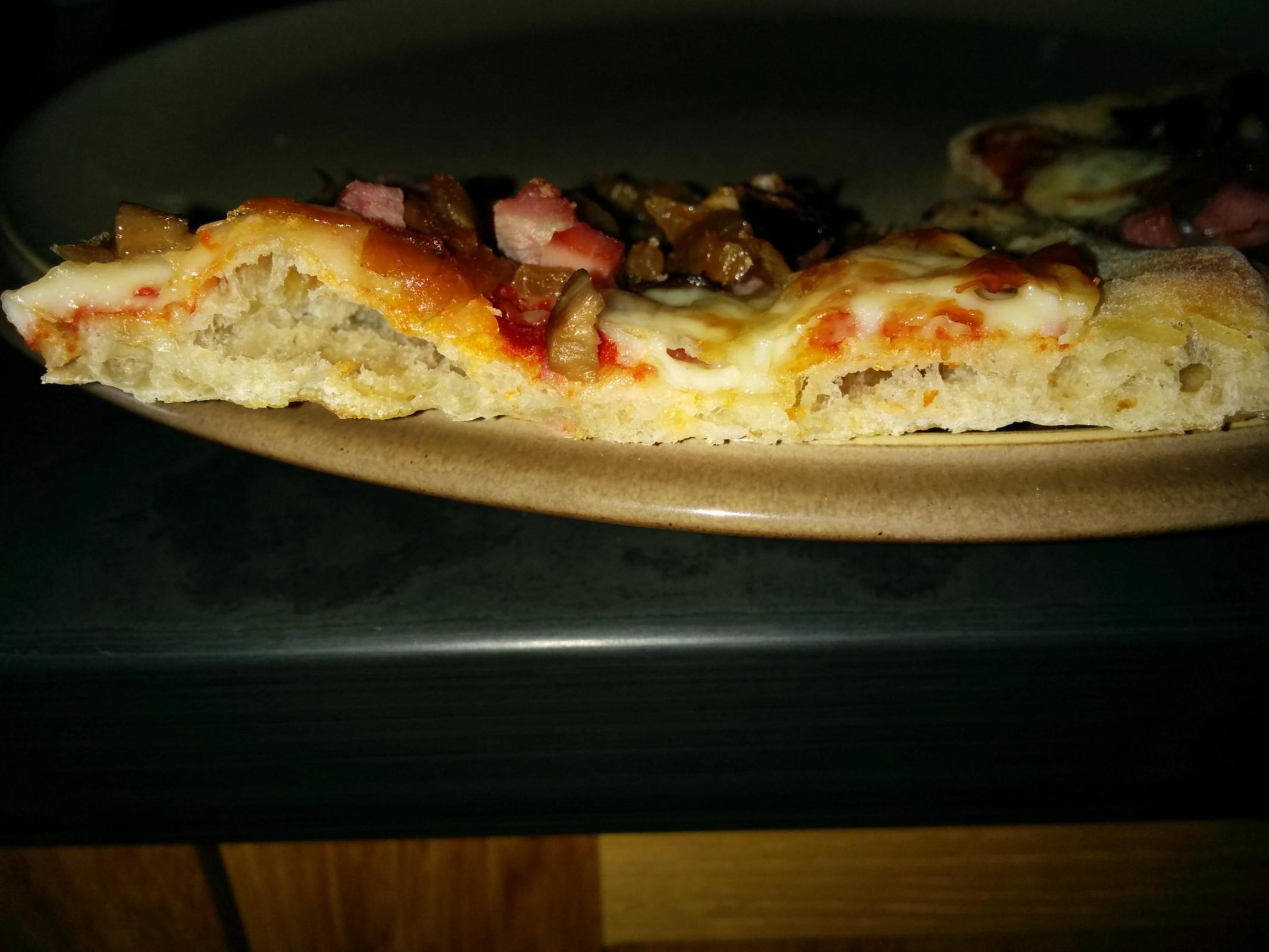 The next day I got back to basics with a 60% whole grain "daily" loaf with 40% rye --- and I really enjoyed playing with the mix.  This was my first loaf with tang zhong, then I started the final dough mix at 75% hydration, and kept adding water as I kneaded it (just to see how it would feel), and finished the mix at 83%.  I was looking for a hearty loaf that would stand up to a ham and sauerkraut sandwich made at 6:00 a.m. and not eaten until 8:00 p.m. and that is exactly what I got:
My different attitudes to the two bakes showed me that I need to get back to my original priorities and focus on creating loaves for a flavour that we love.  I still had that durum loaf to get through (I didn't even like it enough to want to save it for altus), and then... well - I thought about me not really liking pizza and then having the pleasant discovery that the right recipe was something that I now enjoyed.  Then, I recalled that inumeridiieri had commented on one of Lechem's posts with a photo of a fresh tomato and olive oil bruschetta. 
So - I got home and hacked off a couple of slices of that durum bread, toasted it heavily, and mixed up some tomatoes and onions and garlic and olive oil and ...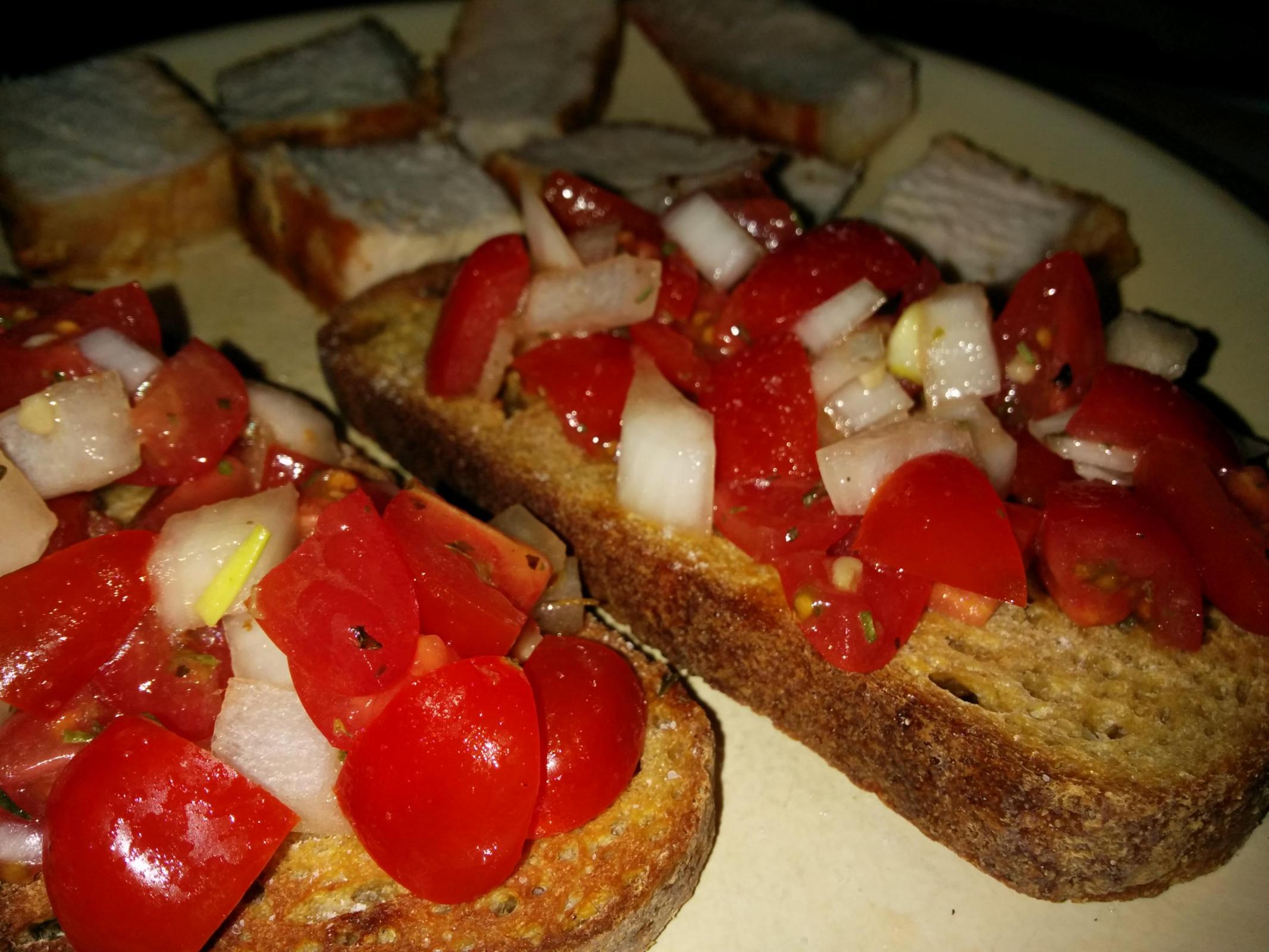 Who'd a thunk it?  It's actually really darned good!  I've had it for lunch for the past couple of days, and enjoyed it so much that I'm planning on another 100% whole grain durum for this week.  I'll be doing a different timing and a higher hydration, but will go with how it feels and see if I can't come up with a really serviceable loaf with a flavour that I'll enjoy.
I doubt that I'll be chasing down the proper flour any time soon (but won't rule it out entirely), but am glad to have my obsession reined in for a bit and get back to enjoying producing what the more practical side of me wants.  There will still be some playing (I'm still dithering on a tang zhong with my other loaf this week - or a toasted oat / oat bran / wheat germ porridge).  I'm even more glad that I kept an open mind about what I do or don't like - and gave the bread another try following suggestions from the wonderful experienced folk who post on here...
Many thanks, and keep baking happy!