My 2.2 kg / 4.8 lbs Sourdough Multigrain Miche
Since my last post on TFL (see here), I've been steadily working on my shop with my partner Jana. Roof repaired and renovated, parking repaved, custom fixtures and furniture in progress (photos to be posted on a later date). Additionally, sooner than expected, I restarted my sourdough starter last month, February, and conducted countless experiments.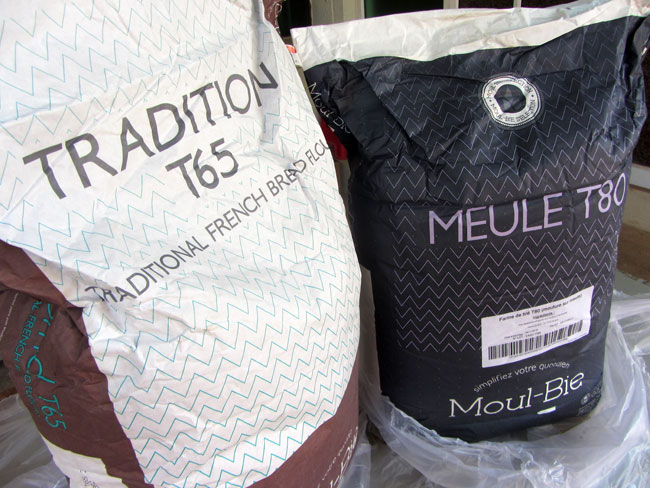 Type 65 bread flour & Type 80 high extraction flour 
What prompted the resuscitation of my starter? Well, understandably, the flours above! After waiting for several weeks, I finally received 25 kg each of Type 65 bread flour and Type 80 high extraction flour from France.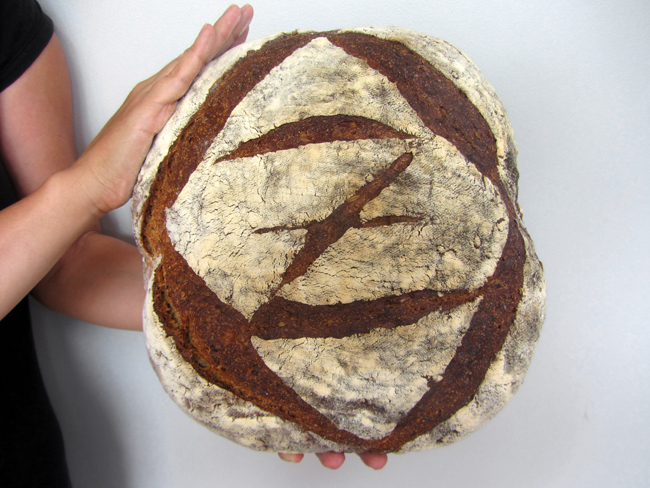 2.2 kg / 4.8 lbs Sourdough Multigrain Miche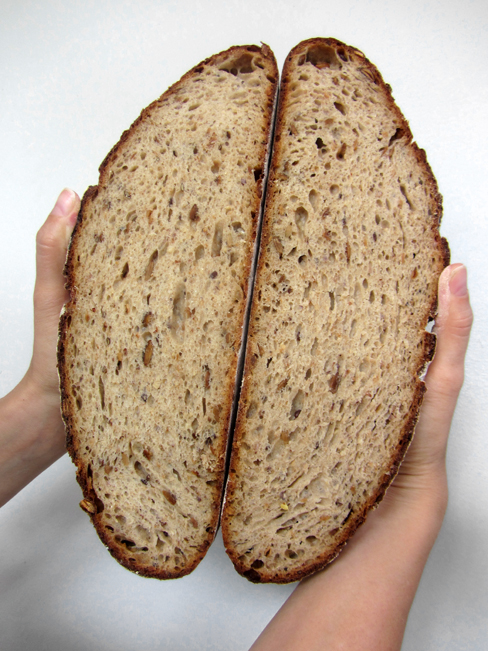 Crumb of Sourdough Multigrain Miche; contains unbleached wheat & rye flour, sesame, sunflower, pumpkin seeds, flaxseeds, rolled oats, red rice & polenta 
What resulted after a month of experimenting was the "Sourdough Multigrain Miche". Previously called "7 Grain", my sourdough multigrain originated in early 2014, an adaptation and combination of Jeffrey Hamelman's "5 Grain Levain" and Chad Robertson's "Oat Porridge Bread'. Since that time, I have gradually refined the formula. However, the latest and greatest change is the final weight (from 800 g to 2.2 kg), the addition of flaxseeds and red jasmine rice, and the "incubation" temperature of the sourdough. The Sourdough Multigrain Miche now has an improved balance of acidity, namely increased acetic acid by developing a stiffer starter at approx 21C for 13 hours. 
Besides better flavour, the sheer size and inclusion of (cooked) rice improved the softness, custard-like texture of the bread, as well as extended shelf life. An important factor when, hopefully sometime this year, I sell and deliver my sourdough breads to other cities in Cambodia.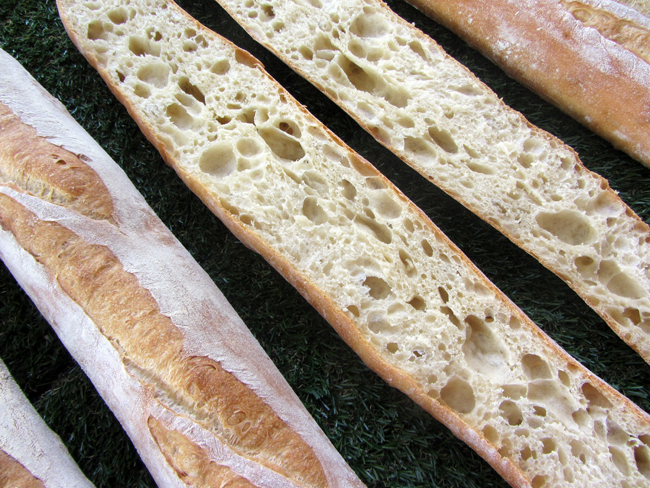 Hybrid baguettes using poolish & sourdough starter
In tandem with the Sourdough Multigrain Miche, I've been experimenting with "hybrid" baguettes incorporating a poolish and sourdough starter. Similar to Tartine Baguettes by Chad Robertson, but still not satisfied with results. Admittedly, I'm also having difficulties shaping the baguettes beyond its standard hydration but will continue practicing. 
Thank you for taking the time to read my post, possibly with keen interest. I promise, I shall post further updates on my bakery and shop.
Cheers and happy baking,
Mr. Zita
Head Bread Baker
Bang Bang
[f] www.facebook.com/BakeryBangBang
[I] www.instagram.com/BakeryBangBang