February 17, 2017 - 9:14am
10 Grain Sourdough With Wild Rice Anise, Figs, Pecans, Pistachios, Pepitas and Sunflower Seeds and Poolish Brioche Buns
Lucy really went to work this week to come up with a bread that would fit the Oriental Pullman pan perfectly – with the lid on!  A more complex kind of bread so she didn't specify sprouting the whole grains so we got off a bit easy this week.  Every time I turned around she was pulling put another grain, seed or nut long hidden away that pantry she guards with her life.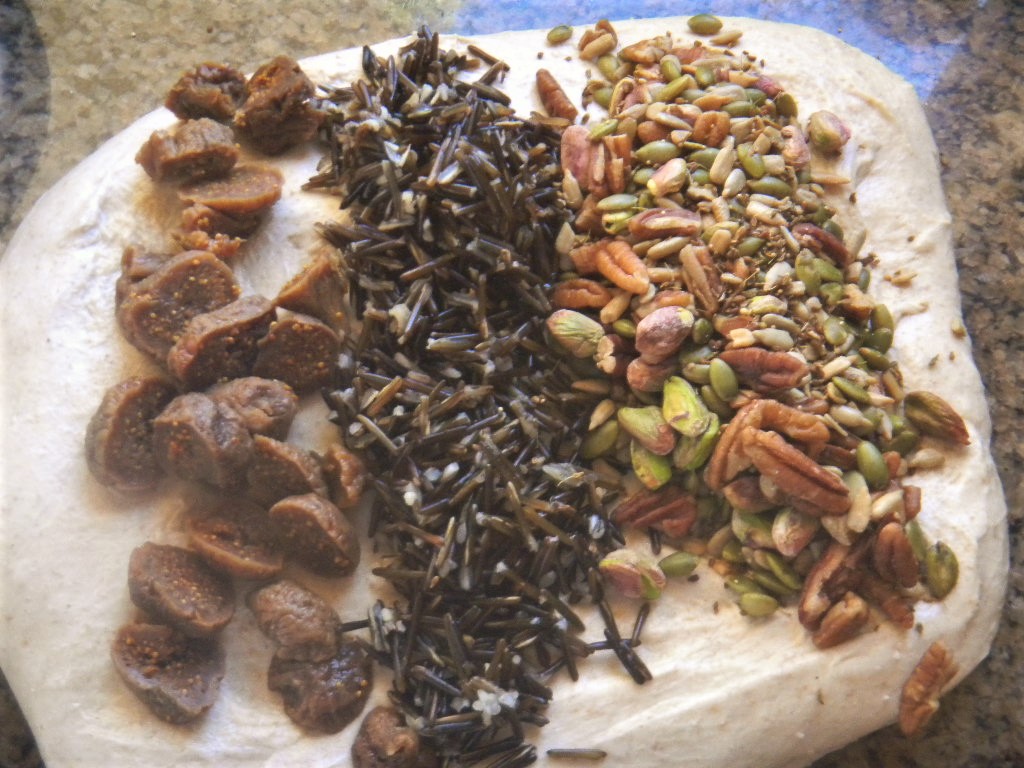 The whole grains really came in at 11 if you count the wild rice with the red and white wheat, emmer, spelt, rye, oat, barley, Kamut, corn, buckwheat.  We haven't put corn in bread for a while but we like grinding popcorn for it.  We have been fond of wild rice in bread since hanseata, (Karin), turned Lucy onto it and Maria Speck's Aroma Bread.   This one is loosely based on a combination of those two fine breads.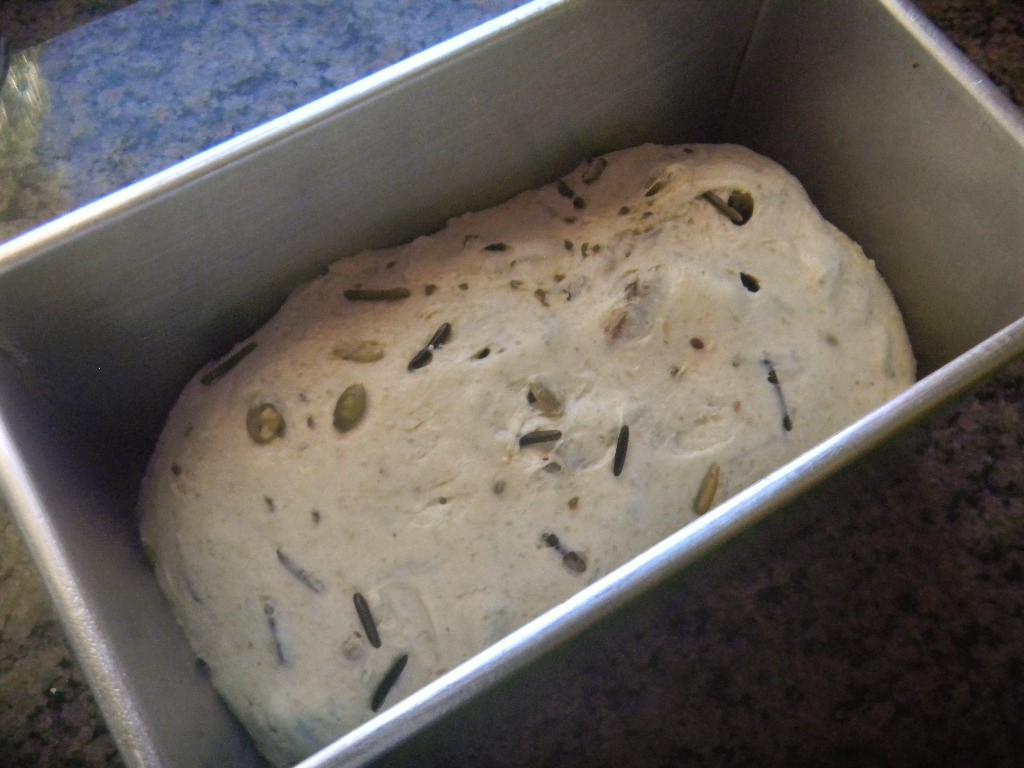 The 100% hydration, 3 stage, bran and HEE 10 grain levain used 13% pre-fermented flour built over 12 hours from 10 g if our whole rye NMNF starter.  This time we did not retard the levain which is quite un usual for us.  We did autolyse the dough flour.  The whole grains came in at 30% with the wild rice omitted from this calculation.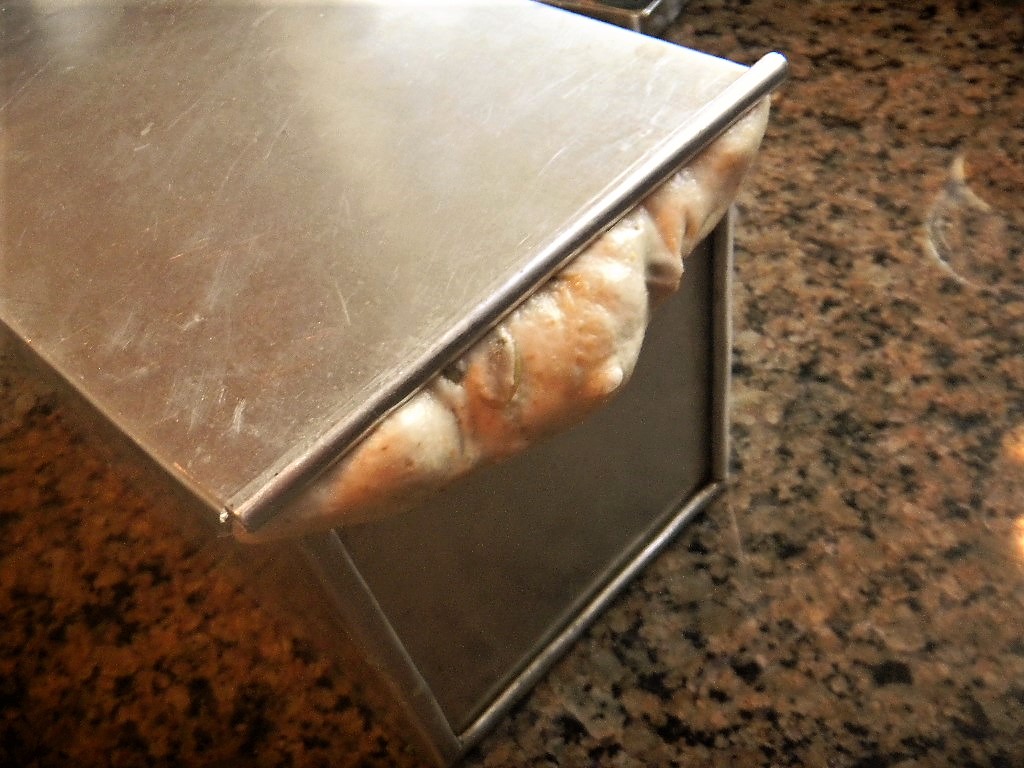 Once the salt and levain hit the autolyze we mixed it all together with 50 slap and folds.  We did 2 more sets of 1 slap and folds and 3 sets of 4 stretch and folds – all on 30 minute intervals.  The rehydrated figs, toasted seeds, nuts and cooked wild rice were folded in during the 1st set of stretch and folds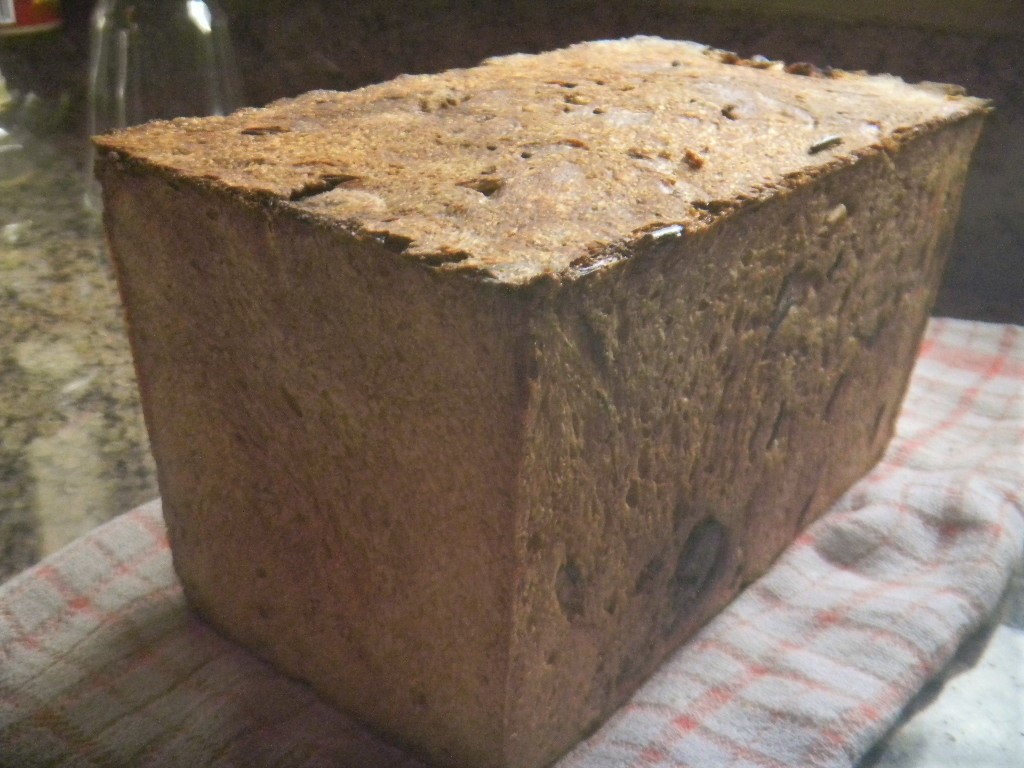 We then pre-shaped and final shaped the dough into a loaf to fit the Pullman and let it proof on the counter for 2 hours before placing it in the fridge for a 20 hour retard – something we rarely do.  The Pullman was covered with oiled plastic but we placed a large pie plate holding an apple and blueberry galette over the top of it to make sure it couldn't rise over the top of the pan so that we could get the lid on before going to bed.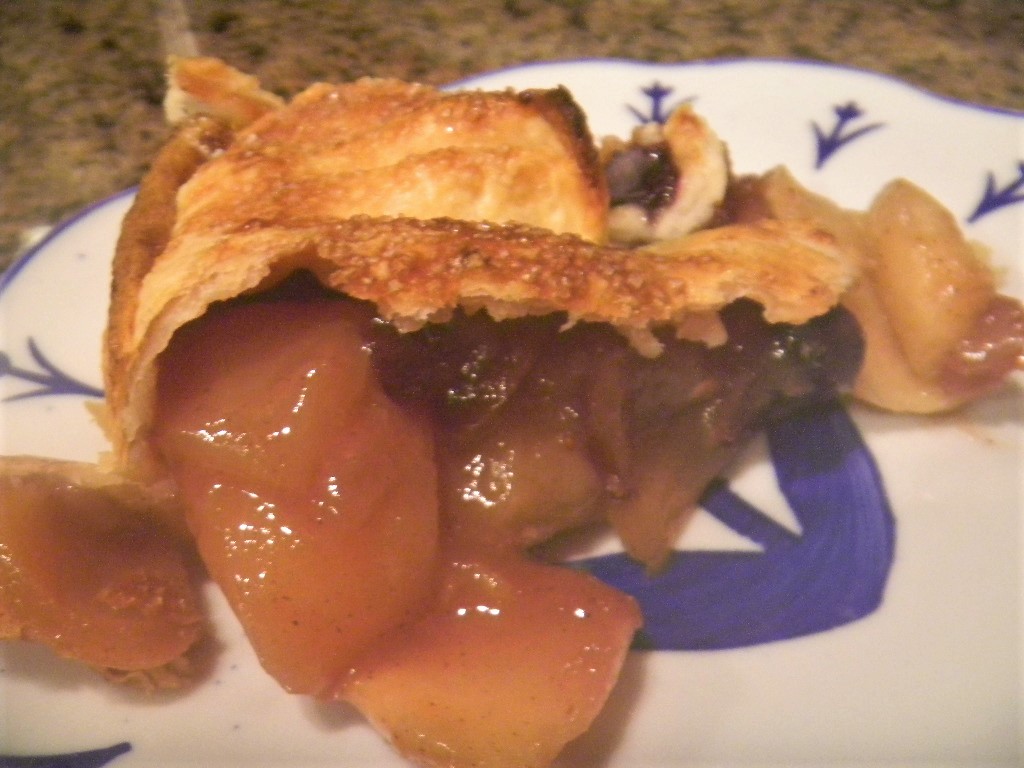 Since it had already risen to the top of the pan before we went to bed, we decided to bake it straight out if the fridge first thing in the morning, especially since it was oozing out of the top.  We pre-heated the oven to 500 F and when it hit temperature we slid the Pullman into the oven between the two stones and turned it down to 450 F.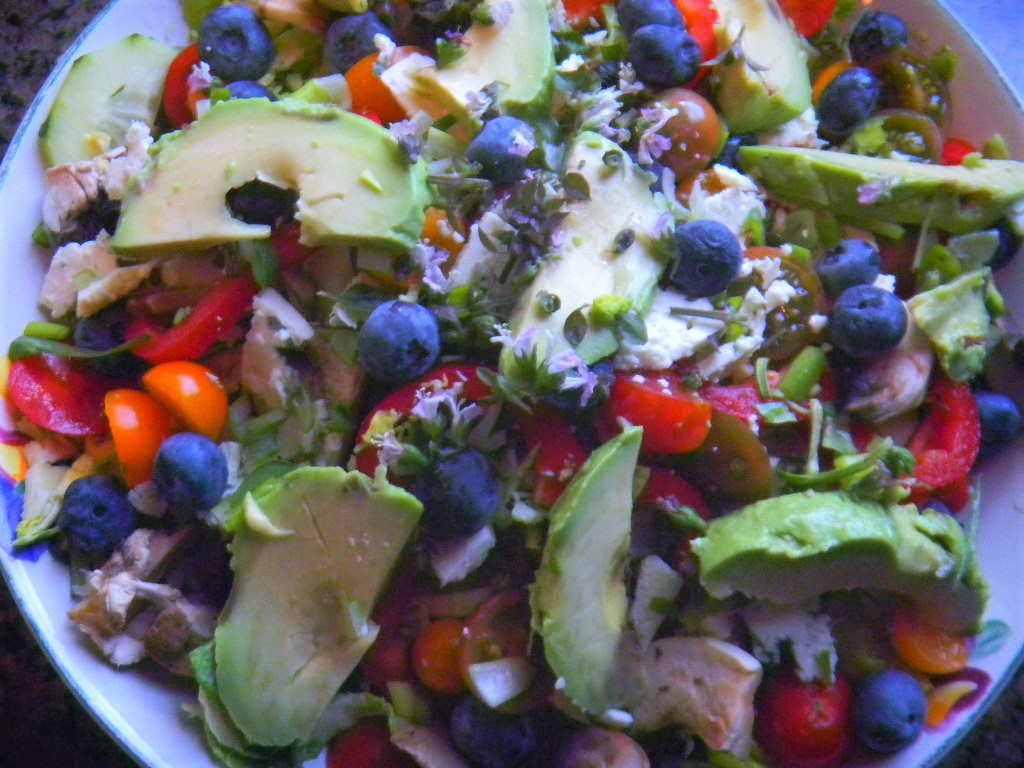 After 20 minutes of steam, we slid the lid off and turned the oven down to 425 F convection and continued to bake for 25 minutes before unmolding the bread and finishing baking on the stone – about 15 more minutes.  When the lid came off it looked pretty good even though it stuck a bit and was difficult to slide.  Everything browned up after it came out of the Pullman.  We will have to wait on the crumb shot.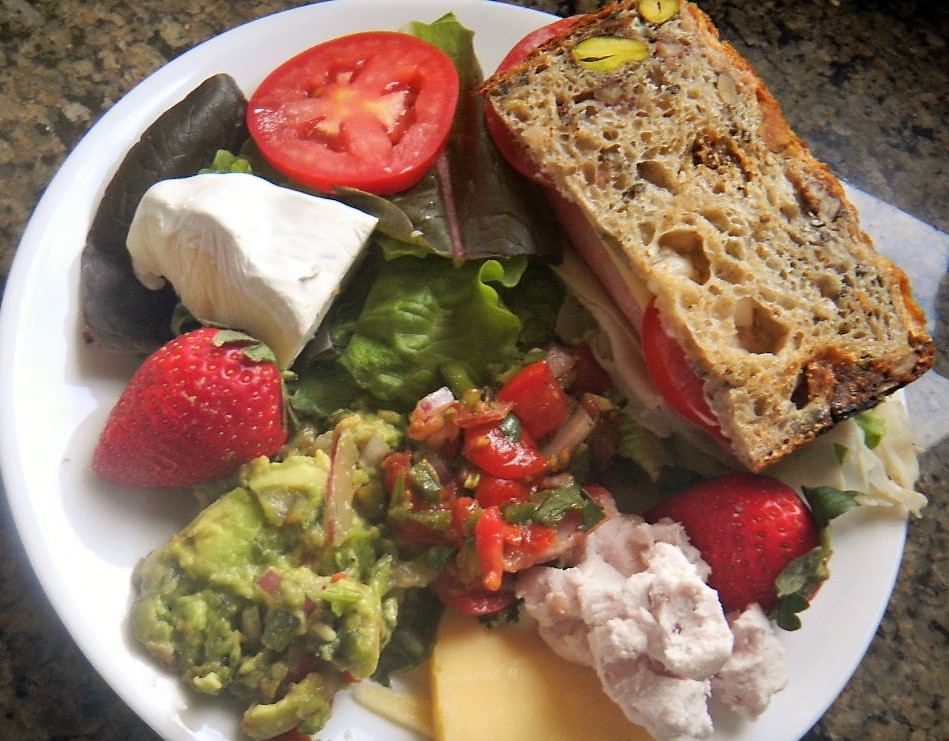 It has been a long time since I posted one of Lucy's lunches.  Guacamole, Pico, Gouda, brie and cranberry goat cheeses, a small salad, a couple of strawberries and half sandwich of bologna and smoked turkey, lettuce cheese and tomato.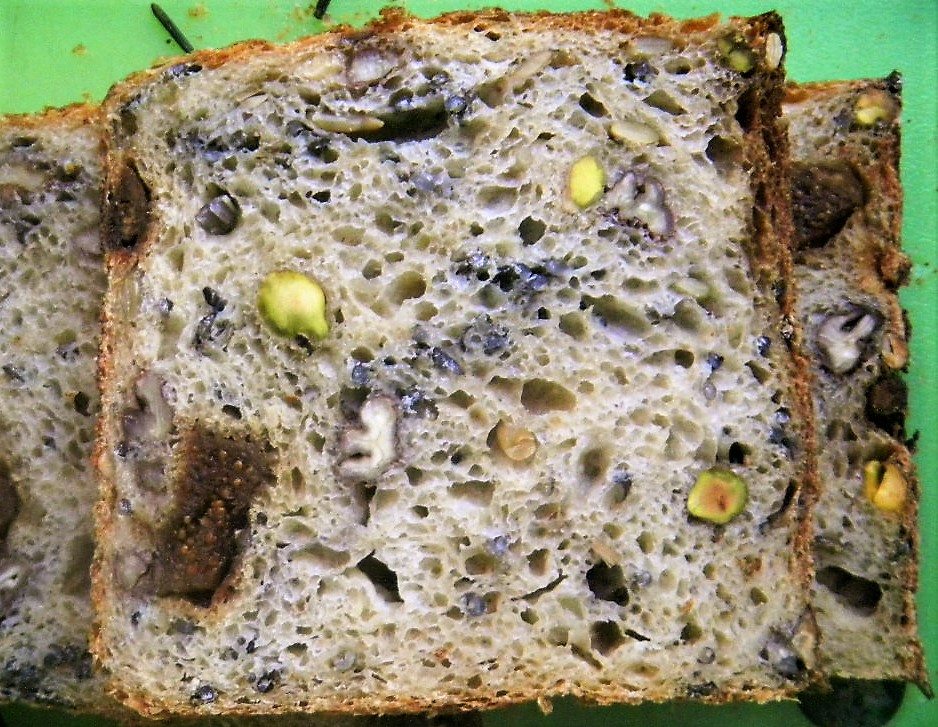 If you have never had gussied up wild rice, aroma bread you really need get some somehow and give it a go.  It is ine of the great breads in the long list of great breads.  It is just delicious, earthy, healthy, exotic, soft, moist, bread that smells good too.  You won't be disappointed.
Formula
13% pre-fermented 10 grain HE flour and  bran levain, 3 stage @ 100% hydration
Dough
17% 10 grain HE flour
70% LaFama AP flour
80% overall hydration
15% pecans and pistachios
15% Turkish figs
15% Pepitas and sunflower seeds
10% dry weight wild rice that was then cooked for 1 hour
2% PH Sea Salt
We also made some more poolish reduced sugar brioche buns for hamburgers this week – with sesame seeds on top.  They were also very nice looking and tasty too!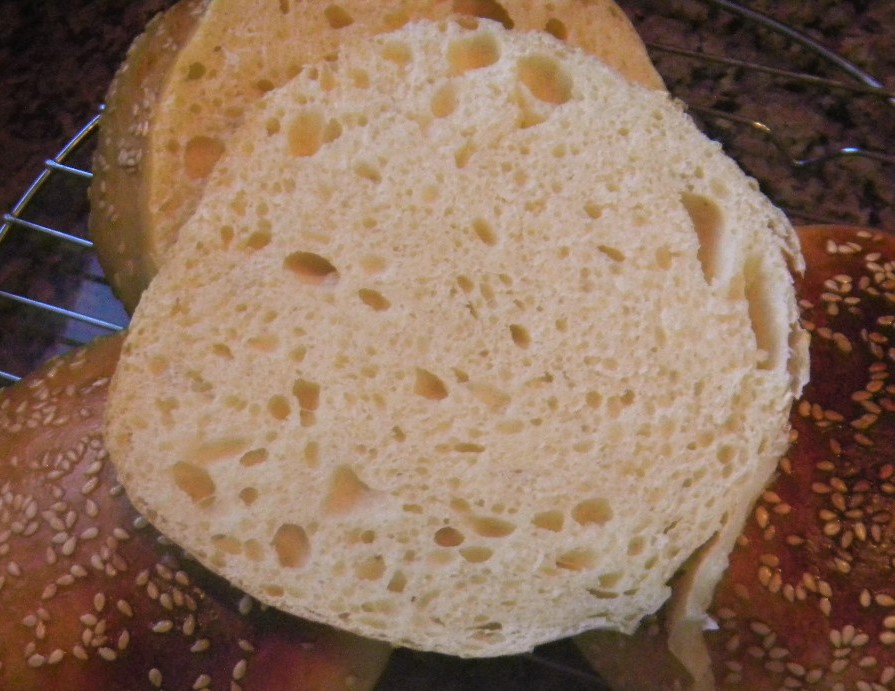 Formula
100% LaFama AP
70% NFDMP hydration
2% salt
2.5% sugar
10% butter
10% egg