January 25, 2017 - 9:10am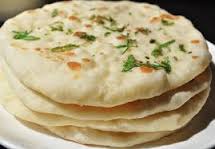 I have ths recipe for Indian Naan that is leavened using baking soda. I wonder if there is a way to leaven it with my sourdough starter and skip baking soda. 
Plain Flour 250g
Oil 1 Tbsp
Baking Soda 1/2 tsp
Sugar 1 tsp
Salt 1/2 tsp
Yogurt 1/4 Cup
Its a very simple recipe that yields a very soft chewy naan. Its not bready nor crispy and crusty. Something similar to the picture above.
Any ideas?