January 10, 2017 - 8:35pm
Well 2017 started off ok... My first bake was early January 2nd after an overnight cold proof. I made my version of Field blend #2 and it came out beautifully
Last weekend figured I should make some more bread as visitors had made quite a dent in the supply in the freezer. So I decided to have another go at Hamelmans 40% rye with caraway, This time with no yeast and an overnight cold retard before baking.
Mixed levain and left over night on bench
556 g rye flour
461 g water
28 g starter
After lunch added water to levain and then as I was mixing realised I should have weghed out 844 g to use. oops!
back to computer and modified recipe to hopefully balance this. modified as follows
973 g hi grade flour (140 g more than planned)
24 g caraway seed (did not change)
563 g water (an extra 80 g)
29 g salt (an extra 4 g)
mixed all and did 4 x slap and folds at 30 minute intervals then left to bulk ferment until doubled.  It was pretty active and by 6:30 pm ready for pre shape. 
Rested 20 minutes then final shape and into fridge over night. I thought it was over proofed so the first batard was baked without slashing (lead photo)
the others slashed as usual.  
Did I over proof? crumb shot from small batard - the last to be baked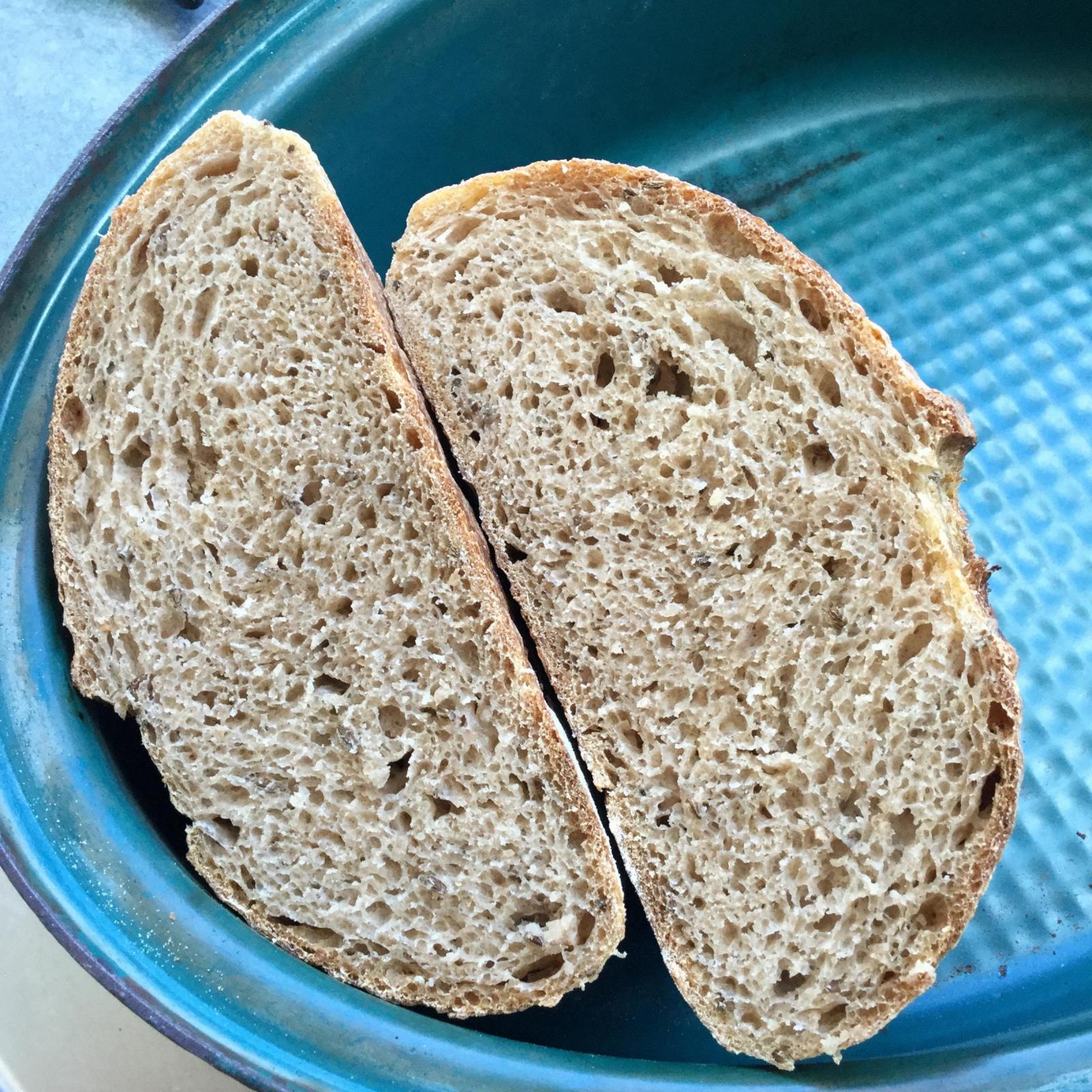 Not sure about this bread. the caraway is very strong and the bread a bit on the sour side (Neither of us wants sour tasting bread and it is a first for me)
was this because I did an overnight proof ( no yeast used even though recipe said to). I am disappointed :(
Still, my bake wasn't a total failure.  I used up my surplus refreshed starter in a 1:2:3 loaf and as I ran out of higrade flour ended up using 10% spelt.  this turned out beautifully with a thin crisp crust and reasonable oven spring