November 30, 2007 - 9:05pm
Sweet Potato Pecan Cinnamon Rolls
Sweet Potato Pecan Cinnamon Rolls
My Entry in Bread Baking Day #04, Bread with Spice http://bakinghistory.wordpress.com/2007/10/18/bread-baking-day-04/
I've been wanting to make these ever since I saw Floyd's beautiful sweet potato dinner rolls. There were only two left when I went to take a picture. These are a decadent treat, great for special occasions. Here's the finished dough. Even this gloppy dough will make a nice windowpane if the gluten is well-developed.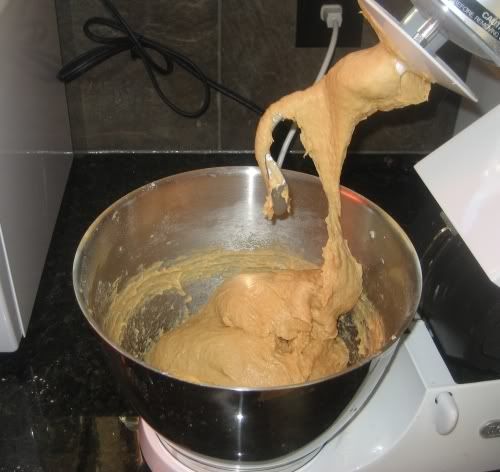 Here's me just starting to tease the windowpane from the dough. An earlier attempt obviously failed, but showed the dough was getting close.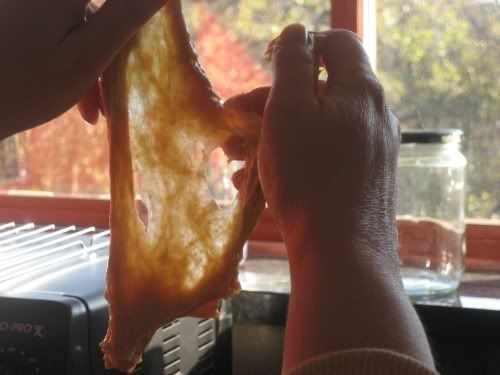 I scraped the dough into a sort of ball, and left it to rise. It rose quickly, and was probably a bit overproofed in the next picture.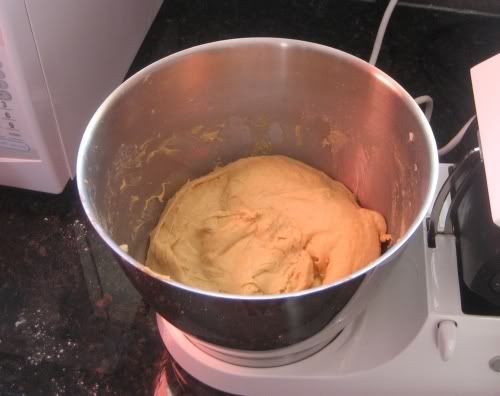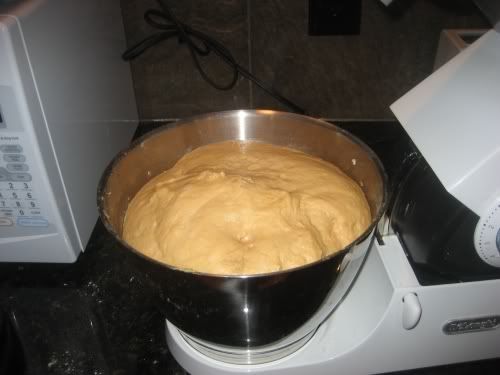 The dough was still quite soft, so I did a set of envelope folds to the dough, then cut it in half to make it a bit easier to work with.
Each half was rolled into a square, buttered, and topped with brown sugar, cinnamon and pecans.
The left roll was rolled a little loosely, which is why half of the rolls don't make a pretty spiral pattern – I had to tuck in the loose dough as I placed them in the pan, resulting in an extra little loop. You can see it very plainly in the baked rolls.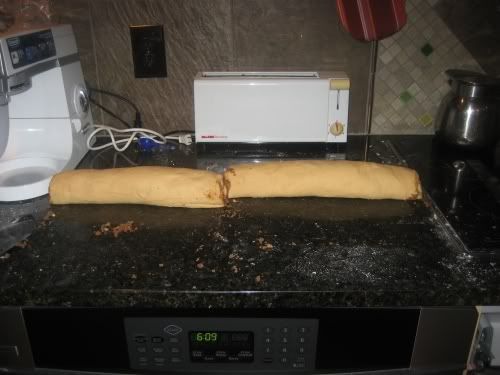 Here are the rolls tucked up in their pans. I only baked one pan, the others went into the freezer for a holiday morning treat. The rolls might have risen higher if I hadn't overproofed the first rise. I don't know, but they were ready to go in the oven.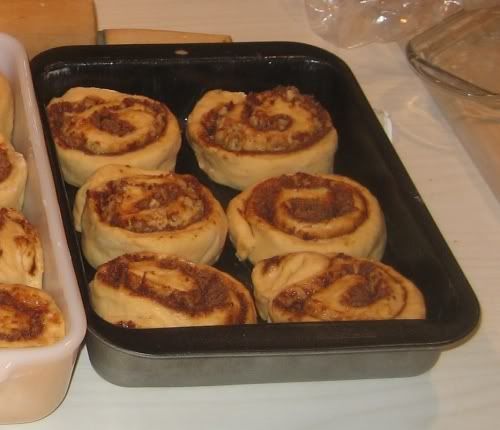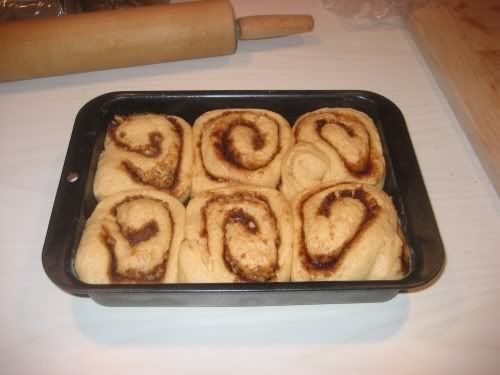 Sweet Potato Pecan Cinnamon Rolls
Time – based on my equipment, my kitchen – YMMV!
Soaker - 30 minutes to 24 hours
Final Dough – 30 minutes (including rest)
Primary Fermentation – 90 minutes
Forming Rolls and Final Fermentation – 3 hours
Baking – 35 minutes
Soaker
1¼ cup milk, scalded (heated to about 185F)
1 tablespoon lemon juice or vinegar
200 grams WW pastry flour
100 grams WWW flour
Final Dough
All of soaker
1 sweet potato, roasted, cooled, and peeled
4 tablespoons unsalted butter cut into pieces
2 eggs
1 1/2 tsp. Ground cardamom or ground seeds of 12 pods (optional)
1/8 teaspoon ground nutmeg
2 teaspoons salt
2 ½ teaspoons instant yeast
450 grams AP flour
Filling
8 ounces light brown sugar, about 1 cup packed
1 tablespoon ground cinnamon
2 tablespoons melted butter
1/2 cup chopped pecans
Icing
4 tablespoons soft butter (or cream cheese)
3 tablespoons milk
5 1/2 ounces powdered sugar, about 1 1/2 cups
Prepare Soaker Put flour into bowl of stand mixer. Stir the lemon juice into hot milk, and pour over flour. Mix well. Cover and let rest for 30 minutes to 24 hours. Refrigerate if soaking for more than a few hours. (A long soak will yield a softer roll.)
Prepare Dough and Filling Add all remaining ingredients to soaker, and mix with paddle until thoroughly combined. Let rest for 15 minutes. Knead with dough hook until smooth and satiny, with a nice windowpane. This will be a soft, gloppy dough. Cover dough and let rest until doubled..
Butter your baking dishes. Turn the dough out onto a lightly floured work surface and divide in half. The dough will be extremely soft at this point, so do a couple of envelope folds (one each direction.) Divide the dough in half, and let rest a few minutes if you've folded. (Meanwhile, prepare the filling. Combine the brown sugar, cinnamon and salt in a medium bowl. Mix until well incorporated. Set aside until ready to use.)
Form Rolls Gently shape the dough into 2 squares. Roll each into a 12-inch square. Brush the dough with the melted butter, leaving 1/2-inch border along the top edge. Sprinkle the filling mixture over the dough, leaving a 3/4-inch border along the top edge. Sprinkle the pecans over the filling. Gently press the filling into the dough. Beginning with the edge nearest you, roll the dough into a tight cylinder. Firmly pinch the seam to seal and roll the cylinder seam side down. Very gently squeeze the cylinder to create even thickness. Using a serrated knife, slice the cylinder into 1 1/2-inch rolls; yielding about 16 rolls. Arrange rolls cut side down in the baking dish; cover tightly with plastic wrap and store in the refrigerator overnight or up to 16 hours.
Baking When rolls are ready to bake, place in a cold oven and set to 350. Bake until interior temperature reaches 190F, about 15 to 30 minutes. I checked in my toaster oven at 20 minutes, and they were already at 212F!
While the rolls are cooling slightly, make the icing by whisking the butter in the bowl of a stand mixer until creamy. Add the milk and whisk until combined. Sift in the powdered sugar, and whisk until smooth. Spread over the rolls and serve immediately.
For frozen rolls, place in buttered pan and let thaw in refrigerator overnight. Remove the rolls from the refrigerator and place on the middle rack in an oven that is turned off. Place a shallow pan on the rack below the rolls and fill 2/3-full of boiling water. Close the oven door and let the rolls rise until they look ready to bake. They should be more than slightly puffy; This should take 30 to 45 minutes.
Turn the oven on to 350F and bake until golden brown, or until the internal temperature reaches 190F on an instant-read thermometer, somewhere between 15 and 30 minutes.
NOTES
After the first few, I got a bit careless cutting the rolls. So I ended up with 22 instead of the 16 I expected. The two in the first picture were cut at about 1 inch instead of 1 ½ inch.
If you're uncomfortable working with a sloppy dough, go ahead and add more flour during the mix. Be sure to keep the dough soft though, as too much flour will affect the rise and tenderness.
I omitted the cardamom, but only because I didn't have any. A lack of powdered sugar meant no icing either.
I hope you enjoy these as much as we did! Even my sweet potato adverse husband loved them.