October 25, 2016 - 4:22pm
Hello, and a pumpkin raisin SD loaf to celebrate the season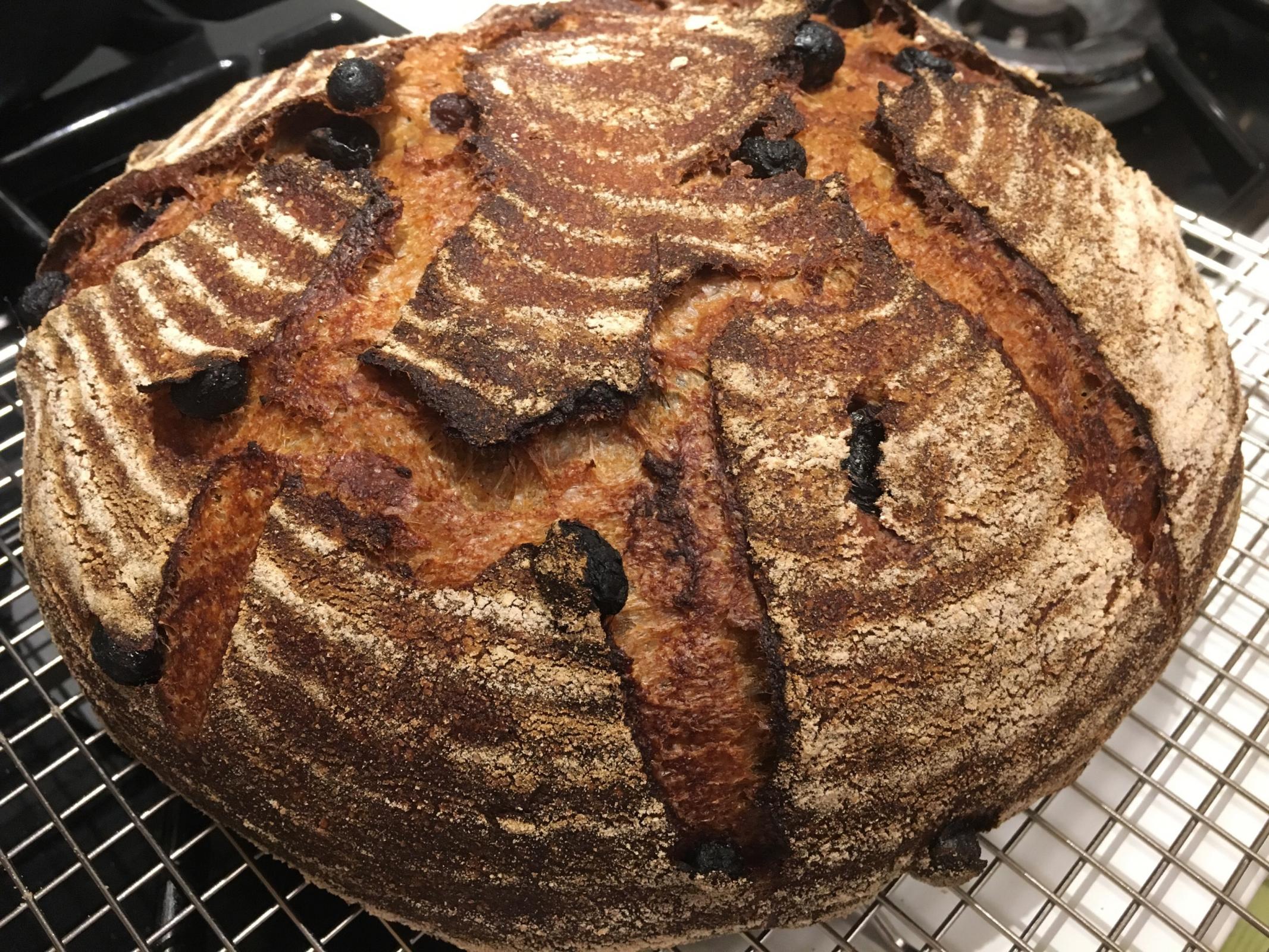 Hello from Oakland, CA! I'm a long-time lurker and first-time poster. I've been baking bread and pizza for over 10 years but finally took the plunge head first into sourdough breads (and don't plan to go back). Before that, I was baking primarily from Peter Reinhart's Whole Grain Breads and using Cooks Illustrated pizza dough recipe. Now, I've been making my way through the Tartine bread books, and learning tons from this site and other great resources online. 
I just made a seasonal bread I thought I'd share,which is based on the Tartine 3 formula, partially inspired by wassisname's Pumpkin Sourdough, with a bunch of random techniques I've picked up along the way. Since this was only my third bread made with 100% sourdough leavening, I probably should have done something simpler. But I'm impatient and threw caution to the wind. I didn't get the beautiful orange-hue or pumpkin-esque scoring to work out, but it was still a fantastic tasting loaf. 
I'm still learning how best to share bread formulas, but here goes...
Pre-ferments: The night before my bake I prepared three pre-ferments.
1) Levain (150g): I used a whole rye starter at 100% hydration to prepare a whole rye levain (per suggestions on the Girl Meets Rye blog), left at room temp overnight
2) Soaker (500g flour at 80% hydration): This is a totally experimental method combining the Tartine 3 suggestion of a long autolyse with the soaker method from PR's Whole Grain Breads. The idea is that an overnight soaker will help release some sugar from the whole wheat, while the salt slows down the autolyse process. It seems to have worked...
250g Community Grains red whole wheat
125g Trader Joe's white whole wheat
125g King Arthur bread flour
12g salt
400g water, room temp
Left at room temp overnight
3) Fruit soaker: This is my adaptation of Josey Baker's suggestion of soaking raisins to get them nice and plump. I figured since the canned pumpkin was so moist, I could soak up some of that moisture with the raisins and additional spices. 
225g canned pumpkin
100g raisins
1 teaspoon cinnamon
1 teaspoon nutmeg
1/4 teaspoon allspice
1/4 teaspoon ginger
Left in refrigerator overnight
Bulk fermentation: The next morning I combined my levain and soaker (not fruit soaker), mixed together and started stretch & folds at 30 minute increments. I waited until the third stretch & fold to add the fruit soaker (I figured waiting to add this would help with gluten development early on, much like Tartine 3's suggestion of adding porridges later in the bulk fermentation).

This is after adding the pumpkin and raisin fruit soaker. It took a few more stretch & folds to get incorporated.
Proofing: I waited for about 20% increase in size during bulk fermentation (about 6 hours at room temp, ~70F), then moved on to proofing. I had some trouble previously working with such wet doughs but was much more successful this time using my bench scraper (the videos from the Chad Robertson master class and SFBI helped). Proofed in banneton for about 3 hours at room temp. Based on how my final bread looked with lots of cracking, I'm guessing I may have underproofed (but could be wrong). 
Baking: Baked at 450F, 20 minutes covered and 25 minutes uncovered. I prefer Josey Baker's technique of using a pizza stone (I actually use the Pizza Steel) with a dutch oven flipped on top...this way I don't have to drop my loaf into a ridiculously hot dutch oven.
The final bread was moist and just slightly sweet, with a fairly crisp even crust. The pumpkin flavor and color was just barely there, I'm guessing because of the amount of whole grains used (I might trying making this again with kabocha squash rather than canned pumpkin for a deeper pumpkin-flavor).