November 23, 2007 - 10:17pm
The 2nd time's a charm!
Partially Proofed Rolls - they started out 1/2 inch apart.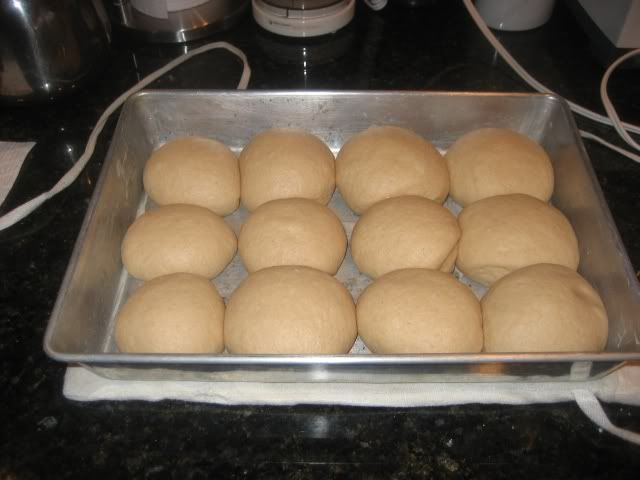 A few extras. These are baked in a 6 1/2" x 10 1/4" sheet.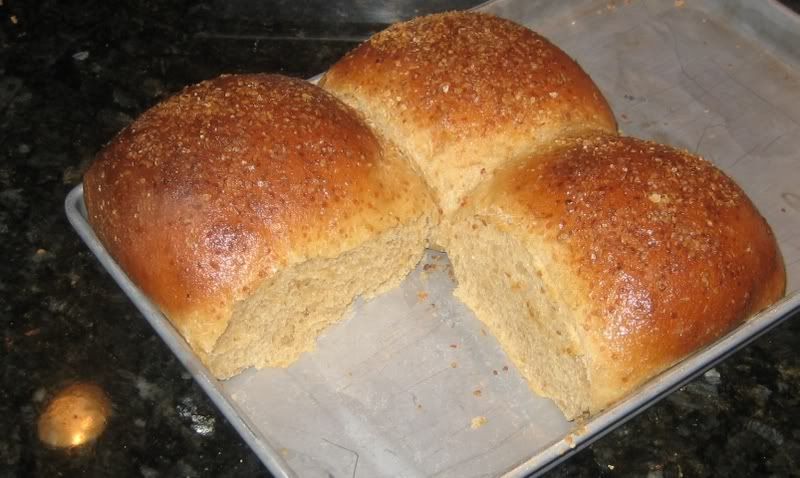 Interior Crumb
Much nicer results this time – I used a higher percentage of WW pastry flour, less potato & may have developed the dough better. I had a nice windowpane with this one, I don't remember if I did the last time. The dough seemed too sticky at start of bulk rise, but was very nice to work with when I shaped. Shaping this dough was like night and day compared to my first attempt - the dough was that different. I had planned to make half the dough into a sandwich loaf, but it was so nice to work with I just continued shaping rolls. Now I have 8 in the freezer to pull out and bake.
I used a heating pad set on low for the final proof. It took quite awhile - about 3 hours I think. Maybe next time I'll see if I can preheat an oven to about 95F, which is the recommended temp for rising rolls. I tried to follow Laurel's insruction to let them just barely overproof, i.e. just start to sag a bit. But I was too impatient. They hadn't quite reached that stage, though I think they were close.
Whole Wheat Dinner Rolls
- based on Dinner Rolls for Aunt Agatha in Laurel's Kitchen Bread Book
- using Peter Reinhart's mixing method for whole grain breads
Soaker
20 grams potato flakes
300 grams WW pastry flour
130 grams finely ground white WW flour
¼ cup (45 grams) buttermilk powder
1 tsp. Salt
325 grams water
Biga
470 grams finely ground white WW flour
340 grams water
½ tsp. Instant yeast
Final Dough
All of soaker
All of biga
1½ cup (about 325 grams) extra WW flour
2 tsp instant yeast
3 tablespoons honey
1 egg
1¼ tsp salt
¼ cup (56 grams) soft unsalted butter – ½ stick
Topping
A few tablespoons of wheat germ
Mix the soaker and biga separately. Cover and refrigerate overnight.
The next morning, let doughs sit on counter for 2 hours to warm up. Flour work surface using some of the extra flour. Spread soaker and biga into similarly sized rectangles, and generously flour the tops of both. Place one rectangle of dough on top of the other, and chop the stacked dough into about 20 pieces. Place in mixing bowl. Hold back about ½ cup of flour. Add all other final dough ingredients to bowl. Mix with paddle attachment until thoroughly mixed. Allow dough to rest for about 20 minutes. Switch to dough hook for kneading. Add remaining flour in small increments if required (I used it, not sure afterwards that I needed to.) Knead with stand mixer until you develop a nice windowpane. The time will depend on your machine. The dough will be very sticky. Place dough ball in a well-buttered bowl, turning over to coat top. Cover and let rise in a warm room for about 2 hours – until your wet finger makes a hole that does not fill in.
Turn dough onto a lightly floured kneading surface and deflate. Divide dough into four equal sections and form each one into a ball. Keep these covered with a damp cloth or plastic wrap. Let the dough rest until the first ball is relaxed, soft and pliable. Gently flatten the dough and cut into 6 pieces. Form one round roll out of each piece, keeping the smooth surface intact. Place the finished rolls on a buttered cookie sheet or cake pan, keeping them ½ inch apart. This recipe should about fill 2 9x13 pans. Cover the rolls and allow to rise in a very warm place (95F) until slightly overproofed, i.e. rolls show slight signs of sagging. Don't let them dry out.
When rolls are ready to bake, spray generously with water or brush with eggwash. Sprinkle wheat germ on top. Bake in a preheated 400F oven with steam for about 20 minutes (check sooner), just until they are beautifully brown. Remove from oven and brush with melted butter. If not serving immediately, remove from pan to cool on rack.
I froze some of the shaped rolls for later use.
~~~
Things I would do differently next time
~~~
- Increase yeast in final dough to 2¾ teaspoons.
- Make the soaker with all whole wheat pastry flour.
- Increase butter to 5 or 6 tablespoons.
- Include a 2nd bulk rise before shaping. Ideally this would be at a temp of around 80F.
- Make slightly smaller rolls – form each quarter of dough into 8 or even 10 rolls. These might not fit quite as evenly in a 9 x 13" pan but would be a better size.