November 9, 2007 - 9:50am
I love apples, and, at the Corvallis farmer's market, apples have been abundant lately. Everything from relatively new varieties like Liberty, to old varieties like Spitzenburg, to unusual European apples that are rarely seen in the U.S. like Calville Blanc, a very old French apple best suited for pies.

I decided that the height of the apple season deserved an apple-themed meal, whose centerpiece, of course, would be Normandy Apple Bread, a recipe from Jeffrey Hammelman's Bread that I've been eyeing for quite some time. The recipe is fairly simple. It's mostly white flour, with a bit of whole wheat, uses sourdough, substitutes half the water with apple cider and adds a healthy amount of dried apples. It also includes yeast, but I decided to omit it and let the starter work all alone.

I can heartily recommend it, based on my results:




And here's a picture of the crumb: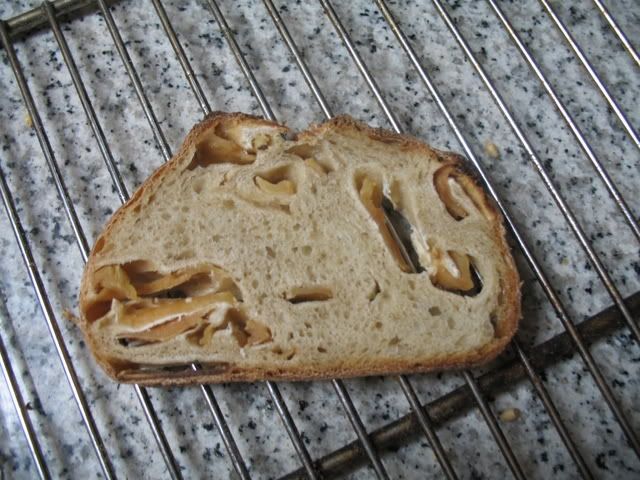 .

The baked bread tasted almost like an apple pie, with the sourdough tartness substituting for the lemon juice I often add to a pie.

The rest of the meal included butternut squash stuffed with chicken sausage and apples, spinach salad with pecans and apples, apple cider and, of course ...

APPLE PIE. This is the "Best Apple Pie" recipe from The King Arthur Flour Baker's Companion, but, instead of a traditional top crust, I decided to do a simple crumb topping. My daughter, Iris, is in the background, finishing off a slice of apple bread. She's had some fun with face paints earlier in the day, as you can see.