November 20, 2005 - 9:43pm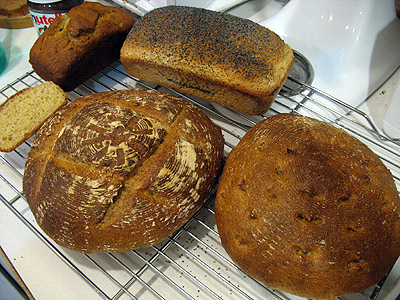 Banana Bread, Struan Bread, and Rustic Bread.
The banana bread was plain and simple, not even with nuts or chocolate chips. With the holiday's coming on, it didn't seem necessary.
For the Struan Bread, I used a sample packet of Bob's Red Mill's Mighty Tasty Hot Cereal as my soaker instead of mixing together my own grains. It worked well, tasting slightly different than normal Struan Bread but quite good all the same.
For the Rustic Bread I used the same dishwasher proofing technique I used last weekend. I was so wiped out after a long week that I crashed at 9 o'clock last night before I had a chance to start a sponge. Alas.
I haven't tried the rustic loaves yet, but I shall for breakfast. I kept the dough slack again and proofed them in a flour covered basket. Hence the rings. I expect them to be quite good.