October 16, 2007 - 11:58am
Working from home has its disadvantages: it's all too easy to blur work into home-life, you're somewhat isolated from co-workers, and it's tempting to try to do chores when work is slow.

But bread baking poses no problems at all. Most of bread baking, especially when you use the stretch and fold method to develop dough instead of traditional kneading, consists of 2-3 minute bursts of activity separated by long periods of waiting. The trouble, of course, is that the timing of those little bursts of activity is really, really important. Working from home, the kitchen is always just a few steps away from my computer, and doing the work of making bread takes about as much time as going to fetch a fresh cup of coffee.

Lately, I've been doing a lot of sourdough baking, even when the bread itself isn't truly a sourdough bread. For instance, here's my results from baking Peter Reinhart's Mash Bread, from his new (and fabulous) book, Peter Reinhart's Whole Grain Breads.




The sweetness of the bread was really surprising, and I was astonished by how much oven spring I got. It's easily the best I've ever gotten from a 100% whole grain bread. Unfortunately, I was in a hurry and didn't let the sourdough mature fully, so the flavor was less than I'd expected. In short, sweet, but bland. I'm eager to try it again, though, and next time I'll let the sourdough fully ripen, which is especially important, since the sourdough is used almost exclusively for flavoring rather than leavening. If you want to make this bread, I'd suggest heading over to Bill Wraith's excellent write-up.

I had some starter left over, so I made up some sourdough pizza dough -- two of the doughballs went in the freezer, while the others went into the fridge so that I could make them up for dinner the next night. Probably two of the best pizzas I've made. A woman at the Corvallis Farmer's Market was selling wild chantrelle mushrooms, so I got some, sauteed them in a bit of butter, and plopped them on the pizza. They were great, along with some black olives and turkey-chicken sausage: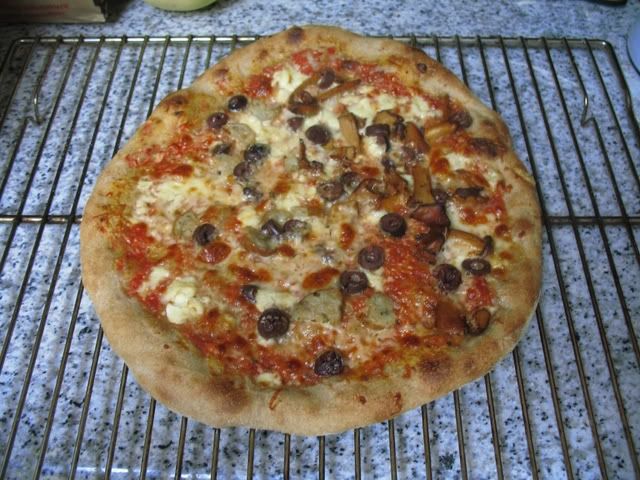 The crust was nice and holey!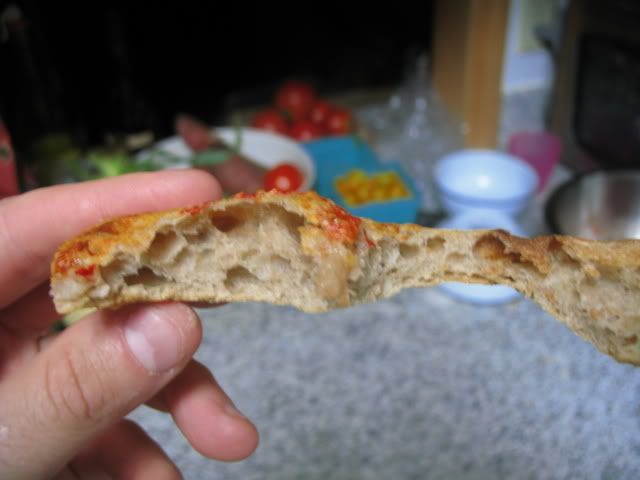 Here's how I made it:

Formula
Whole wheat flour: 50%
AP flour: 50%
Water: 80%
Salt: 2%
Olive oil: 5%
15% of the flour is pre-fermented as starter
Recipe (2 crusts)
:
Whole wheat starter (75% hydration): 100 grams
Whole wheat flour: 130 grams
AP flour: 180 grams
Water: 250 grams
Olive oil: 18 grams
Salt: 7 grams
Mix the water and the starter, and mush it all up with your fingers until it's a soupy mess. Add the salt and the oil, mix again, and then add the flour. Let it sit, covered, for 1 hour and then give it a stretch and fold. Do two more folds spaced 30 minutes to an hour apart. Let it ferment a total of 4-5 hours at room temperature (about 68-70 degrees F), and then divide into two. Shape each lump of dough into a tight ball, pop them into plastic bags, and put them in the fridge if you plan to use within the next 3 days. Otherwise, put them in the freezer, where they'll keep for at least one month. When you're ready to make the pizza, let the dough sit out for about 2 hours if it was in the fridge, 4 hours if in the freezer. Shape, top and bake on a stone preheated for about an hour in an oven at the highest setting possible. Bake for 8-10 minutes.
Last, my standby: whole wheat sourdough sandwich bread.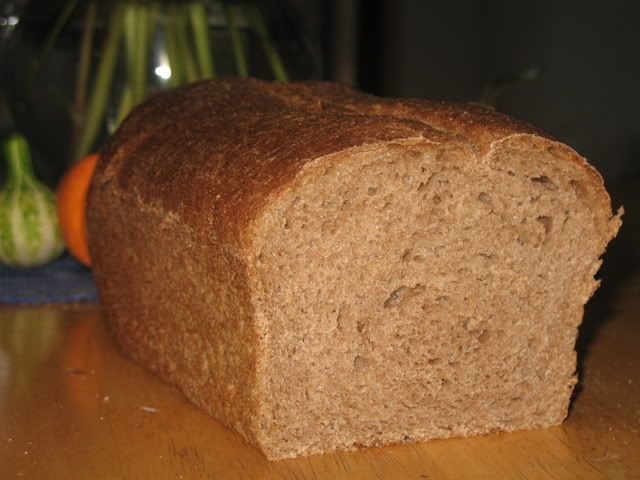 Always tasty, always reliable.
Next on my agenda: some of those potato-onion-rye rolls from Peter's book!