January 12, 2016 - 1:24pm
I think I have proof that I'm learning.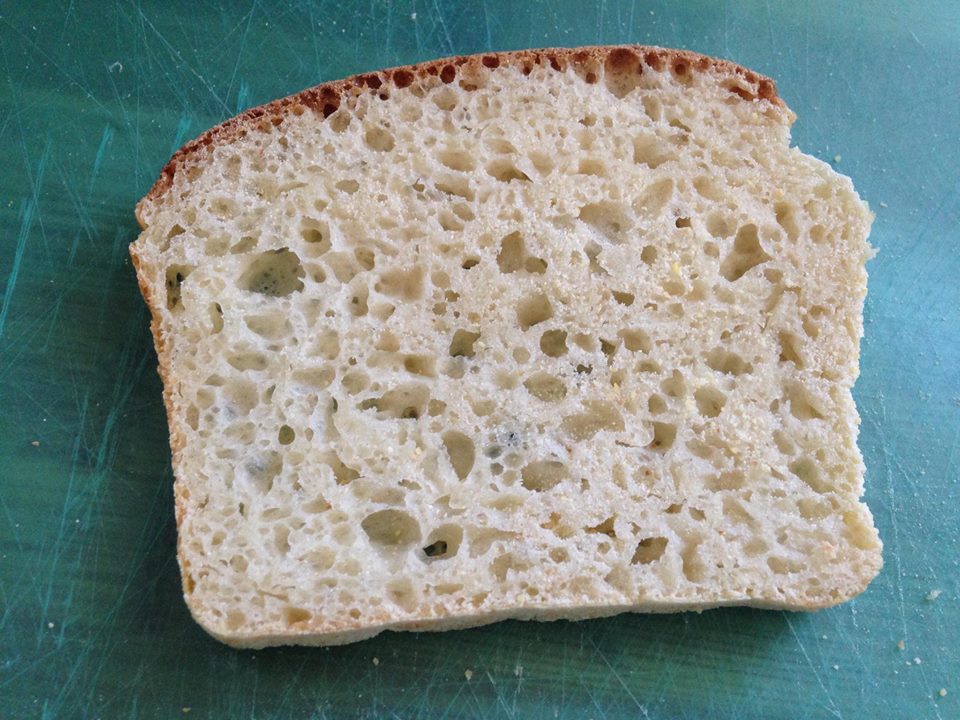 I made some english muffin toasting bread.
I love having some homemade toast with my breakfast. I love english muffins, but don't love the amount of work they are. This tastes like english muffins but is tons easier.
I used king arthur's recipe and the first time it was so-so but definitely edible. I had put my dough into an oven with the light turned on and I think it overproofed. It had risen like it was supposed to but didn't have any oven spring. I had all week of eating toast from that loaf to contemplate my mistakes.
So this time, I tried letting it proof on the counter despite the cooler kitchen temps. I also decided I wanted to add a sourdough flavor and substituted a cup of my sourdough starter and made adjustments in the amount of flour and liquid I used. Oh man, when it baked, the loaf sprung up nicely! The slice pictured is the result and it's got a great hint of sourdough. Fantastic with some raspberry jam.
In an hour and a half, I had a baked loaf. No kneading, no sitting overnight. It's seriously easier than going to the store to buy a loaf of bread and is delicious. So this will be a routine for me. I'm certain though that I've been learning by reading the information this forum provides so thank you!
Recipe:
http://www.kingarthurflour.com/recipes/english-muffin-toasting-bread-recipe