December 3, 2015 - 8:03pm
Latvian Sprouted Saldskaaba Maize – Sprouted Sourdough Cider Rye
Lucy has been wanting to make this one since we ran across it while searching for pumpernickel bread recipes at about the same time another Fresh Loafian was asking about Latvian Bread recipes.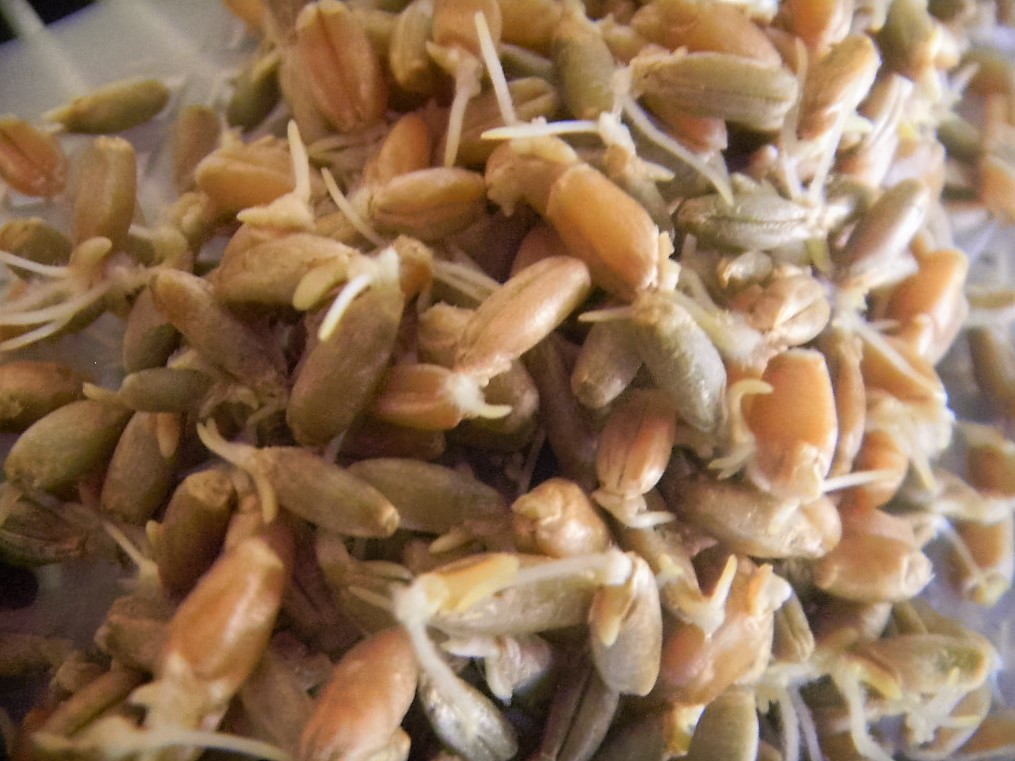 We thought it an odd one since the recipe called for scalding apple cider and then adding it rye four with a bit of starter and leaving it covered to make the for 24 hours to make the levain.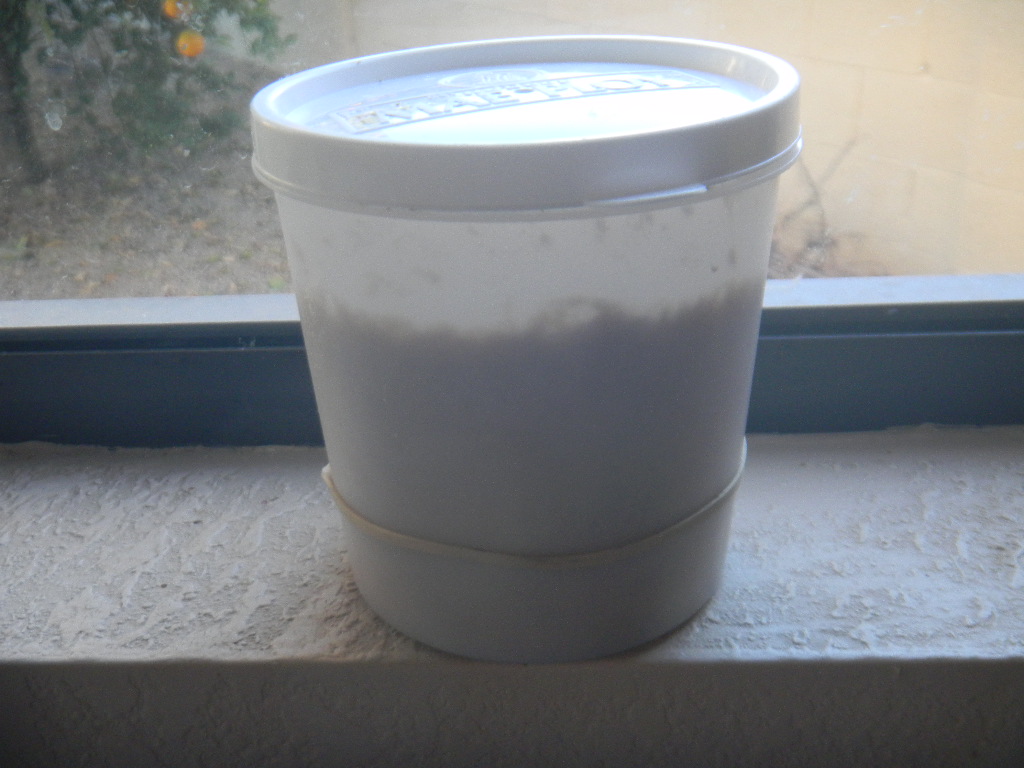 We don't really make levain for these kinds of breads anymore and would rather just make a new starter and levain from scratch instead since it is so much fun.  We did our usual 4 feedings of 30 g of whole ground rye and 24 g of water every 24 hour for 4 days throwing half away after 48 hours and right before feeding number 3.  It got down to 32F last night so the heating pad was in order.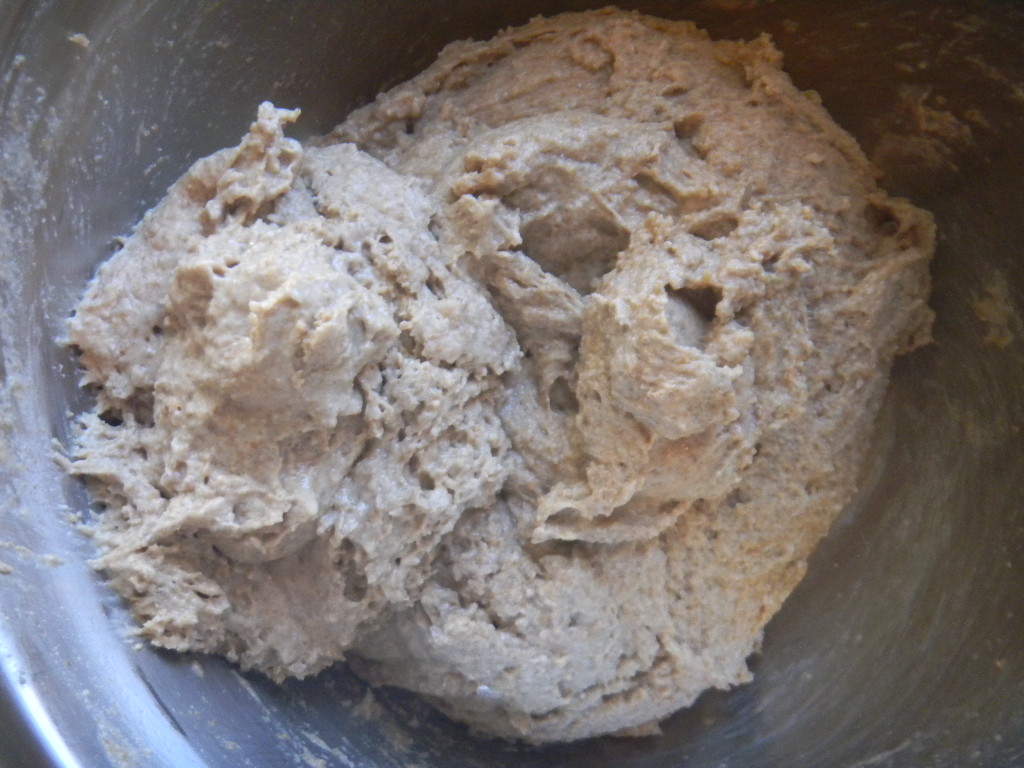 We didn't really throw half away but fed it white flour for 2 days instead to make a white starter to use for something like biscuits this weekend.  Like usual, the starter was ready to go after 4 days, doubling after 48, 72 and 96 hours. By 98 hours it had tripled, so we retarded it in the fridge for 16 hours.  We did pinch off a bit to feed to our stored starter to refresh it and keep it on its toes.  We did use apple cider for the dough liquid.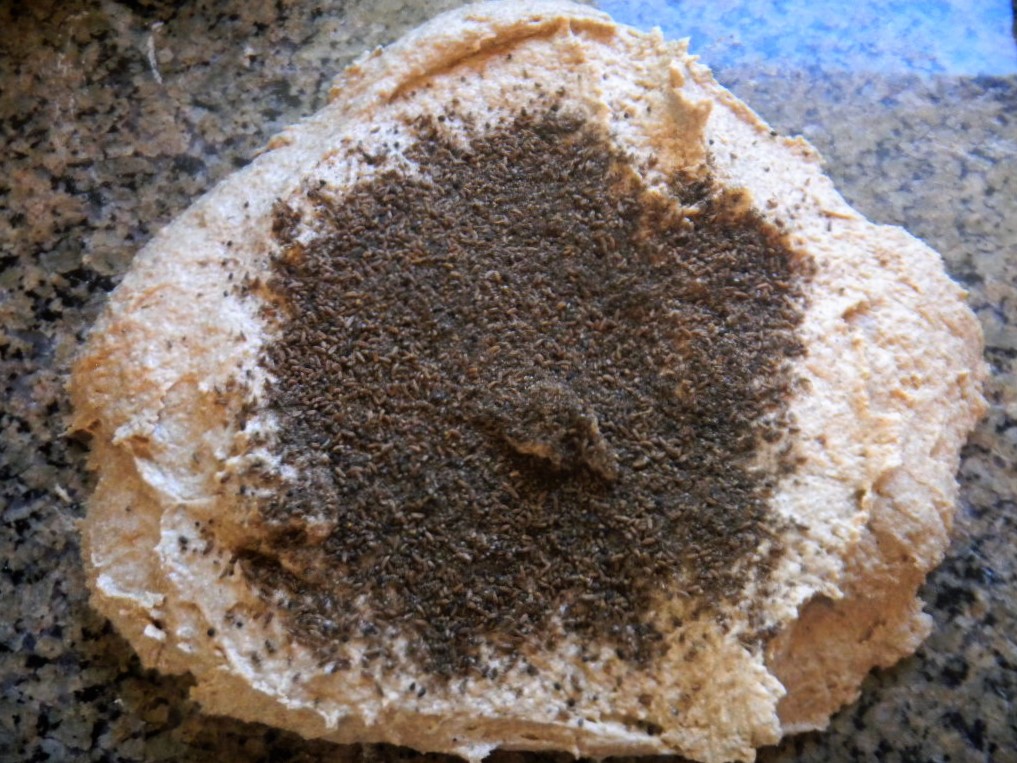 We brought the apple cider to a boil and autolyzed the dough flour with it for an hour with the pink Himalayan sea salt sprinkled on top.  We mixed in the levain and did 3 sets of 30 slap and folds to develop the gluten for the 40% of the flour that was whole wheat.  The Caraway seeds were added in during the first of 3 sets of 4 stretch and folds.  All gluten development was done on 12 minute intervals.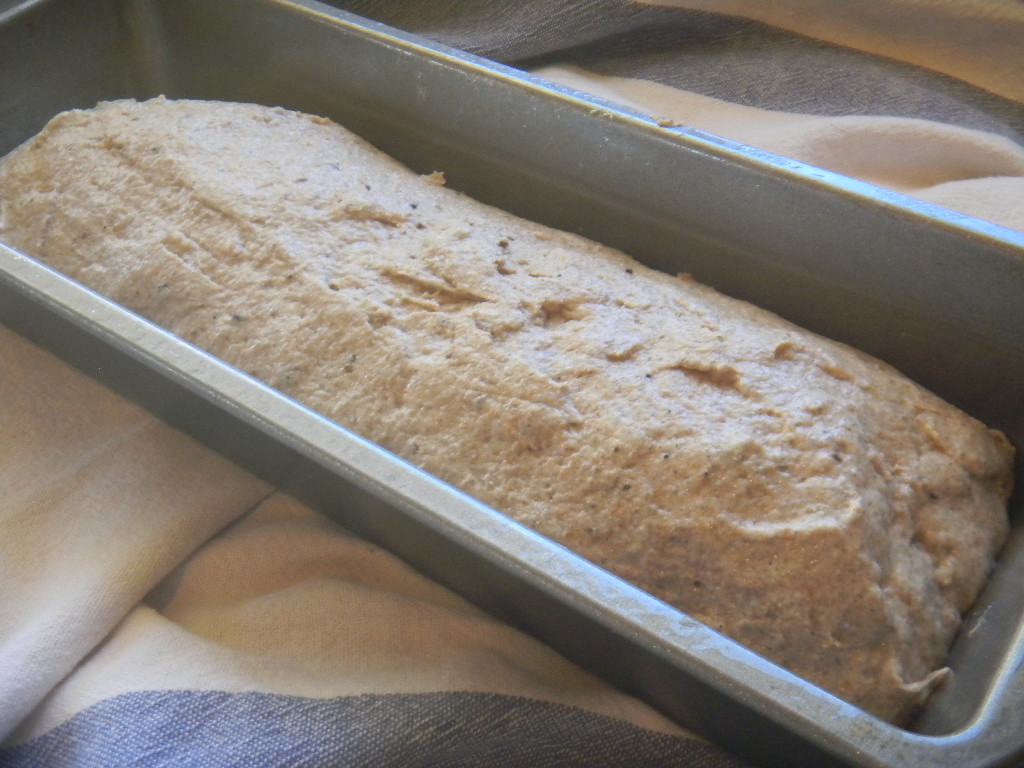 Normally, the wheat in this recipe would be bread flour per the long dead Lativian Bread bakers that Lucy channeled with her Latvian Baker Channeling app but we decided to bake this bread using whole wheat.  Lucy thought the whole wheat would be more old school and there is nothing wrong with 100 % whole grain bread in my book anyway.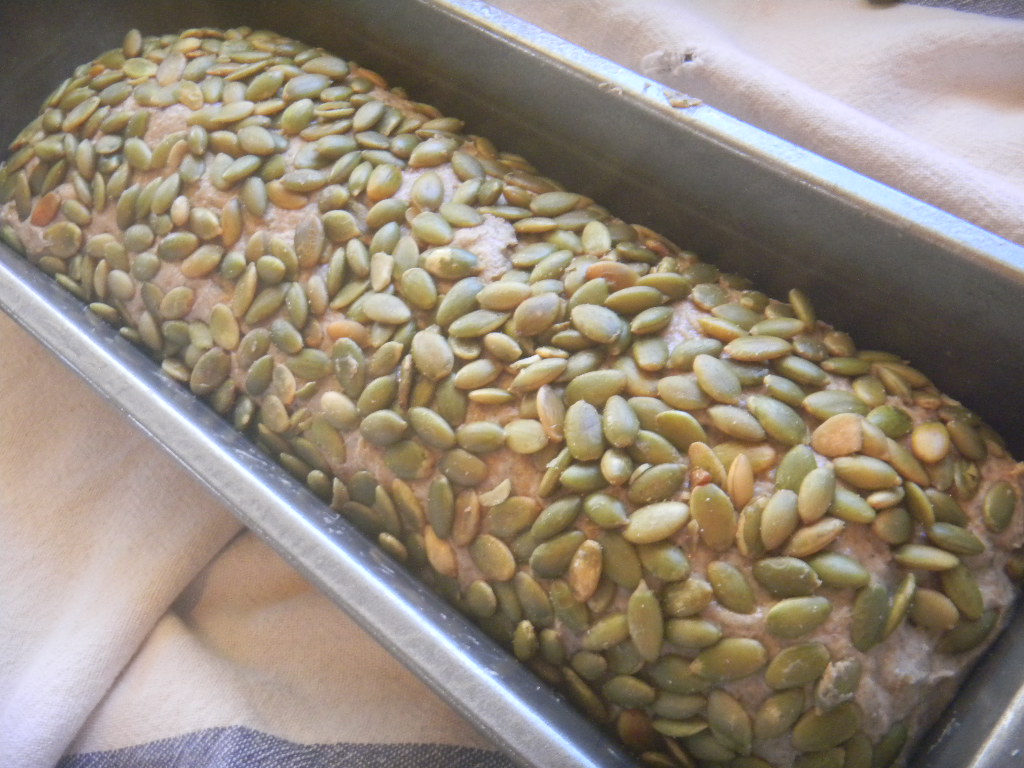 All the flour was ground medium texture instead of fine to closer fit the Latvian flour that would have been used long ago.  The regular recipe would have quite a bit of commercial yeast mixed in with the dough four and we omitted that too – there is nothing old school about commercial yeast.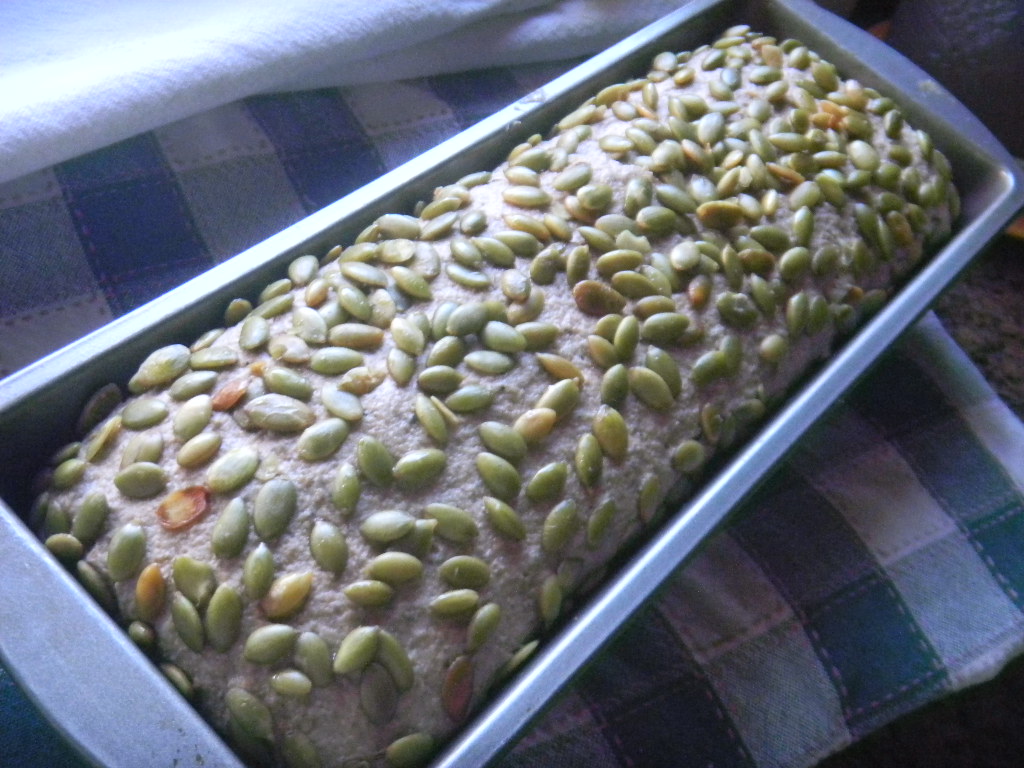 Once gluten development was finished, if you could call it that, we let the dough sit around in the bowl on the heating pad for half an hour before shaping, plopping the dough in a long tall Pullman tin, mounding it in the middle and covering with some squash seeds for a good looking final proof.  Once it had cracked, it was ready for the heat.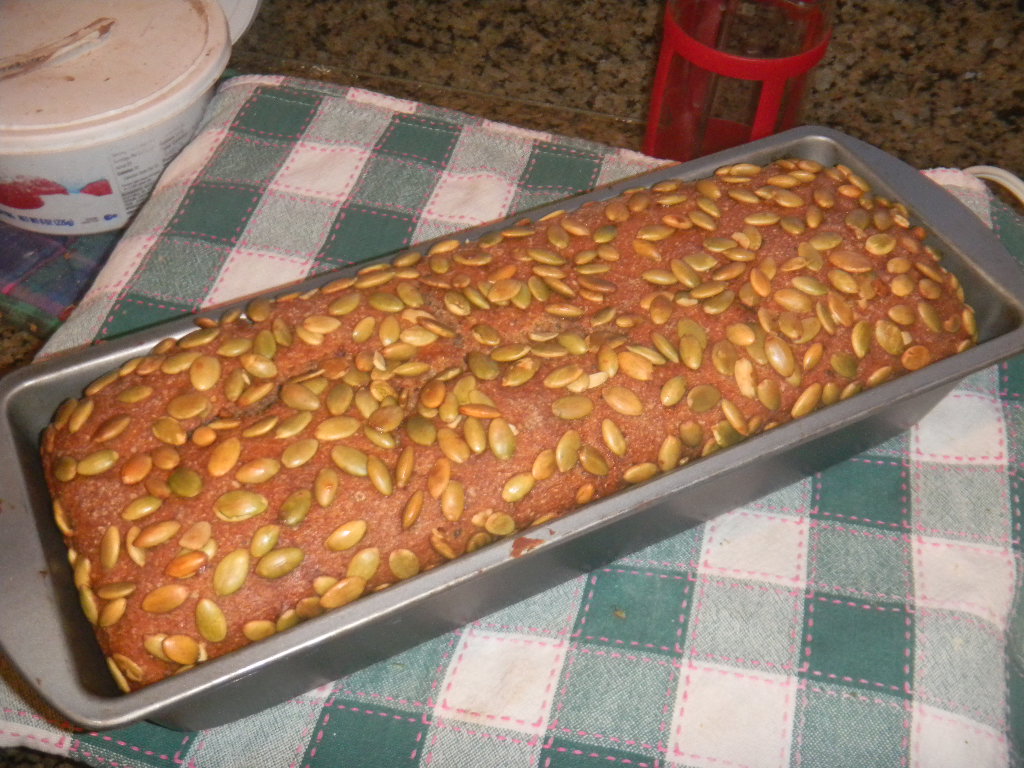 At the last minute, we decided to bake it the traditional way at 400 F for 15 minutes with steam and then at 350 F for an hour.  Lucy was disappointed but there just weren't enough hours in this day to get it done low and slow pumpernickel style.  That will leave another bake for later that will be low and slow and include prunes, walnuts and pepita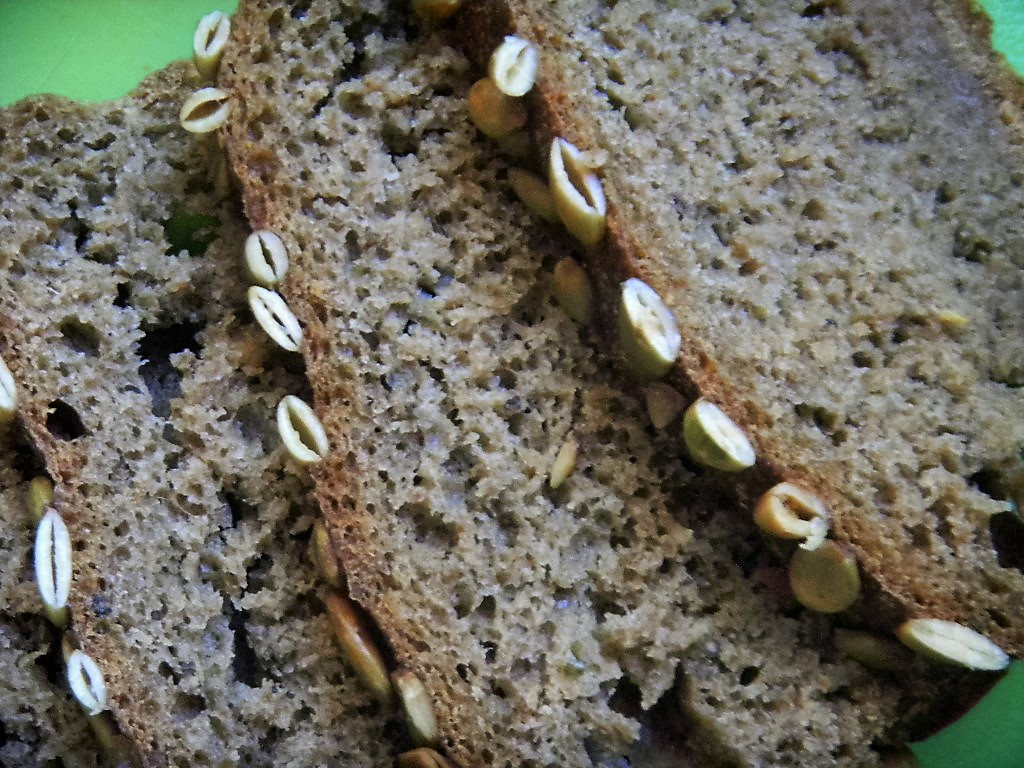 We then took the bread out of the tin and let them dry out for an hour on the oven rack for 10 minutes with the oven off.  The bread came out nicely cracked and smelling terrific.  We wrapped it up when it cooled and will let it sit for 24 hours to redistribute the moisture and soften the crust.  I was disappointed that the loaf had collapsed in in the center showing that it was over proofed.  It also was not quite done even though I had baked it for another 10 minutes - 70 minutes at 350 F.  The bottom of the loaf was also dense.  So that was 3 strikes for the crumb.  The good thing is it tasted great.  A very different taste for a bread like this one.  I like it even though it turned out ugly.  Next time we will do better and there will be a next time.
| | | | | | |
| --- | --- | --- | --- | --- | --- |
| SD Levain Build | Build 1 | Build 3 | Build 4 | Total | % |
| Whole Rye | 40 | 40 | 40 | 120 | 19.35% |
| Water | 24 | 24 | 24 | 72 | 11.61% |
| Total | 64 | 64 | 64 | 192 | 30.97% |
|   |   |   |   |   |   |
| Levain Totals |   | % |   |   |   |
| Whole Rye | 120 | 19.35% |   |   |   |
| Water | 72 | 11.61% |   |   |   |
| Levain Hydration | 60.00% |   |   |   |   |
|   |   |   |   |   |   |
| Dough Flour |   | % |   |   |   |
| Sprouted Wheat | 100 | 16.13% |   |   |   |
| Whole Rye | 150 | 24.19% |   |   |   |
| Whole Wheat | 150 | 24.19% |   |   |   |
| Sprouted Rye | 100 | 16.13% |   |   |   |
| Total Dough Flour | 500 | 80.65% |   |   |   |
|   |   |   |   |   |   |
| Salt | 12 | 1.94% |   |   |   |
| Apple Cider | 500 | 80.65% |   |   |   |
|   |   |   |   |   |   |
| Dough Hydration | 100.00% |   |   |   |   |
| Total Flour w/ Starter | 620 |   |   |   |   |
| Apple Cider 500 & Water 72 | 572 |   |   |   |   |
|   |   |   |   |   |   |
| Hydration with Starter | 92.26% |   |   |   |   |
| Total Weight with Caraway | 1,269 |   |   |   |   |
| % Whole  Grain | 100.00% |   |   |   |   |
| % Sprouted  Grain | 32.26% |   |   |   |   |
 Caraway - 15 g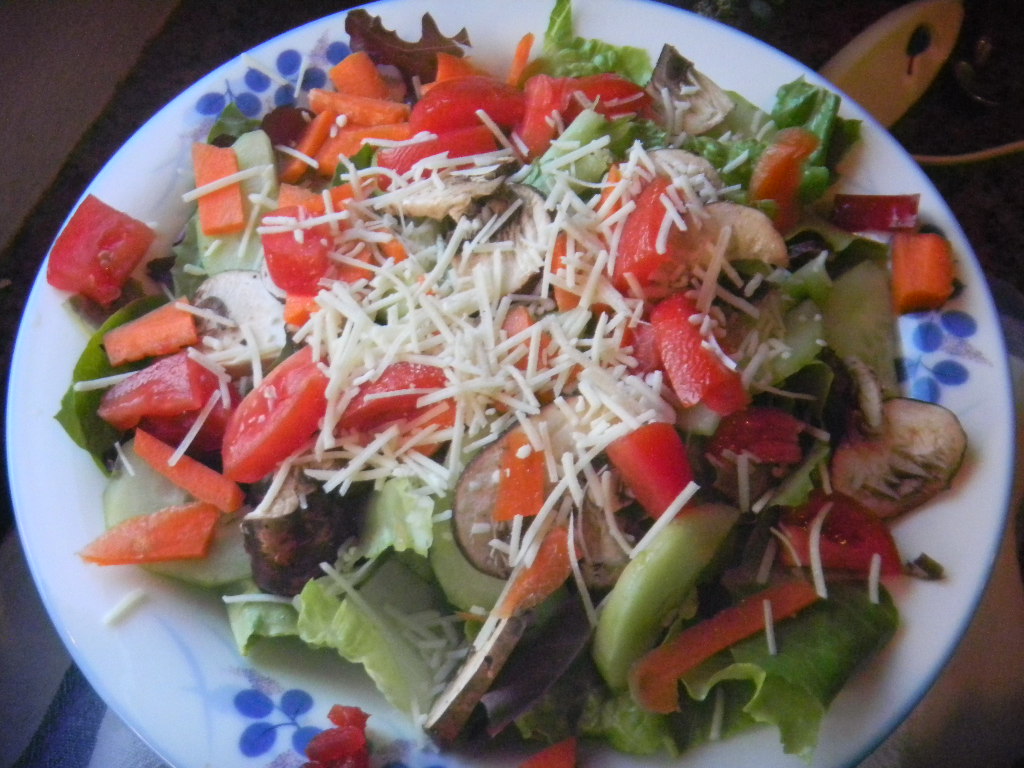 Lucy says not to forget the salad - the first one for this year's winter garden