November 8, 2015 - 12:41pm
Dabrownman's Swabian Potato Bread - Never Bake the Same Loaf Twice!
After a rather underwhelming bread experience in an - otherwise nice - hotel last year, I challenged my co-bloggers, facebook friends and hobby bakers from The Fresh Loaf to help fill a basket with "Bread for Götz von Berlichingen", to provide Schlosshotel Götzenburg with a better breakfast choice.
I was so happy with the interesting contributions that I promised myself to bake as many of the 30 breads as possible, and, also, to showcase some of them on my blog - like  Khalid's Götzenburg Bread from Dubai, und Britta's Double Potato Loaf for Götz from the Lower Rhine.
Just in time for Zorra's World Bread Day 2015 I was happy to present Fresh Loaf blogger Dabrownman and his Swabian Potato Bread for Götz of the Iron Fist.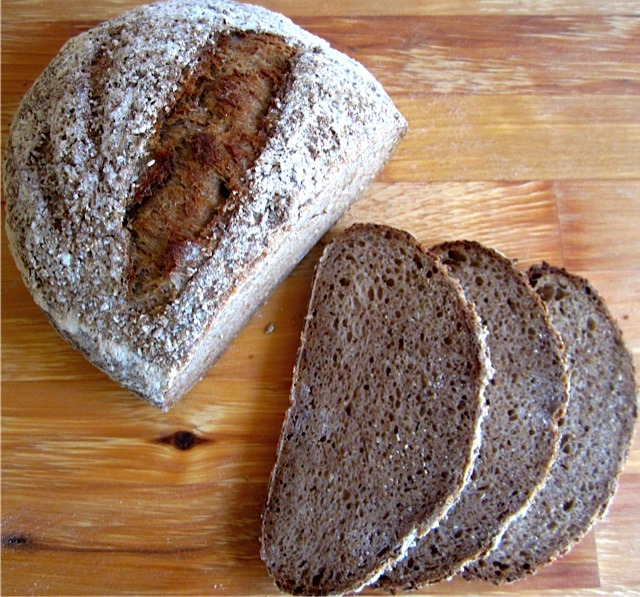 My version of DBM's hearty Potato Bread for Götz of the Iron Fist - my new favorite!
Dabrownman - "everybody calls me Brownman" (or DBM for short) - resides with his wife, college age daughter, and dachshund Lucy in Arizona.
An architect by schooling, he designed and supervised worldwide the construction, and ran the operation of distribution centers for the food industry. "Food and Facilities is what I did the last 23 years".
Dabrownman with his "apprentice" Lucy and one his fabulous bread creations
Meanwhile retired, he threw himself wholeheartedly into bread baking. With 429 posts since 2012, he is one of the most productive hobby bakers and bloggers that I know.
If you'd like to read more about our friend DBM and his (and Lucy's!) approach to baking, and, also, my version of his Swabian Potato Bread, follow me, please, to my blog: